For affiliate links and as an Amazon Associate I earn from qualifying purchases.
It's Day 2 of March Muffin Madness, which means it's time to start sharing delicious gluten-free muffin recipes and today's recipe is Gluten-Free Sweet Potato Muffins with Walnut Crumb Topping.
This recipe comes from Pete and Kelli Bronski of No Gluten, No Problem. (You can also find them on Facebook, Instagram, Twitter, and Pinterest.) I first met Pete and Kelli through their site before I started my own site in 2008. So, a long time ago! I finally met Pete in person at a blogging conference several years ago.

Now here's the part where I tell you that this recipe for gluten-free Sweet Potato Muffins with Walnut Crumb Topping first appeared as Sweet Potato Walnut Cupcakes in their Artisanal Gluten-Free Cupcakes cookbook when it was first published and that's when I first made it.
Which of course begs the question: "What's the difference between a cupcake and a muffin?"
Some will tell you that icing is the main difference. They say if there's no icing on the baked good in question, it must be a muffin.
Others describe cupcakes as fluffy, soft, and spongy whereas muffins get the "moist and dense" label. Nobody likes a dry baked good but I have learned over the years that "moist" is a very unpopular term. And dense? Hmm.
Muffins are also supposed to be less sweet. If you want today's recipe to be less sweet, you can simply omit the walnut crumb topping or reduce it to a quick "sprinkle" versus a topping that mostly covers the muffins.
I'll tell you that the walnut crumb topping really takes these muffins over the top though! I would never omit it. Pete and Kelli's photo is beautiful and elegant but my quick, non-elegant snapshot shows the sweet crunchiness of that topping.
The topping and its overflow bits that are shown on the muffin tin below? That's some caramelized amazingness right there. So, so good!
I think I will even cut back the butter a bit in the topping next time but I am certain that the results will still be perfect.
You can cook your sweet potatoes (steam, boil, bake) any way you like but I've found that I really love baking sweet potatoes in a way that results in caramelized sweetness.
I learned that tip from a MMM participant via her previous MMM sweet potato muffin recipe. I discovered the very best way to achieve that caramelization with this site's info. (Hint: The secret lies in the sweet potato prep and the oven temperature.)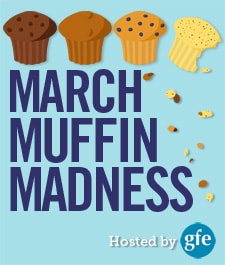 But any method that results in mashed sweet potatoes will work just fine in these yummy muffins.
Gluten-Free Sweet Potato Muffins with Walnut Crumb Topping Recipe
Yield: 24 muffins
Gluten-Free Sweet Potato Muffins with Walnut Crumb Topping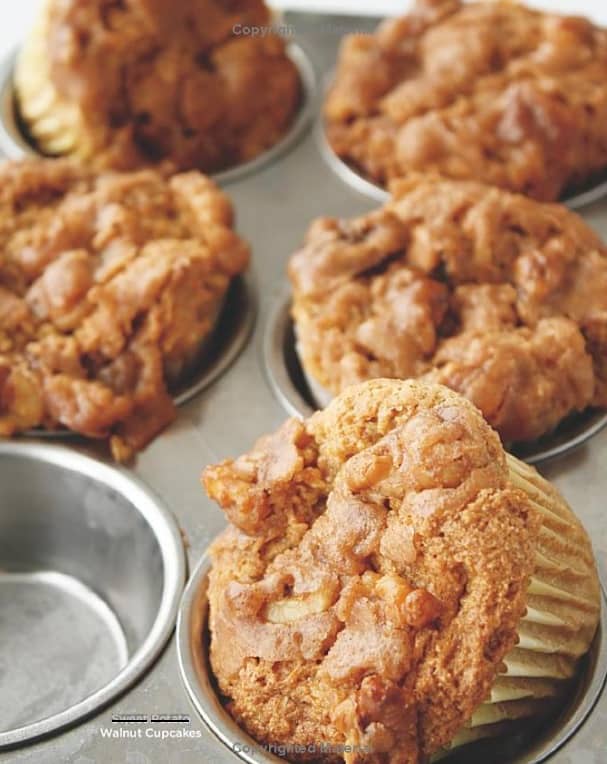 Pete and Kelli say: "Sweet potato works surprisingly well in baking. It has a subtle flavor, and it lends moisture and a tender crumb to cakes. Our recipe is delicious in its own right but if you're looking for another reason to make it, it's also a great way to use leftover sweet potatoes from dinner. The butter-brown sugar-walnut crumb topping adds major flavor and takes the subtle sweet potato to new heights."
Additional Time
30 minutes
Total Time
1 hour
5 minutes
Ingredients
Muffin Batter Ingredients
½ cup salted butter (one stick), room temperature
1 cup packed light brown sugar
1 cup granulated sugar
2 teaspoons gluten-free pure vanilla extract
4 large eggs, room temperature
¾ cup sour cream
1 cup mashed sweet potato
2 ½ cups Artisan Gluten-Free Flour Blend (Shirley here: I used my Two-Ingredient Gluten-Free All-Purpose Flour Mix successfully)
2 teaspoons xanthan gum
1 tablespoon baking powder
1 teaspoon baking soda
½ teaspoon salt
2 teaspoons ground cinnamon
½ teaspoon ground ginger
½ teaspoon ground allspice
Walnut Crumb Topping Ingredients
1 cup packed light brown sugar
½ cup salted butter, 1 stick
2 teaspoons ground cinnamon
1 cup chopped walnuts
Instructions
Preheat oven to 350F.
Line standard cupcake tins with paper liners.
Make the walnut crumb topping, Combine butter, light brown sugar, cinnamon, and walnuts in a medium saucepan and heat over medium-high heat, stirring occasionally until the mixture boils and then the sugar dissolves. Remove from the heat and set aside.
With an electric mixer, in a large bowl, cream together the butter, light brown sugar, and granulated sugar until light and fluffy, then add the vanilla extract.
Add the eggs one at a time, mixing to incorporate after each addition.
Add the sour cream and sweet potato and mix until combined.
In a separate bowl, combine the flour, xanthan gum, baking powder, baking soda, salt, cinnamon, ginger, and allspice, and mix with a whisk to "sift" the ingredients and break up any lumps.
Add the dry ingredients all at once to the sugar mixture and mix for about 10 seconds at medium-low speed to incorporate.
Scrape down the sides of the bowl and mix at high speed for about 5 seconds, just until the batter is completely mixed and smooth.
Divide the batter evenly among the paper-lined cups. Make the top of the batter as smooth as you can.
Spoon the walnut crumb topping evenly among the muffins.
Bake for 25 minutes.
Allow the muffins to cool completely in the tins.
Remove muffins from the tins and enjoy.

Notes
Reprinted with the permission of Peter and Kelli Bronski and The Experiment.
Today's MMM Prizes
All giveaways are now closed. Thanks to all who participated!
~ Gluten-Free Cookbooks Giveaway
I've already mentioned Pete and Kelli's delightful Artisanal Gluten-Free Cupcakes cookbook because it's the source of today's recipe for Gluten-Free Sweet Potato Muffins with Walnut Crumb Topping but if you're one of their readers, you know they also have several other cookbooks that the gluten-free community loves.
Their most recent cookbooks include one focused on stellar gluten-free pizza—which has made them really popular—and a much-needed cookbook to teach kids how to cook gluten free. All of their cookbooks that are featured in today's giveaway are provided by Pete and Kelli!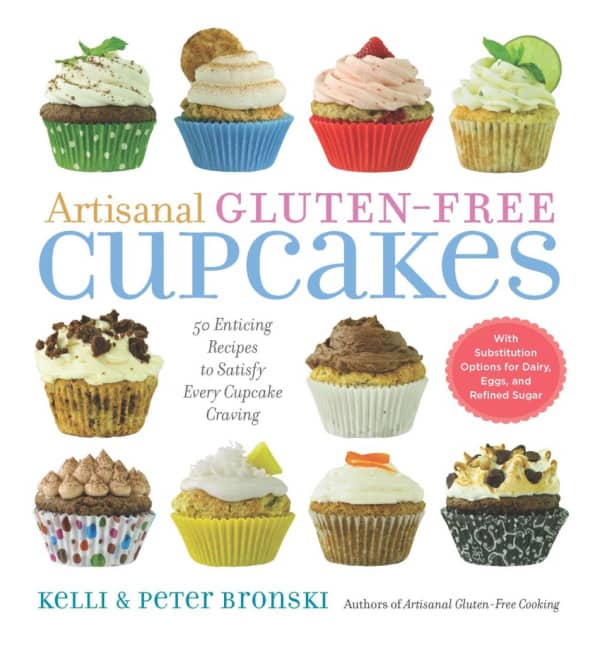 ~ Artisanal Gluten-Free Cupcakes (one winner) ~ Here's my original review, which still appears as an editorial review on Amazon: "Pete and Kelli Bronski have followed their all-purpose, "required reading" first cookbook, Artisanal Gluten-Free Cooking, with another must have for your kitchen shelf: Artisanal Gluten-Free Cupcakes. Imagine your favorite flavor of cupcake . . . now flip to the Table of Contents and there it will be! The Bronskis provide the classic cupcake flavors of vanilla and chocolate (and variations like Chocolate Buttercream and Mocha), but then they move on to cupcakes with names that nicely indicate the flavor profiles and actually make one a bit "weak in the knees." I mean, who can resist cupcakes called Poached Pearfection, French Toast, Hot Fudge Sundae, Orange Dreamsicle, and Dulce de Leche? The best news of all is that if you have other food intolerances/restrictions besides gluten, there is additional guidance on how to make each recipe dairy-free, egg-free, or vegan. So put on your apron, grab your muffin tin, and get baking; you're in for some divine cupcakes!"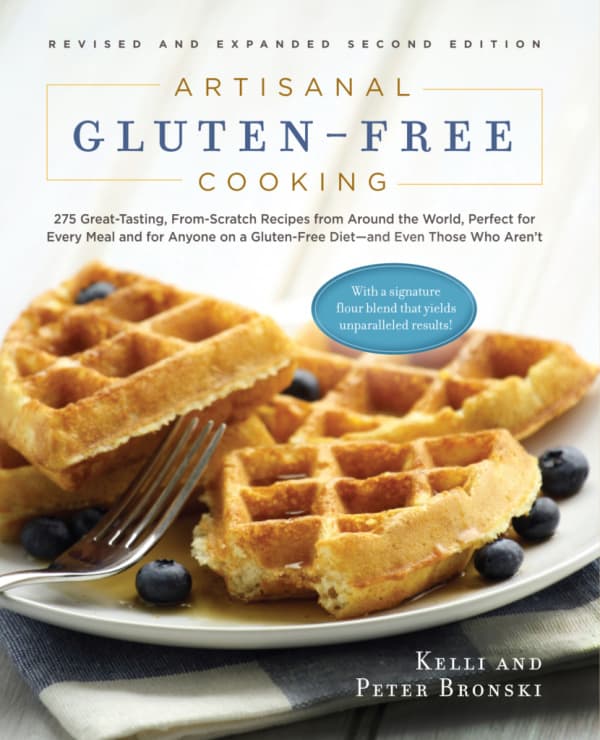 ~ Artisanal Gluten-Free Cooking (one winner) ~ I stand by my original review on gfe of this cookbook, which was Pete and Kelli's first cookbook: "You know how we all tend to have a standby cookbook that we rely on the most …from making basic recipes to making special occasion recipes? It's the cookbook that looks pretty beaten up because it's been used and abused so often. Well, Artisanal Gluten-Free Cooking is the gluten-free version of that prized cookbook. It features over 250 recipes and they run the gamut from delicious appetizers to creative salads to savory soups to entrees of every description (and from around the globe) to amazing desserts (45 in all!).
Add to that the great resource info included in this cookbook (e.g., "the essential gluten-free kitchen" section), their signature six-ingredient flour mix, and the personal, but brief, vignettes that Pete and Kelli share with every recipe, and you have a cookbook that you will spill flour on, splash sauce on, and most of all, treasure." Several of the recipes from this cookbook have become gfe family favorites that I still make so it is not surprising that a second edition was later published. That edition is what is being given away today.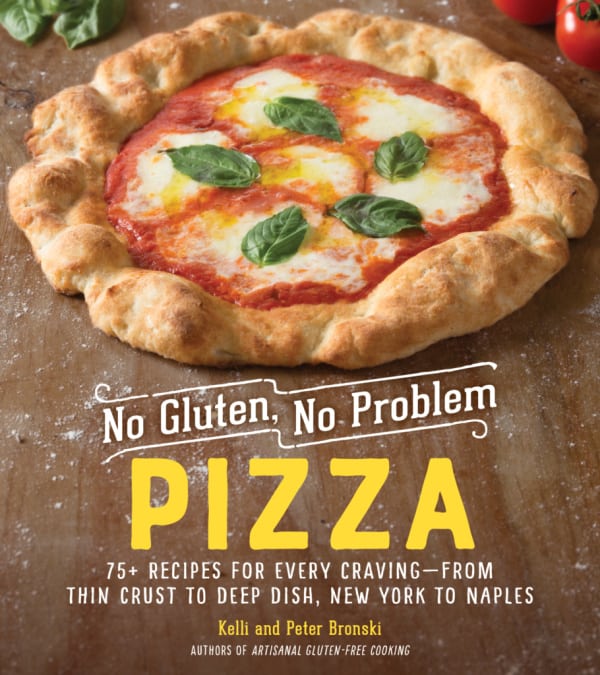 ~ No Gluten, No Problem Pizza: 75+ Recipes for Every Craving―from Thin Crust to Deep Dish, New York to Naples (one winner)~ There are currently 335 reviews of this cookbook on Amazon, with an overall 4.5 star rating. The only reason the rating is not higher is because of some negative reviews, which include those from folks who want all the recipes to use a single gluten-free all-purpose flour mix.
That's some magical thinking right there, folks. If it were that easy, wouldn't we all be making amazing can't-believe-it's-gluten-free traditional pizza recipes at home every day? And wouldn't dining establishments be doing the same? Of course, it's not that simple. Another negative review was because the recipe ingredients are by weight vs volume. Pete and Kelli's pizza recipes use exact weights of specific ingredients that will re-create all the styles of pizza (as well as beloved flavor variations) that you love, gluten free!
This line from a reader review is my favorite: "Yes, it's a pain to have so many different flours and ingredients but once you have them, the instructions are easy, the flavors are great and we've had a lot of fun getting to make so many varieties. Even our non-gf friends have remarked that the crusts are great! Highly recommend this book—invite over friends and have a great night hand-making your own pizzas!"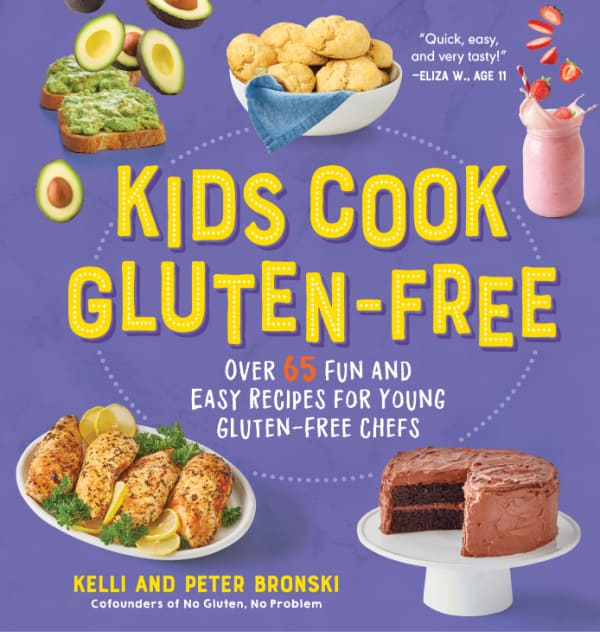 ~ Kids Cook Gluten Free: Over 65 Fun and Easy Recipes for Young Gluten-Free Chefs (one winner) ~ Books for gluten-free children are few and far between. I'm talking about both resource books (e.g., what having celiac disease means, how to live gluten free) and cookbooks. I'm thrilled to see this addition to not only the gluten-free cookbook world but also the cookbook world in general.
"Normalizing" gluten-free living is very important for all of us whose gluten-free diet is our only treatment for our medical condition, not just children. And while most parents of gluten-free children do all they can to give their kids the best gluten-free life going above and beyond to re-create their favorite dishes as gluten free and make sure they have delicious and safe meals, instilling that knowledge and skills in the kids themselves are critical to a happy gluten-free life.
"Each recipe has kid-friendly instructions with a list of common kitchen terms and tools. Guides to gluten-free eating, safety tips, and basic techniques help young readers get comfortable in the kitchen. Kids can make delicious food with a parent or all by themselves."
Grand Prize Giveaway
All giveaways are now closed. Thanks to all who participated!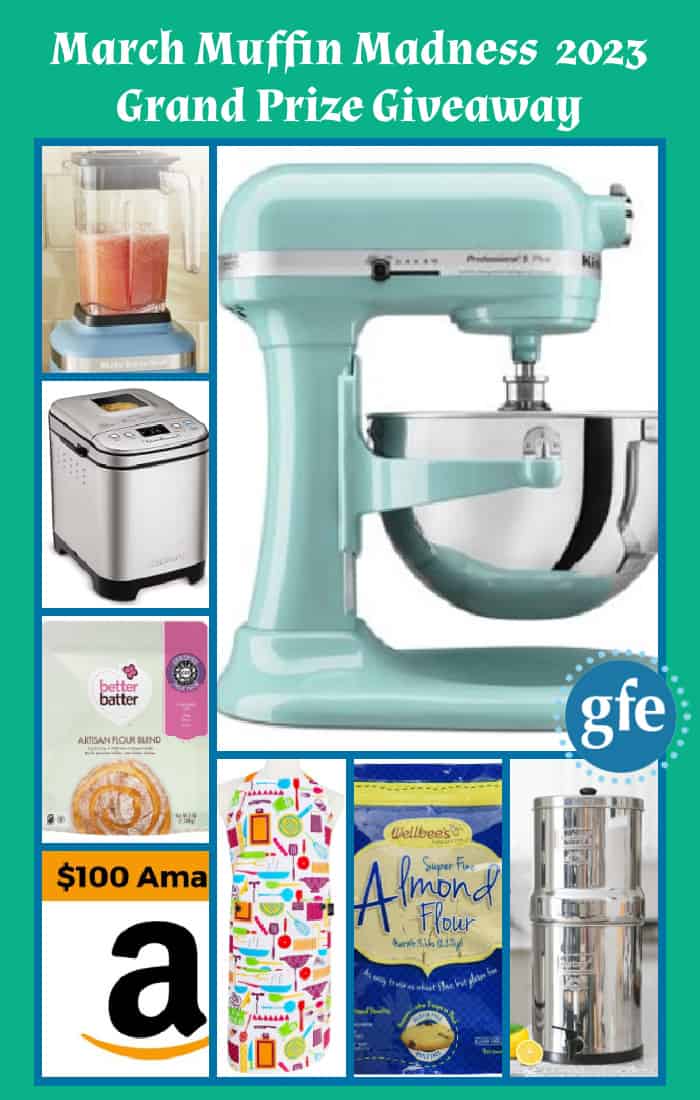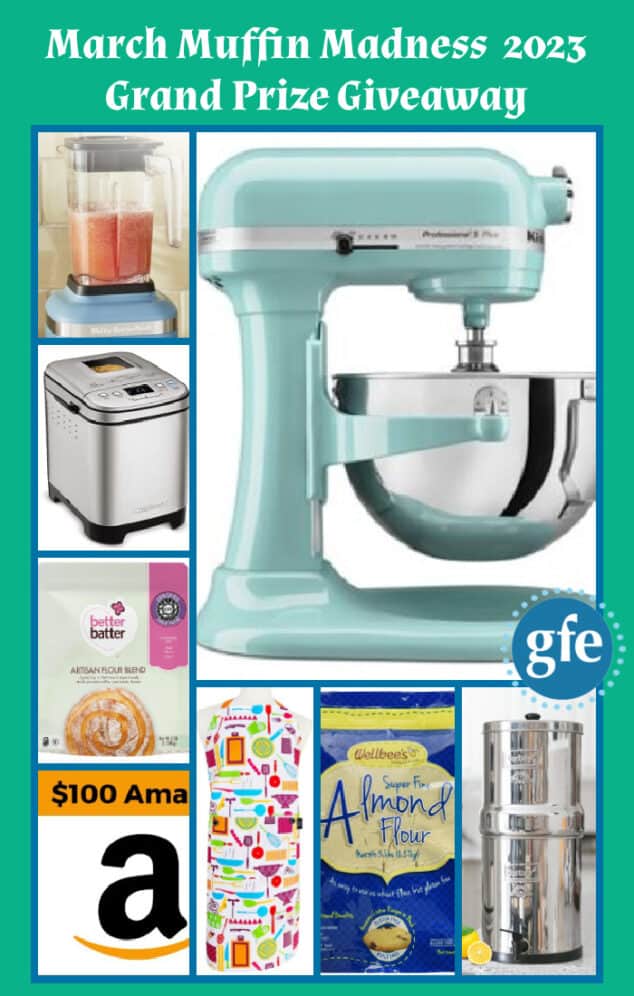 a Rafflecopter giveaway
Originally published March 13, 2023; updated May 2, 2023.