For affiliate links and as an Amazon Associate I earn from qualifying purchases.
Next up with a muffin recipe in our March Muffin Madness series is Tessa, also known via her blog as Tessa, The Domestic Diva. Tessa focuses on making family foods as healthy as possible. She says that real food is her obsession. She has learned to cook without the major allergens and adapt to other special dietary needs, so she says there's something for everyone on her blog:  recipes that are gluten free, casein free, vegan, paleo, sugar free, and more. Even better, Tessa is "always willing to help you tweak things to YOUR tastes and dietary needs!" Last, but not least, be sure to visit Tessa on Wednesdays when she co-hosts Allergy-Free Wednesdays, an event featuring a wonderful variety of allergy-free recipes and posts, including gluten-free recipes and posts on living gluten free, healthy, paleo, and more.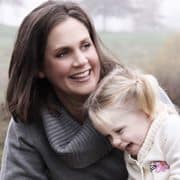 Enjoy today's recipe in our series—with Tessa's helpful baking guidance—and see the whole line-up of bloggers, blogs, and muffin recipes here.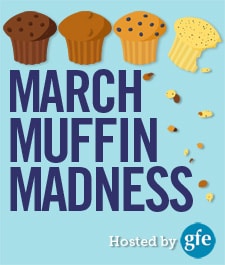 Tessa's Favorite Ingredients for Paleo, Vegan, and Nut-Free Baking and the Why on Roasted Sweet Potatoes
The recipe Tessa is sharing with us today—Paleo Sweet Potato Muffins—is grain free, paleo, and vegan. Those three don't often go together. (Stacy and Matt of Paleo Parents also emphasized that fact when they shared the grain-free, paleo, and vegan status of their Chunky Monkey Muffins earlier in our series.)
As Tessa points out, while eggs are often the key to successful grain-free baking because they add needed structure, the problem is that "lots of people with compromised guts can't do eggs OR nuts OR grains!" She adds that there are some special ingredients that she uses to create paleo, egg-free, and nut-free recipes. The following ingredients are her favorites for creating recipes like her Paleo Sweet Potato Muffins, which she says are "soft with a denser crumb; feels like a meal in the mouth!"
~ Coconut Butter (use her directions to make your own if you'd prefer)

~ Whole Psyllium Husks (they help with binding egg-free baked goods)

~ Coconut Flour (which she describes as grain free, nut free, and a great flour to cook with, but notes that it's totally unique in its behavior).
Finally she emphasizes that roasted sweet potatoes should be used in this recipe. Why roasted sweet potatoes? Tessa explains:
"Nothing compares to a roasted sweet potato….not boiled, not blanched, not steamed!  Roasting brings out the maximum sweetness which is why this recipe can use so little sweetener.  Will any mashed squash or sweet potato work?  Sure…but know it WILL change the end flavor, and you may need to add additional sweetener in the form of stevia or palm sugar to make it good! 
TO ROAST YOUR SWEET POTATOES:  Simply scrub your sweet potato clean, prick all over with a fork, and bake in 350 degree oven for about an hour until some of the sugars are seeping out of the holes!  It should be uber soft and deflated looking when it comes out of the oven and deflates!  I make multiple potatoes at once and use them in smoothies or other treats (pureed with coconut milk…swoon!)"
Tessa's Paleo Sweet Potato Muffins Recipe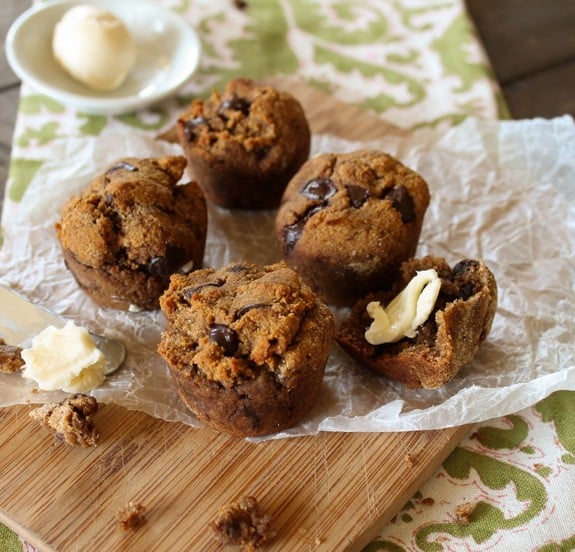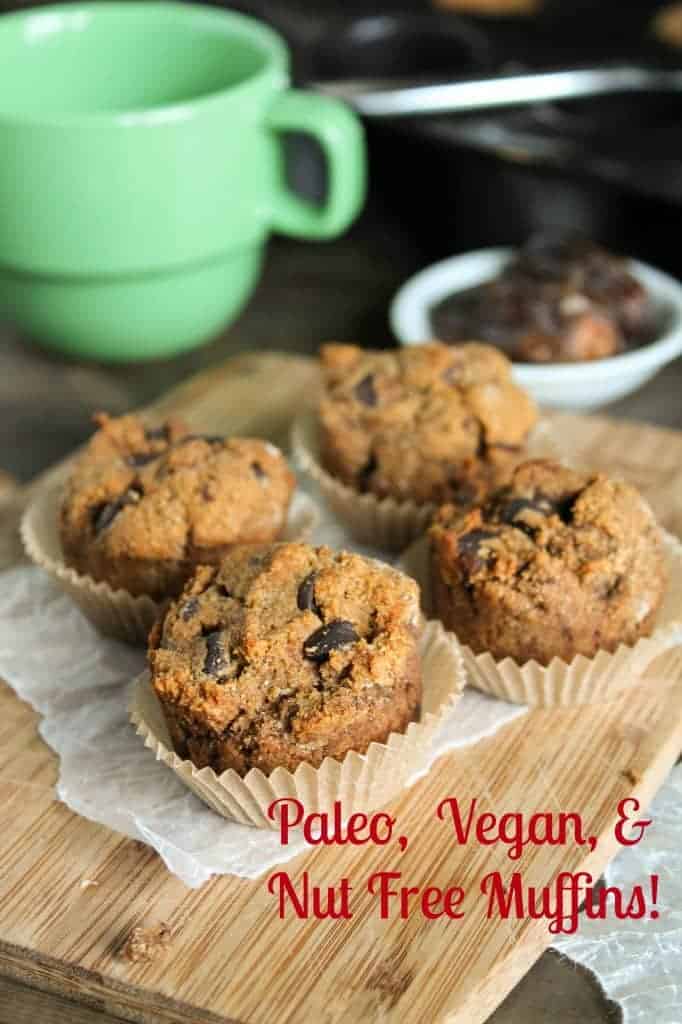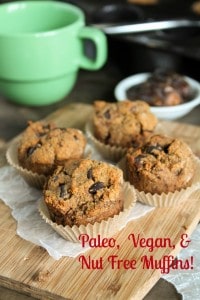 Print
Paleo Sweet Potato Muffins from Tessa, The Domestic Diva
Yield 12
Ingredients
Add-In Options: orange zest, chocolate chips, cranberries, raisins, toasted nuts.
Instructions
Preheat oven to 350 degrees.
Place the dates, milk, coconut butter, and coconut oil in a pan and simmer gently a couple of minutes to soften the dates.
Add the date mixture and sweet potato to the bowl of a food processor and puree until smooth.
Add in the remaining ingredients and pulse until well mixed. Batter will be very thick.
Use your hands to grab a golf ball size piece of dough, and roll gently in your hands to form a ball.
Place the balls into a greased mini muffin tin.
Bake for 18 minutes, or until a toothpick inserted in the middle comes out clean.
These will keep for several days on the counter in an airtight container.
Notes
TO ROAST YOUR SWEET POTATOES: Simply scrub your sweet potato clean, prick all over with a fork, and bake in 350 degree oven for about an hour until some of the sugars are seeping out of the holes! It should be uber soft and deflated looking when it comes out of the oven and deflates! I make multiple potatoes at once and use them in smoothies or other treats (pureed with coconut milk…swoon!)
Courses Breakfast, Dessert