For affiliate links and as an Amazon Associate I earn from qualifying purchases.
For our kickoff recipe for March Muffin Madness, we have my friends Stacy and Matt from Real Everything sharing their gluten-free Chunky Monkey Muffins! (Note: You may remember them from their "former selves" as Paleo Parents.)
What a great recipe to launch the series! I mean who can resist any recipe that has Chunky Monkey in its name?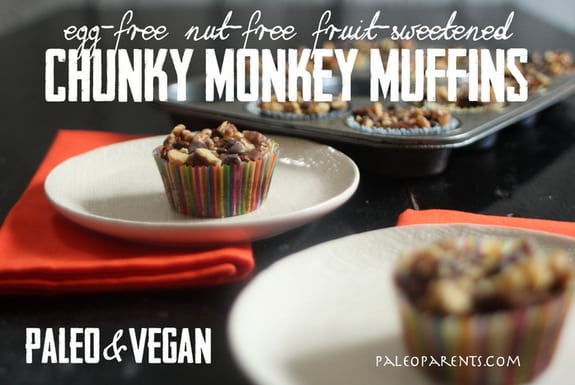 First, A Word about Stacy and Matt of Real Everything and Their Paleo Kids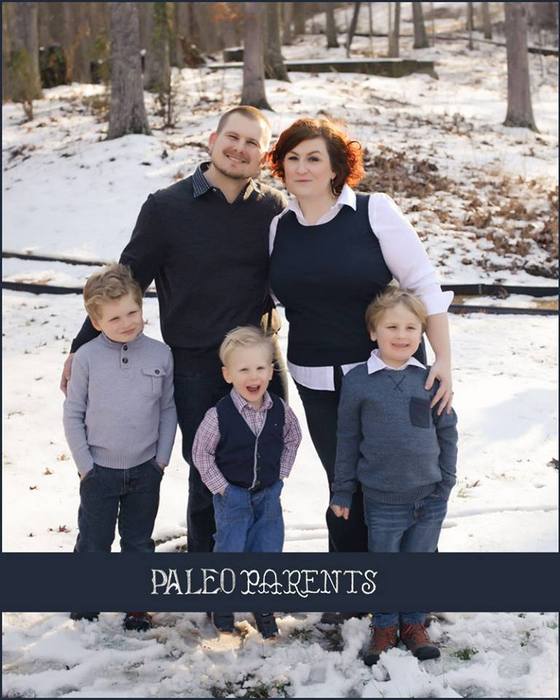 Stacy, Matt, Cole, Finian, and Wesley are well known for their award-winning recipes and their successes with the paleo diet. They have been featured in national publications, live speaking events, on radio shows, podcasts, videos, and news programs.
Matt and Stacy are the authors of several paleo cookbooks—Eat Like a Dinosaur: Recipe & Guidebook for Gluten-Free Kids, Beyond Bacon: Paleo Recipes That Respect the Whole Hog, and Real Life Paleo: 175 Gluten-Free Recipes, Meal Ideas, and an Easy 3-Phased Approach to Lose Weight & Gain Health.
Through all that, though, they say they are just a suburban family: a working mom and stay-at-home dad who raise three active young boys the paleo way. Changing their own health and wellness and that of their boys (behavioral and physical) after adopting a paleo diet, the Paleo Parents focus on a family-friendly approach to an ancestral lifestyle. They make it work for them, and they show you how you can too! Read more on their journey to health here.
Now Back to Their Recipe for Gluten-Free Chunky Monkey Muffins
Stacy and Matt let you "choose your own adventure" with their gluten-free Chunky Monkey muffins. That means you can make either a vanilla version or a chocolate version. They say that both versions disappear quickly, so "let your bananas get mushy and get your baking on!"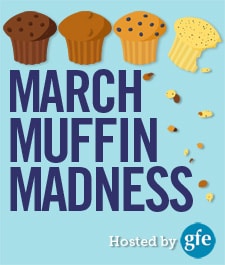 They also share that "these muffins are vegan AND paleo with an option for tree-nut free too! Well, we're not even sure they're muffins. I mean, it's fruit-sweetened without frosting so it's not a cupcake. And it's got the texture of a brownie. But it's healthy enough from being sweetened only with fruit to be snuck for breakfast. Pay no attention to the aptness of this sweet treat's name… focus on the simplicity and how delicious it is!"
A muffin with the texture of a brownie? What could be better than that? And because these muffins are vegan and paleo, that means they're also gluten free, grain free, dairy free, egg free, refined sugar free, and as already mentioned, there's an easy substitution that can be made if you need a nut-free version.
How and why did Stacy and Matt create such a recipe? They explain: "Somehow we were magically able to recreate a brownie texture without any eggs. We're not what I'd call skilled at vegan baking, in fact we rather love baking with eggs. But, we know that quite a few children have an intolerance to them – so we wanted to offer a recipe that'd work without needing any substitutions."
Well, their questionable muffins sure look like muffins to me and I'm happy that these Chunky Monkey Muffins are part of our MMM recipe roundup! What do you think? Check out the complete muffin recipe roundup here.
Gluten-Free Chunky Monkey Muffins Recipe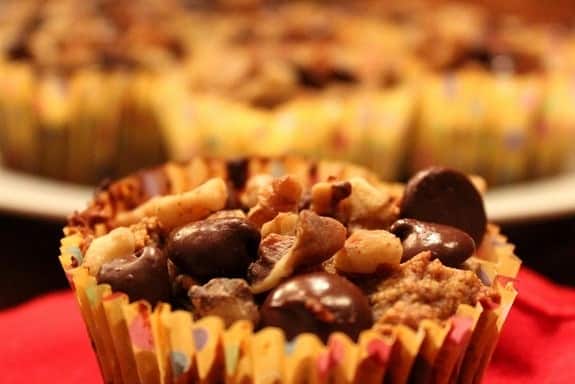 Yield:
Gluten-Free Chunky Monkey Muffins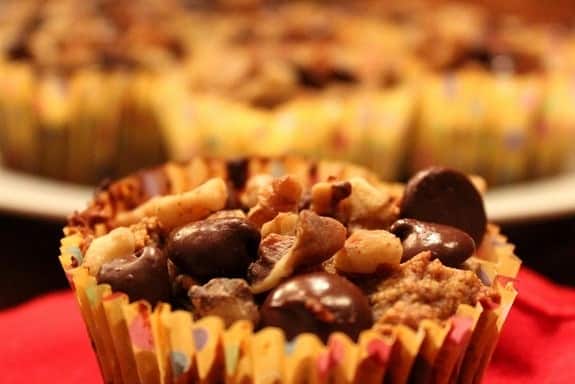 Almost everyone loves the Chunky Monkey combination that Ben and Jerry made famous in the ice cream world! Why not transfer that deliciousness to the muffin world, right? Bonus ... you get to choose your own flavor adventure--vanilla or more chocolate.
Ingredients
Here's where you choose your own adventure, for the last ingredient you must decide the flavor you'd like! To the mixture add ONE of the following:
Topping (Optional):
Instructions
In a food processor, puree together the dates and bananas until smooth.
Add remaining ingredients to food processor and pulse until a thick batter forms (scrape sides to fully incorporate but do not over blend).
♥Spoon into lined muffin tin, filling cups 2/3 full.
♥Toss topping ingredients together in small bowl, sprinkle on top of each muffin and press gently to get them to "stick."
Bake at 350F degrees for 16 - 18 minutes.
Notes
*We prefer fresh Medjool dates (usually found in the refrigerated produce section of the grocery store). We pit them ourselves and use them directly. If you are unable to find them (or find the cost too prohibitive) you can acquire a similar texture by re-hydrating dehydrated dates. Simply cover with boiling water for ten minutes, drain and use as instructed.
Don't forget to let your kids help with the easy steps (noted by a ♥). Sometimes cooking with kids can be a challenge. Finian poured in an entire ramekin of salt to our original batch (on accident) and although incredibly frustrating, it was a great learning lesson for us all. There are always teaching moments in the kitchen!
Originally published March 2, 2014; updated January 26, 2023.