For affiliate links and as an Amazon Associate I earn from qualifying purchases.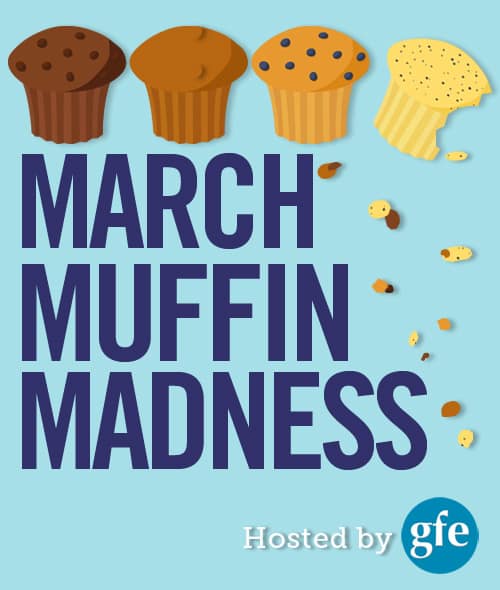 Here's an alphabetical roundup of all the gluten-free muffin recipes from our March Muffin Madness event. I wanted to not just have a listing of links as I do in the kickoff post, but to also have photos for better "one-stop" recipe shopping of the best gluten-free muffin recipes!
I've included some reader reviews comments. If you've made any of these recipes, please feel free to also share your delicious reviews in comments here!
~ Almond Cranberry Muffins from The Gluten-Free Homemaker ~ gluten free, dairy free, vegetarian
~ Apple-Quinoa Breakfast Muffins from Ricki Heller ~ gluten free, dairy free, egg free, vegan, with refined sugar-free option
~ Bacon Muffins from GAPS Diet Journey ~ gluten free, grain free, dairy free, paleo, primal, GAPS)
Some of the reader reviews to date:  "These are very good. I did not have enough bacon fat, so I used coconut oil to make up the difference. Very good."
~ Banana Split Muffins from Pocketfuls ~ gluten free, dairy free, egg free, vegetarian, with vegan option
Some of the reader reviews to date:  "I baked them but replaced the oats (can't tolerate them) by shredded coconut, It turned out really well." . . . "I used a bit of freeze dried fruit and the crunch was delicious!"
~ Basil Prosciutto Corn Cakes from Jenn Cuisine ~ gluten free
~ Carrot Banana Muffins from Elana's Pantry ~ gluten free, grain free, dairy free, sugar free, vegetarian, paleo, primal
Some of the reader reviews to date:  "I have had these and they are really good!"
~ Chai Tea Muffins from GF Jules (Jules Shepard's new site—find out what's going on with Jules and her products; all her recipes will be on this site soon) ~ gluten free, vegetarian, with dairy-free, refined sugar-free option
~ Chocolate Banana Swirl Muffins from Sarah Bakes Gluten-Free ~ gluten free, dairy free, egg free, with vegan option
Some of the reader reviews to date:  "I just made these and they are incredible!! So moist and delicious and fancy looking, yet super easy! Thanks again for another tasty and healthy treat that I feel good about giving my kids (and myself!) By the way I used my own GF flour blend and 2% milk and they came out great."
~ Cinnamon Sugar Donut Muffins from In Johnna's Kitchen ~ gluten free, dairy free, egg free, refined sugar free, vegan
Some of the reader reviews to date:  "I made these Sunday afternoon and they are perfectly delicious! This one will definitely be in my favorites file. Thanks for sharing!" … "Oh my gosh! I baked these yesterday! They are so good! Outstanding in my opinion!"
~ Classic Sweet Cornbread Muffins from My Gluten-Free Kitchen (gluten free, vegetarian)
Some of the reader reviews to date:  "I made the sweet corn bread muffin recipe this morning…loved them…delicious! Even my finicky husband loved them."
~ Coffee Cake Muffins from Celiac in the City ~ gluten free, with dairy-free option
Some of the reader reviews to date:  "I made the coffee cake muffin just last week and everyone here at the house loved them. Definitely will be making them again."
~ Chunky Monkey Muffins from Paleo Parents ~ gluten free, grain free, dairy free, egg free, vegan, paleo, primal, with refined sugar-free and nut-free options
Some of the reader reviews to date:  "Tried these and they are GREAT!" and "These muffins are a home run, such a great muffin!"
~ Cocoa-Nut Muffins from Gluten Free Goodness ~ gluten free, grain free, dairy free, egg free, refined sugar free, vegan)
~ Delicious Paleo Carrot Cake Muffins from Allergy Free Alaska ~ gluten free, grain free, dairy free, refined sugar free, vegetarian, paleo, and primal
Some of the reader reviews to date:  "I made these in mini cupcakes and some large cupcakes. Then I took some to church for food fellowship. They went over really well. Then the next day I made some "cream cheese frosting" (greek cream cheese, butter, coconut oil and honey) and frosted the remaining ones I had left. I had my mom and daughter for dinner and my mom is always more interested in the desserts than the main dinner. She loved these and took about a dozen of the minis home with her! I did add some chopped pecans, dried apple bits and dried cranberry bits in mine. I will be making these again!!" … "These were fantastic muffins! My two boys aged 13 and 16 loved them, said they were the best ever. I was surprised because they are not super sweet and usually the kids like the sweet stuff. I will make these again for sure." … "Used my own homemade apple sauce and these were GREAT!"
~ Dillicious Herb-Stuffed Muffins from Sweet Debbie's Organic Cupcakes ~ gluten free, dairy free, egg free, nut free, vegan 
~ Hot Cross Carrot Muffins from Gluten Free SCD and Veggie ~ gluten free, grain free, dairy free, refined sugar free, paleo, primal, SCD, vegetarian
~ I Love You Cinnamon Apple Muffins from The Tasty Alternative ~ gluten free, dairy free, cane sugar-free, nut free, and vegetarian
~ Johnny Cake Muffins from The Mommy Bowl ~ gluten free, dairy free, vegetarian, with refined sugar-free option
Some of the reader reviews to date:  "We tried these this morning. It reminded of the potato chip commercial… you can't eat just one. Super-delicious." . . . "I baked them but replaced the oats ( can't tolerate them) by shredded coconut, It turned out really well. Thank you for sharing."
~ Knee Slappin' Good Blueberry Muffins from Adventures of a Gluten-Free Mom ~ gluten free, dairy free, egg free, vegan
Some of the reader reviews to date:  "delicious" . . . "unbelievably wonderful" . . . "my sons request these."
~ Lemon Chia Seed Muffins from Premeditated Leftovers ~ gluten free, vegetarian, nut free, with dairy-free option
Some of the reader reviews to date:  "These are great! My husband—who isn't gluten free and not very enthusiastic about gf foods—thought these were "real" muffins! These are definitely a keeper for the gf recipe file-thank you!"
~ Orange Blueberry Muffins from Cook Eat Paleo ~ gluten free, grain free, refined sugar free, vegetarian, primal
Some of the reader reviews to date:  "I made these yesterday and they are fabulous!!! Thank you!! I did use frozen blueberries, just defrost and made sure they are as dry as possible before putting them in. No problem at all! Delish!" . . . "Made these this afternoon, using silicone cups and was able to get 11 delicious muffins from the batch. Used Tropical Traditions coconut flour and had no runny issues. They are very yummy!" . . . "I just made these muffins and they are fantastic! I even cut back on the honey & only used 2 Tbsp instead of 4 and added a little extra juice from the orange – delish! I used olive oil instead of ghee and it was perfectly fine."
~ Paleo Sweet "Cornbread" Muffins from Cassidy's Craveable Creations ~ gluten free, grain free, dairy free, refined sugar free, vegetarian, paleo, and primal
Some of the reader reviews to date:  "what i like is it tastes like it's made with reg flour. my gluten eating friends could not tell the difference!" . . . "I've made these muffins for my daughter and she liked them very much."
~ Paleo Sweet Potato Muffins from Tessa, The Domestic Diva ~ gluten free, grain free, dairy free, egg free, refined sugar free, vegan, paleo, primal, nut free
Some of the reader reviews to date:   "Love this recipe!! Second time making it and they turn out so nice. I use ground chia seeds in place of the psyllium and it works perfectly." . . . "Delicious! I added chopped chocolate from a organic dark chocolate bar and chopped macadamias.  Sooo good!  Thanks for a great recipe."
~ Pumpkin Sunrise Muffins from Gluten Free Spinner ~ gluten free, vegetarian
~ Raspberry Muffin Cakes from She Let Them Eat Cake ~ gluten free, dairy free, egg free, refined sugar free, vegetarian
Some of the reader reviews to date:  "These are good!"… "Switched the honey for maple syrup for vegan and perfect."
~ Savory Leek and Potato Brunch Muffins from Cake Cooks Gluten Free ~ gluten free, grain free, dairy free, refined sugar free, paleo, primal, with vegetarian option
~ Sneaky Chocolate Peanut Butter Muffins from ChaCha's Gluten-Free Kitchen ~ gluten free, grain free, vegetarian, with dairy-free, egg-free, with vegan options
Some of the reader reviews to date:  "Made these this weekend and they are as good as you think. I would half the vinegar or even leave it out. It does provide a slight after taste I didn't love. But over all it is a GREAT treat!" . . . "Loved this Recipe . . . So Delicious and I have to say I was very doubtful, looking at the batter, But boy was I shocked! Thank you so much."
~ Springtime Lemon-Berry Muffins from Cook IT Allergy Free ~ gluten free, dairy free, with egg-free, nut-free option
~ "Starter" Muffins with Pretty Pink Glaze from Free Range Cookies ~ gluten free, vegetarian, with dairy-free option
Some of the reader reviews to date:  "I made these for breakfast real fast this morning, a cinnamon sugar variation that was delicious! I made them vegan. Here is how I personalized them:  I used 1 cup brown rice flour, 1/2 cup each millet, sweet rice flour, tapioca flour. Left the eggs out, added 1/4 cup coconut milk (knew the applesauce and yogurt were enough binding). Used light olive oil. Used 1/2 cup palm sugar and 1/8 t stevia powder. Used coconut milk yogurt and left all lemon out. Really good, thank you!"
~ Tropical Mango-Coconut Muffins from Simply Quinoa ~ gluten free, dairy free, refined sugar free, vegetarian
~ Vanilla Pear Muffins from Healthful Pursuit ~ gluten free, dairy free, refined sugar free, yeast free, corn-free, grain-free, and nut-free
Some of the reader reviews to date:  "These are seriously good. I made them in a mini-muffin (silicon) tin. I decreased the baking temperature to 180 C and baked for 20 minutes. Delicious!"