For affiliate links and as an Amazon Associate I earn from qualifying purchases.
As we approach Easter and, therefore, Good Friday, the timing is perfect to share these Hot Cross Carrot Muffins for March Muffin Madness. This recipe was created by Vicky of Gluten Free SCD and Veggie. Vicky's muffins are a delicious way to enjoy a variation on Hot Cross "Buns" without all the work that many Hot Cross Bun recipes require.
These Hot Cross Carrot Muffins are gluten free, grain free, dairy free, refined sugar free, paleo, primal, vegetarian, and Specific Carbohydrate Diet (SCD) compliant.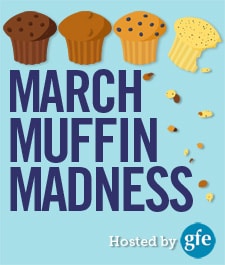 Enjoy learning more about Vicky and her Hot Cross Carrot Muffins and see the whole line-up of bloggers, blogs, and muffin recipes here.
Vicky has been an inspiration to me and many others for quite some time. Much of the reason why is shared in her family's story with the "why" and "how" behind their use of a gluten-free diet, the SCD to be exact, in a guest post earlier here on gfe.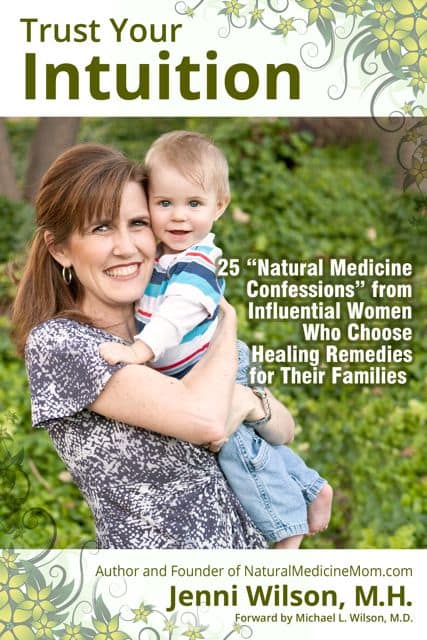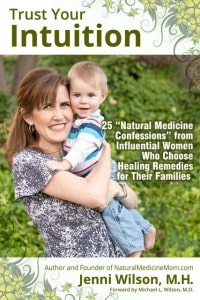 Vicky also shared her family's story in an excellent book Trust Your Intuition: 25 "Natural Medicine Confessions" from Influential Women Who Choose Healing Remedies for Their Families. I reviewed this book in advance of its publication. Here's my comment below, which you can also find inside the front cover.
"I've always been a huge believer in the power of personal stories in setting others on the path to wellness. The 25 "Natural Medicine Confessions" shared in Trust Your Intuition are all very different, yet very similar. These women have used what they have learned to heal themselves and their family members. The results of their "mama bear" instincts coming out are simply amazing and inspiring!

While I'm already familiar with the benefits of dietary changes in healing and becoming our best possible selves, there was much more to learn from this book. I plan to reference these stories and the wisdom in them from this point on. Therefore, this book will be highlighted and notated, and "at the ready" at my home from this point on. Many thanks to all who so graciously shared their stories and what they have learned, so that the rest of us might benefit."
Vicky's such a welcoming, helpful presence in our gluten-free community and the online wellness community in general. Not only does she share her excellent grain-free, SCD-compliant recipes and guidance via her blog, but she also shares all kinds of gluten-free recipes that would be lovely for afternoon tea on her Facebook page, Gluten-Free Afternoon Tea.
Some of Vicky's most popular recipes are:
And since we're all about muffins this month, here are some of Vicky's muffin recipes:
And now I'll let Vicky tell you a little about herself before she shares her Hot Cross Carrot Muffins recipe!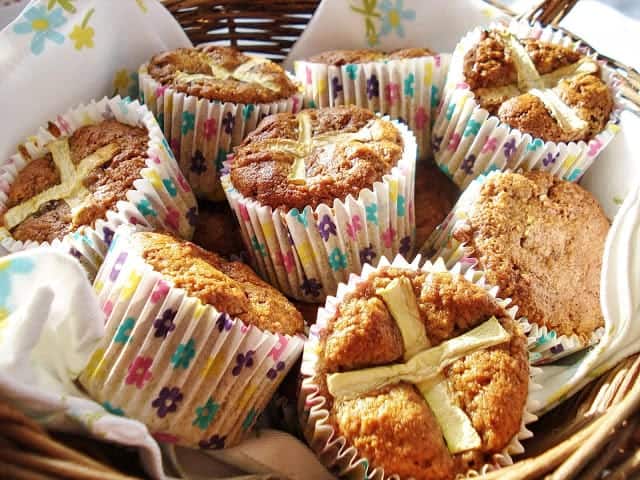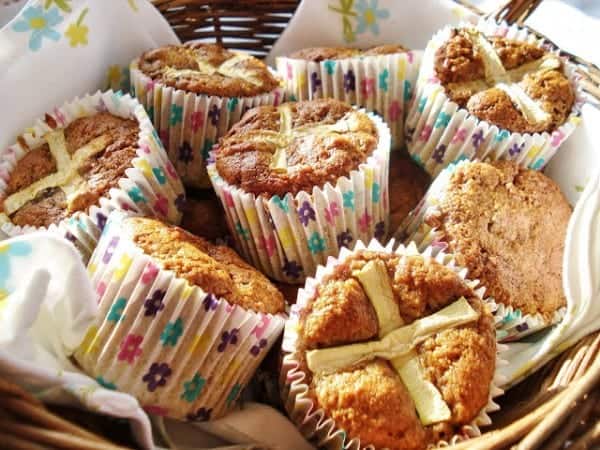 A mother of three amazingly talented grown-up children, I live in West Yorkshire, UK. My passion for real food was sparked by my son's recovery from Crohn's Disease and though I initially created my vegetarian food blog as a recipe book for the family, I also hoped that it would reach other people following the Specific Carbohydrate Diet as well as gluten or grain free diets.
I am honoured to be included in this event amongst all these wonderfully talented recipe creators and can I take this opportunity to say a huge thank you to Shirley for hosting it and for her very generous time spent in bringing all these wonderful muffins to our table!
Gluten-Free Hot Cross Carrot Muffins Recipe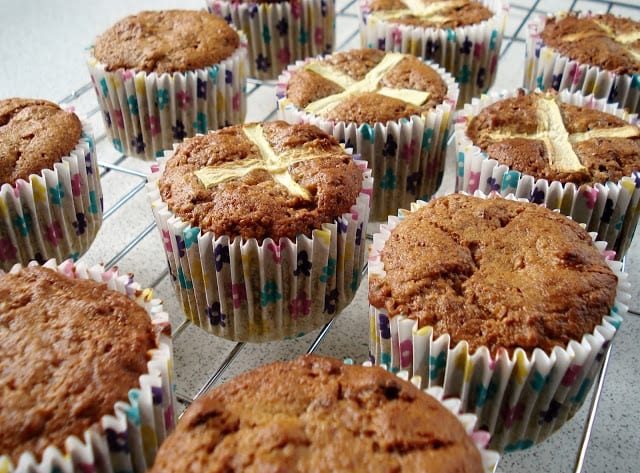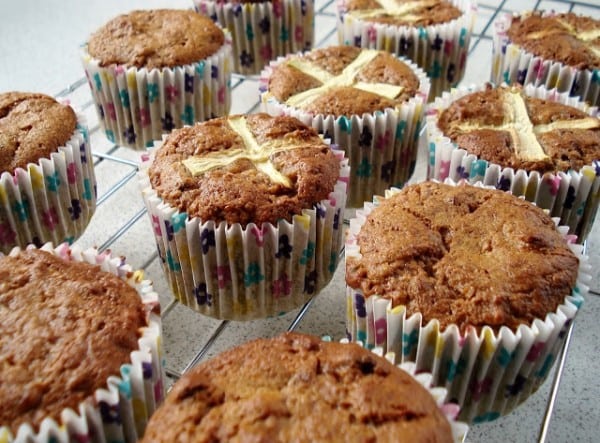 Yield:
Hot Cross Carrot Muffins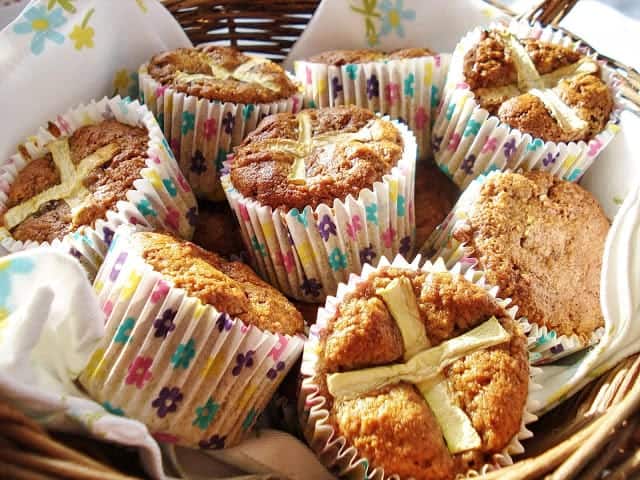 These Hot Cross Carrot Muffins from Vicky of Gluten Free SCD and Veggie are a creative and a delicious way to get one's gluten-free Hot Cross Bun fix!
Ingredients
2 medium/large carrots (about 2 rounded cups not packed)
1 small courgette (zucchini)
250g ground almonds (or almond flour)
80g sultanas or golden raisins (or any dried fruit mix)
Grated rind of 1 unwaxed orange
2 large organic eggs (extra large in the U.S.)
2 tbsp extra virgin olive oil or warmed coconut oil
80ml honey
1 tbsp organic cider vinegar
1 tsp bicarbonate of soda (baking soda in U.S.)
2 rounded tsp cinnamon
½ rounded tsp ground ginger
½ rounded tsp mace (or nutmeg)
¼ rounded tsp allspice
¼ tsp sea salt
Instructions
Set the oven to 170° C (fan/convection oven; 340° F) and place paper cases into a muffin tray.
Peel and grate the carrots, at this point they weigh about 250 grams. Squeeze the moisture out with some paper towel.
Slice a piece of the courgette into thin strips.
Measure out the ground almonds, grated orange rind, sultanas (or other dried fruit), bicarbonate of soda, salt and spices into one bowl and whisk together with a fork.
Measure out the honey, eggs, extra virgin olive oil and cider vinegar into another bowl and whisk together with a balloon whisk or fork.
Add the grated carrots to the dry ingredients and mix together.
Pour the wet ingredients into the dry ingredients and mix quickly because the vinegar starts to react with the bicarbonate of soda straight away and this helps the muffins to rise.
Fill the bun cases (muffin cups) to just over half full.
Place two strips of courgette (zucchini) on top to form a cross.
Bake in the oven for 20 minutes then turn down the heat to 160° C (320° F) for a further 10 to 15 minutes. They are cooked when a skewer inserted into the muffin comes out clean and the top springs back when lightly touched. Don't be tempted to open the door before 30 minutes.
Leave on a cooling rack to cool.
By the way, if you are a fan of Hot Cross Buns, you might also want to check out my Top 25 Best Hot Cross Buns Recipes.
This post is linked to Hearth and Soul Blog Hop.