For affiliate links and as an Amazon Associate I earn from qualifying purchases.
Today for our March Muffin Madness event, I have the pleasure of sharing my friend Deanna's (The Mommy Bowl) gluten-free Johnny Cake Muffins! They're gluten free, dairy free, and vegetarian, with a refined sugar-free option.
Deanna is another blogger who I've admired for a long time and then had the pleasure of meeting and hanging out with her in real life. And how that happened is pure serendipity. It's what I call blogger serendipity, something which I've experienced a good number of times over the years and hope to keep experiencing in the future!
Shortly before Christmas 2 years ago, Deanna left a comment on my Key West Trip Report (a summary of an earlier trip) saying that she was going to be in Key West the following week and had searched "Key West gluten free" and my post had popped up. She was so surprised that my post popped up and I was even more surprised to read her comment because we were also going to be in Key West the following week. Plus, I had just learned that another good gluten-free blogger friend, Johnna (In Johnna's Kitchen), would be there as well. Needless to say, the three of us simply had to get together while we were in Key West. So we did and had a fantastic time! (Our family members were also in tow, including Deanna's "the kiddo" who offers commentary and reviews on her blog.)
What I love about Deanna and her blog is first and foremost her gift at creating delicious treats. Her treats often tend to be pretty healthy, but a while back she decided to not focus on "the rules" so much. I love her for that! (Gosh, we get so hung up on rules sometimes.) I also am always in awe of her ability to say so much with so few words. She is the queen of short posts that say exactly what they need to! Whenever I tell her that though, she dismisses the compliment, saying that she is simply brief out of necessity. So she's humble, too, which is still a lovely personality trait in my book.
As far as Deanna's recipes, I absolutely love her Banana Peanut Butter Bites (I make them using almond butter) and her Snickerdoodles (swoon!). Oh and there's her Pina Colada Smoothie! And Deanna's Sugar Crunch Coffee Cake is divine. A lot of her recipes came from her gluten-free spins or total re-creations of others' recipes when she participated in the Secret Recipe Club. And she has terrific recipes other than sweets, too. I love her Super Concentrated Stock concept!
UPDATE: This giveaway is now closed. Enjoy Deanna's recipe and see the whole line-up of bloggers, blogs, and muffin recipes here.
And now let me turn it over to Deanna with her MMM contribution!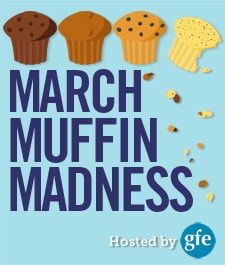 First off, thanks to Shirley for hosting a whole month of muffins! I know I'll be watching her blog to see what we have in store. The kiddo loves muffins, and I'm always looking for the next great recipe. I'm sure we'll see tons of them this month!
On to the Story (and the Recipe)
When my mom was a young girl, her family did not have a lot of money to spare. Sweets and treats were the exception, not the norm. But, every year, right around March, the maple sap would start to flow, and great Uncle Johnny would get to work in the sugar shack. Of course, maple syrup was poured on pancakes. But, as a special treat during sugaring season, maple syrup would be drizzled all over Johnny cake. Now, Johnny cake is really just cornbread. And, my family certainly didn't coin the name. But, I like to think we call it Johnny cake because of great Uncle Johnny and the maple syrup he shared with the family.
In my house, we don't wait until March for our Johnny cake or our maple syrup splurges. We enjoy both year-round. And, with this simple recipe, you can, too.
Deanna's Gluten-Free Johnny Cake Muffins Recipe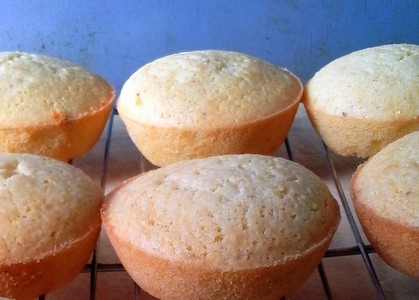 Yield:
Gluten-Free Johnny Cake Muffins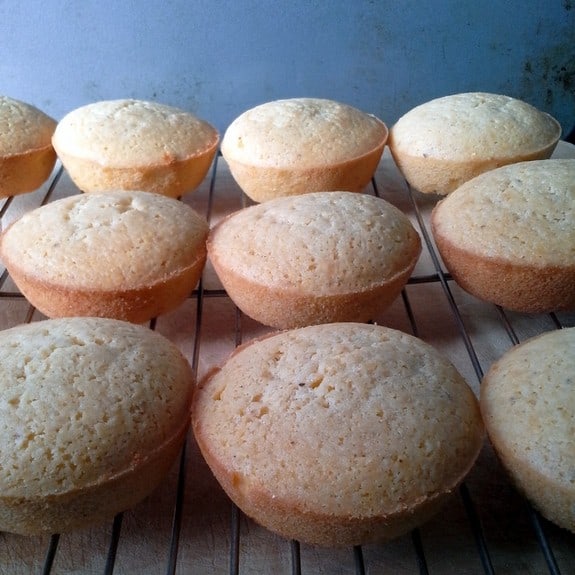 Sweet gluten-free muffins with a sweet story!
Instructions
Preheat oven to 350 degrees. Grease 12 muffin cups.
In a large bowl, whisk together the almond milk, coconut oil, eggs and sugar. Add the dry ingredients and stir until no lumps remain. It will be quite runny.
Pour evenly into the muffin cups. (You may have a little leftover, depending on the size of your muffin cups.)
Bake for 30 minutes or until edges begin to brown.
Break a warm muffin into pieces in a bowl, and pour on the maple syrup. Heaven, no?
Originally published March 6, 2014; updated August 29, 2019.