For affiliate links and as an Amazon Associate I earn from qualifying purchases.
As March Muffin Madness continues, today I have the privilege of sharing some creative and delicious gluten-free Banana Split Muffins from Lisa of Pocketfuls. Lisa's muffins are gluten free, dairy free, egg free, and vegetarian, with vegan option (depending upon the chocolate used in the recipe).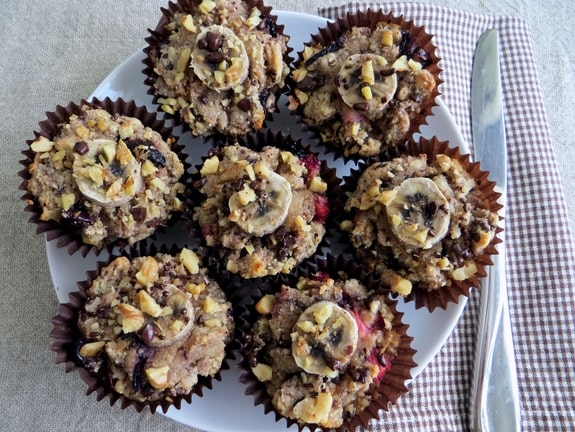 Enjoy Lisa's recipe and see the whole line-up of bloggers, blogs, and muffin recipes here.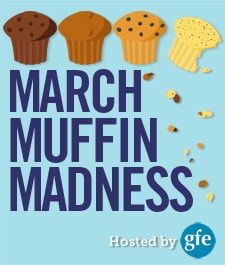 Lisa is a writer, wife, and mom to two boys. She lives in Canada. Her family made some very significant changes to their diet nearly six years ago when they discovered that both Lisa's youngest son and Lisa herself had multiple food intolerances. Lisa says that their whole family is now healthier as a result. She shares their inspiring story here.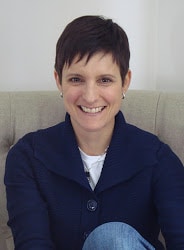 Lisa says that she considers her blog to be a creative outlet that combines several of her passions: humorous and heartfelt storytelling, healthy cooking and baking, and sharing ideas that can help others. Her blog is really all those things, so it is really a lovely and helpful place to visit!
Some of Lisa's delightful recipes that have caught my eye in the past are Chocolate Hazelnut Snowballs, Double Chocolate Zucchini Muffins, Mini Pumpkin Pies in Mason Jars, and Go Bananas Chocolate Almond "Ice Cream" Sandwiches, and last but not least, Banana Spit Freezer Pops!
Yes, Lisa has a talent for banana split-themed creations! Let me stop talking so we can get to Lisa and her gluten-free Banana Split Muffins. Here's Lisa and a close-up of her yummy treats! And now Lisa takes the floor …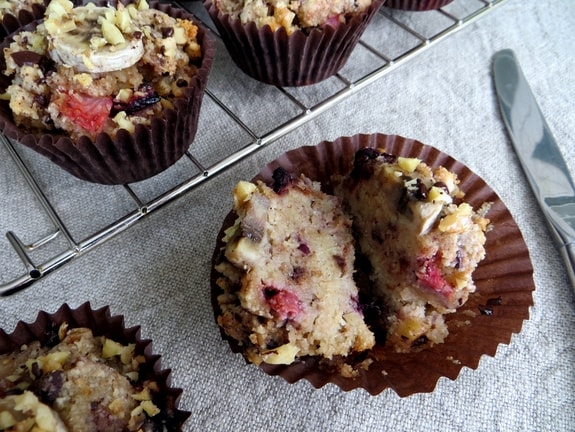 Hello there! I'm Lisa from Pocketfuls, and I'm very happy to be here on gfe to share a recipe as part of Shirley's March Muffin Madness event.
As a mom to two active, growing boys (one of whom is intolerant to gluten, dairy, and eggs), I spend a lot of time in my kitchen baking nutrient-dense snacks so I can keep my kids feeling energetic and happy. Muffins have long been a favourite snack in our house, and while we have some well-loved reliable recipes that we turn to again and again, every so often I like to try and come up with something new and fun for our family to enjoy.
When I asked my boys what kind of muffin recipe I should create for this event, they answered as they always do when I ask them to help me with ideas: "Make something with chocolate!" I went with their suggestion, because it seems to me you can't go wrong whenever chocolate is involved!
These gluten-free Banana Split Muffins are also full of other ingredients that make them both healthy and delicious: almond flour, pure oats, chia seeds, walnuts, coconut oil, and three different kinds of fruit. It's great to have another muffin option now that my boys and I can all feel really good about eating. I hope you'll enjoy these yummy banana split muffins as much we do!
Gluten-Free Banana Split Muffins Recipe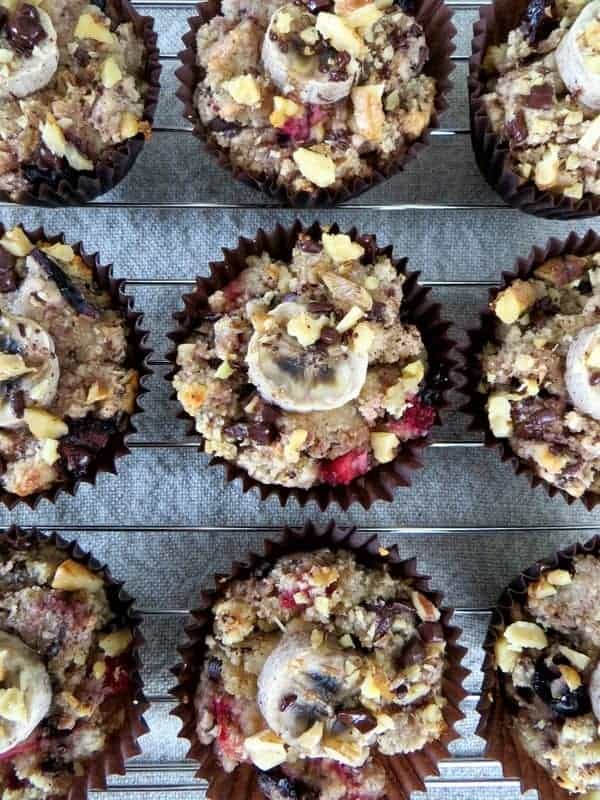 Yield: 12 muffins
Gluten-Free Banana Split Muffins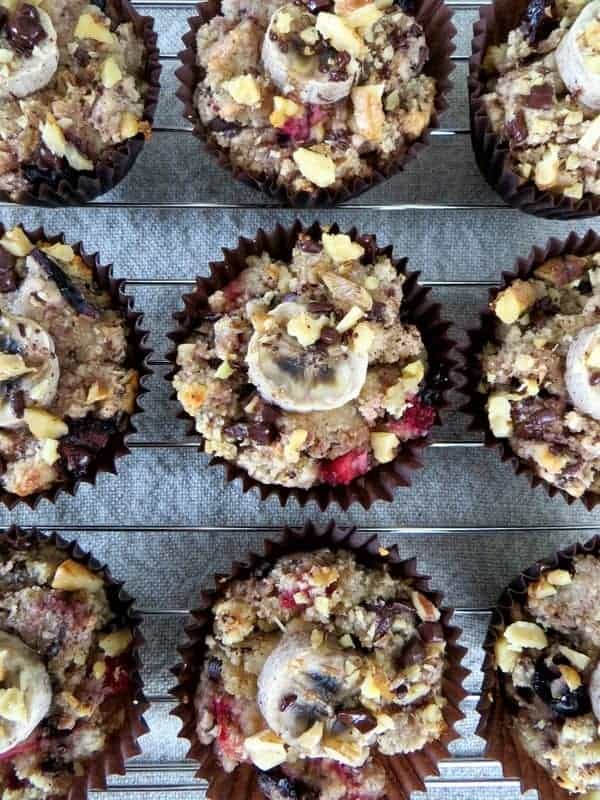 I bet you had no idea you could satisfy your banana split craving with an absolutely delicious--and nutritious--muffin!
Instructions
Preheat the oven to 350 F, and fill a 12-cup muffin tin with paper baking liners. In a large mixing bowl, combine the almond flour, ground oats, sea salt, and baking soda.
Whisk together the melted coconut oil, maple syrup, and vanilla in a smaller bowl, and then add the wet ingredients to the dry ingredients. Stir well to combine. (The mixture will be somewhat dry and crumbly.)
Add the mashed bananas and the chia seed gel to the mixture and stir until a thick, uniform batter forms. Fold in the strawberries, cherries, walnuts, and dark chocolate.
Divide the batter evenly between the 12 lined muffin cups. Place a banana slice on the top of each muffin and sprinkle some additional chopped walnuts and dark chocolate on top. Bake in a preheated oven for 30 minutes. Cool and serve.
Notes
I used frozen fruit that I let thaw just enough to be able to chop it into pieces.
This recipe is gluten free, dairy free, egg free, with refined sugar-free and vegan options (depending upon the chocolate used in the recipe).
Originally published March 7, 2014; updated December 10, 2022.