For affiliate links and as an Amazon Associate I earn from qualifying purchases.
A few days ago on my gfe Facebook page, I gave you a preview of an upcoming March Muffin Madness contribution. These beautiful gluten-free Coffee Cake Muffins with Streusel Topping and Powdered Sugar Drizzle.
These muffins are gluten-free with a dairy-free option and are the delicious creation of Sarah Nielsen of Celiac in the City (CITC). Sarah is the one who has celiac disease and "The City" in her case is Milwaukee (MKE).
Enjoy learning more about Sarah and her Coffee Cake Muffins (see the whole line-up of bloggers, blogs, and muffin recipes on gfe here).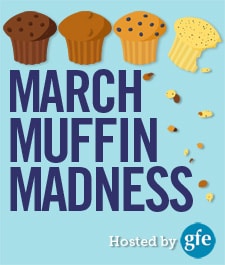 I'm not sure when I first crossed paths with Sarah. I know she's been commenting here on gfe for about 3 years now and that's when I started visiting her blog and we started chatting.
From the very beginning what has always struck me about Sarah is her enthusiasm and energy. She is supremely positive and very passionate about helping the gluten-free community, especially in the Milwaukee area, and that has never wavered.
Sarah is always organizing gluten-free dining events for local gluten-free residents. She takes great pride in helping others navigate all that's involved in living gluten free.
In fact, when I asked Sarah to tell me what she wanted me to share with you all, the following is what she said. Note that she thought she was talking only to me but I know she won't mind me sharing her thoughts.
"I'm making all kinds of new GF friends after being on the news last year and being featured in the Milwaukee Journal Sentinel. They shared awesome recipes too … for Potato Leek Soup aka "Mashed Potato Soup" as I called it to trick my nephew into eating it the first time, and those Cheddar Jalapeno Biscuits? YUM! And the world of Pinterest has exploded with my Lasagna-Style Stuffed Spaghetti Squash Recipe.

But mostly, I'm proud of the gluten-free community I've helped build in MKE. Each month (for FOUR years!!) I organize a GF Get Together event where we dine out and everyone at the table is gluten-free, so we feel a little more "normal" together. From pizza dinners and our annual holiday cookie exchange to our enchilada buffet anniversary party at Cocina DeLeon where they close shop and turn their take-and-bake-from-scratch enchilada store into a "restaurant" for us."
I hope Sarah will forgive me for sharing our private conversation, but do you see the enthusiasm, energy, commitment, and pride that she exhibits? There can't be enough "Sarah's" in the gluten-free community! I'm tickled pink that I'll be meeting Sarah in person at the Gluten-Free Living Conference in Orlando next month!
But as Sarah told me when I asked her for info for my introduction, "You don't have to write too much, people just want to make the muffins!" You can read more about Sarah on her About Me page, but let's take her advice and get to her gluten-free Coffee Cake Muffins, shall we?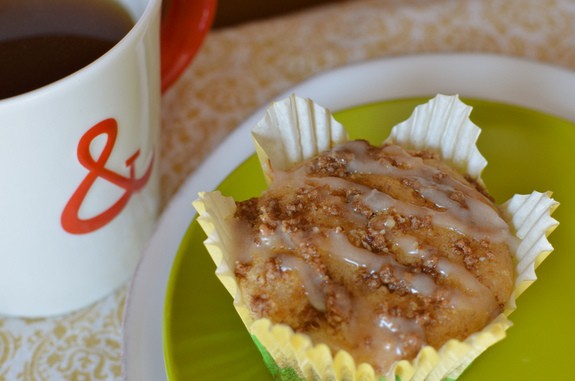 Gluten-Free Coffee Cake Muffins Recipe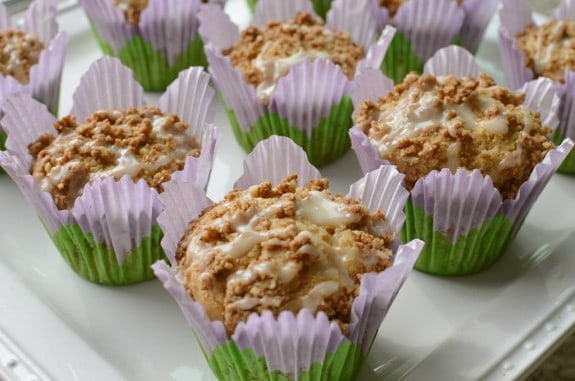 Yield: 12 to 15 muffins
Gluten-Free Coffee Cake Muffins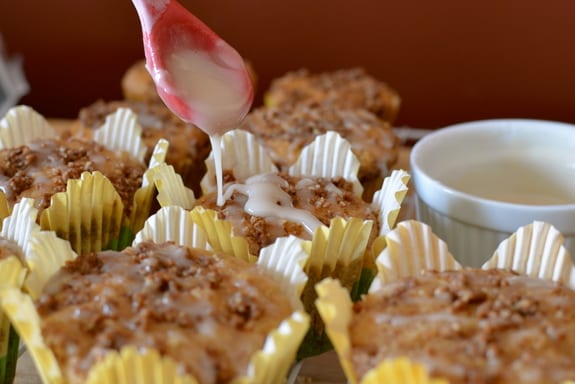 The much-beloved coffee cake goes "individual" in these delightful gluten-free Coffee Cake Muffins from Sarah of Celiac in the City.
Ingredients
Batter
2 cups gluten-free flour mix (see Sarah's notes; I used my mix)
¾ cup Greek yogurt (see notes for dairy-free options)
⅓ cup oil of choice
1 large egg
½ cup maple syrup
1 teaspoon vanilla extract (I use my [homemade vanilla])
1 teaspoon cinnamon
½ teaspoon baking soda
1 ½ teaspoons baking powder
1 teaspoon guar gum or xanthan gum (optional, see notes)
Streusel Topping
¼ cup pecans
¼ gluten-free flour mix (see notes)
1/8 cup (2 tbsp) coconut sugar or granulated sugar or brown sugar
1 teaspoon cinnamon
2 tablespoons butter (see notes for dairy-free options)
Glaze (optional)
¼ - ½ cup powdered sugar
Several tablespoons water or milk
A few drops of vanilla extract
Sprinkle of cinnamon
Instructions
Preheat oven to 350F degrees. Line muffin pan with liners and set aside.
For the streusel topping, add all ingredients to food processor and pulse until combined, but small pieces remain. (Don't turn it into a paste.)
In a large bowl, whisk together the dry ingredients: flour mix, cinnamon, baking soda, baking powder and guar gum. Add Greek yogurt, oil, egg, maple syrup, and vanilla and stir until well combined.
Fill liners ⅔ with batter, then top each muffin with a spoonful of topping. There will be enough topping to generously cover the tops of the muffins. Press down lightly on the topping to ensure even coating when they rise while baking.
Bake for 18-21 minutes. Allow to cool a few minutes before removing from pan, then transfer to wire rack to cool completely.
While the muffins are cooling, prepare the glaze if you choose to use it. (You should!) In a small bowl, combine powdered sugar and cinnamon, and add a few drops of vanilla. Slowly add a small amount of water/milk at a time to get the consistency of a good glaze. Drizzle glaze over muffin tops. Enjoy!
Notes
These muffins are perfect warm out of the oven, but give them a little time to cool before adding the glaze. For the next morning, you can just warm them slightly to enjoy them warm, coffeehouse style.
Be sure to check the flour mix you are using---some GF flour mixes have baking soda, baking powder, or xanthan/guar gum included already. If your mix already has those ingredients, you do not need to add them again to the recipe.
The guar gum is not required if you cannot tolerate gums. I have made these muffins with and without gums and have been happy with both results.
Baking time may vary depending on the size of muffin liners you use and how full you fill them. I like to use these larger flower liners, which make 12 larger muffins and take a bit longer to bake.
For those who eat dairy free, you can use a dairy-free butter substitute for the streusel topping or coconut oil will work as well. For the Greek yogurt, you could substitute dairy-free yogurt, either plain or vanilla.
For the gluten-free flour mix, I've used Pamela's, Mama's Almond Flour Blend, and Cup4Cup, as well as a mixture of my own.
Originally published March 13, 2014; updated February 20, 2023.