For affiliate links and as an Amazon Associate I earn from qualifying purchases.
Being a lover of pumpkin, I'm super happy to see that pumpkin muffins won't be left out of March Muffin Madness! Today we have Mary of Gluten Free Spinner sharing her superb gluten-free Pumpkin Sunrise Muffins. Or gluten-free Pumpkin Sunrise Bread. I'm not just "blowing smoke" when I call this recipe superb … I'll tell you more in a moment.
Enjoy learning more about Mary and her gluten-free Pumpkin Sunrise Muffins (or gluten-free Pumpkin Sunrise Bread, if you prefer) and see the whole line-up of bloggers, blogs, and muffin recipes here.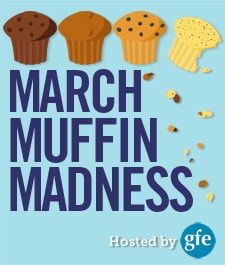 When Mary learned she was gluten intolerant in 2009, she was determined to continue living her passion for cooking and entertaining.  She dedicated her time to learning and discovering the new lifestyle her health demanded and created her blog, Gluten Free Spinner. Mary's motto became "don't miss it, make it!" and she shares each recipe with a vivid photo and a spin of her life through the eye of her lens and love of photography.  Her favorite pastime is enjoying time with her husband, children, family, and friends gathering in her home with a spread of great food and wine, sharing music, laughter, and the simple pleasure of being together.
All of that is readily apparent on Mary's blog and she warmly welcomes you as a reader. Mary and I "met" about a year after she started blogging. She reached out to me to introduce herself and her blog and I was so happy that she did! I talked about Mary and her blog here in an earlier post, when I adopted her for the Adopt a Gluten-Free Blogger event.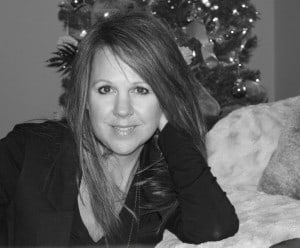 I was immediately smitten by Mary's gorgeous photos and delicious recipes, especially her desserts. But it was her Chickpea Salad that I made first because I love chickpeas in just about everything (well, except flour). I can just think about that salad recipe and get excited because it is truly wonderful! In fact, I'm making it this weekend for Son and his girlfriend when they visit.
But Mary has even more of a gift with stunning gluten-free desserts. Desserts are almost always more visual, right? Check out her Flourless Chocolate Cake with Raspberry Lime Salsa and her Peanut Butter Pie and I think you'll agree. But it's Mary's Dreamy Carrot Cake and Key Lime Pie with a Ginger Crust that are two of my favorite recipes.
Let's talk about those gluten-free Pumpkin Sunrise Muffins now. Mary describes them:  "This recipe boasts a moist and flavorful cake inside with a combination of tart-sweet cherries, sweet coconut flakes, cinnamon, cloves, allspice and coconut milk, which is then drizzled with an easy maple coconut glaze. Yummy… almost has a Caribbean flair."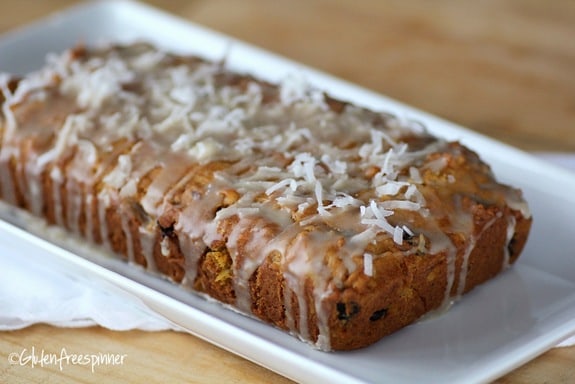 As you can see from the photos, Mary used her recipe to make both muffins and a loaf of bread—a little extra recipe value there! She said both stayed moist and delicious for days.  This is where my earlier "superb" comment comes into play.
I made a slight variation of Mary's recipe. I can never resist pumpkin and while I didn't have cherries on hand, I was certain that the combination of pumpkin, coconut, and nuts alone would be wonderful and it was! I made both the muffins and the bread and loved both.
Oh, and I skipped the icing and although I'm sure this recipe is even more divine with the topping, it's still wonderful without it. (Note:  I did add more nuts to make up for the missing cherries.) And this recipe definitely has almost a Caribbean flair as Mary stated, which I also adored because seriously who can't appreciate a little bit of the Caribbean right now?
Gluten-Free Pumpkin Sunrise Muffins Recipe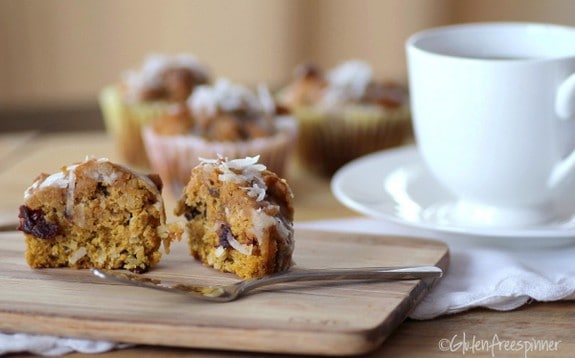 Yield:
Gluten-Free Pumpkin Sunrise Muffins or Gluten-Free Pumpkin Sunrise Bread (or both)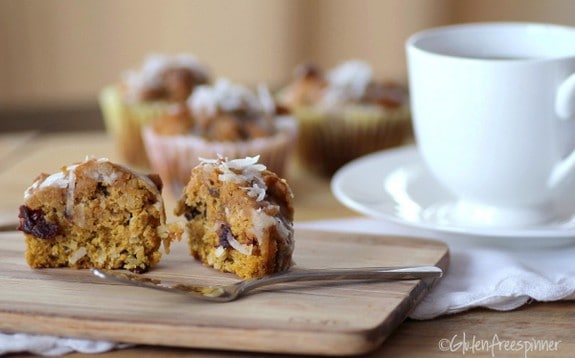 Ingredients
Batter Ingredients
Icing:
Instructions
Preheat oven to 350 degrees and line 12-count muffin tin with cupcake papers and/or spray 8 ½ x 4 ½ loaf pan with non-stick spray.
Cream together the butter, sugars, eggs, and pumpkin until blended, set aside. In a separate bowl, combine the dry ingredients with a whisk (flour through salt) ensuring all ingredients are blended.
Gradually add ½ of the flour mixture to the pumpkin mixture and blend on low, next add the coconut milk and vanilla and blend on low. Add the remaining flour mixture and blend just until combined.
Stir in the coconut, cherries, and pecans. With an ice cream scoop fill the muffin cups. Next, pour the remaining batter into the prepared loaf pan.
Bake both pans in a preheated 350F degree oven. The muffins will cook a little faster…but not much since the loaf isn't a traditional thick loaf. (Muffins: 20-23 minutes; Loaf: 23-25 minutes. Be sure to adjust time if you make only a single loaf as it will be a heavier, thicker loaf.)
Allow both the muffins and loaf (invert the loaf onto a cooling rack) to cool.
Combine the icing ingredients and drizzle over cooled muffins and loaf. Top with shredded coconut.