For affiliate links and as an Amazon Associate I earn from qualifying purchases.
Cinnamon sugar donuts have always been one of my favorites so I was really pleased when I saw this recipe for gluten-free Cinnamon Sugar Donut Muffins from Johnna (In Johnna's Kitchen). Yep, these muffins are yet another creative and delicious recipe in our March Muffin Madness event! These muffins are not only gluten free, but are also dairy free, egg free, refined sugar free, and vegan.
Enjoy learning more about Johnna and her Cinnamon Sugar Donut Muffins and see the whole line-up of bloggers, blogs, and muffin recipes here.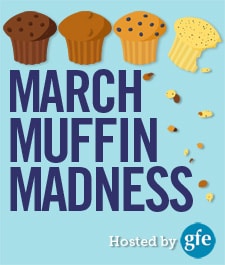 Johnna is a Living Foods Chef, Certified Nutritional Education Trainer and fan of real food. She loves helping folks learn to eat healthy via her blog and in cooking classes held in the Kansas City area and beyond.
Johnna lives in a little suburb outside of Kansas City with her favorite fella, three adorable dogs and a small flock of backyard hens. When she is not in the kitchen, Johnna is an artist, most often sculpting with balloons, and enjoys lots of travel, adventure and fun.
I met Johnna through a mutual blogger friend. We discovered we shared a love of and great respect for many things, even certain people—such as whole foods, desserts, simple recipes, and Seth Godin.
I loved Johnna's warm positive spirit and I "oohed" over her recipes from the beginning, but really started marveling at them when I was able to get together with her in person and enjoy her recipes firsthand. If you're gluten free, you're going to love her recipes and if you're vegetarian or vegan, you'll appreciate her recipes even more!
I mean who knew there was such a thing as delicious Faux Pork that's made out of just a few real food ingredients (no chemicals or processing)? It's really an amazing recipe, yet super simple. And it looks like pork and tastes like pork. I've seen it served to meat lovers, vegetarians, and vegans and all loved it and were most impressed.
Since then Johnna has created all kinds of variations using her same "secret" base ingredient:  Korean BBQ Tacos, Reuben Dip, Reuben Sandwich, Carolina Style BBQ, Tamale Bites, and Tacos in the Crockpot.
As she shows us today with her Cinnamon Sugar Donut Muffins, Johnna is also terrific at creating delicious desserts that might be free of a lot, but aren't lacking for anything. She managed to carry her Peach Bourbon Push-Up Pops cross country so a group of us could enjoy them, and enjoy them we did! (Another time it was her Mini Vegan Pizzas that she packed in her suitcase; those saved a small group of us on a sailing charter.)
Most of us went a little crazy when we saw Bourbon Bacon Chocolate Chip Cookies in her kitchen just the other day. (Yes, there's a vegan option). And recently her Ultra Lemon Brownies made a nice sunny splash. Her Brigadeiros (a.k.a. Chocolate Truffles) have long been one of her most popular dessert posts!
Last, I'm a huge fan of Johnna's discussion posts such as those in her Soften Saturday series. She really offers some great "food for thought" in those, often tackling some tough subjects. I always benefit from her insight and the insight from others who contribute guest posts for the series. Here are just a few of the posts in that series:
~ Finding a New Normal with Dietary Changes

~ Seven Things I Wish I Knew When I Was Over 300 Pounds and Decided to Lose Weight
But now I'll let Johnna say a few words and share her recipe!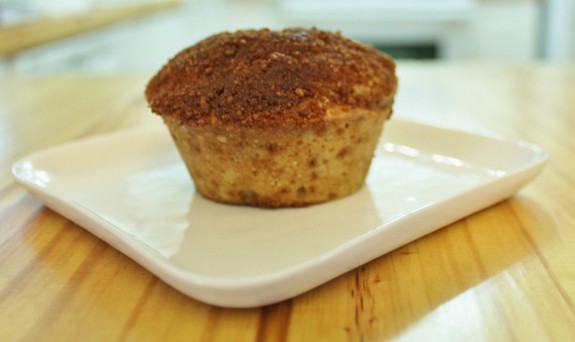 My journey in blogging began writing about donuts.  My plan was to visit 52 donut shops in a year, indulging in one donut each week.  Because the donuts were my one permissible indulgence each week, I didn't put much thought into what was in the donuts I was eating.
Midway through the 52 Donuts year, my doctor advised me to eliminate gluten.  I learned lots about reading labels and eating naturally gluten-free foods quickly. One of the benefits of becoming a skilled label reader to eliminate gluten is that I'm much more mindful of the ingredients in everything I eat, which includes my indulgences.
These muffins are an example of that.  While still a bit of an indulgence, I feel good about eating them because I've chosen the ingredients carefully.
Not only are these muffins gluten-free, they are packed with lots of healthy ingredients.  They contain chia seed, which is high in Omega 3 fatty acids, calcium and fiber.
I've spiced the muffins up with cinnamon, nutmeg and ginger, all ingredients which support digestion.  I never would have known all of this if I had continued eating gluten!
I did fear when I eliminated gluten that there would be no more donuts in my life.  Not true at all…and now there are even donut muffins.
These muffins remind me of a cinnamon sugar cake donut from a locally owned donut shop, the kind of donut shop with chrome-trimmed stools at a formica countertop, staffed by white paper hat wearing fellas who serve up bad coffee and delectable donuts and know all of the best town gossip. They are delicious warm out of the oven, yet still perfect later in the day with a cup of hot tea.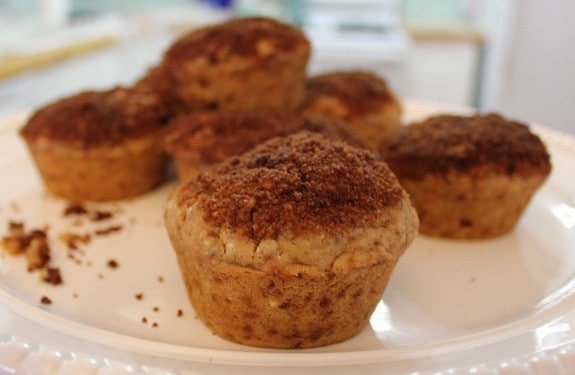 Gluten-Free Cinnamon Sugar Donut Muffins Recipe
Yield: 9
Gluten-Free Cinnamon Sugar Donut Muffins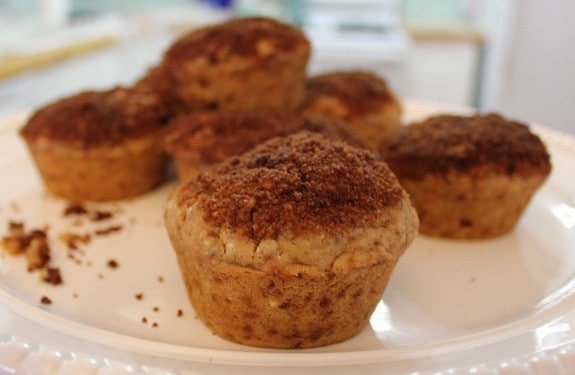 Johnna says "These muffins are delicious warm out of the oven, yet still perfect later in the day with a cup of hot tea."
Ingredients
Batter:
Topping:
3 Tablespoons liquefied coconut oil
¼ cup coconut sugar
1 Tablespoon ground cinnamon
Instructions
Preheat oven to 350F degrees. Using coconut oil or cooking spray, lightly oil nine cavities of a muffin tin.
In a small bowl, combine chia seed and hot water. Set aside.
In a large mixing bowl, combine all dry ingredients until well incorporated.
Make a well in the center of the dry ingredients. Pour in milk, coconut oil, chia gel and vanilla. Mix until well combined.
Fill each of nine muffin cavities with a scant 1/3 cup of batter. Bake for 16-18 minutes, until a toothpick or cake tester inserted into the middle of a muffin comes out clean.
While muffins are baking, mix together ¼ cup coconut sugar and 1 Tablespoon cinnamon in a small bowl. In a second small bowl, place 3 Tablespoons liquefied coconut oil.
When muffins are done baking, remove from oven and allow to cool just until they are cool enough to touch, yet still warm. Remove them from the muffin tin.
Dip each muffin top into the coconut oil, then immediately dip it in the cinnamon sugar topping.
Invert and set on a cooling rack if you do not intend to eat them warm. These are terrific warm or at room temperature.
Originally published March 18, 2014; updated November 6, 2018.