For affiliate links and as an Amazon Associate I earn from qualifying purchases.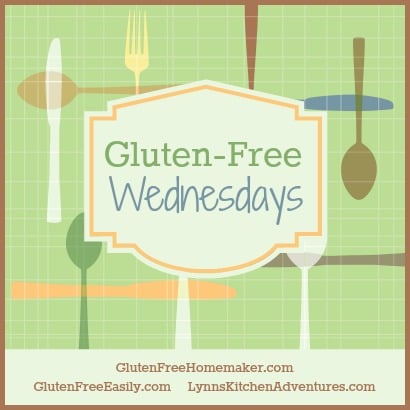 Welcome to Gluten-Free Wednesdays! The event has been doing wonderfully well since Linda (The Gluten-Free Homemaker) invited Lynn (Lynn's Kitchen Adventures) and me to join her as co-hosts. We're all so pleased that so many folks are participating with the sharing. Last week, there were 60 entries!
If you're a reader, what a great way to do some window shopping for new recipes and other gluten-free food related info. If you're a blogger, what a perfect opportunity to share your recipe or food-related post with so many as your entry will show up on all three of our blogs. (Note:  If you're a blogger who would like a weekly reminder/invitation email to come link up when the event goes live, feel free to email me at glutenfreeeasily @ gmail.com so I can include you in that email notification.)
"My" Submissions for Last Week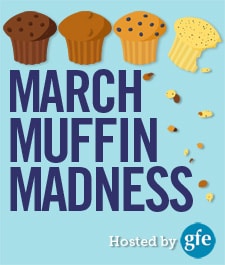 Because of our month-long March Muffin Madness event with a new gluten-free muffin recipe being shared each day, I have another week's worth of really terrific recipes to share with you! You can see them in the linky, but they're also listed below for you. If you missed the kickoff post—the first one shown in the listing below—you can read that for all the info you need, but the important thing to know is that every comment (one per post) during this event is an entry towards some really terrific prizes!
~ March Muffin Madness—All the Delicious Details

~ Cinnamon Sugar Donut Muffins from In Johnna's Kitchen

~ Vanilla Pear Muffins from Healthful Pursuit

~ Cocoa-Nut Muffins from Gluten Free Goodness

~ Almond Cranberry Muffins from The Gluten-Free Homemaker

~ Pumpkin Sunrise Muffins from Gluten Free Spinner
The MMM giveaway prizes are shown in the photo. They include three different muffin pans (mini 24-cup, steel 12-cup, or cast iron 6-cup), an immersion blender, a spiral vegetable slicer, an electric pressure cooker, and a 14-cup food processor—all from gfe. The Super Grand Prize is provided by the generous folks at Blendtec. It's their  black Designer Series Blendtec (factory recertified) plus a Twister jar as our Super Grand Prize! The Blendtec comes with a 7-year warranty; the Twister jar has a 3-year warranty. If you're not familiar with a Blendtec, it's an all-in-one type kitchen appliance. (Read more here.)
The latest post on my other site, All Gluten-Free Desserts, is a recipe roundup post that worked for both Pie Day and St. Patrick's Day. I'm pretty sure you'll want to make these recipes all year long!
~ Pretend You're in Key West Enjoying Key Lime Pie! Over 30 Gluten-Free Key Lime Pie Dessert Recipes!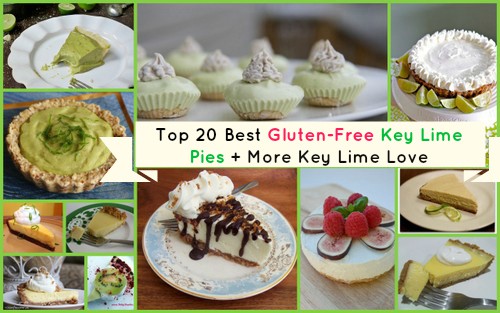 The Most Popular Post on Gluten-Free Wednesdays Last Week
~ Chewy Applesauce Oat Bars from Worth Cooking
(Debra makes these bars and uses jelly as the filling. Admittedly, I'm not a jelly girl, but I'd sure love subbing a brown sugar-cinnamon filling in this recipe!)
My Highlights from Last Week
It's really tough to choose from so many delicious posts, but here are some that made "my list" last week.
~ Grain-Free Paleo Bread from Predominantly Paleo
(Jennifer admits that one ingredient in her recipe is in the paleo gray area, but her family uses it with no issues. This bread sure looks terrific! Even when not following paleo, you might want to give it a try.)
~ Gluten-Free Blueberry Pancake Muffins from Lynn's Kitchen Adventures
(Lynn gives her kids pancake taste in this portable breakfast that can be made more easily than a stack of pancakes. She also offers other flavor ideas and lets you know that these muffins freeze great.)
~ Buffalo Hassleback Potatoes from In Johnna's Kitchen
(I really can't resist anything with "Hasselback" in its title. You get all those crispy edges and "just right" centers, and with this recipe, there's also the sauce. Move over Buffalo Wings!)
~ Mint Meltaways with Avocado (Paleo and Grain Free) from Petite Allergy Treats
(Laura made some beautiful grain-free, paleo treats that were perfect for St.Patrick's Day, but are sure to be welcome any time of year!)
The Carnival
Please read!
~ Keep the links to gluten-free eating ideas (recipes, reviews, menus)
~ If you're new, please read the guidelines.
~ Leave a link back (We do not highlight any recipes that do not link back to one of the co-hosts.)
~ Thanks for being with us this week!
Note: Linking up indicates you are giving permission for us to share your submitted photo and your link via social media or in next week's post if it is selected as the most popular post for the week or featured as a highlight.