For affiliate links and as an Amazon Associate I earn from qualifying purchases.
March Muffin Madness continues with a recipe for gluten-free Vanilla Pear Muffins from Leanne of Healthful Pursuit. Aren't they just gorgeous? I think vanilla and pears make a really sweet combination! But please don't be misled by my statement as Leanne states that her recipe is gluten free, dairy free, refined sugar free, yeast free, corn-free, grain-free, and nut-free. (Note that I have not been noting several of these "free" factors for other recipes as I have not verified the safety of individual ingredients in recipes, but will share this information when the participating blogger provides it.)
Enjoy learning more about Leanne and her Vanilla Pear Muffins and see the whole line-up of bloggers, blogs, and muffin recipes here.
Leanne's a holistic nutritionist who helps "real people from around the world with real advice." Her popular blog,
Healthful Pursuit
, is a unique collection of motivational guidance and easy-to-make recipes for women who want to create a liberated life on a restricted diet. Honestly, I've been reading raves about Leanne, her blog, her recipes, cookbooks, and much more for years. Finally a few months ago we were connected through a mutual friend, who is another star in the gluten-free community, Kelly of
The Spunky Coconut
. Now we're making up for lost time and I will tell you that Leanne is just as terrific as everyone says she is! The photo below shows the real Leanne—all smiles, super positive, and just full of a zest for life!
When Leanne's not experimenting in her kitchen, she tells me that you can find her speaking at various woman-based events, painting her nails, sweating it out in hot yoga or sippin' on beet juice, adorned with a glass straw. (If you read Leanne's blog, you definitely know this last statement is true!)
I'll turn it over to Leanne right now, so she can tell you more about her blog and services and then get to the all-important muffins recipe of the day!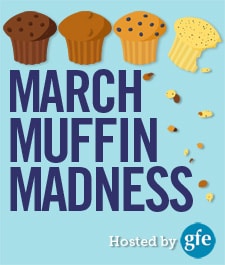 If you're ready to create the life you've been dying to live by liberating your eating style and join a community of thousands of women on the same path, head on over to HealthfulPursuit.com.
Leanne's Gluten-Free Books and More
Be sure to check out Leanne's books and cookbooks. They include The Keto Diet: The Complete Guide to a High-Fat Diet, with More Than 125 Delectable Recipes and 5 Meal Plans to Shed Weight, Heal Your Body, and Regain Confidence. (an Amazon bestseller!), The Keto Diet Cookbook: 140+ Flexible Meals for Every Day, and Keto for Women.

On Leanne's site, you'll also find meal plans, podcasts, videos, and more recipes (of course).
On to Leanne's Vanilla Pear Muffins for March Muffin Madness
Power to the muffin!
Muffins are king around our house. They're portable dollops of goodness that I pack full of good things that my fiance and our family will eat without batting an eye. Add ground flax seed for a dose of healthy fats, protein powder to amp up your protein intake, extra fruit if you find it challenging to get all the fruits into your day, double up on the nuts for added fiber… there are so many ways to make them work for you.
My perfect muffin is something that's high in protein, light, low in calories, and high in fiber. Sound like too much to ask for? No way.
Enter the gluten-free vanilla pear muffins that are solving our snacking problems one low calorie, high fiber bite at a time!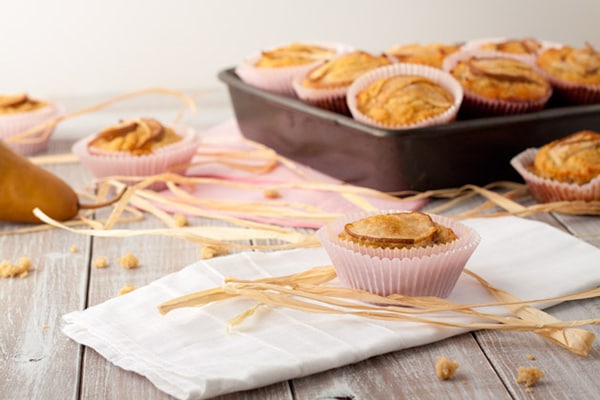 Gluten-Free Vanilla Pear Muffins Recipe
Yield: 6
Vanilla Pear Muffins from Healthful Pursuit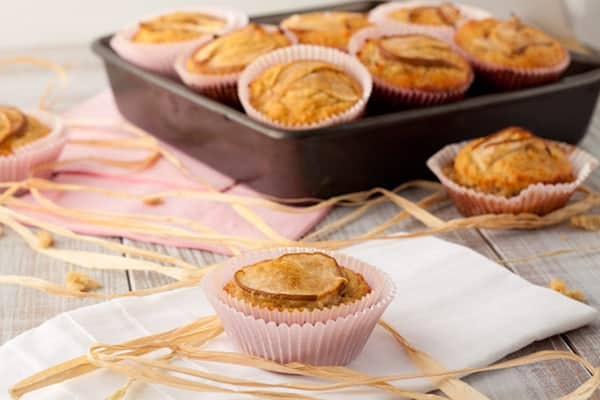 These Vanilla Pear Muffins are 150-calorie grain-free muffins made with coconut flour, lemon zest, vanilla, and fresh pears. Perfect for traveling, lunches, or a sweet afternoon snack.
Ingredients
Wet
Dry
Topping
Instructions
Preheat oven to 400F and line 6 muffin tins with muffin cups. Set aside.
Place wet ingredients in a medium-sized mixing bowl and mix well with a hand mixer.
In a small bowl, combine coconut flour with baking powder and nutmeg. Drop into the wet ingredients and mix until there are no lumps.
Drop batter into muffin cups and place sliced pears on top with a sprinkle of coconut sugar.
Bake in preheated oven for 16-18 minutes.
Allow muffins to cool in the pan for 1 minute before removing from the pan and placing on a cooling rack to cool.
Notes
Allergen info: Gluten-free, Dairy-free, Refined sugar-free, Yeast-free, Corn-free, Grain-free, Nut-free
Muffins can be stored for a few days at room temperature. Keep in the fridge to prolong time, or freeze in an air-tight container for up to 3 months.
Originally published March 18, 2014; updated August 28, 2020.