For affiliate links and as an Amazon Associate I earn from qualifying purchases.
How about some gluten-free Cocoa-Nut Muffins for March Muffin Madness? That's today's contribution thanks to Cheryl Harris of Gluten Free Goodness.
Cheryl's "chocolaty" muffins are gluten free, dairy free, egg free, refined sugar free, and vegan, and—no surprise here—have just been added to my "must make" list! As mini muffins, they might end up more like Cocoa-Nut Bites in my house. Just sayin'.
Enjoy learning more about Cheryl and her Cocoa-Nut Muffins, and see the whole line-up of bloggers, blogs, and muffin recipes here.
Cheryl is another good blogger friend (and friend in real life!). She is a registered dietitian and nutritionist who lives and works in northern Virginia. She is considered the "go-to" nutrition expert on celiac disease and following a gluten-free diet for the DC Metro area. In fact, Cheryl was selected as one of the top area nutritionists by the Washingtonian (February 2014).
Long before I met Cheryl in person, she graciously shared a guest post on inflammation and healing here on gfe and later she presented to my gluten-free support group.
Some of Cheryl's best works are her videos on celiac disease and gluten-free living. They're comprehensive and really very helpful. I'll admit that I'm not always one to take the time to watch videos, but quite often you gain more knowledge hearing and seeing information than you do just reading about it. If you're new to gluten-free living or feel you need a refresher, be sure to check them out.
One of the things I love about Cheryl is how supportive and non-judgmental she is in her work and on her blog, as well as in real life. For example, twice a year, Cheryl hosts self-care retreat events (July Self-Care Retreat and December Sanity Challenge), where she leads a group of bloggers in reminding folks to take care of themselves and guiding them in different areas of their lives. The retreats include a Facebook group with daily posts and support, most of them from Cheryl.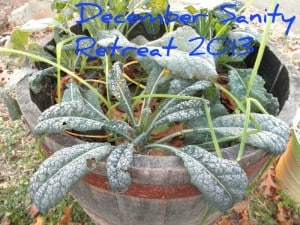 I also appreciate that she is always willing to share her own personal story in the hopes of helping others. And she never buries her head in the sand when misinformation and misdirection take place; she faces the issues head on—in a constructive way. I highly recommend the following posts from Cheryl.
~ Calories, Weight, and a Whole Lotta Garbage

~ Ditching Food Guilt and Creating a Bigger Conversation

~ Is Sourdough Wheat Bread Safe on a Gluten-Free Diet?

~ Resolving to Lose Weight? Aim Higher.
Sometimes Cheryl makes delicious, but healthier goodies as she has for us today.  Here are a few more of her simple and tasty treats.
~ Intense Chocolate Almond Bites (this recipe is actually here on gfe, too, courtesy of the Almond Board of California because Cheryl's recipe was so delicious that it was one of their contest winners and they shared all the winning recipes via many blogs)

~ Pralines (these are simply amazing!)
You can learn more about Cheryl, her programs, and her approach at her blog,  Gluten-Free Goodness, and her main site, Harris Whole Health. Look to her blog for common sense advice on gluten-free living, great recipes, and many helpful discussions,  and look to Cheryl via Harris Whole Health for additional expert advice on living gluten free. But you don't have to limit yourself to simply reading her sites. If you're new to gluten free and need help figuring out how to be completely gluten free with a healthy diet (and one that you will enjoy) or are a long-time gluten-free person who is still struggling with the diet or perhaps have been diagnosed with additional intolerances, Cheryl can help. In my personal opinion, we get the most benefit from getting this type of guidance from someone who not only has the official expertise, but also lives gluten free "24/7". Therefore, Cheryl is an excellent choice for your personal dietitian/nutritionist. She counsels clients in person, via telephone, and via Skype. (See her contact information here.) 
And now, here's Cheryl telling you a little about herself before she gets to those gluten-free Cocoa-Nut Muffins of hers!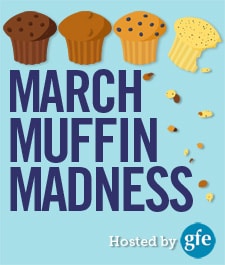 I was excited when Shirley asked me to join March Muffin Madness. I confess: I rarely make muffins. I looked back at my blog, and the last muffin recipe I made was Carrot Muffin Cakes back in 2008 when I briefly deluded myself into thinking I could eat rice. 2nd confession: I've never seen March Madness, and it's not on my bucket list, either. Muffins are the closest I get.
As most of you know, grain-free and egg-free muffins that are light and fluffy are pretty hard to come by, but I generally welcome a good challenge and an opportunity to play. The first several batches were quite spectacular flops, and then… magic happened.
These are absolutely delicious—chocolaty, tender, moist, just enough sweet and really easy to make. Of course, I had to make them a few times just to make sure the recipe works. If you strictly avoid cane sugar like I do, make chocolate using this super-quick recipe or use walnuts alone. Delish either way!
I'm curious to try them with honey. If you do, let me know!
Gluten-Free Cocoa-Nut Muffins Recipe
Yield: 24
Gluten-Free Cocoa-Nut Muffins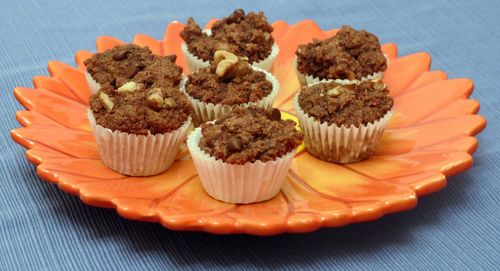 Ingredients
Wet:
2/3 cup maple syrup
1/3 cup coconut cream (cream skimmed from top of a full-fat coconut milk after chilling for 24 hours or more)
2 droppersful vanilla stevia
2 tsp vanilla
Dry:
1 cup blanched almond flour
2 TBSP coconut flour
2 TBSP arrowroot flour
¼ cup cocoa powder
1 tsp baking powder
¼ tsp baking soda
Pinch of salt
3 TBSP unsweetened finely shredded coconut
¼ cup chopped walnuts and/or ¼ cup mini chocolate chips (optional)
Extra walnuts or chocolate chips as toppings
Instructions
Preheat oven to 350. Measure maple syrup in a glass measuring cup, and add in the coconut cream, stevia and vanilla. Put the measuring cups in the oven while it's heating to soften the coconut cream. Place the muffin liners in the mini pan.
Stir together the dry ingredients from almond flour through salt, sifting if necessary if there are lumps. Add wet into dry and stir until combined. Mix in the shredded coconut, walnuts and chocolate chips.
Fill muffin liners to the top and pop in the oven. Bake 14-15 minutes until tops are browning.
Allow to cool and enjoy!
Originally published March 16, 2014; updated October 18, 2017.