For affiliate links and as an Amazon Associate I earn from qualifying purchases.
Today we have a delicious savory recipe for March Muffin Madness, Gluten-Free Dillicious Muffins! Delicious cheesy herb-stuffed muffins to be exact.
This recipe is graciously being shared by Debbie Adler, the founder/owner of Sweet Debbie's Organic Treats (formerly Sweet Debbie's Organic Cupcakes) and author of Sweet Debbie's Organic Treats: Allergy-Free & Vegan Recipes from the Famous Los Angeles Bakery. These muffins, like all of Debbie's recipes, are gluten free, dairy free, egg free, soy free, sugar free, and nut free.
Enjoy learning more about Debbie and her Dillicious Muffins (see the whole line-up of bloggers, blogs, and muffin recipes here).
As I shared when I featured Debbie and her cookbook in my recent Suite of Sweets for Sweethearts (SSS) event, Debbie opened Sweet Debbie's Organic Cupcakes, now Sweet Debbie's Organic Treats, with the intent to simply share sugar-free treats. She'd discovered that sugar-free living worked best for her own health and wanted to share her much-loved treats with the public.
Not long after Debbie's sugar-free bakery treats became popular, her son was diagnosed with life-threatening food allergies. She regrouped and began creating cupcakes and other treats that he could eat. To her surprise, her bakery became even more successful and she decided to share her recipes in a cookbook for all those who can't make it to her Los Angeles bakery to sample her delicious treats firsthand.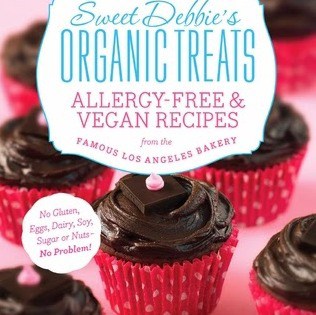 If you missed my SSS event, you'll definitely want to check out her recipe for Salted Caramel Apple Muffins that she shared earlier.
Debbie offers a lot of sweet recipes. After all, she is "Sweet Debbie," but let's get to her Gluten-Free Dillicious Muffins. As she says in her book:
"And now for something completely different, a savory muffin with all the most vibrant herbs your spice rack or garden can hold. My favorite is dill. Its fragrance and flavor enhance any dish. And with the additions of rosemary, thyme, and oregano, this muffin smacks of a garden Alice Waters might have planted. Maybe you and your kids can plant these herbs in the backyard and have them at your fingertips whenever you feel the urge to have a Dillicious Muffin."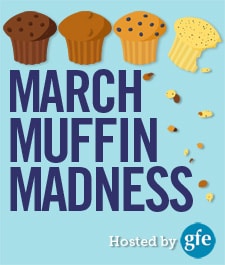 Gluten-Free Dillicious Muffins Recipe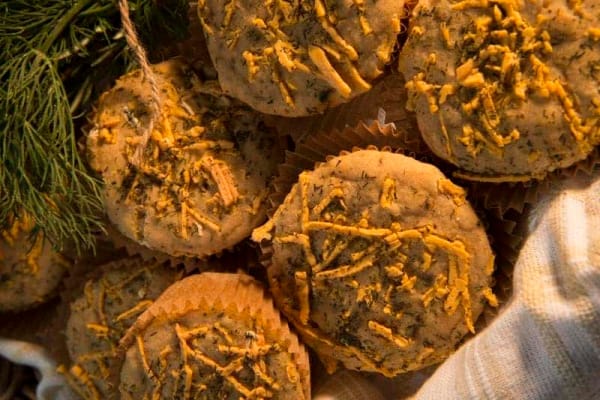 Yield: 12 muffins
Gluten-Free Dillicious Muffins (Vegan)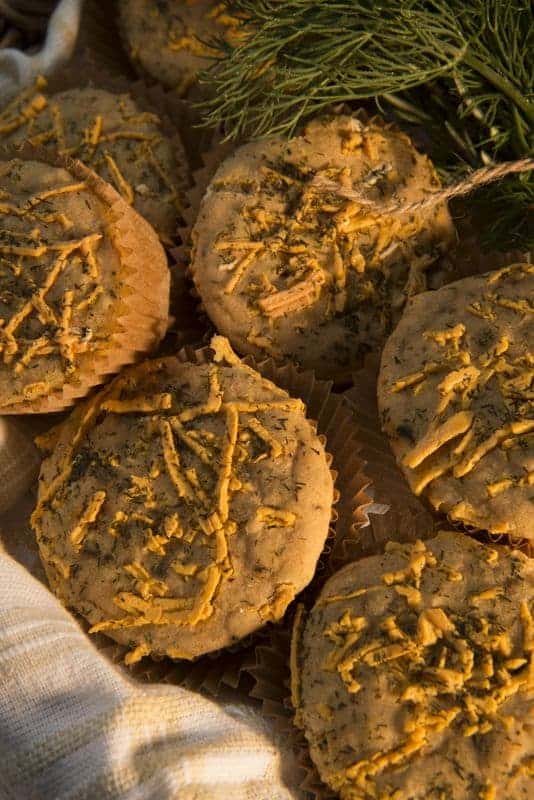 These delicious Gluten-Free Dillicious Muffins are herb-stuffed and nutrition packed. You'll be surprised by how tasty these are and then you'll be surprised anew by the ingredients!
Ingredients
Muffins
1 small cauliflower (about 12 ounces), divided into small florets
1 cup unsweetened plain rice milk
1 teaspoon apple cider vinegar
2 cups gluten-free all-purpose flour
6 teaspoons minced fresh dill, or 3 teaspoons dried dill (see notes for substitution options)
2 teaspoons finely minced fresh rosemary, or 1 teaspoon dried rosemary
2 teaspoons dried thyme
2 teaspoons minced onion
2 teaspoons sodium-free baking powder
1 teaspoon baking soda
1 teaspoon dried oregano
½ teaspoon guar gum
½ teaspoon chili powder (optional)
½ teaspoon fine sea salt
¼ cup grapeseed oil
¾ cup shredded vegan, soy-free cheddar cheese (use your favorite cheddar cheese; I use Daiya)
Topping
Instructions
Preheat oven to 350°F. Line a standard 12-cup muffin tin with paper baking cups.
Steam the cauliflower florets in a medium size saucepan for about 15 minutes, or until tender. Transfer the florets, a few at a time, to a potato ricer and push them through into a medium-size bowl. This will give you lumpless cauliflower puree.
Mix together the rice milk and vinegar in a 2-cup measuring cup.
Whisk together the flour, dill, rosemary, thyme, onion, baking powder, baking soda, oregano, guar gum, chili powder, if using, and salt in a large bowl. Make a well in the middle.
Add the cauliflower puree, rice milk mixture and grapeseed oil, and stir until the liquid is absorbed and the batter is smooth. Fold in ½ cup of the cheddar cheese.
Spoon the batter into the prepared muffin tin, dividing it evenly. Each cup should be about three-quarters full. Top each with the remaining ¼ cup of cheese. Dust the top of each with a sprinkling of dill.
Bake the muffins for 18 to 20 minutes, or until they are a light golden brown and bounce back slightly to the touch. Rotate the muffin tin from front to back halfway through baking.
Transfer the muffin tin from the oven to a wire rack and let sit for 10 minutes before removing the muffins to cool completely.
Notes
Keep in an airtight container for up to 3 days, or wrap and freeze for up to 3 months.Makes 12 standard-size muffinsShirley here: One reader asked Debbie about substituting for the dill. Debbie replied: "You can substitute any herb that you enjoy, such as oregano or tarragon. Maybe even dried basil. The options are endless."
Originally published March 9, 2014; updated September 21, 2023.