For affiliate links and as an Amazon Associate I earn from qualifying purchases.
Today for March Muffin Madness, I get to share some top-notch gluten-free Carrot Banana Muffins from my good friend Elana of Elana's Pantry. Her muffins are not only gluten free but also grain free, dairy free, sugar free (because they're fruit sweetened), paleo, and primal. She says they are the perfect breakfast fare and I know they'd make me happy any day as a dessert or afternoon treat!
Enjoy Elana's Carrot Banana Muffins and see the whole line-up of bloggers, blogs, and muffin recipes here).

Elana Amsterdam, Her Blog, and Her Cookbooks
Most of you already know Elana from her blog and wonderful cookbooks. She is the author of the New York Times best-selling cookbook, Paleo Cooking from Elana's Pantry, which is her latest cookbook. I shared my review, including Elana's Flourless, Nut-Free Brownies and Paleo Bread recipes (courtesy of Elana and Ten Speed Press), earlier on gfe. I'll stand by what I said then …. there are over a 100 reasons to add this cookbook to your kitchen bookshelf!
Elana's first cookbook is The Gluten-Free Almond Flour Cookbook, which pretty much single handedly put almond flour on the map for not only the gluten-free world, but many others as well. It was her Chocolate Chip Cookies from this book that sustained a whole group of gluten-free blogger friends at a conference when the evening cocktail event was sponsored by Campbell's soup. There truly wasn't any food there that we could eat and cocktails alone would not have sufficed. But cocktails and Elana's divine grain-free, dairy-free, vegan chocolate chip cookies, now that we could do! In addition to being on Elana's blog and in her first cookbook, you will also find that recipe right on the back of the bag of Honeyville Almond Flour. Incidentally, Elana's newer Primal Chocolate Chip Cookies are equally good, and now she even has a mother-in-law-approved Crispy Chocolate Chip Cookie recipe.
Her second cookbook was Gluten-Free Cupcakes:  50 Irresistible Recipes Made with Almond Flour and Coconut Flour, which is worthy of a timely mention as so often there's not much of a difference between a good cupcake and a good muffin. Our favorite recipe from this cookbook is Elana's Marble Cupcakes. We love the mixture of vanilla and chocolate and I love the texture and sweetness offered by the coconut flour base. I use our bees' honey and substitute olive oil (or coconut oil) in this recipe. These cupcakes don't get frosted in our house, so they're more like a muffin and that's just fine with us!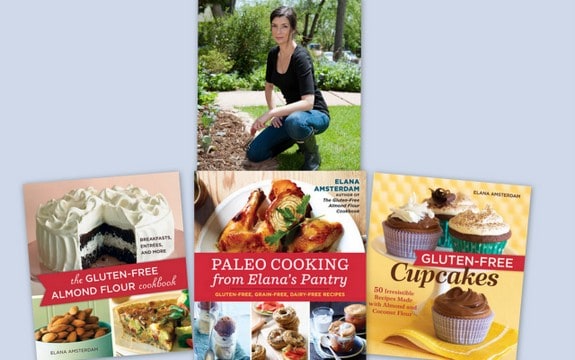 Elana has been grain free since 2001, so the recipes shared on her blog have always been grain free (which means they're gluten free by default, of course). She went grain free after having been gluten-free for a few years. She had seen health improvements from living gluten free, but was still having some issues. She has been dairy free and cane sugar free since 2001 as well. So she has a wealth of experience in sharing great grain-free, paleo, and primal recipes! Best of all they are always recipes with short ingredient lists. Such simplicity is a gift to all of us.
I also love that Elana is willing to share other parts of her healing journey—like non-food treatments. While food is incredibly powerful in healing, there is more that is often needed. And as Elana says: "Getting well is a process without any rules." To paraphrase Elana's advice, do your research, seek the counsel of trusted medical professionals, consider all treatment options, and learn how to read your own body.
On a lighter note, I'm going to brag a bit and confess that I've actually been inside Elana's Pantry! She has since moved, so she has a different pantry now, but I have some very fond memories of hanging out with several gluten-free blogging friends and Elana in her kitchen baking and enjoying gluten-free baked goods together. Several of us took turns posing in her pantry and snapping photos of each other. The whole experience was a blast! We didn't make any muffins that day, but it was March so Elana had Irish Soda Bread waiting for us and we also enjoyed grain-free cake, hot tea, and smoothies!
Gluten-Free Carrot Banana Muffins Recipe
Yield:
Gluten-Free Carrot Banana Muffins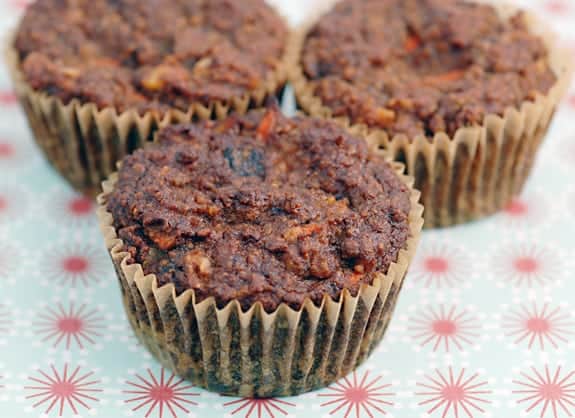 Instructions
In a small bowl, combine almond flour, baking soda, salt, and cinnamon.
In a food processor, combine dates, bananas, eggs, vinegar, and oil.
Transfer mixture to a large bowl.
Blend dry mixture into wet until thoroughly combined.
Fold in carrots and walnuts.
Spoon mixture into paper-lined muffin pan.
Bake at 350° for 25 to 30 minutes.
Originally published March 9, 2014; updated October 11, 2017.