For affiliate links and as an Amazon Associate I earn from qualifying purchases.
Suite of Sweets for Sweethearts continues with Salted Caramel Apple Muffins from Debbie Adler's new cookbook, Sweet Debbie's Organic Treats:  Allergy-Free & Vegan Recipes from the Famous Los Angeles Bakery. The little bubble on the cover of Debbie's cookbook says: "No Gluten, Eggs, Dairy, Soy, Sugar or Nuts—No Problem!" The latter is great news to all who need to eat "more free," but judging by the reviews of Debbie's treats from her bakery, all of you will be interested in her recipes!
Debbie tells her family's personal story in the introduction to her book. It was sharing treats without sugar that was Debbie's initial, main goal when she opened her bakery in 2006. That opening came after a year of research and testing of sugar-free treats because that was a path she decided was the healthiest for herself. After she "hit her stride" with her bakery's sugar-free treats, her son was diagnosed with life threatening food allergies. Debbie said: "I found out—after several anaphylactic episodes—that my son has life-threatening allergies to almost every food in the USDA pyramid, except salt."
That was in 2009. So back into the kitchen Debbie went, to reinvent her recipes using ingredients that her son—and others with food allergies/intolerances—could eat. And back in her bakery she also went to ensure that all the ingredients there would be safe as well, with no potential for cross contamination issues. Plus she had to ensure that she could make her new treats in large quantities. To her surprise, her business grew even more because she quickly discovered that there were lots of customers looking for gluten-free, dairy-free, egg-free, nut-free, sugar-free, and/or soy-free treats that tasted great!
If you're far away from LA like I am, you might not have heard of Debbie's bakery, Sweet Debbie's Organic Cupcakes. And most of us probably won't make it to Debbie's bakery. That's one reason that she wrote this cookbook. Another is that she knows many of us don't feel comfortable eating outside our own homes, and she's correct about that. Many of us have had a history of bad experiences and are no longer willing to take chances. With Debbie's cookbook, we can capitalize on her expertise to create our own treats that meet our special needs and preferences and taste great!
You should also know that Debbie is the founding group leader of the San Fernando Food Allergy Support Group, an organization that works in conjunction with the national non-profit, Food Allergy Research and Education (FARE), to provide resources and educational tools to families that have children with severe food allergies. Debbie was also a speaker at the 2013 FARE conference in Anaheim, CA. As a gluten-free support group leader, I am grateful to Debbie for not only providing delicious gluten-free treats, but for also providing this invaluable support to families with food allergies.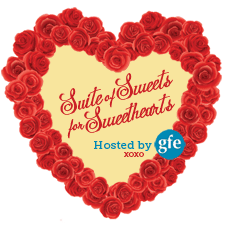 About Those Salted Caramel Apple Muffins …
When I polled my Facebook readers a few days ago on the recipe they'd like to see next in our SSS event, Debbie's Salted Caramel Apple Muffin recipe came in second place—and by only one vote!  (Olivia Dupin's Mile-High Chocolate Cake (from her new cookbook, Gluten-Free Entertaining:  More than 100 Naturally Wheat-Free Recipes for Parties and Special Occasions, came in first in the voting.)
Debbie waxes poetic about these muffins with quite a few words in her cookbook. Ah, a girl after my own heart—for both the many words and a love of salted caramel! But her last words on these muffins are the ones you need to remember: "Make this [recipe] for people you love because they will take a pledge of allegiance to you forever." I don't know … these muffins may be really hard to share with others! Get Debbie's recipe (recipe and image are reprinted with permission by Debbie Adler and Harlequin) at the bottom of this post.
Now for Today's Giveaway …
UPDATE:  This giveaway is now closed. Congratulations to Carolsue, Abbie, and Laurel. Thanks to all who took the time to enter this giveaway. Stay tuned for more SSS giveaways!
Three readers will win a copy of Debbie's new cookbook, Sweet Debbie's Organic Treats:  Allergy-Free & Vegan Recipes from the Famous Los Angeles Bakery.
Yield:
Salted Caramel Apple Muffins from Sweet Debbie's Organic Treats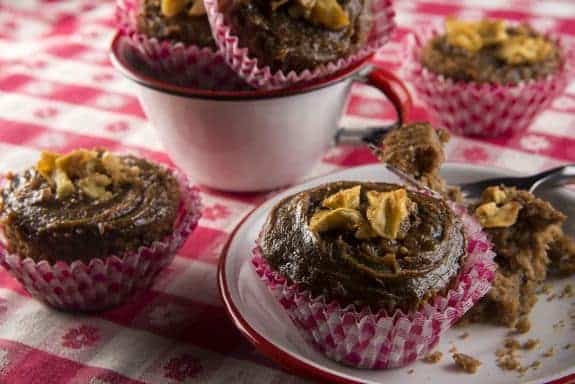 Debbie says: "Make this [recipe] for people you love because they will take a pledge of allegiance to you forever."
Ingredients
Muffins
12 standard-size paper baking cups
2 cups all-purpose gluten-free flour
2 teaspoons sodium-free baking powder
1 teaspoon baking soda
1 teaspoon cinnamon powder
½ teaspoon guar gum
¼ teaspoon fine sea salt
¼ cup grapeseed oil
¼ cup coconut nectar
¼ teaspoon stevia powder
¾ cup unsweetened plain rice milk
½ cup applesauce
1 small Gala or Granny Smith apple (about 5 ounces), peeled, cored and sliced into ¼-inch pieces
Caramel Sauce
½ cup coconut nectar
¼ cup sunflower seed butter
⅛ teaspoon fine sea salt
Instructions
Preheat oven to 350°F. Line a standard 12-cup muffin tin with paper baking cups.
To make the muffins, whisk together the flour, baking powder, baking soda, cinnamon, guar gum and salt in a large bowl. Make a well in the middle.
Add the grapeseed oil, coconut nectar and stevia and stir to combine. Add the rice milk and applesauce, and stir until the liquid is absorbed and the batter is smooth.
Fold in about half of the apple pieces.
For the caramel sauce, mix together the coconut nectar, sunflower seed butter and salt in a small bowl until well blended.
Spoon the batter into the prepared muffin tin, dividing it evenly. Each cup should be about two-thirds full. Top each with the caramel sauce and the remaining apple pieces.
Bake the muffins for 16 to 18 minutes, or until they are a light golden brown and bounce back slightly to the touch. Rotate the muffin tin from front to back halfway through baking.
Transfer the muffin tin to a wire rack and let rest for about 10 minutes before removing the muffins to cool completely.
Keep in an airtight container for up to 3 days, or wrap and freeze for up to 3 months.
Notes
Reprinted from SWEET DEBBIE'S ORGANIC TREATS by Debbie Adler. Published by Harlequin. Copyright Debbie Adler 2013. Makes 12 standard-size muffins
Full disclosure:  This giveaway is sponsored by Debbie Adler, but the opinions expressed herein are my own as always.