For affiliate links and as an Amazon Associate I earn from qualifying purchases.
As our Suite of Sweets for Sweethearts event continues, today I have the pleasure of sharing Gluten-Free Entertaining: More than 100 Naturally Wheat-Free Recipes for Parties and Special Occasions with you all. This cookbook is the newest cookbook from one of my favorites, Olivia Dupin! Let me tell you about this cookbook and share two recipes, gluten-free Mile-High Chocolate Cake in today's post and gluten-free Double Strawberry Waffles in another post.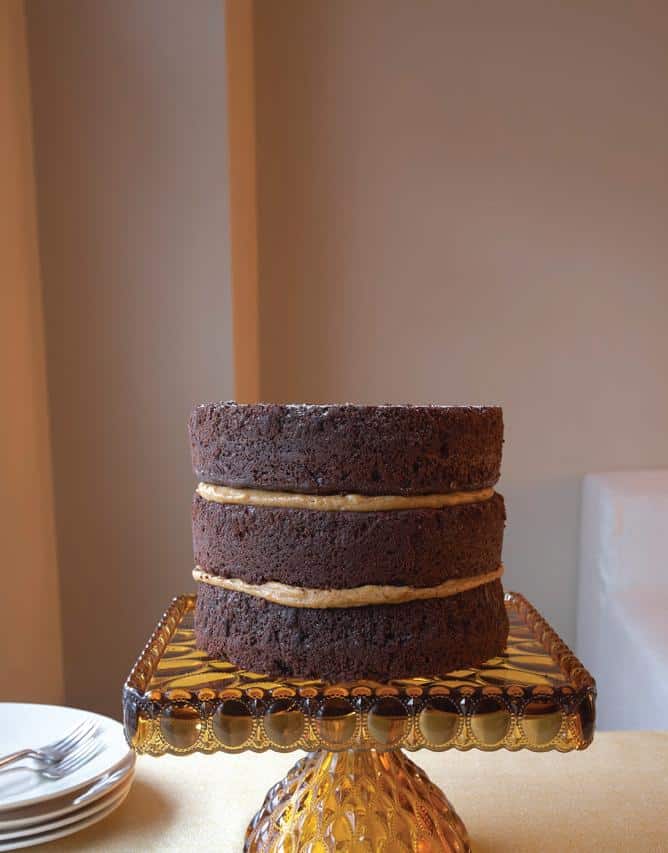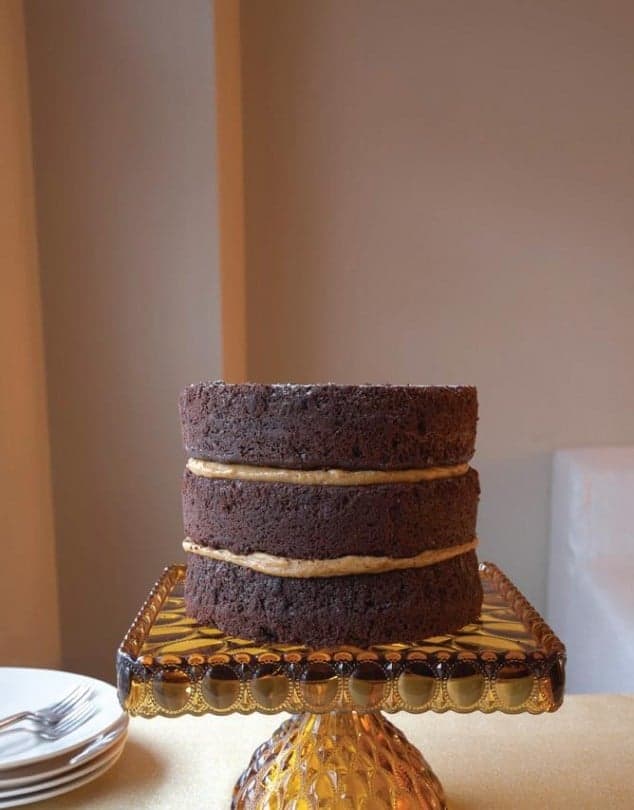 Olivia is a professionally trained chef who has been living gluten free and creating gluten-free recipes since 2009 when she was diagnosed with celiac disease. I've been a big fan of Olivia's since she "friended" me years ago when it looked like I'd be able to attend a gluten-free retreat where she was going to be the chef. Sadly, I did not end up getting to go to that event, but we've stayed "connected" ever since.
You can read more about Olivia on her website, Liv Gluten Free (unfortunately, her site is no longer active). (Interesting tidbit … Olivia has worked as a private chef for some celebrities, including performing a stint for comedian Jerry Seinfeld.)
So far, this year's Suite of Sweets for Sweethearts event has featured Vanilla Pudding (from Everyday Classics: 68 Tasty & Essential Gluten-Free, Dairy-Free, Egg-Free, and Soy-Free Recipes, Chocolate Pie (from The Paleo Chocolate Lovers' Cookbook), and Red Velvet Cupcakes (from Gluten-Free 101). All such delectable goodies!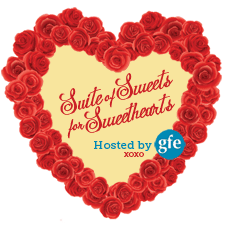 I asked my readers on Facebook to choose the recipe they'd like to see next in this SSS event and Olivia's Mile-High Chocolate Cake won the vote. I think you made a great choice for obvious reasons! (This recipe is also the one featured on the cover of Gluten-Free Entertaining.)
Another recipe of Olivia's, her Double Strawberry Waffles recipe, was also in the running. That recipe came in a very close third, so I asked Olivia if I could share both with you all and she has graciously agreed. I love that! Be sure to check out the Double Strawberry Waffles later.
Olivia's recipes are not difficult to make and she focuses on naturally gluten-free ingredients. I loved her first book, The Complete Guide to Naturally Gluten-Free Foods: Your Starter Manual to Going G-Free the Easy, No-Fuss Way-Includes 100 Simply Delicious Recipes!, for this very same reason.
If you're not one to host a lot of events—or any really—you might think that Gluten-Free Entertaining would not be a good choice for you. You would be mistaken. While this book is definitely terrific for anyone who entertains, it's also great for your average person (and couple or family) who might never entertain. Here's why.
Olivia offers you 14 complete meal plans/recipe groupings in this book and you can use them or the individual recipes in them any time for your own family. You don't have to have a houseful or be on a date (one section is "Impress a Date Night") to appreciate meals that include Baked Salmon with Roasted Tomatoes, Garlic Shrimp, Green Bean and Bacon Casserole (a sort of "grown-up" version of that other ubiquitous holiday Green Bean Casserole), Lemony Sugar Snap Peas, Crepes with Cannoli Cream, Easy Vanilla Cupcakes, or Mom's Chocolate Chip Cookies.
One comment that I hear often from folks entering giveaways is that they're looking to get out of a cooking rut. I get that. Part of that sometimes is having a main dish idea, but not knowing what to serve with it. Olivia's new cookbook will help you come up with some terrific, but easy meals, and get you out of your rut.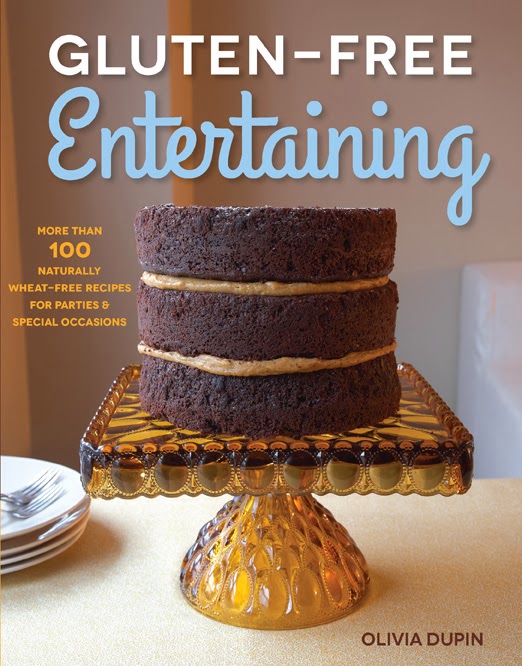 And if you're someone who does like to entertain friends and family, Olivia will walk you through all the steps needed to do so. There are three main sections in Gluten-Free Entertaining: Planning the Perfect Pantry, Celebrating the Holidays, and Special Occasions. Within those sections, you'll find events like "Passover Seder," "Christmas Cookie Exchange," "Easter Brunch," "Baby Shower Brunch Buffet," and "Spanish Tapas Dinner Party."
And even within those, there are recipes for everyone. For example, one recipe under Passover Seder is Chocolate Chip Almond Torte and the recipes within the Baby Shower Brunch Buffet section include Buttermilk Biscuits, Quick Sausage Gravy, and Sugar and Spicy Cookie Mix Party Favors. That last recipe is Olivia's baby shower version of a Cookie Mix in a Jar, but with only a slight tweak, it could also be used for easy homemade holiday gifts.
When gluten-free flour is required for her recipes in this book, Olivia uses a three-ingredient flour blend. As Olivia states, you can make her blend up ahead of time or simply measure out the individual ingredients as needed for each recipe when you make them (as you'll see noted in her recipes).
She frosts her gluten-free Mile-High Chocolate Cake with pumpkin custard as part of her "Giving Thanks Celebration" section, but you could easily use your own favorite frosting as filling between the three layers instead. Olivia says, "This stunning three-layer cake is made in one bowl and is so simple and delicious you will want to use it for many special occasions, or maybe even no occasion at all."
The Giveaway of Gluten-Free Entertaining
UPDATE: This cookbook giveaway is now closed.
Gluten-Free Mile-High Chocolate Cake Recipe
Yield: 12 servings
Gluten-Free Mile-High Chocolate Cake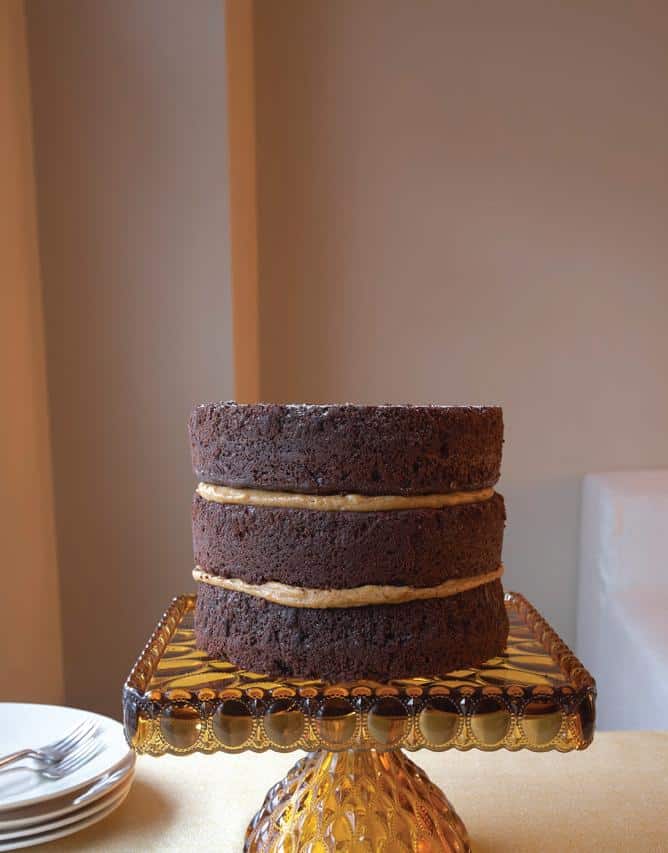 Olivia says: "This stunning three-layer cake is made in one bowl and is so simple and delicious you will want to use it for many special occasions, or maybe even no occasion at all."
Ingredients
For pumpkin filling:
2 cups (470 ml) milk
1 can (14 ounces, or 392 g) pumpkin purée
2 eggs
4 egg yolks
1 ¼ cups (250 g) sugar
5 tablespoons (40 g) cornstarch
4 teaspoons pumpkin pie spice
¼ teaspoon salt
½ cup (112 g) cold unsalted butter
1 tablespoon (15 ml) vanilla extract
For cake:
3 cups (600 g) sugar
4 cups (480 g) Liv's Flour Blend (page 15) (or 2 cups (240 g) cornstarch + 1 cup (120 g) almond flour + 1 cup (120 g) gluten-free oat flour)
2 cups (240 g) cocoa powder
4 teaspoons baking powder
1 tablespoon (14 g) baking soda
1 teaspoon salt
6 eggs
2 cups (470 ml) milk
1 ½ cups (355 ml) canola oil
4 teaspoons vanilla extract
1 cup (235 ml) boiling water
3 tablespoons (22 g) powdered sugar, for garnish
Instructions
To make the pumpkin filling:
In a large saucepan, combine the milk, pumpkin purée, whole eggs, egg yolks, sugar, cornstarch, pumpkin pie spice, and salt. Cook over medium heat, whisking frequently, until the mixture begins to bubble. Lower the heat slightly, switch to a rubber spatula, and stir the mixture constantly until it is very thick and resembles pudding. Remove from heat. Add the cold butter and stir until completely melted. Add the vanilla and stir to combine. Pour into a heat-proof container and place plastic wrap directly on the surface to prevent a skin from forming. Cool to room temperature, then refrigerate until completely cooled and set, at least 3 to 4 hours.
To make the cake:
Preheat your oven to 350˚F (180˚C, or gas mark 4).
Grease three 8-inch (20 cm) round cake pans. Line the bottoms of the cake pans with parchment paper cut to fit, then grease the paper and set aside.
In a very large bowl, whisk together the sugar, flour blend, cocoa, baking powder, baking soda, and salt. Add the eggs, milk, oil, and vanilla and stir to combine. Stir in the boiling water. Distribute the batter evenly among the 3 prepared pans.
Bake the cakes for 35 to 40 minutes, or until a toothpick inserted into the center of each one comes out clean. Cool for 20 minutes, then run a sharp knife along the edge of each pan and invert each cake onto a cooling rack. Cool completely.
To assemble the cake, place 1 cake layer on a serving plate. Top with half of the pumpkin filling, then top with a second cake layer, and add the remaining filling. Top with the final cake layer. Dust with the powdered sugar before serving.
Notes
This recipe is printed with permission from Olivia Dupin and Quayside Publishing.
If you do not have three pans, you can bake the cakes in batches.
This recipe is also soy-free.
Chef's Tip: This cake recipe makes 36 cupcakes. Just fill a cupcake pan three-quarters of the way and bake for about 18 minutes at 350˚F (180˚C, or gas mark 4). Try using the pumpkin filling to stuff the cupcakes and top with your favorite frosting.
Shirley's Note: Feel free to substitute your favorite frosting, custard, or pudding for the pumpkin filling if you'd like.
Full disclosure: This giveaway is sponsored by Olivia Dupin and Quayside Publishing, but all opinions expressed herein are my own.
Originally published February 14, 2014; updated March 14, 2022.