For affiliate links and as an Amazon Associate I earn from qualifying purchases.
I'm kicking off my annual Suite of Sweets for Sweethearts event today with a luscious recipe for homemade dairy-free vanilla pudding and a giveaway of the cookbook that this recipe comes from. We're only a week away from Valentine's Day!
Those of you who have been reading gfe for a while know that I absolutely LOVE Valentine's Day. Mr. GFE and I even host a big Valentine's Day bash. We have been having our Valentine's Day parties for decades, even before we were married. Now they've become quite an event, so we only hold the party every other year and this is not a party year for us, but we will still be celebrating Valentine's Day, just in a simpler way.
That leaves me plenty of time for  this year's SSS event and that's a very good thing because it's going to be absolutely amazing and so much fun, and totally delicious, of course! SSS will continue on past Valentine's Day (and then we'll have something else special for March). You won't want to miss a post—here on gfe or on Facebook because I'm going to be sharing different items in each place! (Be sure to subscribe to gfe and to not only "Like" my Facebook page, but also use your mouse and hover over "Like" so you can click on "Get Notifications.")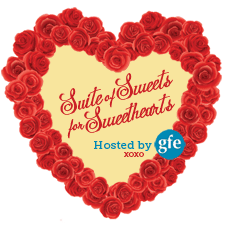 I am going to be sharing some of the very best gluten-free cookbooks with you during this year's event! And, happily, via the generosity of the authors and publishers of these cookbooks, I will also be offering one of the sweet recipes from these marvelous resources in each post and sharing a review and giveaway of all.
Now for today's post, I'm so tickled to kick off this year's SSS by sharing a recipe from my dear friend Lexie (Flo and Grace, formerly Lexie's Kitchen) and telling you about her new cookbook, Everyday Classics: 68 Tasty & Essential Recipes Gluten Free, Dairy Free, Egg Free, and Soy Free.
Lexie's book is small in size, about 8 inches square and less than 1/2 an inch thick, but don't let that fool you. This cookbook is packed with good stuff! And its size makes it a cinch to throw in your purse or tote bag and take along to the kids' soccer game or to the grocery store or health food store.
I've been very fortunate to know Lexie for several years now and she's such a dear! Behind that adorable caricature of her in the chef's hat with pretty pink highlights (pink is her color after all) and all her recipes and all of her other sharing on her blog—and now in her new cookbook—she's the real deal. "Real deal" people are becoming a bit rarer I think so it's important to acknowledge them.
I already knew Lexie's family's story and why she started creating gluten-free, dairy-free, egg-free, and soy-free recipes, to some degree. I also knew that every recipe of hers that I have ever tried I have loved (and I'm "just gluten free"—most of the time and most days anyway). That fact alone shows that if you're gluten free, dairy free, egg free, and soy free, you really don't have to miss out on delicious meals when you're using Lexie's "more-free" recipes.
Despite my prior knowledge of Lexie and her recipes, I learned a lot from this cookbook. The introduction with Lexie's analogy on going allergy free to pioneer days and her detailed information on ingredients (including trusted sources) is awesome.  Even with some knowledge of Lexie's family's healthy journey, I was very moved and inspired by Lexie's family's story. I loved the recipes in this cookbook, including the fact that their allergen-free status was clearly shown in an allergen chart showing nine different allergens. I just thoroughly appreciated the whole cookbook.
It's not one of those cookbooks where I'll simply look at the pretty pictures, try a recipe or two, and then push it to the back of the bookshelf. No, not at all. The recipes are pretty for sure (and there's one color photo for each recipe). Lexie is a very gifted photographer and artist, and her sense of color is delightful. But it's not all about prettiness with Everyday Classics, I'll actually use and treasure this cookbook. There are a good number of recipes (e.g., Tortillas, Loaf 'O Bread, Chicken Pot Pie, Flourless Chocolate Cake) that by themselves alone would be reason to purchase this cookbook!
Lexie is graciously sharing her dairy-free Vanilla Pudding recipe with us all today. You'll find it at the bottom of this post. You can find the chocolate version in her cookbook. They both look wonderful. I have to confess that pudding has always been a favorite of mine. It was my mom's "go to" dessert recipe when my sister and I were growing up and I still am thrilled when I stop by or a visit and she has some waiting in the fridge. That doesn't happen too often though. Now I can make Lexie's recipe and enjoy delicious "comfort food" pudding whenever I want!
Giveaway of Lexie's Cookbook, Everyday Classics!
UPDATE:  This giveaway is now closed.
Today's giveaway is co-sponsored by gfe and Lexie. Two readers will win a copy of Lexie's Everyday Classics: 68 Tasty & Essential Recipes Gluten Free, Dairy Free, Egg Free, and Soy Free.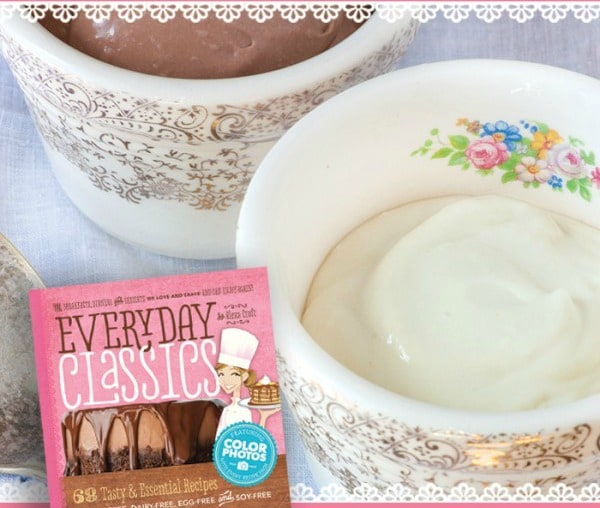 Dairy-Free Vanilla Pudding Recipe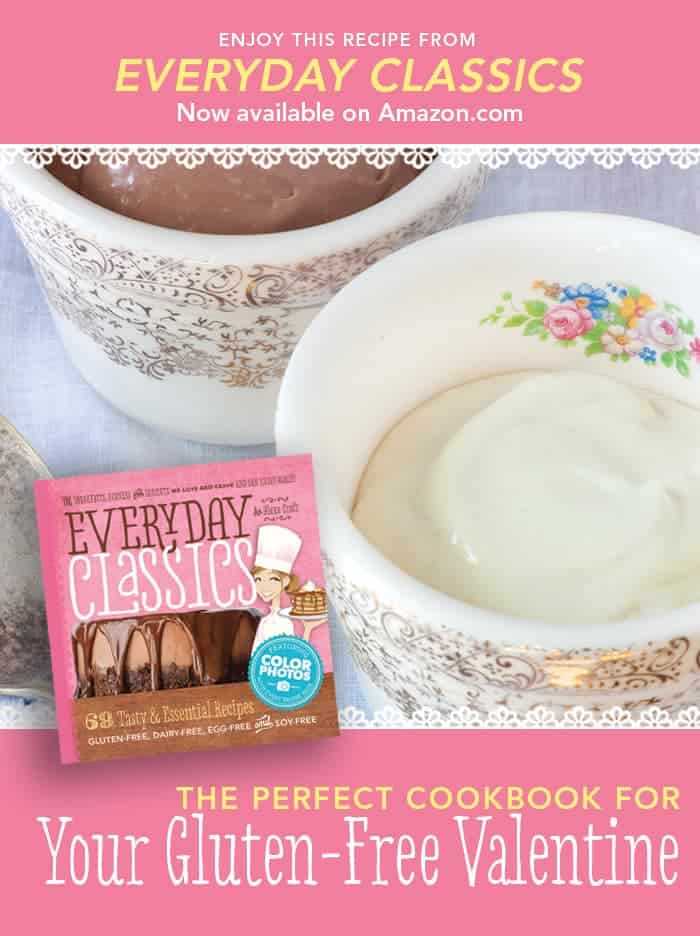 Lexie says: "I find these puddings reminiscent of Snack Pack pudding. Cocoa butter adds a remarkable white chocolate creaminess to the Vanilla Pudding while dark chocolate lends richness to the Chocolate Pudding. A good whipping with a hand mixer just prior to serving gives these sweet treats a super silky mouthfeel. Use these puddings in place of the boxed variety in pies and parfaits. Here is the recipe for Vanilla Pudding. The recipe for Chocolate Pudding is found in Everyday Classics: 68 Tasty & Essential Gluten-Free, Dairy-Free, Egg-Free and Soy-Free Recipes by Alexa Croft."
Ingredients
1/2 cup cold water
1 3/4 tablespoons gelatin
1 ounce cocoa butter
1/4 cup granulated cane sugar
1/4 cup pure maple syrup
2 (14 oz) cans full-fat coconut milk
1 tablespoon vanilla extract
1 teaspoon vanilla powder
Pinch salt
Dash ground turmeric for color, optional
Instructions
Add water to a small saucepan and sprinkle gelatin over surface. Warm mixture over low heat just until gelatin dissolves.
In a double boiler melt cocoa butter. Whisk in sugar and maple syrup and cook over medium heat until sugar begins to dissolve.
Whisk in coconut milk, dissolved gelatin, and remaining ingredients. Continue to cook until steam rises from surface.
Pour pudding into a medium mixing bowl or individual serving cups, and cover with plastic wrap. Chill until set, about 4-5 hours. For an extra silky pudding, chill in medium mixing bowl and beat until super smooth using an electric mixer prior to serving.
Notes
Lexie's Tips & Tricks: A large, rounded bottom stainless steel bowl atop a large saucepan filled 1/4 full with water makes a great stand-in for a double boiler.Leftover pudding may be beat and poured into popsicle molds for a frosty pudding pop.
Originally published February 7, 2014; updated May 22, 2018.