For affiliate links and as an Amazon Associate I earn from qualifying purchases.
I was very interested when I heard that Gluten-Free Living magazine would be hosting the Gluten-Free Living Conference the first weekend of April. First and foremost, I have always appreciated Gluten-Free Living's dedication to the gluten-free community, especially their thorough research and helpful guidance throughout the years.
Gluten-Free Living was the first magazine I subscribed to after going gluten free in 2003. I would read each issue from cover to cover the moment it arrived. Gluten-Free Living has always been dedicated to dispelling myths and sharing the latest research as well as offering great recipes and tips on living well gluten free. I found the information they shared not only helpful for me personally, but also for the support group I lead.
The fact that the Gluten-Free Living Conference would be held in Orlando, Florida, in the spring was definitely an added incentive. After a wet and cold winter, Florida in the spring sure sounded good!
Plus, I saw that a Blogger University was being held in conjunction with the event and several of my good friends (Jules, Amie, Amy) and more great folks would be presenting at that. So what a great bonus and opportunity to get together with some old blogger friends and make some new ones at the same time!
Finally, some of you reading might be in the Orlando area and planning to attend. Perhaps we would get to meet as well!
All those factors convinced me to sign up and I'm happy to say that my dear friend Linda, The Gluten-Free Homemaker, and I will be traveling to the conference together. Another one of my favorite blogger friends, Johnna (In Johnna's Kitchen), will also be attending. What a great event this is going to be on all counts!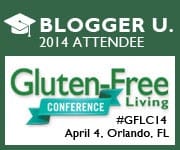 What:             Gluten-Free Living Conference

Where:           Orlando, Florida

When:             April 5 and 6 (Blogger University will be held on April 4.)

Cost:               $15 for a single day or $20 for both days

(If you're a blogger, note that the Blogger University is an additional fee.)
Gluten-Free Living has been supporting the gluten-free community for a very long time and I'm happy that they're branching out and expanding awareness by hosting the Gluten-Free Living Conference.  We all know that there can never be enough awareness on those who need to live gluten free for health reasons, whether it's because one has celiac disease, one's child has autism and benefits from living gluten free, one sees huge improvement in symptoms from other diseases/conditions like rheumatoid arthritis and multiple sclerosis, etc.
Plus, as is the case for most gluten-free events, there will be an exhibit floor, so gluten-free consumers will get to sample gluten-free products and meet the folks behind the companies that created them. There will also be representatives from gluten-free support organizations in attendance.
Sometimes those who are gluten free don't know another single person who is gluten free. That feeling is very isolating and adds to being overwhelmed early on. Gluten-free events like the Gluten-Free Living Conference can be comforting and reassuring, and can even help you meet new gluten-free friends (even local ones if you're attending an event in your local area) as well as allow you to meet the folks behind the gluten-free companies whose products you rely on. Even when you use just a few gluten-free specialty products like I do, there are still companies.
Who's speaking at the conference?
Here are some of the speakers:

~      Dr. Alessio Fasano, MD – Medical Director, The Center for Celiac Research

~      Pam Cureton, RD, LDN – Dietician, Massachusetts General Hospital & The Center for Celiac Research

~      Ann Whelan, Founder of Gluten-Free Living magazine

~      Gluten-Free Living magazine's expert editorial staff

~      Cynthia Kupper –  GIG (Gluten Intolerance Group of North America)

~      The Lagasse Girls – Authors of The Gluten-Free Table

~      Michael Savett – Gluten-Free Philly

~      Jackie Mallorca – The Gluten-Free Kitchen (author of Gluten-Free Italian:  Over 150 Incredible Recipes without Wheat–from Crostini to Tiramisu and The Wheat-Free Cook:  Gluten-Free Recipes for Everyone)

~      Andrea Kitay – Gluten-Free Travel Expert

~      Jules Shepard — Founder of Jules Gluten Free and author of The First Year: Celiac Disease and Living Gluten Free: An Essential Guide for the Newly Gluten Free and Free For All Cooking: 150 Easy, Gluten-Free Allergen-Friendly Recipes the Whole Family Can Enjoy

~      Amie Valpone — The Healthy Apple

~      Amy Leger — The Savvy Celiac

~      Anne Lee — Schar, Director of Nutritional Services
In many ways we have come so far in gluten-free living and knowledge, but there's always gluten-free work to be done, so to speak. Thanks to Gluten-Free Living and all the folks taking part in this conference who help do the gluten-free work!
I thought it would be timely to share that I also had the pleasure of hearing Ann Whelan, Gluten-Free Living's founder, speak shortly after my diagnosis in 2003. She was also the magazine's editor at the time and although now retired from Gluten-Free Living, she remains a consultant to the magazine and will be speaking at the Gluten-Free Living Conference (as you can see from the slate of speakers above).
I recently came across my notes from Ann's presentation to the Richmond Gluten Intolerance Group in March 2004. (Yep, all important gluten-free notes get kept until shared here on gfe.) I remember that so much of what Ann said aligned with what I was already figuring out in my own quest to live gluten free easily.
Ann shared the following thoughts first in her presentation.
Important Things to Remember About Gluten-Free Living
~ It helps enormously to remember that the gluten-free diet is not about processed foods.

~ It helps if you concentrate on foods you can eat, not what you can't.

~ Having celiac disease (living gluten free) does not mean you are excused from eating a healthy diet.

~ You have to come to terms that you can't continue to eat what has become the norm for America.

~ You, and only you, can decide how to follow this diet. It doesn't have to take over your life.

~ You have to worry about grains. Wheat, rye, barley, and oats.

Kamut, triticale, and spelt all contain gluten; do not eat them. An allergy to wheat is different from celiac disease or a gluten intolerance/non-celiac gluten sensitivity. Wheat starch is wheat with gluten "washed out," but unfortunately you can't really get all the gluten out. Mainstream oats contain gluten. Barley is in a surprisingly large number of products.
Ann also addressed some myths and offered some additional tips. My favorites from that discussion included:
~ Learn the basics of the gluten-free diet.

~ You can't eat oats. Yet.

~ Distilled vinegar is gluten free.
As Ann said when you go gluten free, learn the basics of the gluten-free diet and don't rely on a gluten-free label or someone telling you that something is gluten free or not gluten free. Get some sense of the probability of gluten in different foods. Always ask why a particular product or ingredient is thought to be unsafe. This guidance would seem obvious, but I've met many folks who accept whether or not something is gluten free or not gluten free at face value. Both routes can lead to problems obviously. We can end up getting "glutened" in many cases and we can end up avoiding perfectly safe, gluten-free foods in other cases.  And in none of these situations would we feel empowered or really understand what's in our food, what's safe, etc.
We got some major help in this area when the FDA requirement for labeling for the "Top 8" allergens, which includes wheat (but not rye, barley, and oats), went into effect in January 2006 (after Ann's talk) and "gluten-free" labeling to mean less than 20 ppm—and, therefore, to cover all forms of gluten—will become effective August of this year. Still as most of you know, misinformation still exists and persists.
Ann's statement that "You can't eat oats. Yet." can be tied to two facts. Fact #1 … If you are newly diagnosed, you can't eat oats right away after going gluten free and you can NEVER eat mainstream oats safely. Mainstream oats (like Quaker, Country Choice, and McCann's) contain gluten. These oats are grown in the same fields as other grains that contain gluten (wheat, rye, and barley) and processed on the same equipment there (tractors, harvesters, etc.) and then are also processed in the same facilities as gluten grains. They are not safe. They contain high levels of gluten. Read about the exact levels of gluten in "mainstream" oats here.
Fact #2 … Note that this study was going on at the time of Ann's presentation, so she was aware of the early findings that oats were not safe for the gluten-free individual. However, the results of the landmark study, which was led by Tricia Thompson, were not published until later that same year. (Note:  Tricia Thompson went on to found and lead the Gluten-Free Watchdog, which gives you the results of independent testing on the gluten-free status of hundreds of food products. I highly recommend subscribing to this service.)
There are a number of companies that produce safe oats for the gluten-free consumer. These safe oats, truly gluten-free oats, are grown in dedicated fields (where other grains have never been grown) and processed on equipment that does not process gluten grains—from the field to the packaging facility. The best gluten-free oats in my opinion are the ones that have been certified gluten free by a third-party, independent gluten-free certification organization. Read more in my post here (bonus … Flourless Oatmeal Cookies recipe included).
Most knowledgeable physicians recommend that oats not be consumed for the first year that someone with celiac disease is living gluten free. Other physicians advise anyone who is following the gluten-free diet for medical reasons to do the same. You need to give your small intestine time to heal. After that first year, certified gluten-free oats can be introduced slowly, a spoonful or two at a time. Your body is likely to let you know if it doesn't like even the truly gluten-free oats. And, again, mainstream oats are simply not gluten free and some who are gluten free will never be able to tolerate even certified gluten-free oats.
As Ann said—and Gluten-Free Living has repeated in its issues and on its site time and time again—"Distilled vinegar is gluten free. Period." Gluten is removed in the distillation process. Malt vinegar is not distilled and, therefore, is not gluten free.
Read more about all these basics here on Gluten-Free Living's site. If you're newly diagnosed, also check out this page. And I urge all of you to read The Top 10 Ingredients You Really Don't Need to Worry About. Articles with titles like "hidden sources of gluten" and "where is gluten hiding?" are everywhere on the interwebs and most are just spreading unnecessary fear and getting lots of additional views at the same time. Reading The Top 10 Ingredients You Really Don't Need to Worry About will eliminate many of your fears.
Ann's last tip was to subscribe to Gluten-Free Living and I agree with her recommendation! Here's the cover of the current issue.
Again, you'll want to read all the details on The Gluten-Free Living Conference. (Note:  If you are a blogger, you can read more on Blogger University via that tab on the website.)
Last, be sure to check out my next post for the kickoff of my annual Suite of Sweets for Sweethearts event. Through Valentine's Day weekend, I will be sharing sweet recipes from some absolutely wonderful recipe creators and their cookbooks and there will be giveaways! You won't want to miss any of them so be sure that you are a subscriber to gfe (via reader or email using the buttons under the header at the top right of this page).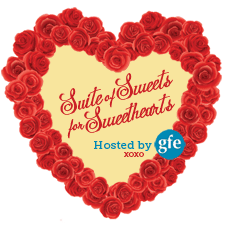 This post is linked to Gluten-Free Wednesdays, Gluten-Free Fridays, and Whole Food Fridays.