For affiliate links and as an Amazon Associate I earn from qualifying purchases.
Did you buy chicken wings for Super Bowl? Are you unsure how to prepare them? Here's an easy recipe for Tasty Two-Ingredient Gluten-Free Chicken Wings that we really like. They're not just tasty. They're very tasty, plus, juicy, and full of flavor but yet not messy.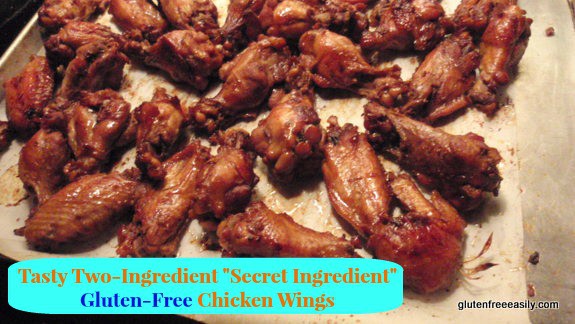 I also make these chicken wings for my Valentine's Day parties and I dress up for those and don't want to worry about messy wings for me or my guests. It's all about finger food that one can eat on the move, even when dancing if necessary!
This recipe only requires two ingredients: chicken wings and a "secret" ingredient. Okay, it's really not so secret, but it might not be what you expected. The second ingredient is gluten-free soy sauce.
I don't eat soy often, but I love soy sauce on chicken, especially chicken wings. I recommend this soy sauce, if you need an inexpensive gluten-free soy sauce which is available at most grocery stores, or this gluten-free tamari, which I prefer as it is gluten free, non-GMO, and coincidentally made in my home state of Virginia (note: upscale grocery stores like Wegmans tend to carry this product).
All you do to make these wings is marinate them in soy sauce, bake them in the sauce, drain the sauce, and then bake them a little longer at a higher temperature. You can certainly cook the wings more quickly if you like, but I really like this oven method that starts with a longer period of baking at a lower temperature and then a shorter period of baking at higher heat. And if they're the least bit messy at the end of that time, I'll even turn the broiler on for a few minutes. But feel free to cook as you see fit if you're an experienced chicken wing aficionado and have your own preferences.
Reader reviews:
~ "Had oven baked wings, boy how delish and easy to prepare."
Other Celebration-Worthy Gluten-Free Appetizers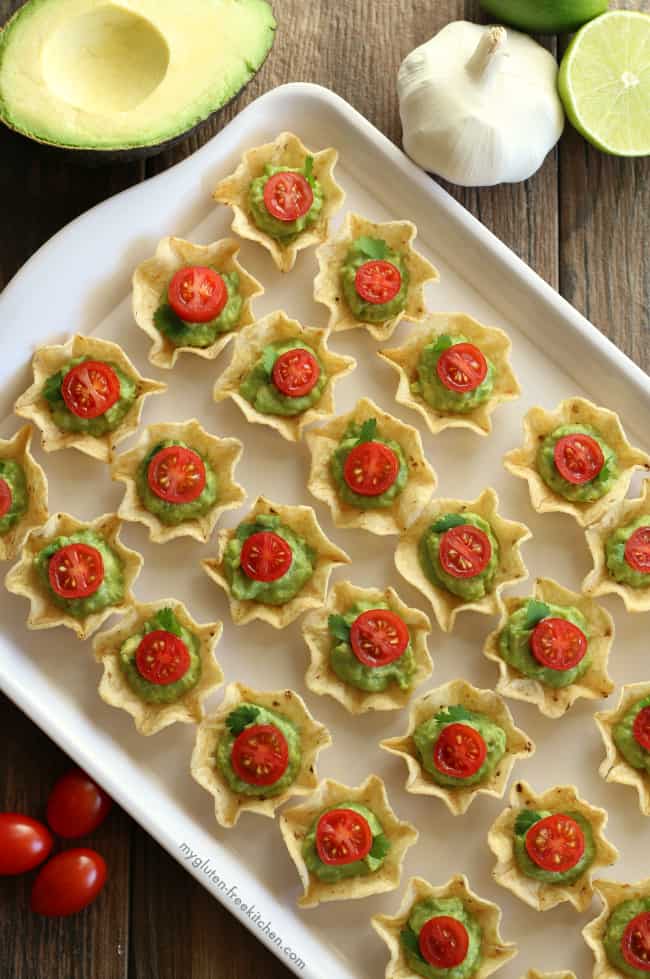 ~ Easy and Elegant Party Puffs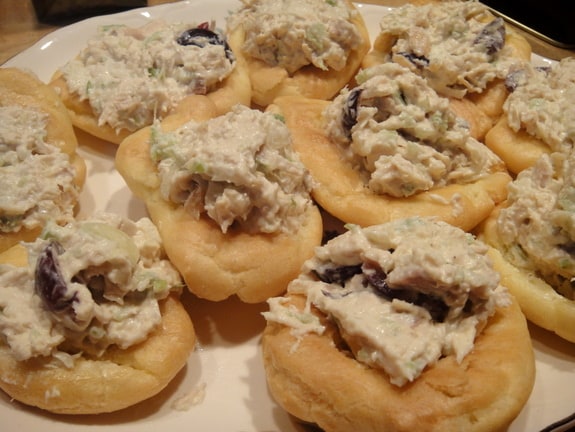 ~ Low-Carb Cheesy Baked Cauliflower Tots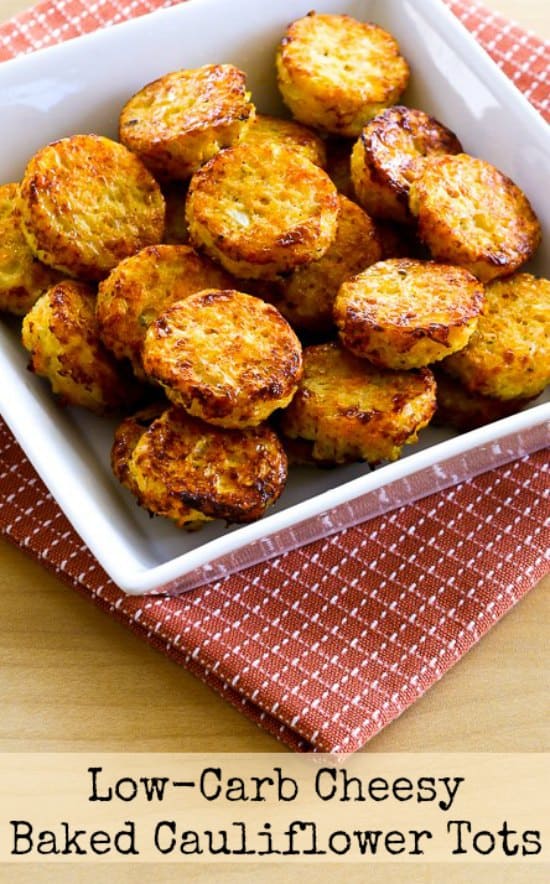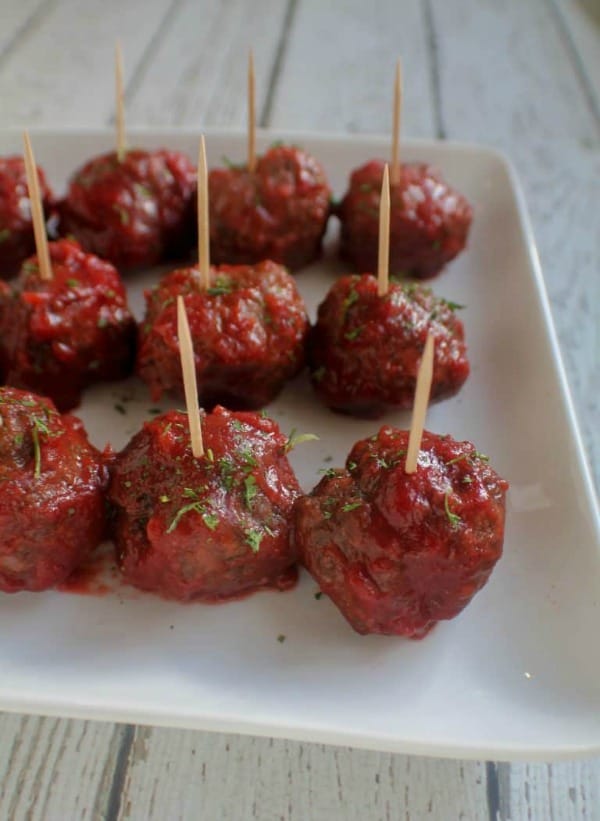 Tasty Two-Ingredient Gluten-Free Chicken Wings Recipe
Yield: 5 pounds
Tasty Two-Ingredient Gluten-Free Chicken Wings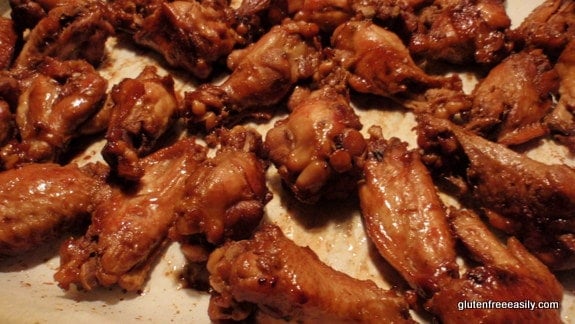 These Tasty Two-Ingredient Chicken Wings take some time but they're not hard to make and they're definitely worth the wait!
Prep Time
1 hour
5 minutes
Cook Time
1 hour
30 minutes
Total Time
1 hour
30 minutes
Ingredients
5 lbs chicken wings
1 bottle gluten-free soy sauce or gluten-free tamari (or coconut aminos for a soy-free version)
Instructions
Marinate chicken wings in gluten-free soy sauce (or gluten-free tamari) for about one hour (or more if you prefer or don't get to them right away---see notes). I like to use my roasting pan for marinating and baking.
Stir chicken wings about halfway through marinating to ensure that all sides get equal time in the soy sauce.
At the end of the marinating time, place roasting pan with chicken wings and marinade in a preheated 350F degree oven.
Bake for one hour, stirring once or twice during baking.
At the end of this time increase oven temperature to 400F and transfer chicken to a parchment-lined baking sheet using a slotted spoon or tongs.
Bake for 15 minutes on baking sheet.
Using tongs, flip wings over and bake an additional 15 minutes.
If your wings are still too juicy, broil a few minutes.
Notes
I often marinate these wings overnight. I basically use whatever time I have available---an hour, a few hours, or overnight. The longer you marinate the wings, the more flavor and saltiness they will have. So use that as your guideline. Some folks prefer them with a "lighter" flavor. Others prefer the deeper flavor. If your wings are still juicy/messy and you'd like them less messy, you can place chicken wings back in the oven and broil a minute or so, but you'll probably need to transfer them to another baking sheet as parchment paper is not designed for the high temperature of the broiler. The way I make my wings does take some time, but I think they are worth it!
Originally published February 2, 2014; updated December 30, 2022.