For affiliate links and as an Amazon Associate I earn from qualifying purchases.
Gluten-Free Classic Sweet Cornbread Muffins are on the March Muffin Madness menu today. Corn muffins are clearly a very popular muffin option. I think it's because they bridge the gap between savory muffins and sweet muffins and they also work as a terrific bread option.
So far for MMM, we've enjoyed Johnny Cake Muffins, Paleo Sweet "Cornbread Muffins, and Basil Prosciutto Corn Cakes. Today we have another choice to add to our list. Gluten-Free Classic Sweet Cornbread Muffins from Michelle of My Gluten-Free Kitchen.
Enjoy learning more about Michelle and her gluten-free Classic Sweet Cornbread Muffins (see the whole line-up of bloggers, blogs, and muffin recipes on gfe here).
I "met" Michelle a little over a year ago when she left a sweet comment on my Top 10+ Best Gluten-Free Girl Scout Cookie "Knockoff" Recipes Plus Bonus Ideas roundup. A quick look at her blog showed me that Michelle shares lots of beautiful and delicious recipes, as well as lots of other really helpful info for those who are gluten free.
I've since shared many of her recipes in gfe roundup posts. Here are links to some of those recipes and a few more from Michelle's blog!
Michelle also shares product reviews, kitchen equipment reviews, menu plans, and her favorite gluten-free recipes from others, so be sure to check out her blog. And now it's Michelle's turn!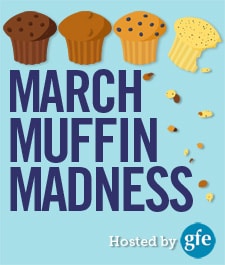 Hello there! My name is Michelle Palin and I blog over at My Gluten-Free Kitchen. I have been baking and cooking gluten-free since my celiac diagnosis in the summer of 2010. I have always loved to bake, so I wanted to get back to that as soon as I could and vowed to figure out how to make my gluten-free treats taste as good as my gluten-full recipes were.
My blog's motto is "Showing the world how delicious gluten-free can be!" My family is not deprived at all or "missing out" since we don't have gluten in our home. We regularly have delicious cookies, brownies, or muffins around to snack on. You could say I have a sweet tooth, or really, I think I have a whole mouthful of sweet teeth!

I like to use a good all-purpose gluten-free flour blend in my baking. I find that it saves me time and money over buying a variety of different flours, and always produces reliable results. You'll find my recommendation in the recipe, but feel free to substitute your homemade gluten-free all-purpose blend in this recipe, too. I hope you'll enjoy these sweet gluten-free cornbread muffins. We've been enjoying these for years!
Gluten-Free Classic Sweet Cornbread Muffins Recipe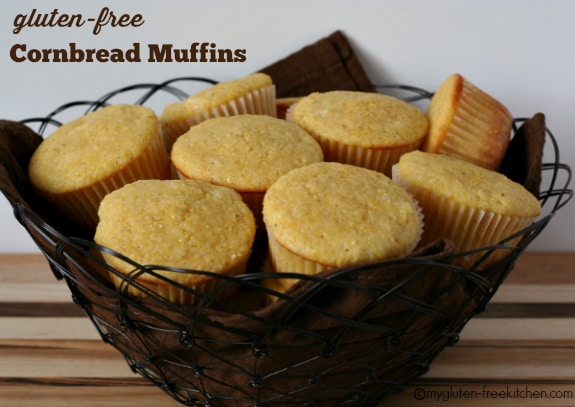 Yield: 24
Classic Sweet Cornbread Muffins from My Gluten-Free Kitchen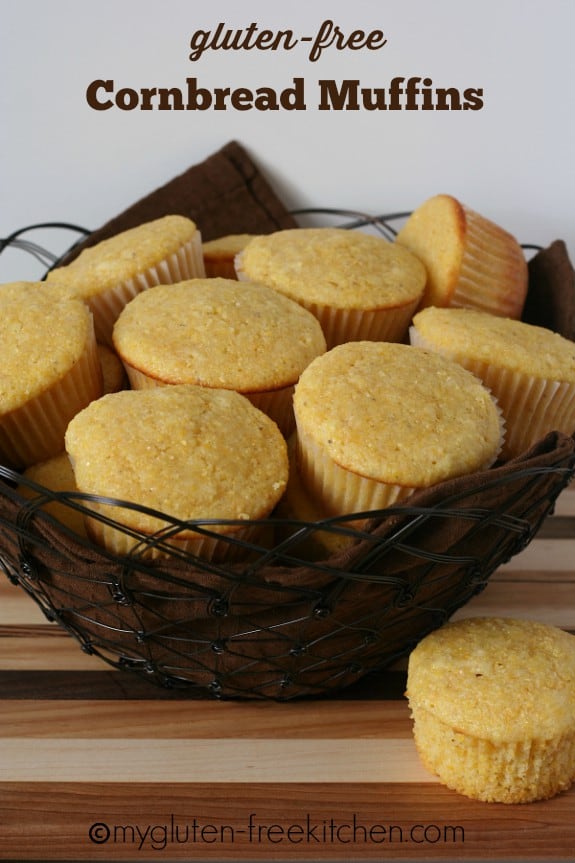 Ingredients
1 cup melted butter (2 sticks)
1 ⅓ cup sugar
4 eggs
2 cups buttermilk
1 teaspoon baking soda
2 cups cornmeal (see notes)
2 cups all-purpose gluten free flour (I use Jules)
1 teaspoon xanthan gum (omit if flour blend already has xanthan in it)
1 teaspoon salt
Instructions
Spray muffin tins with non-stick cooking spray or line with paper liners.
In a glass measuring cup, measure buttermilk then add baking soda, mix together and let sit.
In a large mixing bowl, melt butter in microwave. Add sugar and use a spatula or wooden spoon, to mix into butter. Add eggs.
Add buttermilk/baking soda to the butter/sugar/egg mixture and mix just until combined.
In a separate bowl, whisk together cornmeal, flour, xanthan and salt. Add to wet ingredients and stir until well mixed.
Fill muffin tin cavities mostly full with batter, filling 24 cavities. Bake at 375º for 14-17 minutes or until a toothpick inserted in center comes out with crumbs only and muffin top doesn't sink in if pressed with fingertip.
Cool in pan for 2-3 minutes. Remove muffins from pan to cool on a cooling rack until ready to serve.
Notes
If 24 muffins is way too many for your family to eat, simply place extras in a resealable freezer bag and freeze for another day! You can also halve the recipe for a dozen muffins.Shirley here: Be sure to use gluten-free cornmeal. I like the gluten-free cornmeal from Nuts.com.

Originally published March 29, 2014.