This post may contain affiliate links. If you purchase through them, your cost will stay the same, but gfe will receive a few cents for every dollar spent. Thanks for supporting gfe!
We're closing in on the final hours of March Muffin Madness here on gfe, but I've still got quite a bit of great muffin goodness to share with you! Like these Tropical Mango-Coconut Muffins from Alyssa, Simply Quinoa (formerly Queen of Quinoa). Now I've pretty much described Alyssa's muffins from the title and reference to her blog. You know they include mango and coconut, so yes, that's a tropical combo. Plus, I'll go ahead and tell you that there's banana in this recipe, which is a fruit that we sometimes forget is tropical since we always have access to bananas. And because these muffins are a creation from the Simply Quinoa, you know there's quinoa included (two forms of quinoa actually). Alyssa's recipes are gluten free, dairy free, refined sugar free, vegetarian, wonderful, and welcome as we almost close out March!
Enjoy learning more about Alyssa and her Tropical Mango-Coconut Muffins (see the whole line-up of bloggers, blogs, and muffin recipes here) and be sure to leave a comment on today's post to enter the MMM giveaway that will be conducted on March 31 and includes three different muffin pans (mini 24-cup, steel 12-cup, or cast iron 6-cup), an immersion blender, a spiral vegetable slicer, an electric pressure cooker, a 12-cup food processor, and—super duper special!—a Blendtec all-in-one-kitchen appliance (with a Wildside Jar)! Thanks again to the folks at Blendtec for sponsoring our Super Grand Prize! Please remember that EVERY comment in the series will be an entry for the final giveaway (which will be held at midnight EST on March 31), so if you've missed some posts, take a moment and visit them and leave a single comment on each to get in the maximum number of entries. (Duplicate comments will not be counted. FYI: You can also check out all the prizes on the sidebar right beside this post.)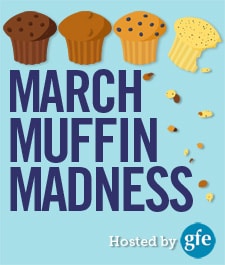 Alyssa is the quinoa-obsessed girl behind the gluten-free website,
Simply Quinoa
, where she shares healthy, wholesome recipes that center around this magical little seed. She's been living gluten-free since 2010 after she discovered she was sensitive to gluten. Once the initial shock passed, she was able to revamp her entire diet and has never felt better. She started exploring the world of gluten-free cooking only to discover that the possibilities were endless. She's a firm believer that having food allergies or sensitivities should never mean deprivation. Instead, they should be celebrated and enjoyed with great food.
I believe I was introduced to Alyssa and her blog by way of another gluten-free friend's blog, but can't remember all the details. I do know that Alyssa and I ended up connecting via social media and had a fun Twitter discussion on my Crustless Pumpkin Pie (the dairy-free version) before and after she and her family enjoyed it for Thanksgiving!
A little later, Alyssa shared her Baking with Quinoa ebook—25 gluten-free, dairy-free, and refined sugar-free quinoa recipes—with me and I talked about it here. I honestly could not believe all the delicious recipes that Alyssa created using quinoa!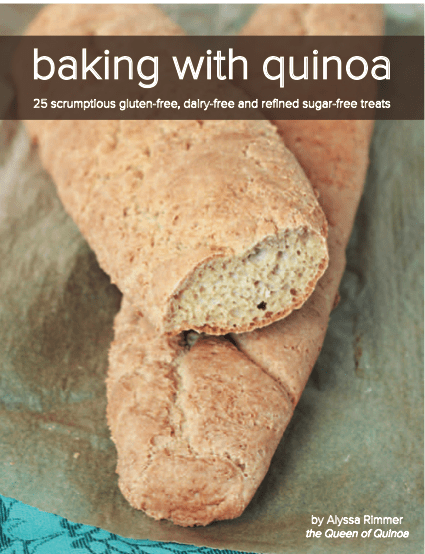 I've featured a number of Alyssa's delicious—and often very creative—recipes before here on gfe and on Facebook.
~ Apple Ginger Scones (part of Your Favorite Gluten-Free Apple Desserts—Top 175 Recipes!)

~ Chocolate Candy Cane Ice Cream Sundae (any peppermint hard candy should work fine; featured in this Ice Cream Sundae Recipe Roundup)

~ Double Chocolate Chip Quinoa Cookies

~ Grain-Free Halloween Chocolate Cupcakes (I would love these year round!)

~ Peanut Butter and Roasted Banana Ice Cream Sandwiches (part of The Ultimate Gluten-Free Ice Cream Sandwich Recipe Roundup)

~ Peanut Butter Oat and Quinoa Cookies (featured here in recipes for National Oatmeal Cookie Day)

~ Zucchini Bread (part of A Zest for Zucchini … Over 60 Gluten-Free Zucchini Dessert Recipes!)
And now here's Alyssa to tell you more about her Tropical Mango-Coconut Muffins recipe.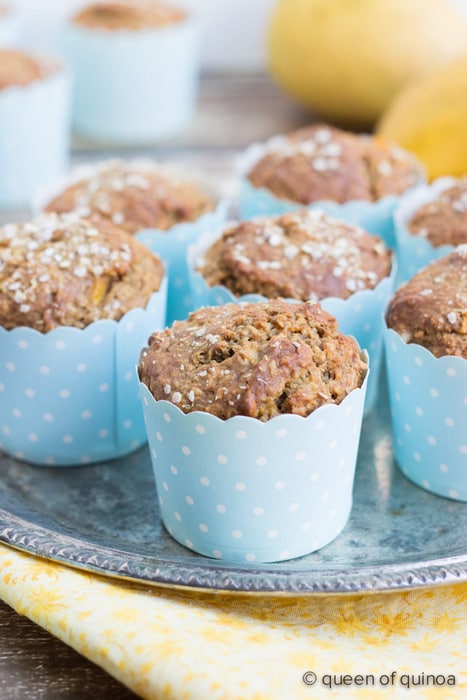 Hi everyone! I'm Alyssa and I'm super excited to be here on GFE today sharing a brand new muffin recipe with you. Muffins are one of my absolutely favorite things to bake because you can play with all sorts of flavor combinations, and they're perfect for breakfast, snacks or dessert. I mean, just look at the amazing recipes that have already been shared this month!
My recipe today is one that I'm crazy about (and I think you will be too). Why? Because we're going to the tropics, and as someone who lives in the Northeast, there is nowhere else I'd rather be at this moment. I've made you Tropical Mango-Coconut Muffins. Yum!
These muffins are full of wonderful fruity flavors, but don't have an overwhelming sweetness to them, which makes them a great breakfast treat. The texture is perfect; they're moist and tender without being too cakey. And, the best part is that they're actually quite healthy too. There's almost no fat, very low amount of sugar (coconut sugar at that) and it's made with healthy whole-grain flours.
I can't wait to hear what you think of this recipe and for all of you enjoying tropical weather, I'm jealous; for all of those who aren't, grab a muffin and we'll imagine ourselves there together. Enjoy!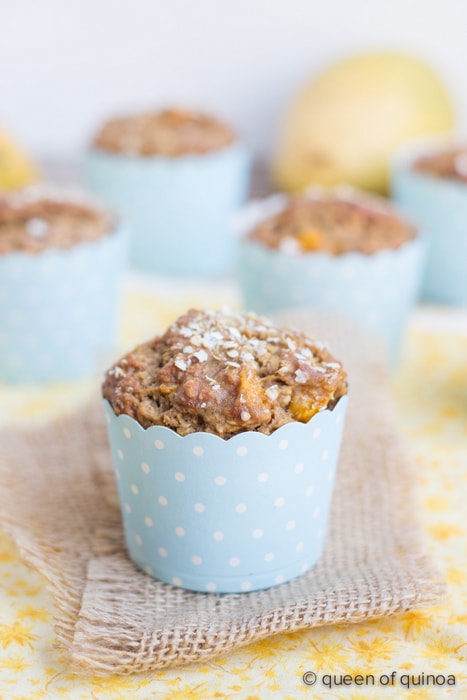 Alyssa's Tropical Mango-Coconut Muffins Recipe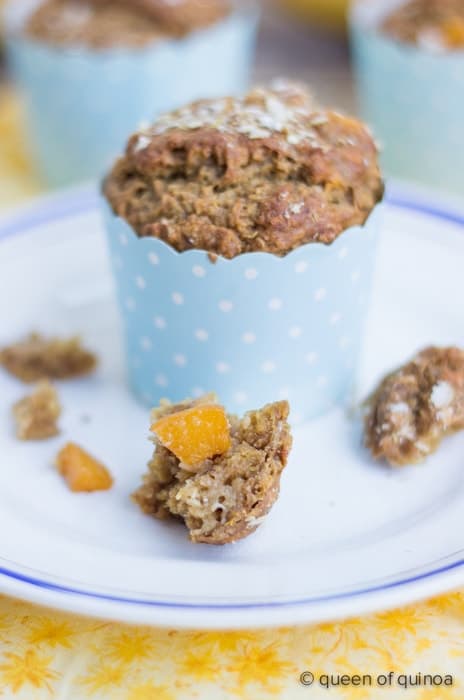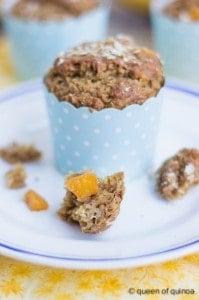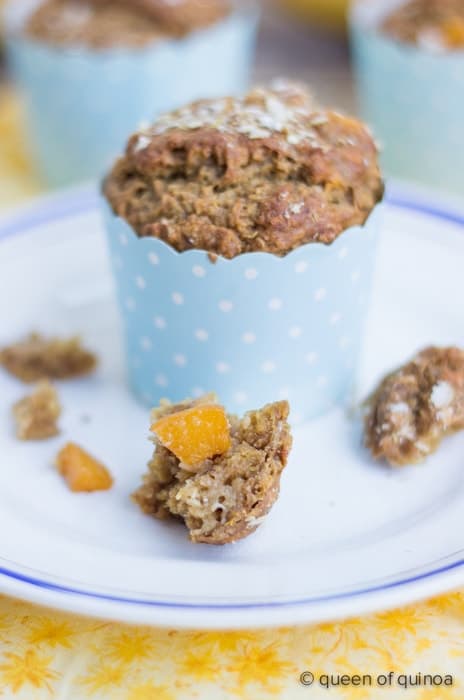 Print
Tropical Mango-Coconut Muffins from Queen of Quinoa
Yield 12
Ingredients
⅓ cup sorghum flour
⅓ cup toasted quinoa flour (see notes on why and how to toast quinoa flour)
⅓ cup tapioca flour
⅔ cup quinoa flakes
⅓ shredded coconut
½ cup coconut sugar (or other granulated sugar)
1 teaspoon baking powder
½ teaspoon baking soda
¼ teaspoon salt
⅛ teaspoon xanthan/guar gum
1 cup banana, mashed (about 2 medium bananas)
⅔ cup coconut milk
1 egg
2 tablespoons light flavored oil
1 mango, diced
Instructions
Preheat oven to 375 degrees F. Line a 12-cup muffin tin with paper liners or spray with cooking spray.
Whisk together dry ingredients in large mixing bowl. Set aside.
In a small mixing bowl, beat together banana, milk, egg and oil. Add to dry and mix until smooth. Fold in diced mangos.
Spoon batter into muffin tins, filling ¾ full. Bake on center rack for 25 - 30 minutes, until a toothpick inserted into the center comes out clean.
Remove from oven, let cool for 3 - 5 minutes in the pan. Transfer to a wire rack and let cool completely.
Enjoy!
Notes
Quinoa flour sometimes has a very strong flavor, which can overpower sweet baked goods. When you toast it, you bring out the flour's nutty qualities and really round out the flavor which makes it excellent in numerous applications. Toasted quinoa flour can easily be made at home. Simply preheat your oven to 300 degrees F, empty a bag of quinoa flour onto a baking sheet and bake for 1 - 2 hours until the flour has started to brown and smells toasted. Stir it around a few times during the cooking process so as not to burn it.
Courses Breakfast, Desssert