For affiliate links and as an Amazon Associate I earn from qualifying purchases.
These Savory Leek and Potato Brunch Muffins for March Muffin Madness come from Kathy of Cake Cooks Gluten Free. (Note that Kathy's blog is no longer active; you'll see why as you read on.)  She describes her recipe as a bit of a cross between a muffin and a quiche. They sound like they'd make a wonderful "to go" meal or even be perfect with a mug of good soup, and they're even "kid approved"! Kathy's Savory Leek and Potato Brunch Muffins are gluten free, grain free, dairy free, refined sugar free, paleo, and primal, with a vegetarian option.
Enjoy learning more about Kathy and her Savory Leek and Potato Brunch Muffins (see the whole line-up of bloggers, blogs, and muffin recipes here) and be sure to leave a comment on today's post to enter the MMM giveaway that will be conducted on March 31 and includes three different muffin pans (mini 24-cup, steel 12-cup, or cast iron 6-cup), an immersion blender, a spiral vegetable slicer, an electric pressure cooker, a 12-cup food processor, and—hold on to your hats, folks!—a Blendtec all-in-one-kitchen appliance (with a Wildside Jar)! Thanks again to the folks at Blendtec for sponsoring our Super Grand Prize! Please remember that EVERY comment in the series will be an entry for the final giveaway (which will be held at midnight EST on March 31–today!), so if you've missed some posts, take a moment and visit them and leave a single comment on each to get in the maximum number of entries. (Duplicate comments will not be counted. FYI: You can also check out all the prizes on the sidebar right beside this post.)
Kathy Craddock is a wife and mom of two, and a good personal friend of mine. She reached out to me about a year ago seeking input on starting her own support group and we met for lunch at one of our local gluten-free friendly restaurants.  Honestly, I was really surprised to discover that we've known each other for only a year. It seems like we've been friends for many years and I'm beyond amazed at all that Kathy has accomplished in a year—both in her personal life and for our community.
In Kathy's past life, she ran a custom cake bakery in Northern Virginia concentrating on competition-level sculpted cakes. I've seen some of her "everyday" cakes and was amazed, so I can't imagine her competition cakes. Her love of cake baking garnered her the nickname "Cake" from some friends; hence, her blog's name, Cake Cooks Gluten Free.
In 2009 Kathy become very ill, forcing her on disability. She was diagnosed with Hemiplegic Migraines (a migraine condition that mimics stroke symptoms) and began a long journey of treatment. After many doctors, hospitals, clinics and countless prescription drugs, she decided to take her health into her own hands and made drastic changes to her and her family's diet. Starting with gluten and dairy, she removed allergens from the home and diet and in only a few shorts months everyone in the family began to see improvements, especially Kathy. (You can read more of Kathy's story in her guest post over at Paleo Parents.)
Today Kathy is a member of my gluten-free support group and also leads our local Raising Our Celiac Kids (ROCK) group. While both of our groups are open to children and families, as you would expect Kathy's ROCK group focuses on gluten-free kids and providing needed support to their families. Note that the name does not indicate membership requirements. All gluten-free children and their families are welcome, not just those with a celiac diagnosis.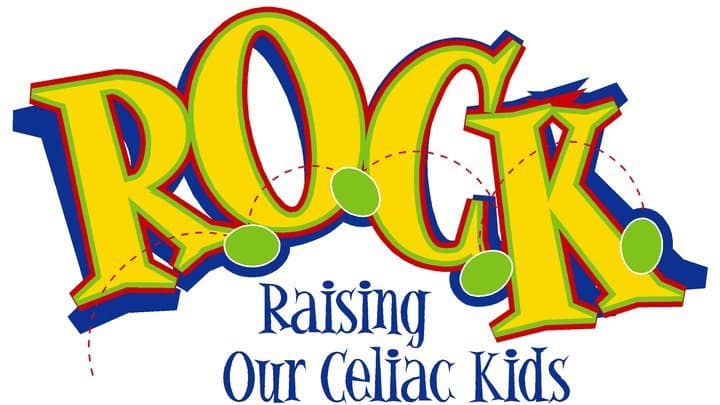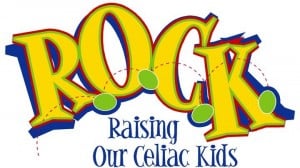 Kathy is also becoming well known in our community for another food-related reason. She is the owner/operator of our local organic market "in town," Kickshaw's Downtown Market! You can also follow Kickshaw's on Facebook.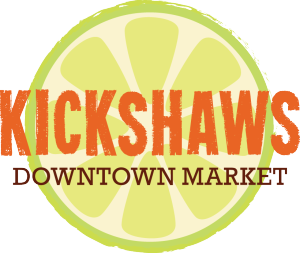 Kathy has made some fabulous dishes for our support group meetings. She's treated us to both her sweet and savory recipes. Now I'll let Kathy tell you more and share her Savory Leek and Potato Brunch Muffins recipe.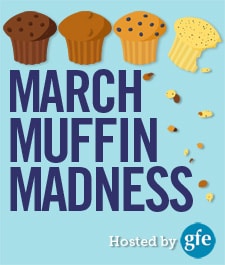 "It so good, mom… there are A LOT of vegetables… but it's good!"
This is something said in my kitchen that four years ago I would have never imagined hearing. See my son was a feeding tube for eight years with numerous oral aversions and medical issues. I was one of those parents that thought "if I take away ____, there is nothing he WILL eat." But it wasn't until we started making changes to our nutrition and diet that everything started to change.
When Shirley asked me about participating in March Muffin Madness I had two thoughts:
1. My kids LOVE berries and I could use a new berry muffin (in my stomach)

2. I need some new savory breakfast things that are fast for the morning
Well … convenience won and I decided savory was the winner. These muffins are on the border of muffin/quiche and packed with delicious, nutritious and seasonal veggies. If I can stick to eating locally by season, that is what we try to do. If you can't find white sweet potatoes (if you can I highly recommend trying them!) try using sunchokes as a substitute. I have made this recipe using both and the family seems to love them equally.
I think my favorite part of this recipe is that it freezes really well making the perfect portable instant breakfast for mornings on the run. Just let it sit out for about 15 minutes for a cool breakfast or microwave to quick heat it for about 15 seconds. Voila, breakfast is served!
Yield: 12
Savory Leek and Potato Brunch Muffins from Cake Cooks Gluten Free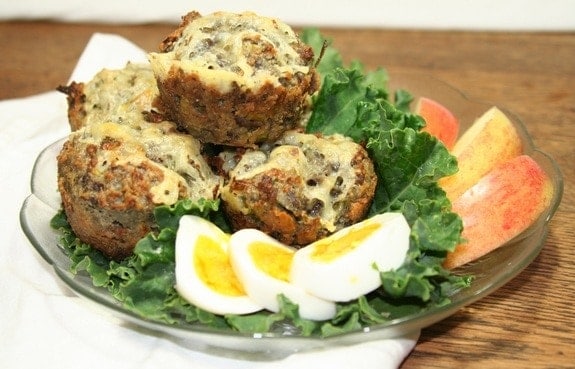 Ingredients
2 cups almond flour, like Honeyville Blanched Almond Flour (NOT almond meal)
½ tapioca flour
1 leek
1 white or purple sweet potato
½ cup lard or palm shortening
¼ cup chopped parsley
3 eggs
3 cloves garlic, minced
2 tablespoons coconut oil
1 ½ teaspoon sea salt
½ teaspoon baking soda
½ teaspoon ground black pepper
Optional:
¼ cup shredded raw cheese
Instructions
Preheat the oven to 350 degrees.
Using either a box grater or food processor to shred the sweet potato. You should have about 1 ½ cups of shredded potato.
Slice the leek in half and pulling open the inner layers, wash the leek well. Cut off the dark green end and thinly slice the leek.
Over medium-high heat, heat the coconut oil. Add the minced garlic and cook until lightly browned. Add the leeks and cook until the leeks turn bright and slightly transparent. Set aside.
In a large bowl add the eggs and the lard or shortening. Beat until well combined.
In a separate bowl combine the almond flour, tapioca, salt and pepper.
Slowly add the egg mixture to the flour blend. Add the parsley, shredded potato and leeks. The mixture will be very thick, but just go with it.
Fill a muffin tin about ½ cup fill. If desired, top with raw cheese.
Bake for about 20 minutes or until the tops are slightly browned.
Allow to cool and enjoy!