For affiliate links and as an Amazon Associate I earn from qualifying purchases.
For all of you who love savory muffins, I have another one for you today for March Muffin Madness! These Basil Prosciutto Corn Muffins from Jenn Cuisine can easily double as a meal (like Starlene's Bacon Muffins). Jenn uses a traditional combination of savory ingredients—polenta, prosciutto, and basil—but simply in muffin form. These very appealing muffins are just gluten free, but I suspect that dairy-free alternatives to butter and sour cream would work well in this recipe. Please let us know if you try any alternative versions.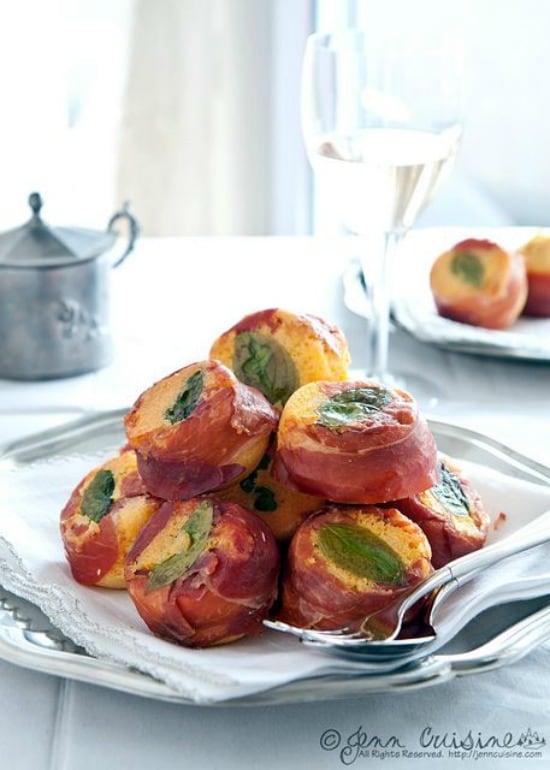 Enjoy learning more about Jenn and her Basil Prosciutto Corn Muffins and see the whole line-up of bloggers, blogs, and muffin recipes here.
Jenn Oliver of Jenn Cuisine lives in Switzerland with her gluten-free husband and their little girl. She is well known for her gluten-free versions of classic recipes. Her recipes are often fairly simple, but yet always very elegant. I've always loved Jenn's blog because in addition to sharing her lovely recipes she also shares her STUNNING photos. Yes, I did mean to use all caps there. Her photos are definitely worth a huge shout out! She's won lots of awards and attracted many readers through her food photos and travel photos. I never cease to be amazed at how she can make food, scenes, and people come alive through her images. (Her copyrighted photos are reprinted here with permission.)
Update: Jenn is back in the U.S.! You can now find her on Facebook at her My Kitchen Lab Book page and her photography website, Jenn Oliver.
In addition, I've long been a fan of Jenn's because she also shares my philosophy on emphasizing and enjoying naturally gluten-free foods and recipes first and foremost in one's gluten-free diet. In fact, she hosted a whole series, Naturally Gluten Free, for over a year in which each month she highlighted naturally gluten-free recipes. The recipes came from all types of bloggers and in all types of categories—"just gluten free" … "gluten free and dairy free" … and so on. One motivation for her Naturally Gluten Free series was a discussion on naturally gluten-free recipes being sort of "cheat recipes" and less worthy than gluten-free recipes that required special ingredients and special skills. This discussion took place on a blog intended to guide food bloggers. Jenn disagreed with that line of thinking and so did I. As Jenn said:
"Whenever anyone asks me for advice about going gluten free, the first thing I tell them is to look for naturally gluten free dishes that don't require any alterations at all. You know, the ones that don't have lists of a dozen different flours in them and other ingredients that the average person might consider a little "strange" if they are not the most familiar with gluten free cooking and baking. I also like to stress cooking naturally gluten free foods because I think it's important to recognize that gluten free doesn't have to be limiting."
Hear, hear! That's the easiest and best way to live gluten free for sure—the gfe approach!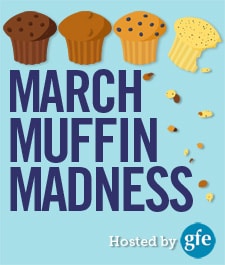 And now let's get to Jenn's gluten-free Basil Prosciutto Corn Cakes, shall we?
Basil Prosciutto Corn Muffins Recipe
Yield: 12
Basil Prosciutto Corn Cakes from Jenn Cuisine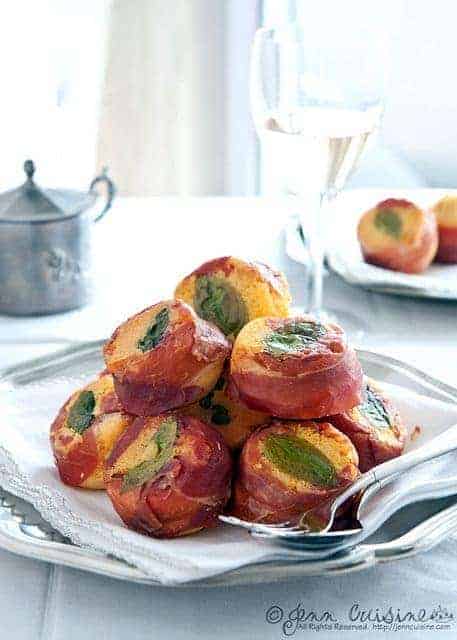 Corn muffins go upscale with the help of prosciutto and basil. They will dress up any meal!
Ingredients
170 g instant or 2-minute polenta
50 g rice flour
25 g potato starch
1 tsp. Italian seasoning
1 tsp. baking soda
salt & pepper
360 g sour cream
2 eggs, beaten
few drops of lemon juice
butter
12 basil leaves
12 slices prosciutto
Instructions
Preheat an oven to 180 C (350 F). In a large mixing bowl add the polenta, rice flour, potato starch, Italian seasoning, soda, salt & pepper.
In another mixing bowl, whisk together the sour cream, eggs, and lemon juice, and then combine with the dry ingredients.
Grease a muffin tin with butter, and then place a basil leaf in the bottom of each and line each cup with prosciutto. Pour the batter in, and bake for about 20 minutes or until cooked through (in my oven they took about 30 minutes).
Enjoy!
Notes
Adapted from Donna Hay
Shirley's Notes: I recommend using polenta that is labeled gluten free.
Originally published March 28, 2014; updated December 24, 2022.