For affiliate links and as an Amazon Associate I earn from qualifying purchases.
Today I have some more lovelies for you for March Muffin Madness—gluten-free Raspberry Muffin Cakes from Maggie of She Let Them Eat Cake! You can probably guess why Maggie calls her recipe "muffin cakes" versus simply muffins. She has a very good reason, but I'll let her explain later in this post.
She'll also tell you about the health benefits of these pretty and scrumptious Raspberry Muffin Cakes! Her recipe is gluten free, dairy free, refined sugar free, and vegetarian.
Enjoy learning more about Maggie and her Raspberry Muffin Cakes (see the whole line-up of bloggers, blogs, and muffin recipes here).
Maggie Savage is passionate about the connection between food and health. She can't help but take that passion and share it with the world as she is committed to showing everyone how easy it is to live your fullest life feeling good and looking fabulous. Maggie's passion was born out of her husband's diagnosis with Celiac Disease in 2004. Six years later, Maggie's son was diagnosed with food intolerances to gluten, dairy, and eggs. With the help of mentors and education, Maggie took matters into her own hands and committed to healing her family and keeping them healthy. Maggie loves real food, organic farmers, and healthy gluten-free living. You can find her at www.SheLetThemEatCake.com where she blogs about gluten-free living, nutrition, and her family.
If I were asked to describe Maggie in one word, that word would be "joy"! Maggie and I have been online friends for years and "in real life" friends since we met several years ago at a gluten-free event. She's the kind of person you just want to be around as much as possible because she's such a sweetheart and all her good energy is totally infectious! So the fact that she is one of our gluten-free, healthy living advocates is so sweet, just like Maggie herself. Honestly, we can't have enough spokespeople like Maggie in our gluten-free community!
Maggie has a gift for creating gluten-free, dairy-free, egg-free, and often vegan recipes—or even converting existing recipes—to meet those requirements without any flavor or texture compromises. When we first met in person, she had created an egg-free version of my Chewy Granola Bars and had brought some with her so that I could sample them. I happily did and they tasted exactly the same! While that version is not on her blog, you'll definitely want to check out her Nut-Free Granola Bars.
By the way, if you live in the Toronto area, you're super lucky because Maggie often teaches cooking classes and presents sessions on living gluten free and healthy in her local gluten-free forums, such as Gluten-Free Garage.
What about She Let Them Eat Cake's Other Gluten-Free Recipes?
Here are some of my personal favorites and some other popular ones on Maggie's site.
Here are a few more of Maggie's muffin/cupcake recipes. Some could be lifesavers for you and your kids!
~ Fudgeeo Cupcakes (turn your children into "the cool kids" with this recipe)

~ Vanilla Cupcakes (Maggie gives you more than just a recipe with these cupcakes)
And now I'll let Maggie tell you about her Raspberry Muffin Cakes!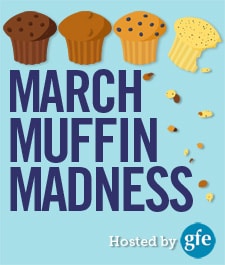 Raspberries are basically a locally grown super-food. Being a beautiful, bright berry, they're high in antioxidants, fibre, potassium, calcium, and they're less sweet than most fruits so they'll help to satisfy that sweet tooth without the sugar crash.
Besides the nutritional benefits, there are few things I love more than raspberries in a muffin. It's been over a year since a muffin recipe appeared on my blog. But when Shirley announced March Muffin Madness, she totally inspired me to bake muffins! Just last week I broke my muffin recipe fast with a recipe for Banana Oat Muffins.
But these Raspberry Muffin Cakes are just for you guys. Why Muffin Cakes? Because these babies were meant to be more than muffins. They're moist and cake-like, and I just know you will love them!
I make my own oat flour by grinding certified gluten-free oats in my Blendtec. It takes a matter of seconds and I only do what I need so I don't have to worry about storing extra.
Shirley here again … Do check out Maggie's Banana Oat Muffins as well. I just made them and they are so good!
Gluten-Free Raspberry Muffin Cakes Recipe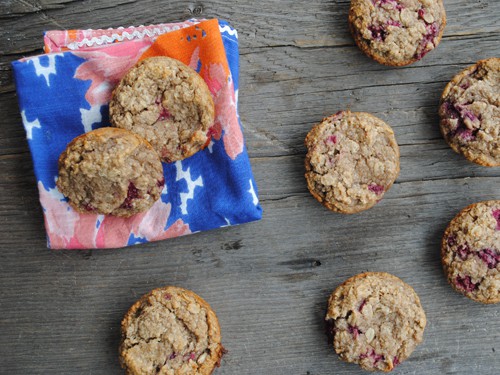 Yield: 10 to 12 muffins
Raspberry Muffin Cakes from She Let Them Eat Cake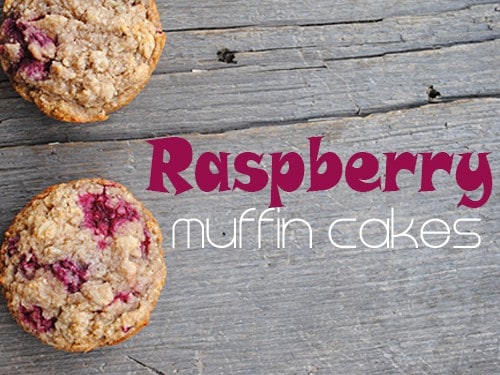 Maggie says: "Why Muffin Cakes? Because these babies were meant to be more than muffins. They're moist and cake-like, and I just know you will love them!"
Ingredients
1 cup blanched almond flour
½ cup certified gluten-free oat flour (made from purity protocol oats, like this brand
½ cup certified gluten-free purity protocol oats
2 tablespoons tapioca flour
1 teaspoon cinnamon
1 teaspoon baking powder
½ teaspoon baking soda
½ teaspoon sea salt
¾ cup unsweetened applesauce
¼ cup honey
1/4 cup coconut oil, melted
2 tablespoons ground chia mixed with 1/2 cup warm water
1 cup frozen raspberries
Instructions
Preheat the oven to 350F degrees and line or grease muffin cups.
Combine almond flour, oat flour, oats, tapioca flour, cinnamon, baking powder, baking soda, and sea salt in a medium-sized bowl.
In the bowl of your stand mixer, or a large bowl, combine applesauce, honey, coconut oil, and ground chia-warm water mixture.
Stir in dry ingredients, mixing well to combine. Fold in raspberries.
The muffin batter will thicken up because of the ground chia.
Spoon batter into prepared muffin cups (3/4 full).
Bake in preheated oven for 20-23 minutes.
Let cool in muffin pan for 3-4 minutes. Remove to wire rack and let cool completely.
Notes
These Raspberry Muffin Cakes taste just as yummy on day two, but you could wrap them up and freeze for future breakfast or brunch treats.
Originally published March 27, 2014; updated September 5, 2022.