This post may contain affiliate links. If you purchase through them, your cost will stay the same, but gfe will receive a few cents for every dollar spent. Thanks for supporting gfe!
Today for March Muffin Madness we have Cassidy from Cassidy's Craveable Creations sharing her Paleo Sweet Cornbread Muffins. Make that "Cornbread" as we know that corn is not included in paleo recipes. Cassidy's recipe is gluten free, grain free, dairy free, refined sugar free, vegetarian, paleo, and primal.
Cassidy is a very talented recipe creator and a real sweetheart! Three of her most popular recipes are her
Grain-Free, Nut-Free Angel Food Cake
 (I know … I didn't think that type of angel food cake was possible either!), her
Grain-Free Fruits Squares
, and her
No-Bake Brownie Bites
. You'll want to check them all out and visit her blog!
Enjoy learning more about Cassidy and her Paleo Sweet "Cornbread" Muffins and see the whole line-up of bloggers, blogs, and muffin recipes here.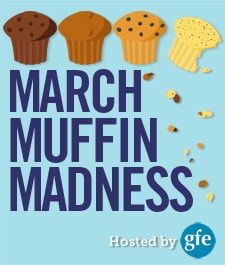 Without further ado, I'm turning the floor over to Cassidy …
I'm Cassidy from Cassidy's Craveable Creations and I'm a mom of 2 kids, one of whom is on the autism spectrum. Because my son is on the spectrum we have been gluten and dairy free since June of 2009 and have seen a drastic improvement. In addition to cooking gluten and dairy free, I also try to cook without soy, refined sugar, and grains. So when my sister-in-law made the most awesome cornbread I had ever eaten, I knew I wanted to create a paleo version.  And I was able to do so by using coconut flour as it can taste surprisingly like cornmeal!
However, these are a little bit different than your typical cornbread recipes as these Paleo Sweet Cornbread Muffins are not only sweet, they're almost cake-like. I think that's why we like them so much! They have become a staple in my house because not only are they tasty and easy to make, but they can be served as a side with almost any meal AND be served as dessert with dairy-free butter or coconut oil and maple syrup drizzled on the top—it's a "win win"! I hope you enjoy them as much as we do!
Paleo Sweet Cornbread Muffins Recipe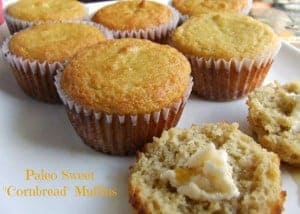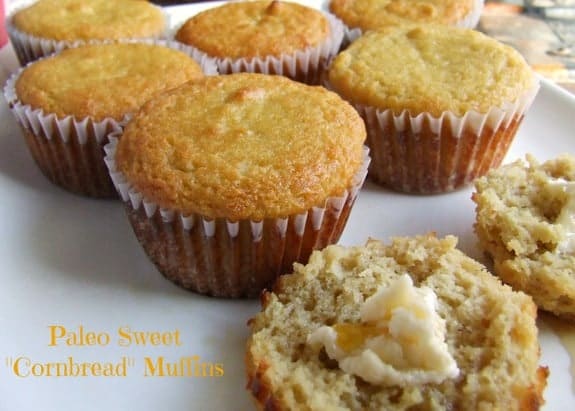 Print
Paleo Sweet "Cornbread" Muffins from Cassidy's Craveable Creations
Ingredients
1 cup blanched almond flour (Honeyville Blanched Almond Flour)
1/3 cup coconut flour
4 tsp grain-free baking powder
1 tsp sea salt
1/4 cup honey
3 eggs
1/2 cup dairy-free milk
2 tbsp refined coconut oil, melted
Instructions
Preheat oven to 350 degrees and line a muffin tin with 9 baking cups.
Whisk the almond flour, coconut flour, baking powder, and sea salt in a large mixing bowl.
Add the eggs, honey, milk, and coconut oil to another bowl and mix well.
Pour the wet ingredients into the dry and mix well.
Evenly divide the batter between the baking cups.
Bake 17 -19 minutes or until lightly browned.
Cool completely to properly set up.
Notes
Bob's Red Mill almond meal will not work in this recipe. Finely ground almond flour, like Honeyville Blanched Almond Flour, must be used.Upate 1/23/17--This recipe has been updated from the original shared here to ensure that the muffins don't sink.
Courses Bread, Breakfast, Dessert