For affiliate links and as an Amazon Associate I earn from qualifying purchases.
March Muffin Madness continues on with gluten-free Apple Quinoa Muffins from Ricki Heller. Ricki's breakfast muffin recipe is full of nutritional goodness—and tastes really good, too! Don't we all love it when that's the case? Her muffins are gluten free, dairy free, egg free, and vegan, with a refined sugar-free option.
Enjoy learning more about Ricki and her gluten-free Apple Quinoa Muffins and see the whole line-up of bloggers, blogs, and muffin recipes here.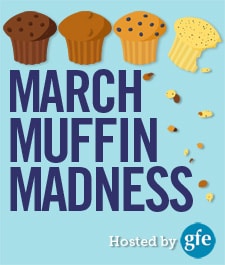 Ricki's motto is "a healthy lifestyle can be sweet!" and you'll find that motto illustrated weekly on her blog, rickiheller.com. With only whole foods ingredients, a generous pinch of humor and input from her two chatty canines, Ricki shares gluten-free, allergy-friendly, sugar-free recipes that everyone will enjoy.
Ricki's second cookbook, Naturally Sweet & Gluten Free, offers gluten-free, vegan recipes all made with natural, low-glycemic sweeteners. It was an Amazon bestseller from day one! (Read my review here.)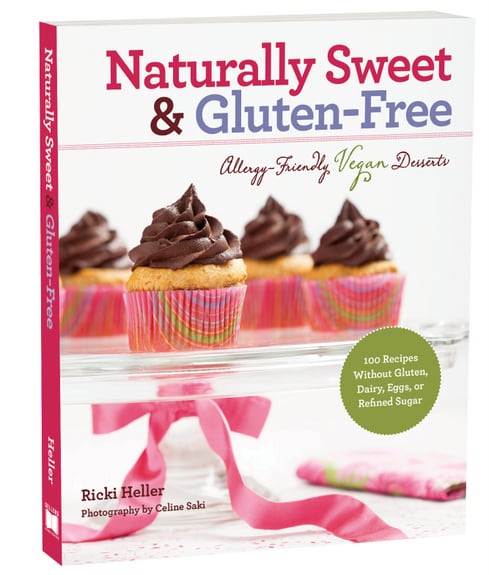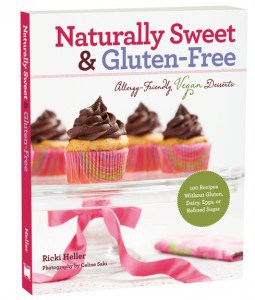 Her first book, Sweet Freedom, is one of only three cookbooks recommended by Ellen DeGeneres on her website. Ricki has also published three ebooks for anyone on an anti-candida diet.
You can also find Ricki's recipes and articles in a number of publications. Her newest book is Candida-Free Living: 100 Recipes and a 3-Stage Program to Restore Your Health and Vitality.
I've written about Ricki a few times on gfe. I "met" Ricki several years back via her blog, which was originally called Diet, Dessert and Dogs. (FYI: Don't dismay … Ricki's dogs—"the girls" that all of us who follow Ricki's blog love to read about—are still very much in the picture.) Ricki and I became really good "online" friends almost instantly and, happily, we finally got to meet in real life last summer. It was such a treat!
Honestly, everyone loves Ricki! She's a dear … super friendly and so helpful and supportive to all. Plus, she's so entertaining in her posts and, of course, there's the part everyone especially loves—her awesome gluten-free recipes! Her recipes also happen to be refined sugar free (often totally sugar free), and vegan (which means dairy free and egg free, too, of course). You truly won't miss a thing in her recipes though, because Ricki is a gifted recipe developer.
Gluten-Free Apple Quinoa Muffins—Perfect for Breakfast
Today Ricki's sharing a recipe for apple muffins which by definition are a classic, but she wanted to increase the protein and overall nutrition in her muffins. So she added some other healthier ingredients, primarily cooked quinoa, to her recipe.
Ricki confessed that she had tried adding cooked quinoa to muffin recipes before and the results were always way unpleasantly soggy. But then she started experimenting with adding psyllium and magic occurred. The results of that magic are these gluten-free Apple Quinoa Muffins, "perfect whole-grain breakfast muffins"!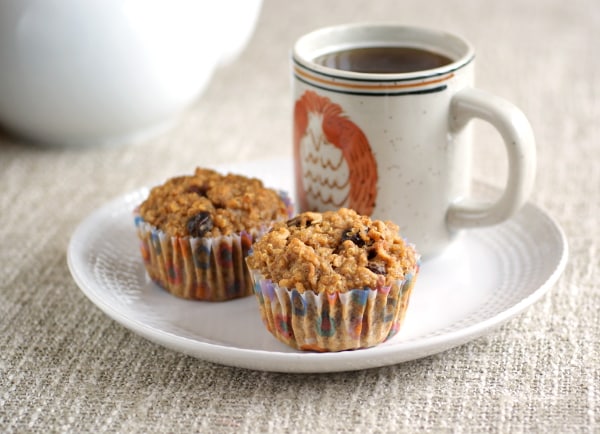 Gluten-Free Apple Quinoa Muffins Recipe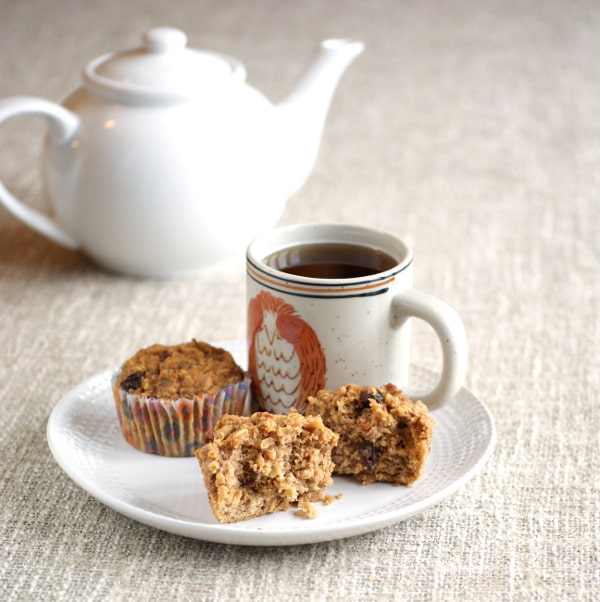 UPDATE: On April 4, 2023, Gluten-Free Watchdog issued a new statement, Gluten-Free Watchdog Cannot Recommend Any Brand of Gluten-Free Oats. Read the full statement here. This statement was followed by details on recent testing results of gluten-free products that contain oats., which showed 30% of the labeled gluten-free oat products tested contained quantifiable gluten.

This statement was followed by details on recent testing results of gluten-free products that contain oats, which showed 30% of the labeled gluten-free oat products tested contained quantifiable gluten. I'm not eating any oats and I urge all of my readers who eat gluten free for medical reasons to also abstain.
Yield: 10
Gluten-Free Apple Quinoa Breakfast Muffins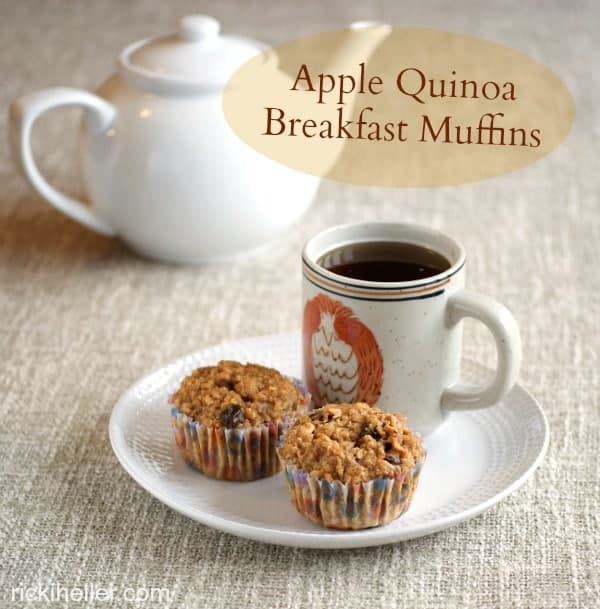 Perfect whole-grain breakfast muffins that will make you feel good about your breakfast!
Instructions
Preheat oven to 350 F. Line 10 muffin tins with paper liners or silicone liners, or spray with nonstick spray.
In a large mixing bowl, stir together the apples, coconut sugar, oil, quinoa, vanilla, apple cider vinegar, pecans, raisins, flax seeds, and almond milk to allow the coconut sugar to begin to dissolve.
Sift the all-purpose flour, baking powder, baking soda, salt and 5-Spice powder over the wet mixture. Add the psyllium husks and oats and stir everything just to combine.
Using a large ice cream scoop or 1/3 cup measuring cup, heap the mixture into the muffin cups, filling them quite full (they will not rise any more while baking, so make the tops as high as you can). The mixture may seem as if it's not sticking together enough, but don't worry; it will become more cohesive as it bakes.
Bake in preheated oven for 35-40 minutes, rotating the pans about halfway through baking, until a tester inserted in a center muffin comes out clean. Cool for 5 minutes before removing to a cooling rack. Allow to cool completely before eating (the muffins will be more fragile while warm, but will hold together fine once cool).
Notes
Makes 10 muffins. May be frozen.
The whole psyllium husks are a critical ingredient in this recipe. There are no suitable substitutions for them and they cannot be omitted.
Originally published March 21, 2014; updated April 17, 2023.