For affiliate links and as an Amazon Associate I earn from qualifying purchases.
A while ago I converted my recipes from one recipe program to another and I'm still going back and doing cleanup and sometimes finding issues that I didn't even expect to find. This gluten-free Autumn Fruit Crumble recipe from Ricki Heller is one such example. It has literally been buried on gfe. It wasn't even showing up in my recipe index. Yikes! Folks, you all need this recipe, especially at this time of year—and this post about my friend Ricki's terrific cookbook—so I'm bringing it to the forefront for you. Enjoy!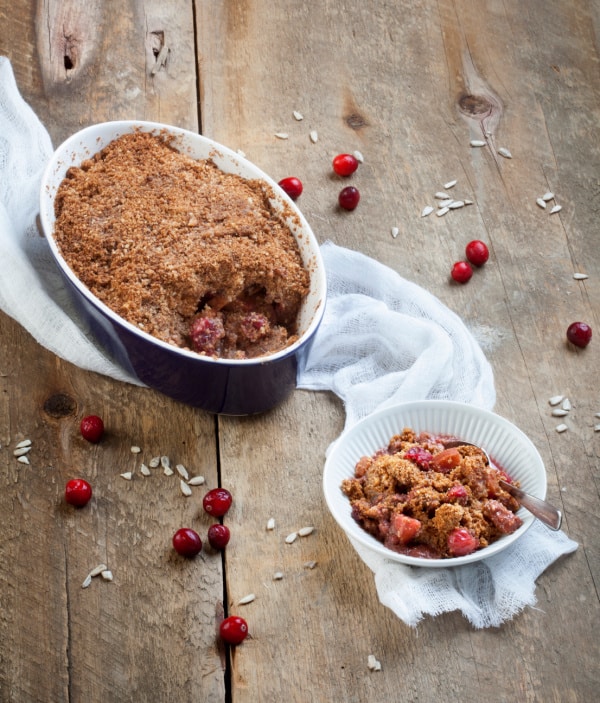 Review of Naturally Sweet & Gluten-Free, Interview with Ricki Heller, and Gluten-Free Autumn Fruit Crumble Recipe
Cookbook reviews like the one I'm sharing today are tough for me. Tough because although I'm a "wordy" person by nature, I truly can't adequately express how highly I think of Ricki Heller and how much I love her cookbook, Naturally Sweet & Gluten-Free: Allergy-Friendly Vegan Desserts: 100 Recipes Without Gluten, Dairy, Eggs, or Refined Sugar, including this gluten-free Autumn Fruit Crumble recipe. But I will try. Just know that whatever I say falls short of reality!
I met Ricki several years back via her blog, which was formerly called Diet, Dessert and Dogs. Ricki and I became really good friends almost instantly. She's easy-going, extremely personable, and super supportive to all. Add in her fabulous sense of humor, gifted storytelling, and finally, her ability to create phenomenal recipes that are gluten free, refined sugar free (and sometimes totally sugar free), and vegan (which means dairy free and egg free, too, of course), and well, what's not to love? I honestly don't know anyone who is not a huge fan of Ricki's!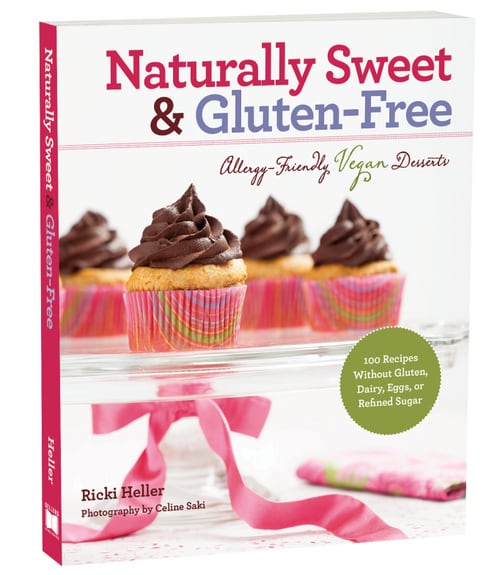 And Ricki's recipes are simply great! One does not have to have any need for special diets to love them, but if you do have a need for gluten-free and "more-free" recipes, well, you're in for a real treat when you try one of her recipes! Literally. Especially one of her recipes from her latest book which showcases her dessert-making prowess so very, very well!
I finally got to meet Ricki "in real life" this summer when I was in Toronto to present at the Canadian Celiac Association Conference (CCA) and I could not have been more thrilled! No offense meant to the CCA, but the experience of meeting Ricki far eclipsed its conference (and the conference was excellent)! I also met another longtime online friend, Katie, for the first time that evening as she and Maggie Savage of She Let Them Eat Cake joined us for dinner. Needless to say, it was an awesome few hours.
For today's review, Ricki graciously agreed to an interview to answer my questions on her new book, her personal story, her style of recipe creation, and the creative processes she follows for her blog and her cookbooks (and how they differ). I think you'll enjoy our exchange. Ricki's many wonderful traits shine through in her answers and they give you a peek into Naturally Sweet & Gluten-Free from the best source possible, its lovely author.
Ricki's new cookbook is subtitled Allergy-Friendly Vegan Desserts and it includes "100 Recipes without Gluten, Dairy, Eggs, or Refined Sugar." The format is soft cover and it's sized large enough so that you can place the book on your kitchen counter opened to a recipe without it closing on you. User friendly; gotta love that! The size of the book also ensures that all of the recipe photos are larger than life. I especially love that and I bet you will as well! In addition to those features, I was very impressed with the initial 41 pages where Ricki tells her story, introduces ingredients, her favorite equipment, etc. These lead-in pages to the recipes are a quick, enjoyable, and educational read, which sufficiently "prime" you for making Ricki's delightful desserts.
Below our interview, you'll find instructions on how to enter a giveaway to win your own copy of Naturally Sweet & Gluten-Free. Below that, you'll find Ricki's recipe for Gluten-Free Autumn Fruit Crumble, which I made as part of my review. This recipe is also grain free and it includes apples, pears, and cranberries combined with coconut sugar and stevia to provide the perfect amount of natural sweetness. The topping is made in your food processor from ingredients that include walnuts, almonds, coconut sugar, and coconut flour. While I've combined those ingredients to use as a crust many times; I'd never used them as a topping and they work really well that way!
We enjoyed this dessert very, very much (and I'll be sharing the rest with my parents who will love it, too!) although I did adapt it to my preferences just a bit. I left out the cup of whole cranberries instead adding in a few dried cranberries, and upping the amount of apples. I'm not so much a cranberry lover, but I am an apple lover and was really pleased with the results when I went with my own taste preferences. I've been making Ricki's recipes for a long time and have found that they always deliver when made as directed, but they often can be "tweaked" with great success, too.
Instead of my own photo of the Gluten-Free Autumn Fruit Crumble, you'll see the beautiful photo from Ricki's book plus one other of her Ultra Fudgy Brownies (inserted in our interview below). Swoon on the latter, right? All the photos in Naturally Sweet & Gluten-Free were taken by the very talented photographer for Ricki's book, Celine Saki, and are reprinted here with her permission as well as that of Sellers Publishing.
Interview with Ricki Heller about Her New Cookbook, Naturally Sweet & Gluten-Free
Me: Ricki, you use a fair number of alternative sweeteners, which tends to discourage some folks because they are unknown to them and often much more costly. It's sort of like going from gluten-full all-purpose flour to say almond flour, the price difference is initially very shocking to those going gluten free and healthier. Of course, after using almond flour, we realize that it can take a good while to go through a 5-lb bag and we're getting tons more nutrition for our money. Can you tell us how you came to use such sweeteners and why you rely on them? Also, any supportive words on the cost of some of these sweeteners? I know that you tend to use a combination of sweeteners more often than a single sweetener. You talk about that in the introduction of Naturally Sweet & Gluten-Free, but can you address it some here as well?
Ricki: Oh, please tell them not to be discouraged! There's an entire chapter in the book about ingredients and substitutions, so if someone prefers not to use coconut sugar, or stevia, or whatever it is that I use, they can certainly swap out for something else. That said, I would encourage folks to at least try the low glycemic sweeteners, as they offer lots of advantages. True, they are a bit more expensive than white sugar, just as gluten-free flours are more expensive than wheat flour. . . I suppose we are paying a bit more to be healthy!
I first started using natural sweeteners when I was initially diagnosed with candida, an overgrowth of yeast in the body, way back in 1999. But I think I really embraced the idea that I would never consume white sugar again a couple of years later while in nutrition school after we learned that sugar basically is devoid of nutritional content and also spikes blood sugar levels (plus it's processed with bleach, chemicals, etc.).
At that time, I started using Sucanat (which stands for SUgar CAne NATural), an unrefined evaporated cane juice, and I really fell in love with the robust and slightly molasses-ey flavor. I also sought out other natural, traditional sweeteners, like brown rice syrup, agave nectar, maple syrup, and even date puree (which I love). Unfortunately, even those proved to be too high in sugars for my metabolism, and I was diagnosed with a severe case of candida again in 2009. Since then, I've been using only low glycemic sweeteners, primarily coconut sugar, coconut nectar, and stevia.
I tend to combine sweeteners for several reasons. First, by combining coconut sugar and stevia, I can use less coconut sugar, thereby decreasing both the cost and the glycemic load of the entire recipe (that is, how quickly the food causes blood sugar to rise). Stevia doesn't raise blood sugar at all, so when it's used alongside coconut sugar, the total effect is more beneficial in terms of your blood sugar.
This is great news for type two diabetics and anyone trying to stay on a low-sugar diet. In addition, I know that some folks have reported an aftertaste with stevia. While I've never experienced that effect myself, by combining the two sweeteners, the flavor of the coconut sugar is what comes through in the final baked good and the stevia is virtually undetectable. I've served my desserts to people who aren't following any kind of special diet, and they had no idea there was stevia in their baked goods!
Me: In your book, you state that you've come to realize that you simply will not ever be able to handle refined sugar, even in moderation. Can you expand upon that a little bit for my readers? I'll add that I think there are many of us–I use the "us" on purpose—who instinctively know that is the truth for us as well, but we keep reading the posts on "everything in moderation," "don't restrict yourself so much or you'll end up with disordered eating," etc. So we try once again to eat just a little bit of something with refined sugar … only to have our bodies tell us once again that we can't handle it. That type of experience is clearly in your history as well so, again, I'd appreciate your insight on it.
Ricki: It took a second diagnosis with candida, as I mentioned, in 2009 to nudge me toward this realization. I had had a good response to the candida diet in 1999, and then I subsequently attended nutrition school in 2003, so I had a very clear sense of what was a natural, whole food, and that was the way I wanted to eat.
Once I completed the candida diet and my symptoms resolved, I began to eat and cook according to the principles of holistic nutrition I learned in school. This included good quality, natural sweeteners in moderation. I never really worried about the sugar levels of these sweeteners, since I saw them as "healthy." And it's true: maple syrup is a beautiful sweetener, one that actually contains nutritional value (by volume, maple syrup has more calcium than dairy milk!). But maple syrup, sucanat, or dates, for instance, are all pretty high on the glycemic index, meaning that they affect your blood sugar levels pretty much the same way white sugar does.
I felt fine and stuck to "moderation" for quite some time, but after about 10 years of eating that way, I eventually slipped back into old habits, and before I knew it, I was consuming cakes, cookies, and other treats that had white sugar. Shortly thereafter, candida symptoms came back with a vengeance. It took a lot longer to get them under control the second time around, so I knew I had to make some serious—and permanent—changes to my diet if I wanted to live a healthy, happy life again.
I've come to love the treats I make with my low glycemic sweeteners, and as you can see from Naturally Sweet and Gluten-Free, there's no deprivation in my dessert repertoire! Pretty much anything you can make with conventional sugar, I can make with lower glycemic, natural sweeteners.
Me: I believe you talked about how lengthy my gfe blog posts are when you spoke on blogging at the Nourished conference. Those who write long posts tend to defy the standard advice on keeping posts "short and sweet," so to speak. However, I've always thought that you were right there with me in enjoying telling the story and not doing posts that are not much more than quick little blurbs. In fact, I love your stories as much as your recipes! Obviously, you don't get to share much of a story in a cookbook, although your introduction shares your personal story as well as your baking experiences over the years as needed background for the evolution of your recipes. Has being less of a storyteller and focusing first and foremost on your recipes been difficult for you in creating this cookbook or has it been a nice change of pace?
Ricki: Who, me? Did I say that about your blog posts?? Clearly, I agree with you about going with your own natural bent when it comes to blogging, and I am, indeed, fond of stories! I have to say, though, that it didn't feel at all like I was missing anything in the cookbook. I suppose because it's a standard format, one that I think of as different from a blog post. A cookbook doesn't usually call for long introductory sections, unless you're doing a memoir-cum-cookbook, like those of Shauna Ahern (Gluten-Free Girl) or Molly Wizenberg (Orangette). In addition, I absolutely love recipe creation. I could literally spend the entire day in the kitchen working on one recipe and find that fun. So dealing with the recipes on their own was no hardship for me!
Me: I think there are many who aspire to write their own cookbooks, especially those of us who are food bloggers. You've done that several times now, each time a little bit differently I believe (as far as the process). What brief insights can you give us on what you learned writing this cookbook? How has creating recipes for this cookbook been different than creating them for your blog? Has there been anything that really surprised you? Good and not so good?
Ricki: I'd say that the process of recipe creation is pretty much the same for me whether I'm creating for the blog, a cookbook, a magazine article, or something else. My process involves multiple tests of a recipe and sampling on as many people as are willing to try the final product (sometimes that means just my husband and, if the ingredients allow, The Girls). Even if a recipe turns out perfect the first time, I always test at least three times. If it works the same way the second time, I know that might just be due to chance; so I test a third time to ensure that there's no coincidence and that the final product is identical to the first time. When things don't go so well, I can test ten or twelve times, or, as in one case for my first cookbook, around 50 times until I got it perfect.
For me, the major differences between working on the cookbook and working on the blog recipes involved the number of testers (there were 29 people from all over the world testing recipes for Naturally Sweet and Gluten-Free) and the process of writing up the recipes. With a publisher, the recipes will follow their particular format, and of course, your final text is edited, so you may be asked to make changes to what you wrote. I was lucky in that there were very few changes made to my manuscript, but the publisher did ask for additional information that hadn't been in my original draft. I think the book is a better, and more complete resource, as a result of those additions.
Me: Finally, thank you so very much for very generously including me in your acknowledgements! I was very touched when I saw my name and so agree on the strong friendships and unbelievable support offered by our online community. Although now we can say that were are also IRL (In Real Life) friends since we finally met in person in June! What a great time that was! Thanks so much for all that you give to our gluten-free community, Ricki!
Ricki: I feel the same about you and all that you do for the community, Shirley! And, as you know, you have been such an inspiration and a source of encouragement and support to me ever since we found each other's blogs—that mention is only a small "thank you" for all that you've done. I'm so glad that we were able to transition to "IRL" as well, after all this time—let's not wait that long again for the next in-person meeting, though!
Thanks so much for this interview, and for your enthusiasm for this book, too. It's been great "chatting" with you!
As you can see, Ricki is absolutely delightful and extremely gracious! Thanks for the super sweet words, Ricki, as well as the gift of your "must-have" new cookbook! Now let's get to that gluten-free Autumn Fruit Crumble, shall we?
Gluten-Free Autumn Fruit Crumble Recipe (Grain-Free, Too!)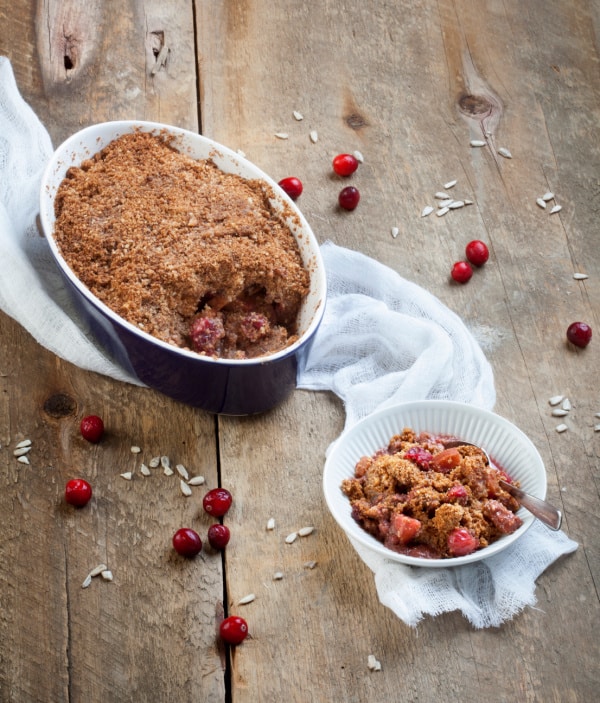 Yield: 6 to 8 servings
Grain-Free Autumn Fruit Crumble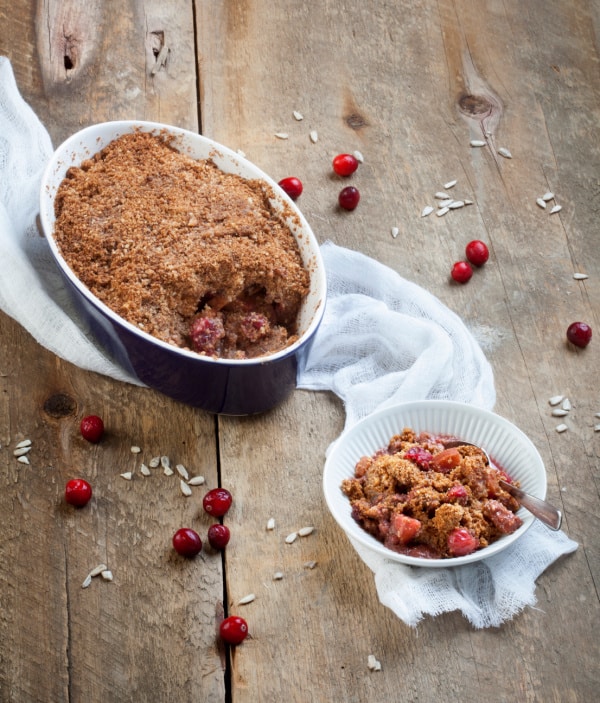 This is another one of those "desserts that can be breakfast." With the abundance of fall fruit and absence of grains, this dish offers a great lower-glycemic way to start your day. Add a bit more protein, and you're all set! For best results, select crisp, sweet apples, such as Gala, Honeycrisp, or Pink Lady, and firm pears, such as D'Anjou or Bosc.
Ingredients
FOR THE TOPPING:
1⁄3 cup (45 g) coconut sugar
1⁄2 cup (65 g) natural raw walnut pieces
1⁄2 cup (80 g) natural raw skin-on almonds, preferable organic
1⁄3 cup (50 g) coconut flour
1⁄4 cup (40 g) potato starch
1 Tbsp (30 ml) ground cinnamon
Generous pinch fine sea salt
3 Tbsp (45 ml) coconut oil, at room temperature, preferably organic
30 drops pure plain or vanilla stevia liquid, or to taste
1 tsp (5 ml) pure vanilla extract
3 Tbsp (45 ml) water
FOR THE FILLING:
2 medium pears, washed, cored, and diced, peeled or unpeeled
2 medium sweet apples, washed, cored, and diced, peeled or unpeeled
1 cup (115 g) fresh or frozen cranberries
1 tsp (5 ml) ground cinnamon
1⁄4 tsp (1 ml) ground ginger
2 Tbsp (30 ml) coconut sugar
Juice of 1⁄2 lemon
1⁄4 tsp (1 ml) pure stevia powder or 1⁄2 tsp (2.5 ml) pure plain or vanilla stevia liquid, or to taste
Coconut Whipped Cream (see page 168 of Ricki's cookbook (or use one of Shirley's coconut whipped cream recipes), for serving, optional
Instructions
Preheat the oven to 350F (180C). Grease a 9-inch (22.5- cm) square pan or a 6-cup (1.4-L) casserole or soufflé dish with nonstick spray or coconut oil.
Make the topping: Place the coconut sugar, walnuts, almonds, coconut flour, potato starch, cinnamon, and salt in the bowl of a food processor and process until the mixture resembles a fine meal with no pieces of nuts visible. In a small, heavy-bottomed pot, melt the coconut oil. Whisk in the stevia, vanilla, and water. Pour the coconut- oil mixture in a ring around the dry ingredients in the processor and pulse until it all comes together. It should look like moist clumps. Set aside.
Make the filling: In a large bowl, toss the pear, apple, and cranberries together with the cinnamon and ginger. In a small bowl, mix together the coconut sugar, lemon juice, and stevia, and stir until the sugar begins to dissolve. Drizzle over the fruit and then toss again to coat evenly.
Assemble and bake the crumble: Turn the fruit mixture into the prepared casserole dish and sprinkle with the topping. Press down gently on the topping.
Bake for 40 to 60 minutes (depending on the depth of your pan, you will need more or less time for the fruit to cook), rotating the dish about halfway through baking, until the crumble topping is deeply browned and the fruit is soft. Serve immediately or at room temperature with a little Coconut Whipped Cream.
Notes
See page 37 of Naturally Sweet and Gluten Free for information on how to store your baked goods.
May be frozen.
Originally published October 4, 2013; updated November 29, 2021.