For affiliate links and as an Amazon Associate I earn from qualifying purchases.
Next up for March Muffin Madness we have gluten-free Sneaky Chocolate Peanut Butter Muffins from Kathryn of ChaCha's Gluten-Free Kitchen. Okay, I'm going to confess and tell you this recipe is my favorite so far. I know, I know … that's clear bias and all the muffins to date have been fantastic, right?
Yes, they have been and I've been just as delighted as you all have been with each and every one of them, but these muffins from Kathryn are flourless and there's a special place in my heart—and tummy!—for flourless recipes.
You'll find many flourless recipes here on gfe. Flourless recipes are naturally gluten free and have richer, fuller flavor from real food ingredients without flour weighing them down or "interfering" with other flavors so to speak.
I am sure that Kathryn's Sneaky Chocolate Peanut Butter Muffins will live up to every expectation of flourless recipes! Her recipe is gluten free, grain free, and vegetarian, with a dairy-free, egg-free, vegan option.
Enjoy learning more about Kathryn and her Sneaky Chocolate Peanut Butter Muffins and see the whole line-up of bloggers, blogs, and muffin recipes.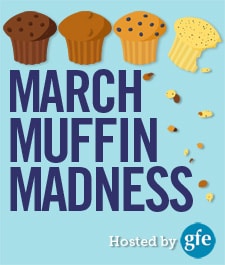 If memory serves correctly, I met Kathryn about 2 years ago via my gfe Facebook page. She was such a positive reader from the start, always leaving lovely comments on my posts there. But it wasn't until she left a similar kind comment here on gfe that I realized that she had her own blog. I've been following ChaCha's Gluten-Free Kitchen ever since and have really enjoyed not only her simple and delicious recipes but also her very helpful product and restaurant reviews.
Since she's a real food person, her product reviews are few, but they're always worthwhile. And after I read and commented on so many of her restaurant reviews, Kathryn and I are certain that we're going to meet up some time in the future for a wonderful meal together. Kathryn lives in North Carolina, the home of Mr. GFE's college alma mater and, therefore, one of our frequent destination spots as most of his college buddies still reside there.
Update: Kathryn and I did get to meet a few years ago. In fact, she invited Mr. GFE and me to have breakfast with her and her son while we were in the area. What a special morning that was for all of us, and she served the Sneaky Chocolate Peanut Butter Muffins shared in this post! Yes, they are as good as they look. In fact, they are fantastic!
Here are just a few of Kathryn's other popular recipes:
And now I'll give the floor to Kathryn so she can share a little bit about herself and her blog and then tell you how she created her Sneaky Chocolate Peanut Butter Muffins. Seeing how others create recipes can be so helpful in learning how to bake gluten free. It can even lead you to create your own delicious creations!
ChaCha's Gluten-Free Kitchen
I started ChaCha's Gluten-Free Kitchen as a way to share the recipes that worked for my family with friends. We are not only gluten free but have other food and chemical sensitivities. As a long time Feingold Association member and volunteer, I share recipes that are free of artificial dyes, flavors and sweeteners. Like Shirley, I found using whole foods that are naturally gluten free the best way to stay healthy and enjoy our meals.
As an aside, my blog name came from my sweet little neighbor friend who was unable to say my name and renamed me ChaCha. It has stuck and now he, his sister, and many others use it. It's the only name my grandbaby knows me as.
Kathryn's Sneaky Chocolate Peanut Butter Muffins Recipe
This is my new love—a healthy muffin that tastes like a peanut butter cup! Using butternut squash is the sneaky part. Years ago when we were beginning our journey to better health, I found this recipe on Pecan Bread. It was fast and full of protein so it made me happy—it tasted like a regular banana muffin to my family so they were happy.
It was an easy recipe to adapt depending on what type of nut butter I had on hand and what type of fruit or veggie was handy. Carrot pulp straight from the juicer was actually a favorite—they were just like little carrot cakes. I made dozens of them in all shapes and sizes and flavors and eventually just stopped making them and forgot about them.
But then I checked out the Pecan Bread site again for a friend and saw my old favorite. I realized it was the perfect base recipe for an idea I had been playing with. I wanted to sneak butternut squash and all the vitamins and minerals it contains into a muffin. I also wanted a peanut butter cup flavor but not an overly sweet muffin. These muffins came out exactly as I'd hoped.
They call for baking soda and apple cider vinegar which may sound funny. However, the chemical reaction between them gives the muffins those wonderful tiny bubbles and soft texture of regular flour baking. If you're Feingold Stage 1, you can substitute any approved vinegar. Anyone—gluten free or not—will really enjoy these gluten-free Sneaky Chocolate Peanut Butter Muffins!
Gluten-Free Sneaky Chocolate Peanut Butter Muffins Recipe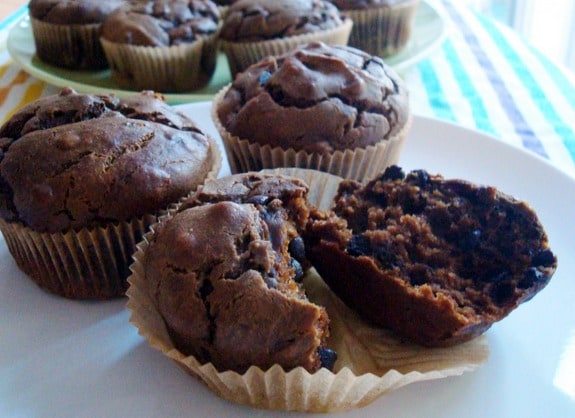 Yield: 18
Gluten-Free Sneaky Chocolate Peanut Butter Muffins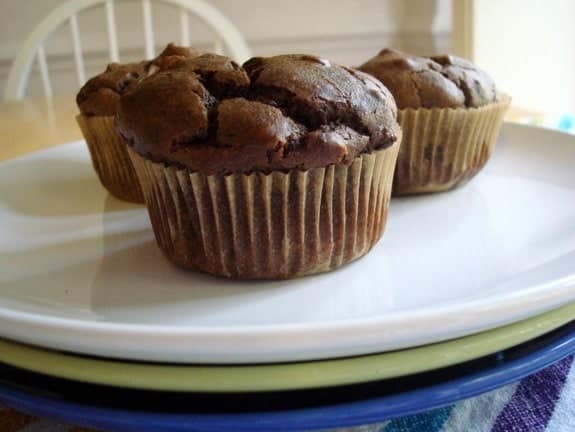 Kathryn says these flourless, naturally gluten-free muffins with a secret, sneaky ingredient offer a peanut butter cup flavor without being overly sweet.
Instructions
Preheat oven to 375F and grease or line muffin tins.
Mix together all ingredients except chocolate chips with stand mixer or food processor until creamy.
Stir in chocolate chips.
Spoon into 18 muffin tins and bake for approximately 15 minutes. They will feel soft and won't get a browned crust. Test with a toothpick to be sure.
Enjoy!
Notes
When Kathryn wants to make an egg-free, vegan version, she uses flax gel "eggs." 
Originally published March 21, 2014; updated October 1, 2021.