For affiliate links and as an Amazon Associate I earn from qualifying purchases.
Gluten-Free Wednesdays, which I co-host with Linda of Gluten-Free Homemaker (who is also the event's founder) and Lynn of Lynn's Kitchen Adventures, is continuing to be the spot to visit during the middle of each week! Last week we had almost 70 entries! We have so many great gluten-free recipes (in every category from appetizers to desserts and "just gluten free" to grain free, vegan, etc.), helpful instructions on cooking challenging ingredients, interesting info on special diet concerns, and tips on "navigating" overnight school trips when your child is gluten free.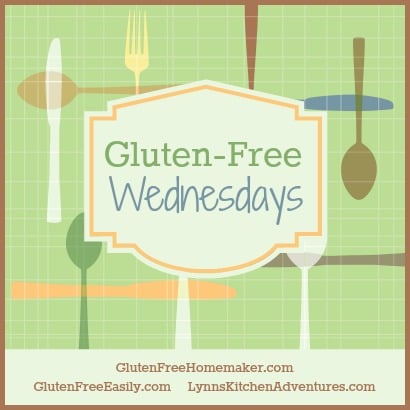 Enjoy all the entries each week and if you're a blogger, be sure to link up your entries to one of our blogs. They'll be seen on all three sites!
My Posts from This Past Week
~ March Muffin Madness–Best Gluten-Free Muffins Recipe Roundup
The top 5 muffins–most popular (most viewed) recipes in this series to date—from #5 to #1 are:

5. Orange Blueberry Muffins from Cook Eat Paleo
4. Banana Split Muffins from Pocketfuls
3. Lemon Chia Seed Muffins from Premeditated Leftovers
2. Cinnamon Sugar Donut Muffins from In Johnna's Kitchen
and . . .
1. Sneaky Chocolate Peanut Butter Muffins from ChaCha's Gluten-Free Kitchen!

ALL the muffin recipes are worth checking out, so you'll want to bookmark this page for sure.
The Most Popular Post on Gluten-Free Wednesdays Last Week
~ Pumpkies from Worth Cooking
My GFW Post Picks from Last Week
This part of GFW is the most difficult each week because there are always so many worthwhile entries, but the following posts caught my eye last week.
~ Paleo Chocolate Mints (Homemade Andes) from Livin' the Crunchy Life
~ Perfectly Roasted Chicken from Gluten Free Spinner
~ Gluten-Free and Vegan Lemon Drizzle Cake from Gluten-Free SCD and Veggie
The Carnival
What you need to know before linking up:
~ Your link must be related to the gluten-free diet.
~ If you're new, please read the guidelines.
~ Leave a link back to this blog or one of the co-hosts. We do not highlight or share any recipes that do not link back. (If you've never linked up to a carnival before, you can see how I like to link back in the last line of my gfe post(s) above.)
~ We appreciate you joining in!
Note: Linking up indicates you are giving permission for us to share your submitted photo and your link via social media or in next week's post if it is selected as the most popular post for the week or featured as a highlight.
Originally published April 8, 2014; updated March 14, 2020.