For affiliate links and as an Amazon Associate I earn from qualifying purchases.
Today for March Muffin Madness I get to share some lovely gluten-free Chai Tea Muffins from my friend Jules Shepard (GF Jules)! Her muffins are not only gluten free, but also have easy dairy-free and refined sugar-free options. But first, let me share a few words on Jules.
Jules is probably best known for
her GF Jules line of products
, including her super popular
gluten-free all-purpose flour mix
, but in the simplest of terms, Jules is an advocate for all who live gluten free. She co-founded the
First Gluten-Free Labeling Summit
to call the FDA to task when it wasn't going forward with its promise to establish "gluten-free" labeling guidelines. The summit resulted in the Tallest Gluten-Free Cake and ultimately the FDA set the gluten-free labeling guidelines, which will finally go into effect August 1 of this year.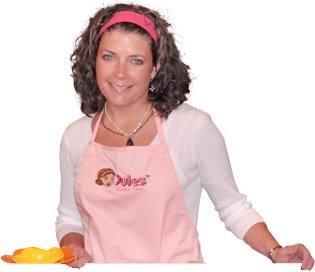 Jules has three "traditional" books in print. The First Year: Celiac Disease and Living Gluten-Free is a month-by-month reference for individuals newly diagnosed with celiac or anyone making the transition to living gluten free. Her first book, Nearly Normal Cooking for Gluten-Free Eating, continues to be a best-seller in the gluten-free community.
Her latest book is Free for All Cooking (see my review and Jules' Coffee Cake recipe), which offers recipes that work for everyone, just like the title indicates. Jules always shares recipes like that today. She gives you lots of different options to make her recipes work for your needs. Jules also has a slew of helpful gluten-free ebooks.
Jules hosts The Gluten-Free Voice, a really helpful and interesting gluten-free radio show online, too. All shows are archived so you can listen to the live shows or whenever you like. (I've been honored to be the featured guest on her show twice!)
And that's just a little of what Jules does for the gluten-free community! For example, as I write this post, she's in New York City training chefs from all over on how to prepare gluten-free meals that are truly gluten free, free of cross contact. (Thank you, Jules!)
And she's doing that on her daughter's birthday! By the way, that's her daughter "helping" in this photo below. So these muffins are definitely kid-approved!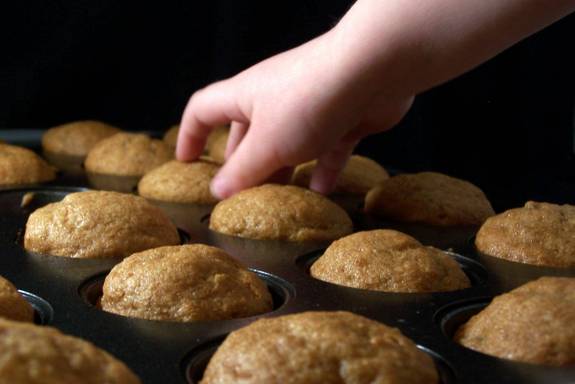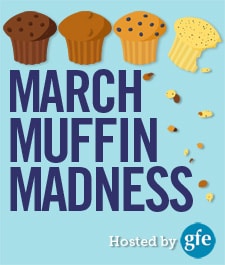 Enjoy today's recipe in our series and see the whole line-up of bloggers, blogs, and muffin recipes here.
Gluten-Free Chai Tea Muffins Recipe
Yield: about 15 regular-sized muffins or 24 mini muffins
Gluten-Free Chai Tea Muffins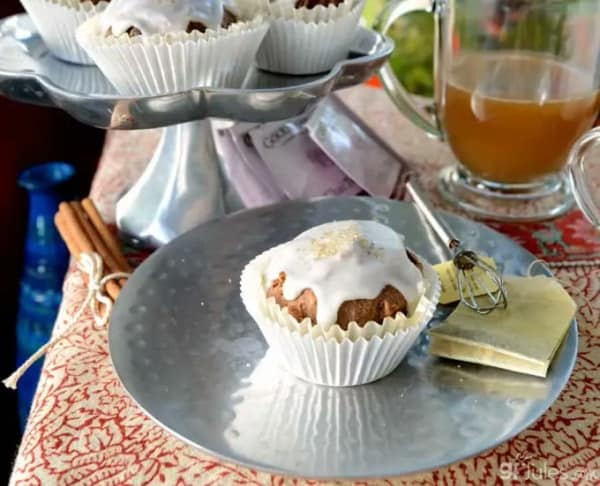 Love chai tea? Love muffins? Then you will absolutely adore these gluten-free Chai Tea Muffins from GF Jules!
Ingredients
Muffins Ingredients
1/4 cup granulated cane sugar
4 tbsp butter or non-dairy alternative (I used Earth Balance® Buttery Sticks)
2 eggs (or substitute)
3 tbsp maple syrup OR agave nectar OR honey
1/2 cup unsweetened applesauce, pumpkin butter, apple butter OR mashed banana (about 1 overripe banana)
1/2 cup almond meal or buckwheat flour or gf Jules All-Purpose Gluten-Free Flour Mix
2 Tbsp flaxseed meal OR gf Jules All-Purpose Gluten-Free Flour Mix
2 Tbsp unsweetened cocoa powder OR mesquite flour OR cabernet flour
1/2 cup certified gluten-free purity protocol oats ground into flour or 1/4 cup millet flour
2 tsp baking powder
1/2 tsp baking soda
Liquid from chai tea bags steeped in 1/2 cup very warm milk (dairy or non-dairy) and then set aside to cool (or 1/2 cup chai tea latte concentrate, such as CalNaturale™ Spiced Chai Svelte™ or Oregon Chai® Latte Concentrate 
1/2 cup raisins or diced apples (optional)
Glaze Ingredients
1/4 cup sifted confectioner's sugar
1/8 tsp vanilla paste
1 - 2 tsp +/- milk of choice (dairy or non-dairy)
Instructions
Preheat oven to 350F degrees in conventional oven or 325 F in convection oven.
Coat 15 cups in regular-sized muffin tin or 24 cups in mini muffin tins with cooking oil or line with muffin papers.
Whip sugar and butter until light and fluffy. Add eggs and stir. Mix in maple syrup (or honey or agave nectar) and applesauce until combined. Stir the dry ingredients into the wet mix while slowly pouring in the chai tea. Mix until smooth.
Fill the muffin tins 2/3 full and bake until they are light brown: approximately 11-12 minutes for mini muffins or 20-25 minutes for regular muffins.
Remove to fully cool before glazing, if desired.
To make glaze, add sifted confectioner's sugar to a small bowl, then stir in vanilla paste and milk only until glaze is thin enough to drizzle

Originally published March 4, 2014; updated May 23, 2022.