For affiliate links and as an Amazon Associate I earn from qualifying purchases.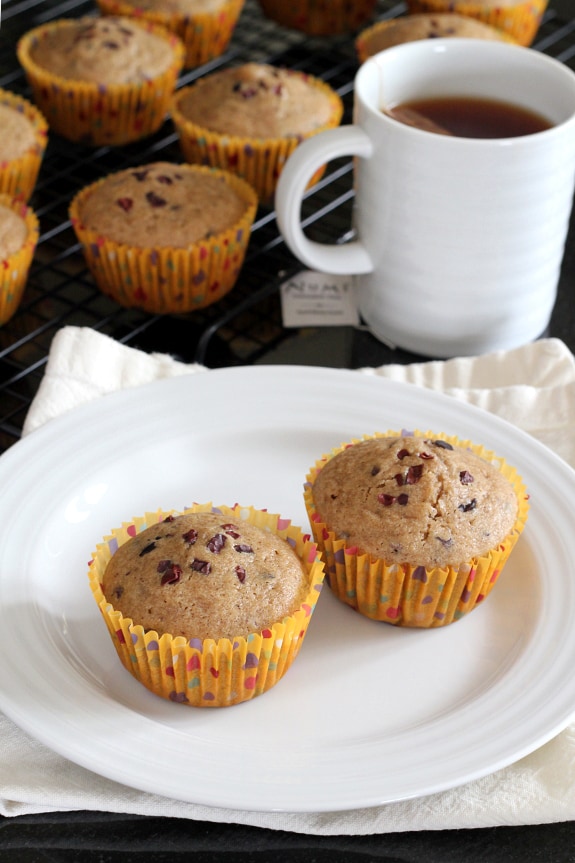 Are you still loving March Muffin Madness (MMM)? I sure am!! Gluten-free muffin recipes of every description and equally sweet prizes in every category, including the grand prize, Blendtec Designer 625 with Wildside+ and Twister jar (thanks to the super kind folks at Blendtec!)—and so many ways to enter the giveaways for these prizes. What's not to love, right?
Chai-Spiced Muffins with Cacao Nibs from Wheat Free, Meat Free
Today we have Kalinda of Wheat Free, Meat Free sharing Chai-Spiced Muffins with Cacao Nibs. Chai-spiced anything is so comforting in my book and Kalinda said she used cacao nibs as a way to add chocolate without adding a lot of sweetness. I love that idea! She says these muffins are "a nice blend of chocolate and spice." Chocolate, spice, and everything nice … now I'm totally on board with that!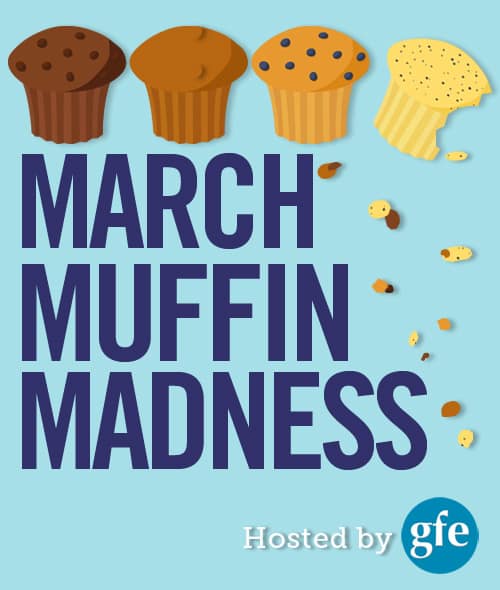 Of course, Kalinda has some other fine gluten-free muffin recipes for you as well:
~ Cherry Chocolate Chip Muffins,
~ Pineapple Muffins, and, finally, an especially appealing savory muffin recipe,
~ Savory Rosemary Caramelized Onion Muffins.
I'm also a big fan of Kalinda's Red Velvet Cupcakes, her Avocado Pie with Almond Pistachio Pie Crust recipes, and her Vegetarian "Chicken" Salad.
Today's daily giveaway features Kalinda's cookbook and a key ingredient in her muffin recipe, so check it out before you take a look at her Chai-Spiced Muffins with Cacao Nibs recipe. Don't miss out on entering the drawing for the overall/grand prize giveaway either. Each and every comment on every single post during MMM is an entry!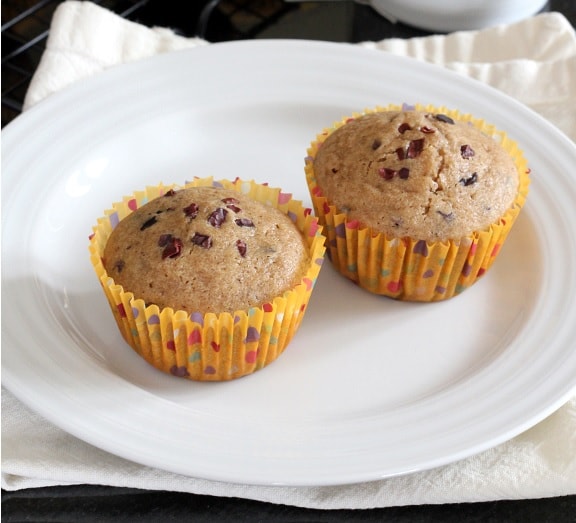 Today's Daily Giveaway
~ The Wheat Free, Meat Free Cookbook: 100 Gluten-Free, Vegetarian Recipes (1 winner)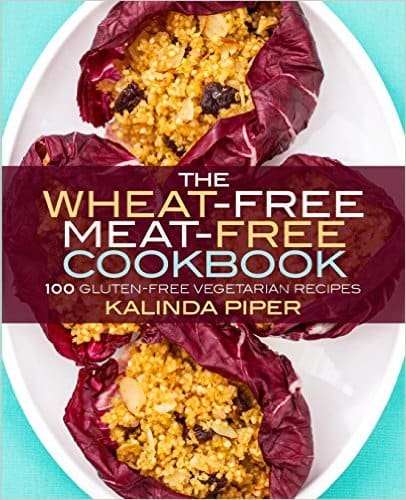 First, you should know that Kalinda's gluten-free, vegetarian cookbook merits 5 stars on Amazon. As a longtime follower of Kalinda's blog and lover of her recipes, I'm not at all surprised! The category/recipe breakdown for her cookbooks is shown below and I love the variety of recipes! You can see the full recipe listing at Amazon (using the "Look Inside" feature).
12 Breakfasts (Glazed Doughnuts, Orange Sour Cream Coffee Cake),
11 Snacks and Appetizers (Squash-Wrapped Green Beans, Rosemary Raisin Millet Mini-Toasts),
7 Soups (Vegetable "Barley" Soup, Cauliflower Corn Chowder),
1 Bread (Focaccia),
10 Sides (Pea and New Potato Salad, Marinated Asparagus),
48 Mains (Corn Waffle Sandwiches, Pineapple Dal, Vegan Sloppy Joes, Drunken Spaghetti), and
11 Desserts (Peach Galette, Coconut Banana Custard Pie, Amaretto Cake).
~ Organic Raw Cacao Nibs from Nuts.com, 1 pound (1 winner)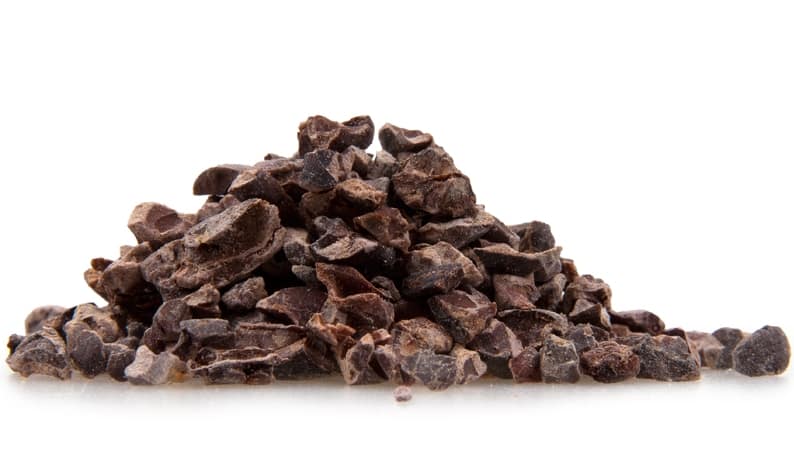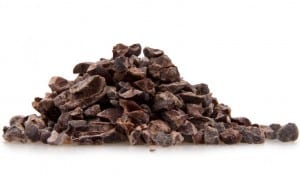 I didn't discover cacao nibs until a few years ago—and that was thanks to a wise and dear gluten-free blogging friend. Nuts.com describes them as "a real chocolate treat. Made from crushed cacao beans, these raw nibs are the original unsweetened chocolate chip. Our raw cacao nibs are crunchy, flavorful, and packed with powerful nutrients, antioxidants, and natural mood lifters. Try them straight, or sweeten with bananas and dates for a healthy chocolate treat. Perfect for mixing into smoothies or trail mixes. The possibilities are endless for this crunchy antioxidant pick-me-up." I have come to adore them because they do pack a wonderful chocolate punch without any additional sugar. I absolutely love them in my Flourless Peanut Butter Cookies instead of chocolate chips and can't wait to enjoy them in Kalinda's Chai-Spiced Muffins with Cacao Nibs!
a Rafflecopter giveaway
Grand Prize Giveaway (1 winner for each)
Be sure to enter the overall/grand prize giveaway at the bottom of this post and come back tomorrow for another terrific gluten-free muffin recipe and another daily giveaway. Again, remember that commenting on every post during the MMM event gives you additional entries into the grand prize drawing, which includes the following, so spread the comment love here and on participating posts!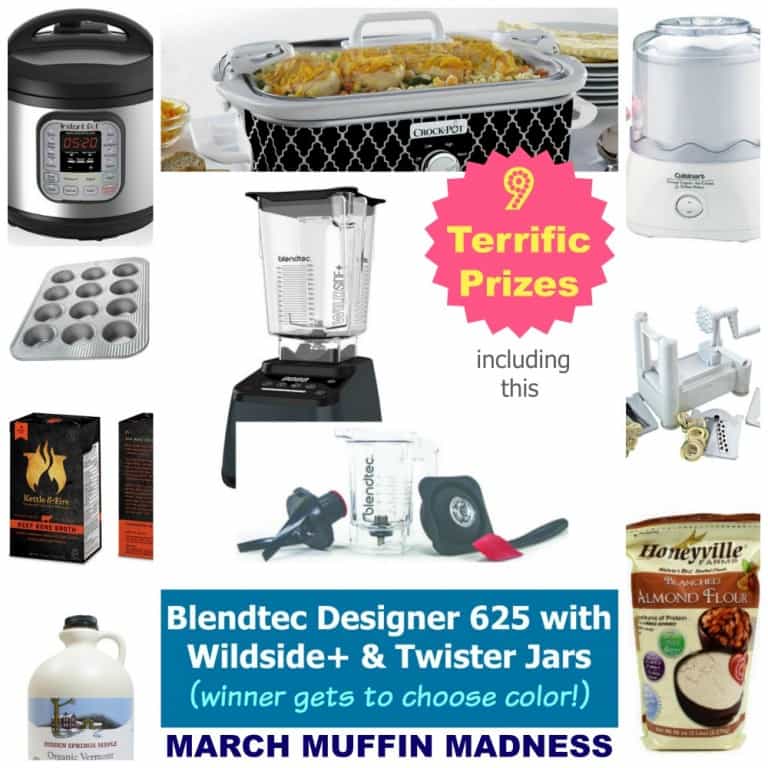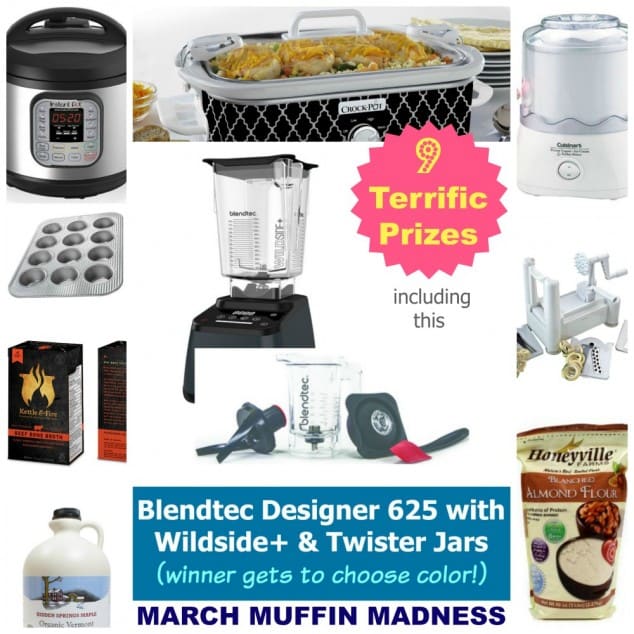 1/2 gallon Hidden Springs Vermont organic maple syrup,
USA Bakeware 12-cup muffin pan,
Kettle & Fire bone broth (thanks to the folks at Kettle & Fire!),
5-lb bag of Honeyville almond flour, 
Paderno World Cuisine vegetable slicer/spiralizer,
Crockpot casserole slow cooker,
Instant Pot pressure cooker, and
Blendtec Designer 625 with Wildside+ jar and Twister jar—this is our grand prize! It's sponsored by the generous folks at Blendtec. The winner even gets to choose the color of their high-speed blender/all-in-one appliance
You can see the up-to-date listing of daily prizes and the complete lineup of bloggers and recipes in the kickoff post here.
a Rafflecopter giveaway