For affiliate links and as an Amazon Associate I earn from qualifying purchases.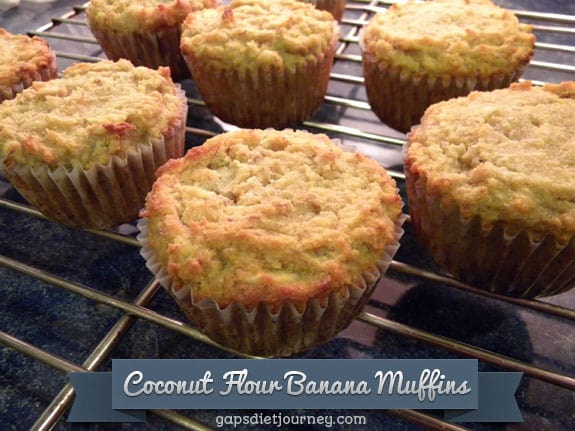 Happy Easter! Welcome to March Muffin Madness (MMM) once again! This is the best March Madness, folks. It's full of gluten-free muffin recipes, cookbooks, guidebooks, meal plans, subscriptions, food products that you need and love, and—this might be the best part—fabulous kitchen equipment! After all, the grand prize is a Blendtec!
Paleo Coconut Flour Banana Muffins from GAPS Diet Journey
Starlene of GAPS Diet Journey is sharing Paleo Coconut Flour Banana Muffins. She doesn't call them "paleo," but they do fit the requirements for paleo, which means they're gluten free, grain free, dairy free, and refined sugar free. As Starlene shares GAPS diet-compliant recipes on her blog, you won't be surprised that this recipe is also suitable for those on the GAPS diet. Last, it's nut free!
Starlene's description of these muffins is to the point: "This is one of my favorites, Banana Muffins. So easy to make, always turn out perfect and everyone loves them!" The only thing left is the making and enjoying of these muffins!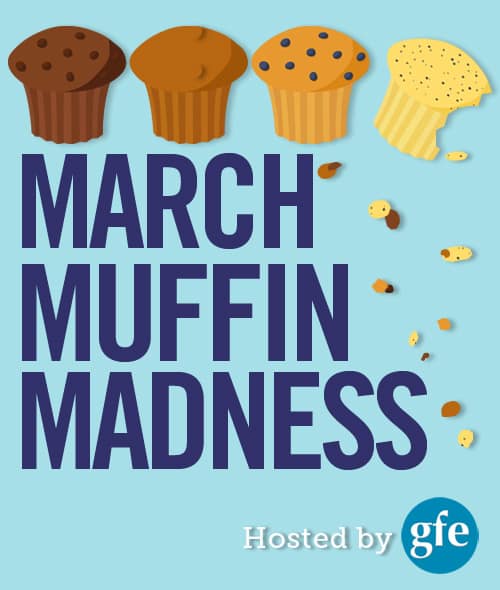 Starlene has some other muffin recipes you must check out, too.
~ Pumpkin Spice Muffins with Pumpkin Spice Buttercream Frosting,
and the muffins recipe that she shared for the last MMM event:
~ Bacon Muffins (these are brilliant—a complete meal!)
There are some more recipes at GAPS Diet Journey that you will definitely want to see: Pumpkin Poppers, Silky Chocolate Pie in a Chocolate Crust, Cinnamon Mules, How to Make Coconut Yogurt—Thick, Creamy, and Delicious, and Cinnamon Swirl Bread (grain free).
Before you head over to Starlene's blog to grab her Paleo Coconut Flour Banana Muffins recipe, take a moment to see all the daily prizes—they're Starlene's cookbooks from her ongoing coconut flour ebook series! Be sure to enter the drawing for the overall/grand prize giveaway and please remember that every comment on every post is an entry!
Today's Daily Giveaway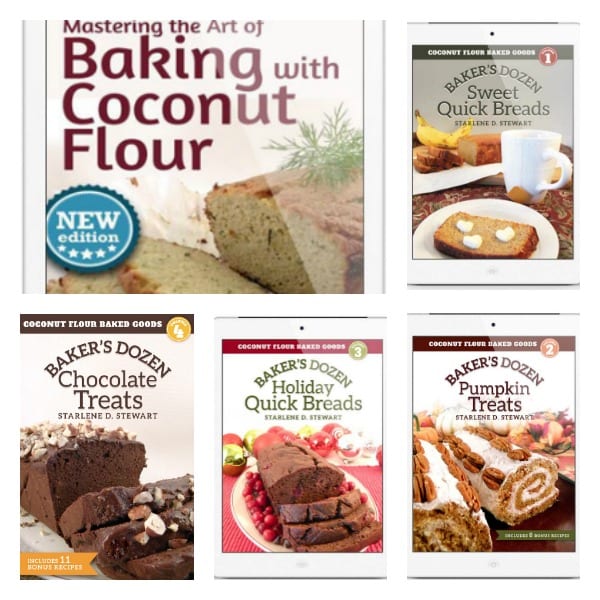 Starlene is a self-taught expert on using coconut flour, which is a grain-free and nut-free flour used for paleo, GAPS, and other special diets. She says: "Coconut flour is VERY UNIQUE when compared to other flours; however, you CAN discover how to work with coconut flour and you will be successful once you have all my tips and tricks for baking with coconut flour." Note that she uses eggs in her coconut flour baking; only a few of her recipes will work with flax gel eggs or egg substitutes. All of her recipes, including today's Banana Muffins recipe, are made using Tropical Traditions organic coconut flour (by the way, I totally agree with Starlene on using this brand of coconut flour). Thanks to Starlene for sponsoring this giveaway of her cookbooks! She also sponsored the giveaway of the silicone baking cups earlier in MMM.
~ Mastering the Art of Baking with Coconut Flour (1 winner)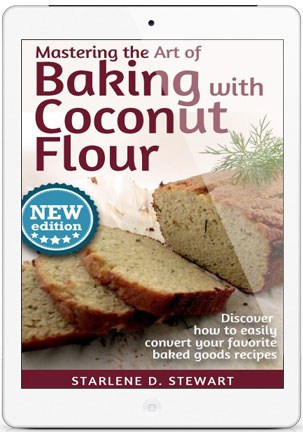 ~ Baker's Dozen Sweet Quick Breads Volume 1 (1 winner),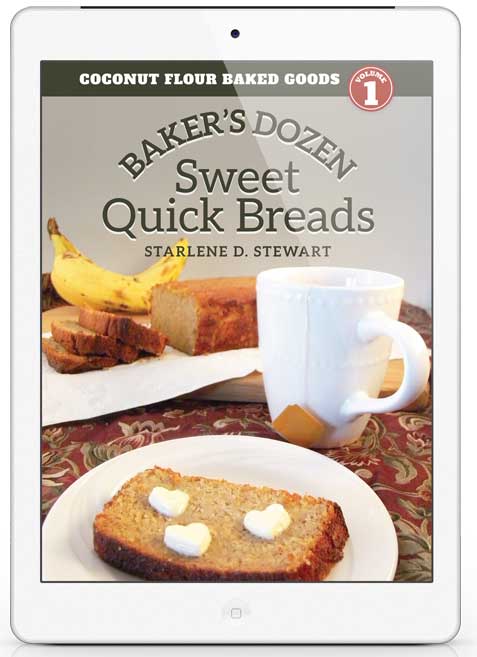 ~ Baker's Dozen Pumpkin Treats Volume 2 (1 winner),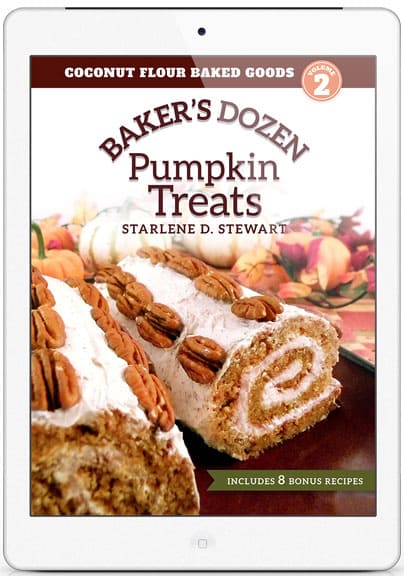 ~ Baker's Dozen Holiday Breads Volume 3 (1 winner), and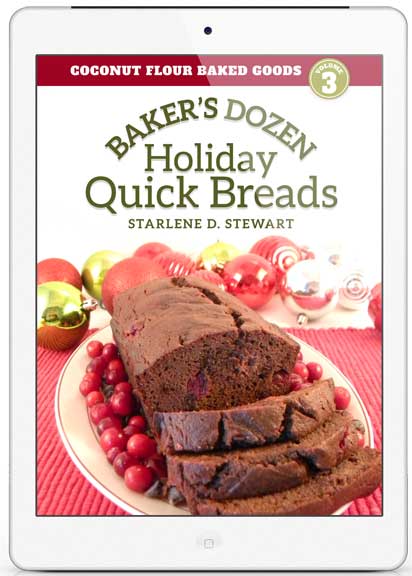 ~ Baker's Dozen Chocolate Treats Volume 4 (1 winner)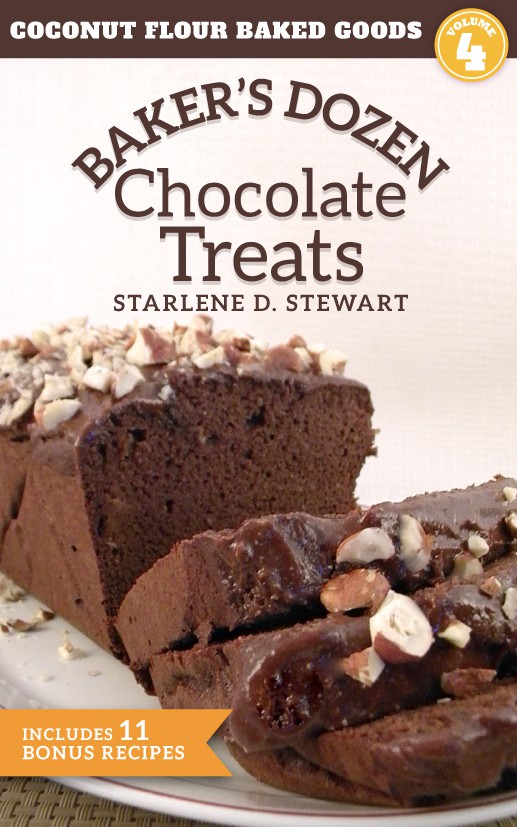 a Rafflecopter giveaway
Grand Prize Giveaway (1 winner for each)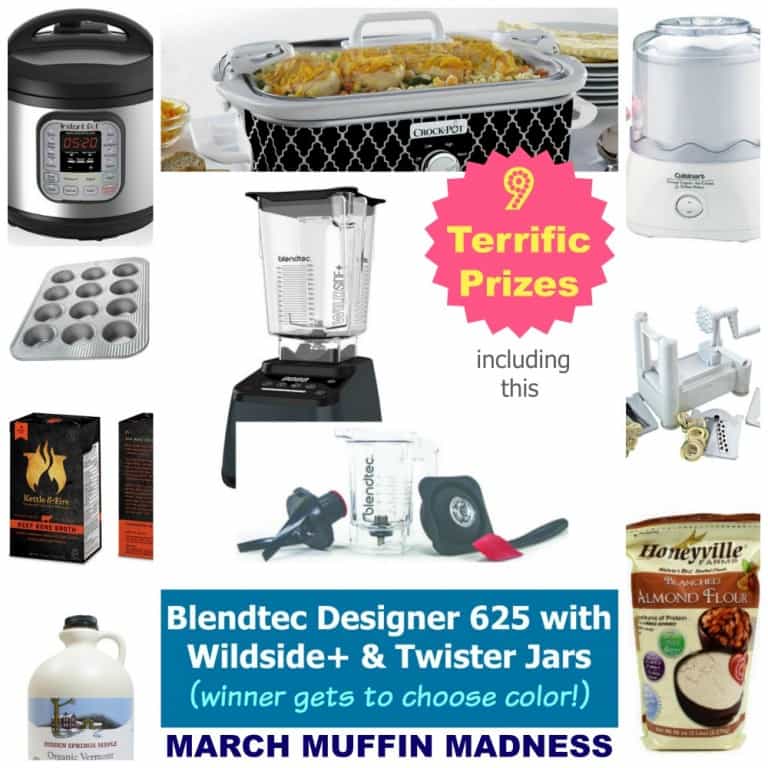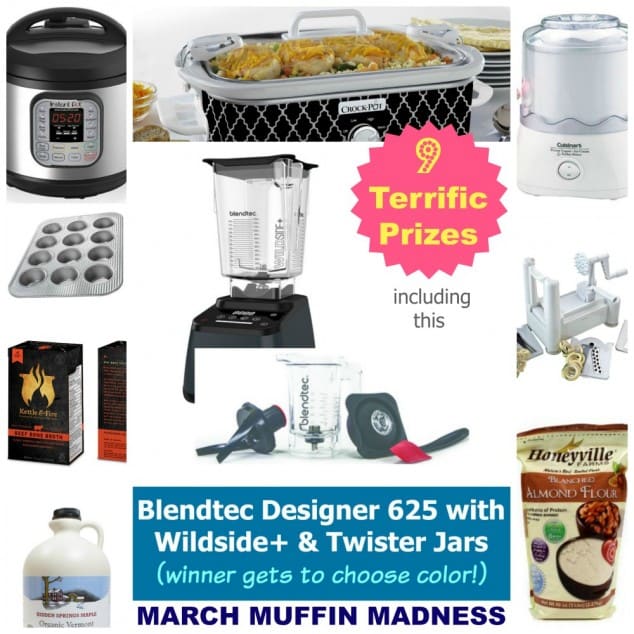 Be sure to enter the overall/grand prize giveaway at the bottom of this post and come back tomorrow for another terrific gluten-free muffin recipe and another daily giveaway. Again, remember that commenting on every post during the MMM event gives you additional entries into the grand prize drawing, which includes the following, so spread the comment love here and on participating posts!
1/2 gallon Hidden Springs Vermont organic maple syrup,
USA Bakeware 12-cup muffin pan,
Kettle & Fire bone broth (thanks to the folks at Kettle & Fire!),
5-lb bag of Honeyville almond flour, 
Paderno World Cuisine vegetable slicer/spiralizer,
Crockpot casserole slow cooker,
Instant Pot pressure cooker, and
Blendtec Designer 625 with Wildside+ jar and Twister jar—this is our grand prize! It's sponsored by the generous folks at Blendtec. The winner even gets to choose the color of their high-speed blender/all-in-one appliance
You can see the up-to-date listing of daily prizes and the complete lineup of bloggers and recipes in the kickoff post here.
a Rafflecopter giveaway