For affiliate links and as an Amazon Associate I earn from qualifying purchases.
Welcome back to another day of March Muffin Madness (MMM)! We're in full-blown Spring here now and I think that the gluten-free muffin recipe I'm sharing today looks and tastes like Spring. If you're new to MMM, this event is all about fantastic gluten-free muffin recipes and marvelous prizes. There are daily prize offerings of cookbooks, guidebooks, meal plans, subscriptions, food products, and more, plus a pretty amazing overall/grand prize offering as well.
Raspberry and White Chocolate Muffins from The Gluten and Dairy Free Bakehouse
Today's gluten-free muffin recipe, Raspberry and White Chocolate Muffins, from my dear friend Kylie of The Gluten and Dairy Free Bakehouse, looks and tastes like Spring! Don't you agree? However, Kylie actually lives in Australia, where it is now Fall. The clear conclusion here is that this muffin recipe is perfect for any time of year.
Kylie says that these muffins have a lovely soft and fluffy texture and are family- and friend-approved. In fact, they are her boys' new favorite, beating out her much-loved Double Chocolate Muffins, which previously held the #1 spot.
Kylie says that these muffins freeze and defrost well. It would be wonderful to pull one or two from the freezer, pack them for lunch or a road trip, and later pull out one of these beautiful muffins to enjoy.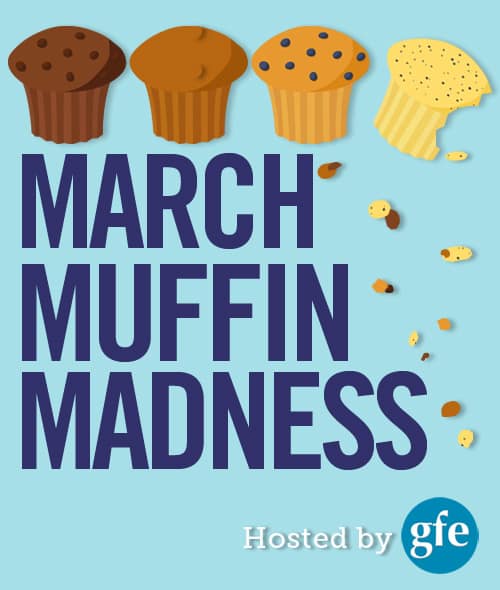 Here are a few more muffin recipes from Kylie, including the previously mentioned beloved Double Chocolate Muffins (their full original name is Chocolate Banana Wholemeal Muffins).
~ Banana Coconut and Macadamia Muffins,
~ Chocolate Banana Wholemeal Muffins,
~ Coffee Walnut Muffins, and
It's been so lovely and interesting to follow Kylie's blog over the years and see so many recipes that are special treats in Australia, but ones that I have had limited exposure to. Amazing special treats. Like Decadent Lamington Bliss Balls, Maple Pecan Friands (which are oval cakes that look a lot like muffins in my opinion), and Bite-Sized Townies. Even her version of classic treats like Rice Krispy Bars are something special. Also check out her bread recipes, like her incredible Focaccia Rolls!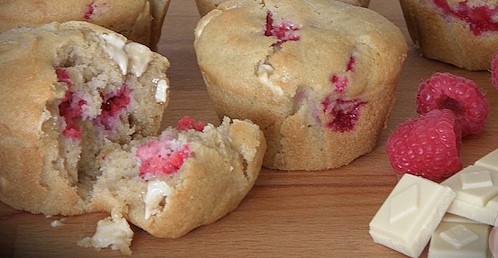 Before you visit The Gluten and Dairy Free Bakehouse for Kylie's Raspberry and White Chocolate Muffins recipe, please take a look and enter for today's daily prizes and be certain you're entered in the drawing for the overall/grand prize giveaway. Every comment on every post is an entry!
Today's Daily Giveaway
Update: This giveaway is now closed.
~ River Cottage Gluten Free by Naomi Devlin (1 winner)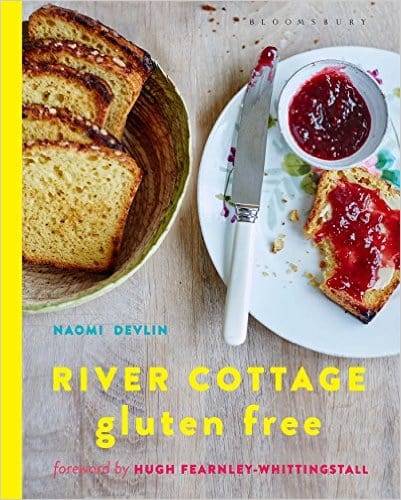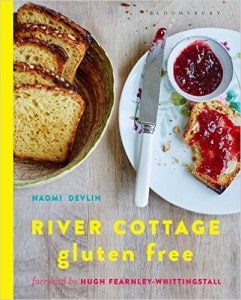 This brand new cookbook comes from my friend Naomi Devlin of Straight Into Bread Cakefree and Dried. Naomi is "across the pond" in England. Some of you might remember her as the founder of Go Ahead Honey, It's Gluten Free, a very popular blog carnival that provided so many delicious recipes for the gluten-free community for so many years.
Naomi has a reputation for creating simple, healthy, and wonderful gluten-free recipes. You can see a few samples of the recipes in her cookbook—like Almond Flatbread, Leek and Bacon Quiche, and Chocolate and Chestnut Fondant—on Amazon here.
The other books in the critically acclaimed River Cottage series are written by Hugh Fearnley-Whittingstall of the very popular British television series of the same name. I'm so glad that they called in an expert like Naomi to write their gluten-free cookbook and I appreciate her sponsoring this giveaway!
~ So Delicious Dairy-Free Product Coupons (7 winners, 1 coupon per winner)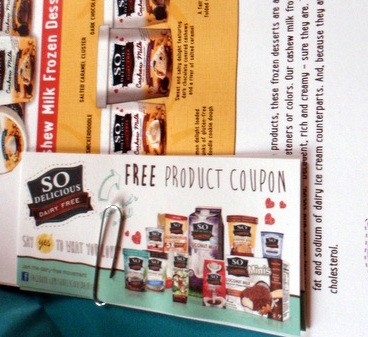 The folks at So Delicious Dairy Free recently sent me some of their new dairy-free "AlmondMilk" products and their dairy-free cultured coconut milk yogurt alternatives to sample. My favorites of the milk products were the Almond Walnut and the Vanilla flavors. All of these milk products seem to be on the lighter side when it comes to milk (think 1% or skim), but I enjoyed them for a little sipping and also for cooking.
The yogurts included: Unsweetened Cultured Coconut, Unsweetened Vanilla, I really enjoyed the flavored yogurts for a snack or quick breakfast and the unsweetened options were ideal for using in baking in place of traditional yogurt. sour cream, and more. It's really nice to have such a great dairy-free option!
As Kylie used coconut yogurt in her muffins, I thought that sharing this info and 7 FREE coupons for So Delicious Dairy-Free products today would be ideal. Of course, if you win, you can use your coupon on any So Delicious Dairy Free product that you like! Personally, I'm very partial to their Cashew Milk Ice Cream. Thanks to So Delicious Dairy Free for sponsoring this giveaway!
a Rafflecopter giveaway
Grand Prize Giveaway (1 winner for each)
Update: This giveaway is now closed.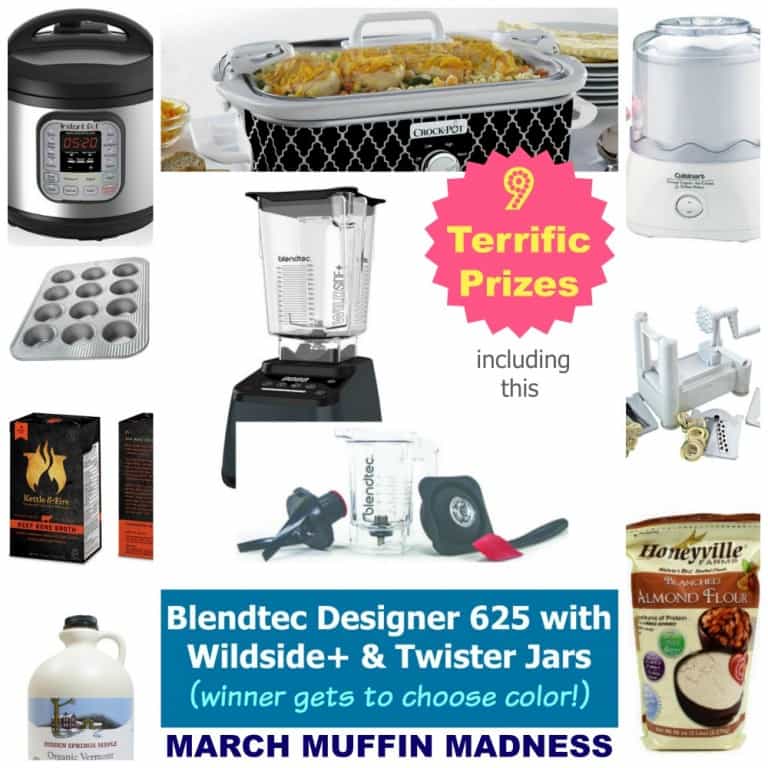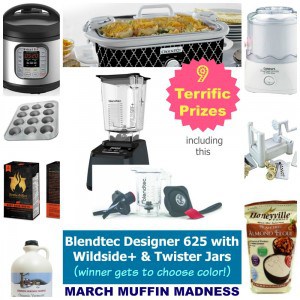 Be sure to enter the overall/grand prize giveaway at the bottom of this post and come back tomorrow for another terrific gluten-free muffin recipe and another daily giveaway. Remember that commenting on every post during the MMM event gives you additional entries into the grand prize drawing, which includes:
1/2 gallon Hidden Springs Vermont organic maple syrup,
USA Bakeware 12-cup muffin pan,
Kettle & Fire bone broth (thanks to the folks at Kettle & Fire!),
5-lb bag of Honeyville almond flour,
Paderno World Cuisine vegetable slicer/spiralizer,
Crockpot casserole slow cooker,
Instant Pot pressure cooker, and
Blendtec Designer 625 with Wildside+ jar and Twister jar—this is our grand prize! It's sponsored by the generous folks at Blendtec. The winner even gets to choose the color of their high-speed blender/all-in-one appliance
You can see the up-to-date listing of daily prizes and the complete lineup of bloggers and recipes in the kickoff post here.
a Rafflecopter giveaway
Originally published March 26, 2016; updated February 8, 2022.