For affiliate links and as an Amazon Associate I earn from qualifying purchases.
Welcome back to another day of March Muffin Madness (MMM)! Today's gluten-free muffin recipe, Raspberry and White Chocolate Muffins, comes from my dear friend Kylie of The Gluten and Dairy Free Bakehouse.
If you're new to MMM, this event is all about fantastic gluten-free muffin recipes and marvelous prizes. There are daily prize offerings of cookbooks, guidebooks, meal plans, subscriptions, food products, and more, plus a pretty amazing overall/grand prize offering as well.
Raspberry and White Chocolate Muffins from The Gluten and Dairy Free Bakehouse
We're in full-blown Spring here now and I think that these gluten-free muffins look and taste like Spring. However, Kylie actually lives in Australia, where it is now Fall. The clear conclusion here is that this muffin recipe is perfect for any time of year.
Kylie says that these muffins have a lovely soft and fluffy texture and are family- and friend-approved. In fact, they are her boys' new favorite, beating out her much-loved Double Chocolate Muffins, which previously held the #1 spot.
Kylie says that these muffins freeze and defrost well. It would be wonderful to pull one or two from the freezer, pack them for lunch or a road trip, and later pull out one of these beautiful muffins to enjoy.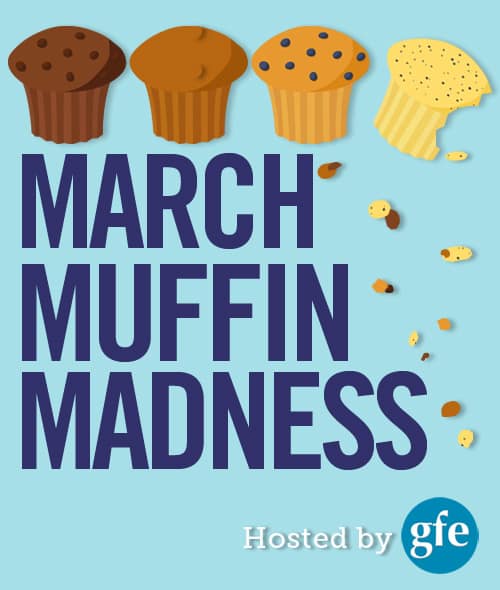 It's been so lovely and interesting to follow Kylie's blog over the years and see so many recipes that are special treats in Australia, but ones that I have had limited exposure to. Amazing special treats. Like Decadent Lamington Bliss Balls, Maple Pecan Friands (which are oval cakes that look a lot like muffins in my opinion), and Bite-Sized Townies. Even her version of classic treats like Rice Krispy Bars is something special.
Sadly, her site is no longer operating today. You can still find some of her recipes, such as her amazing Focaccia Rolls, Traditional Hot Cross Buns, Apple-Cinnamon Hot Cross Buns, Chocolate Hot Cross Buns, Double Chocolate Hot Cross Buns, and Double Chocolate and Ginger Hot Cross Buns via The Wayback Machine (aka the Internet Archive) and another one of her outstanding recipes, Maple Pecan Banana Muffins, here on gfe from a previous March Muffin Madness event.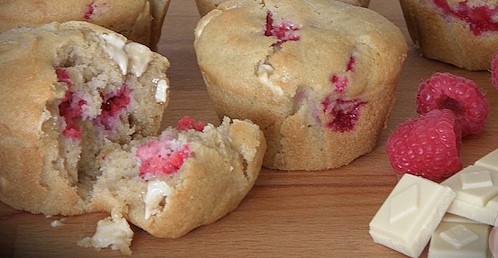 Gluten-Free Raspberry and White Chocolate Muffins Recipe
Yield: 12 muffins
Gluten-Free Raspberry and White Chocolate Muffins
Kylie says these muffins have a lovely soft and fluffy texture and are her family's new favorite muffins! I bet the irresistible white chocolate and raspberry flavor combination has a lot to do with that!
Additional Time
3 minutes
Ingredients
Dry Ingredients
180g (6.3 ounces or ¾ cup) golden/raw caster sugar or superfine white sugar
128g (4.5 ounces or 1 cup) superfine white rice flour
50g (1.8 ounces or ⅓ cup) sorghum flour
55g (1.9 ounces or ⅓ cup) potato starch
50g (1.8 ounces or ⅓ cup) millet flour
21g (0.7 ounces or 2 tablespoons plus 2 teaspoons) coconut flour
1 tablespoon (15ml) baking powder
1 teaspoon (5ml) xanthan gum
½ teaspoon (2.5ml) bicarbonate of soda (baking soda)
Wet Ingredients
250ml (1 cup) dairy free milk of choice
120g (4.2 ounces or ½ cup) natural coconut milk yogurt
120ml (½ cup minus 1 teaspoon) coconut oil, melted and cooled
1 tablespoon (15ml) pure vanilla extract
2 large eggs, at room temperature
Other Ingredients
200g (7.1 ounces) fresh or frozen raspberries
100g (3.5 ounces) gluten-free white chocolate
Instructions
Preheat the oven to 160C and line a 12-hole muffin tin with muffin wraps. Roughly chop the white chocolate, cutting each small block into quarter-shaped sizes.
In a large bowl, sift all the dry ingredients together.
Next, warm your milk, either in the microwave or stovetop, until it's lukewarm. Then add the yogurt, eggs and vanilla, before whisking until thoroughly combined. It is important to make sure the dairy free milk is lukewarm, because when you add the cold yogurt to it, it will then bring it back to about room temperature. The reason for this is that if you add cold liquid to coconut oil, it will begin to solidify. You'll then be left with small beads of hardened coconut oil through your muffin batter.
Make a well in the centre of your dry ingredients and then pour in the coconut oil and the rest of the wet ingredients.
Gently mix together, until it's just combined, the mixture will look a bit lumpy.
Now gently fold through the raspberries and white chocolate, until they are evenly distributed through the batter.
Carefully spoon the mixture to the top of each muffin hole, and then bake for approximately 25-27 minutes. They will be lightly golden in colour.
Once they are baked, allow them to sit for about 3 minutes before transferring them to a wire rack to cool completely.
You can eat them immediately or, once completely cold, wrap them in plastic wrap and place them in an airtight container and freeze.

Notes
The natural coconut yogurt that I use has a very thick and creamy texture, which is why I measure it in grams and not millilitres. It does of course have a coconut smell and flavour, although I personally don't think that it's too overpowering. But then again, I love all things coconut!
These muffins also freeze and defrost very well. I wrap them in plastic wrap and then place them in an airtight container before freezing, which seems to help with frostbite.
For accurate cup measurements, I sift the potato starch before measuring, so that there are no lumps/clumps. All cup measurements are firmly packed.
Note: all recipe oven temperatures shown are for a fan-forced electric oven. Please refer to the below guide to help you adjust your oven accordingly. This recipe is shown in bold.
Oven Temperatures Chart
130C = 110C fan = 250F = Gas mark 1
150C = 130C fan = 300F = Gas mark 2
160C = 140C fan = 320F = Gas mark 3
180C = 160C fan = 350F = Gas mark 4
190C = 170C fan = 375F = Gas mark 5
200C = 180C fan = 400F = Gas mark 6
220C = 200C fan = 425F = Gas mark 7
230C = 210C fan = 450F = Gas mark 8




Today's Daily Giveaway
Update: This giveaway is now closed.
~ River Cottage Gluten Free by Naomi Devlin (1 winner)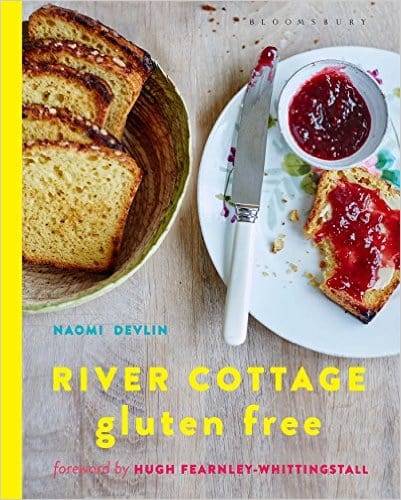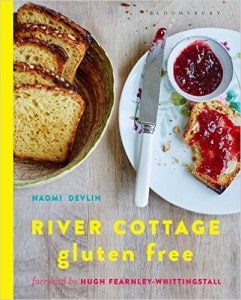 This brand new cookbook comes from my friend Naomi Devlin of Straight Into Bread Cakefree and Dried. Naomi is "across the pond" in England. Some of you might remember her as the founder of Go Ahead Honey, It's Gluten Free, a very popular blog carnival that provided so many delicious recipes for the gluten-free community for so many years.
Naomi has a reputation for creating simple, healthy, and wonderful gluten-free recipes. You can see a few samples of the recipes in her cookbook—like Almond Flatbread, Leek and Bacon Quiche, and Chocolate and Chestnut Fondant—on Amazon here.
The other books in the critically acclaimed River Cottage series are written by Hugh Fearnley-Whittingstall of the very popular British television series of the same name. I'm so glad that they called in an expert like Naomi to write their gluten-free cookbook and I appreciate her sponsoring this giveaway!
~ So Delicious Dairy-Free Product Coupons (7 winners, 1 coupon per winner)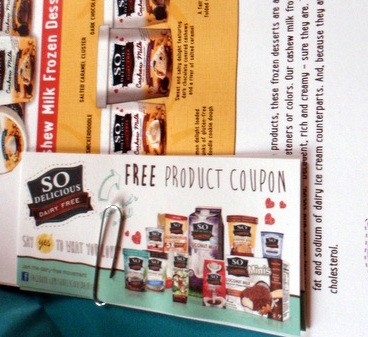 The folks at So Delicious Dairy Free recently sent me some of their new dairy-free "AlmondMilk" products and their dairy-free cultured coconut milk yogurt alternatives to sample. My favorites of the milk products were the Almond Walnut and the Vanilla flavors. All of these milk products seem to be on the lighter side when it comes to milk (think 1% or skim), but I enjoyed them for a little sipping and also for cooking.
The yogurts included: Unsweetened Cultured Coconut, Unsweetened Vanilla, I really enjoyed the flavored yogurts for a snack or quick breakfast and the unsweetened options were ideal for using in baking in place of traditional yogurt. sour cream, and more. It's really nice to have such a great dairy-free option!
As Kylie used coconut yogurt in her muffins, I thought that sharing this info and 7 FREE coupons for So Delicious Dairy-Free products today would be ideal. Of course, if you win, you can use your coupon on any So Delicious Dairy Free product that you like! Personally, I'm very partial to their Cashew Milk Ice Cream. Thanks to So Delicious Dairy Free for sponsoring this giveaway!
a Rafflecopter giveaway
Grand Prize Giveaway (1 winner for each)
Update: This giveaway is now closed.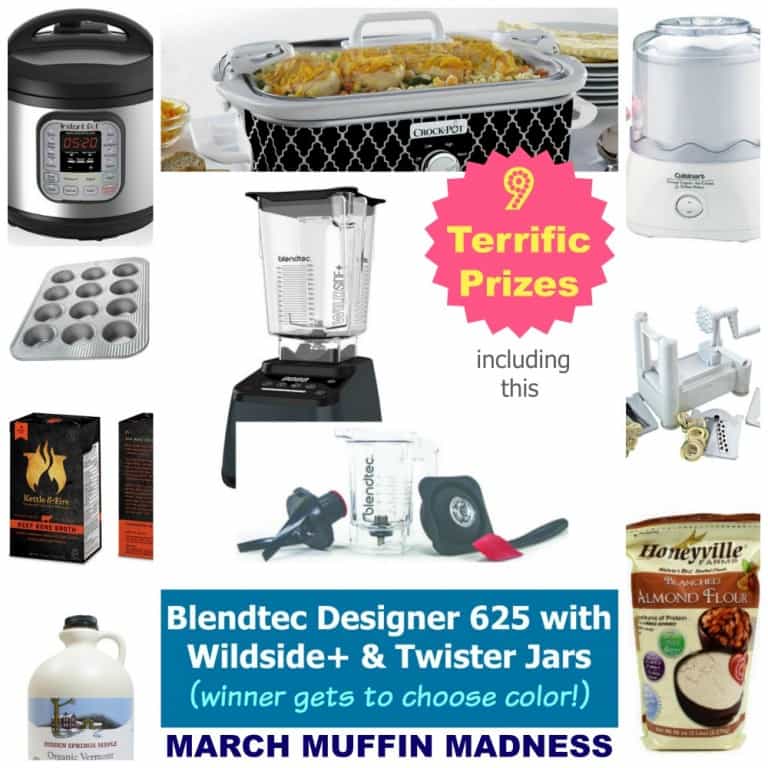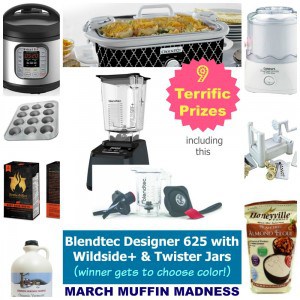 You can see the up-to-date listing of daily prizes and the complete lineup of bloggers and recipes in the kickoff post here.
a Rafflecopter giveaway
Originally published March 26, 2016; updated June 8, 2023.