For affiliate links and as an Amazon Associate I earn from qualifying purchases.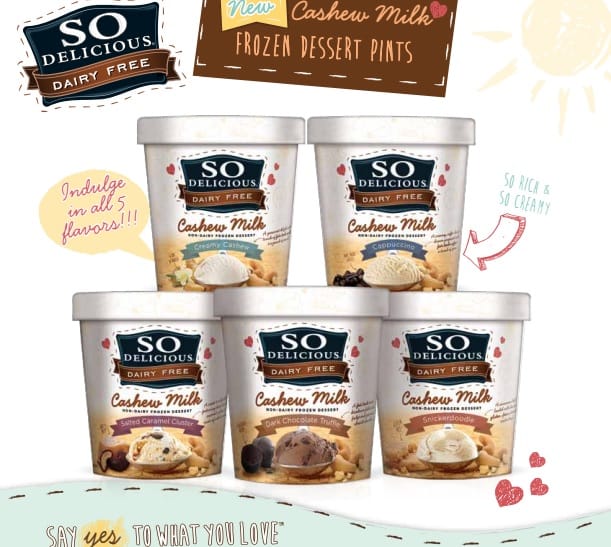 Recently the folks at So Delicious sent me five pints of their brand new So Delicious Cashew Milk Non-Dairy Frozen Dessert aka "Ice Cream" to try out.  Technically, to be called ice cream a product must contain a certain percentage of dairy milk fat. For the purpose of this review, I'm calling it ice cream because it sure tastes like ice cream to me!
The pints of ice cream arrived in a Styrofoam cooler packed in dry ice. The packaging came with special gloves for one to remove the ice cream so that one could not be possibly injured by the dry ice (which will cause burns due to the extreme cold). The packaging was kind of impressive but the ice cream contents were, of course, the most exciting!
As much as I enjoy eating dairy, dairy is not really my best friend and ice cream is a weakness of mine. So I was understandably excited about this new ice cream that my good friend Alisa (Go Dairy Free) had already given a rave review. Let's face it … not all dairy-free products are created equal. If there's anyone I trust for an accurate assessment when it comes to dairy-free/non-dairy goodness, it's Alisa!
If you've ever used cashews to make your own cashew milk or cashew cream, or in dairy-free baked goods like cheesecake, you know that cashews offer an amazingly creamy texture and they just blend into the water (or other liquid) and "become one." There really is no separation factor as with other nut milks.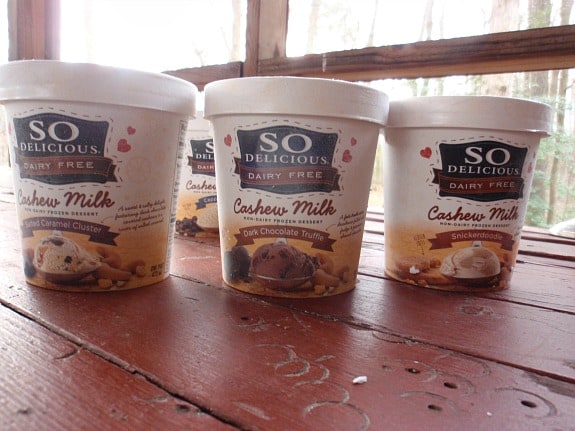 The So Delicious Cashew Milk Dairy-Free Ice Cream comes in five flavors.
Salted Caramel Cluster
Creamy Cashew
Snickerdoodle
Cappucino
Dark Chocolate Truffle
I asked my gfe Facebook readers which flavor they would try first. Everyone was very excited about this ice cream so their answers were fast and furious. Most readers simply stated their single top choice and their answers varied—although Salted Caramel Cluster was tops on the list—but some readers simply couldn't pick one.
Dana said: "Salted caramel or dark chocolate truffle or a scoop of each!"

Anne said:  "2 scoops: dark choc & salted caramel"

And Denise wanted to go beyond simply tasting the ice cream. She said:  "Cappucino float in an iced coffee." (Shirley here: "Yeah, baby.")
Naturally, many readers wanted to know more about what was in these ice creams and, more importantly for those of us with additional food intolerances and preferences, what was not in these ice creams. One reader echoed what I had shared in my Facebook post, proclaimed in tagging a friend:  "Dairy, gluten, gmo and carrageenan free." Another asked:  "Soy free?" So Delicious Cashew Milk Ice Cream is, in fact:
gluten-free, dairy-free, egg-free, soy free, vegan, GMO free, and carrageenan-free
That's quite an achievement for ready-made ice cream.  You can see more specifics in the ingredients listing for all the products below. Now being free of all those things, you might think this ice cream would not taste anything like ice cream, but you'd be wrong. So wrong. As I said cashews offer such an amazingly creamy base and So Delicious has added ingredients like fair trade cocoa, fair trade coffee, and organic tapioca starch.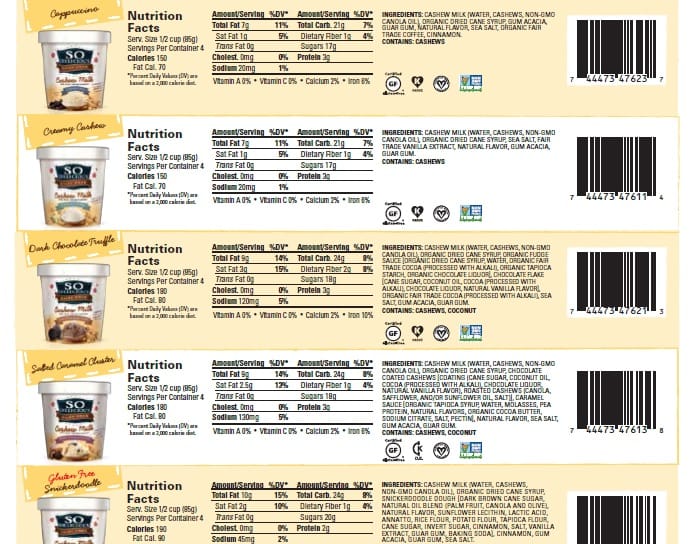 Is there sugar in this ice cream? How much? Yes, as you can see above, there's sugar in the form of organic dried cane syrup in most of these flavors and cane sugar in addition in one of the flavors. The amounts of sugar are about on par with what any ice cream would include. (Check out the listing above for more details.) These are a much healthier treat than most ready-made ice creams but, of course, they are still just that … a treat.
Salted Caramel Cluster ~ This flavor was the very first one I tried and ending up being my overall favorite. I've always loved the Salted Caramel combination and this flavor provided that nicely. But the piece de resistance for me was the "clusters" of chocolate-covered cashews (whole and in pieces) scattered throughout. Rich creamy cashew ice cream with swirls of caramel and those divine clusters.
Creamy Cashew ~ This flavor tied for second place in my ranking. This two-word title describes this flavor perfectly. The creaminess is off the charts and the rich cashew flavor is prominent and very satisfying. Alisa said that this ice cream reminded her of pure butter pecan ice cream(that creamy base) and that's really a great description. You could take a single pint of this ice cream and have enough small, satiating dollops to make several folks happy.
Snickerdoodle ~ I'm a big lover of Snickerdoodles. They've always been one of my very favorite cookies. So I expected to really love this flavor, but I didn't. It was my least favorite. I still ate it and enjoyed it, but it was too cinnamon rich for me and a spoonful or two at a time was sufficient. The latter fact could actually be a big selling point for those of you who want an enjoyable ice cream flavor but one where you stop at just a couple of bites. Note that others have rated this flavor as one of their favorites, which goes to prove once again … different strokes for different folks. (Isn't it wonderful that we are not all the same?)
Cappucino ~ This flavor tied for second place in my ranking. We have a beloved local frozen custard hangout. If you're a fan of frozen custard, you will know exactly what I'm talking about when I tell you that this seemed like a cross between vanilla and chocolate frozen custard with coffee swirled in. Totally irresistible if you're a coffee lover or simply love coffee flavoring in your desserts. (I fit into this latter category.)
Dark Chocolate Truffle ~ I loved this flavor for its rich chocolate flavor and the bits of chocolate throughout. It did seem a wee bit less creamy than the other flavors to me, personally, but that didn't slow me down on enjoying this flavor. If I needed a chocolate ice cream fix, I'd happily add it to my shopping cart.
If you'd like more opinions on this new So Delicious Cashew Milk Ice Cream, be sure to read this review from another good friend of mine, Lexie at Lexie's Kitchen. Lexie not only shares her opinion, she got her hubby, two boys, brother, and friend to taste test with her!
So Delicious was generous enough to send me nine FREE coupons for their products. I headed to our local upscale grocery store, Wegmans, to pick up some more for gluten-free, dairy-free Son to enjoy while he was visiting for Easter. How sad was I to see that our local Wegmans did not yet have the cashew milk ice cream on their freezer shelves!
UPDATE:  This giveaway is now closed. The winners are shown below. Each will have 24 hours to respond to my notification. If there is no response, a new winner will be selected.
Lisa ~ rick********@yahoo.com
Grace S.
Michelle Oliveri
But my loss is your gain as I'm giving away these coupons to you all. THREE readers will win three FREE So Delicious coupons so that you can sample this new ice cream. (Maybe you'll even come back and tell us your favorites.) Note that the coupons can be used on any So Delicious products (maximum redemption value is $11 per coupon). An even more important note is that most of these coupons expire on April 30. That's why this giveaway has a very quick turnaround. The giveaway ends Monday, April 13, at midnight Eastern. Winners will have 24 hours to respond to my winner notification email or new winners will be selected. I want to mail out these coupons as soon as possible!
To enter the giveaway, simply leave a comment below telling me which flavors are at the top of your list to try.
p.s. If you don't enter giveaways, note that So Delicious also offers coupons to fans if they sign up for their newsletter. They're not FREE coupons like the ones in this giveaway, but every little bit helps when it comes to the grocery bill, right?
Full Disclosure:  So Delicious Dairy-Free provided me with these samples and coupons at no charge. I was not otherwise compensated for sharing this review and the opinions expressed here are, as always, strictly mine.
This post is linked to Gluten-Free Wednesdays, Allergy-Free Wednesdays, and Gluten-Free Fridays.