For affiliate links and as an Amazon Associate I earn from qualifying purchases.
I've been a lover of molasses and gingerbread recipes as long as I can remember. Today's gluten-free Molasses Pudding Cake is basically a gluten-free molasses cake in "pudding cake" form.
It's almost gingerbread in its taste but not quite. The molasses flavor actually dominates in this recipe—more so than ginger—and that's just fine.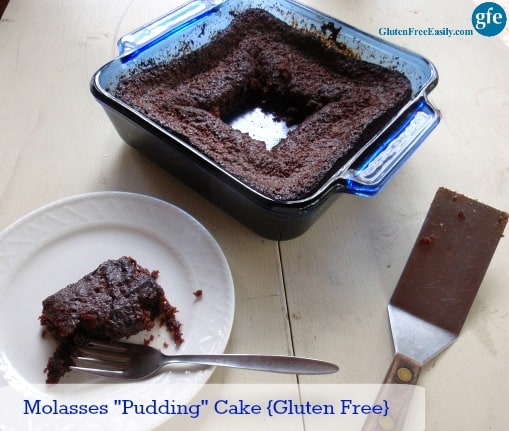 This recipe is like so many of my gfe recipes in that it took a while to come to fruition and when I made it, the results were not as I had anticipated. Nope, not at all … they were so much better.
I was aiming for a grain-free version of a more traditional molasses cake and what I got was a Molasses Pudding Cake. And I got it without the usual "fuss" that comes with making a pudding cake. If you like molasses, gingerbread, and pudding cake, you are going to really enjoy this cake!
The Back Story—Gluten-Free Molasses Pudding Cake Inspiration from The Kitchen House
A few years back I listened to The Kitchen House, a historical novel that tells the story of a dysfunctional Southern family and enslaved people. It's an eye-opening "listen"/"read" about the times, although it's not a cheerful book by any means.
I'm a big fan of audio books. (Audible is a great source (referral link).) If I'm in the car alone, I'm listening to an audio book. If Mr. GFE is with me and pops into the post office to check for mail in our P.O. box, I don't just wait for him. I listen to my audio book du jour while I wait. Any time spent in the car with an audio book is time to take a break from the real life and take a little journey so to speak. But I digress.
At the end of her New York Times bestseller The Kitchen House, author Kathleen Grissom said the following about her novel's main character, Belle, and one of her favorite baked goods. "Whenever Belle baked a molasses cake, I craved a taste. I did try several old recipes that I found, but I was unsatisfied with the results. So, using the old recipes as a baseline, my daughter, Erin, and I created our own version of a simple yet moist and tasty molasses cake. I am happy to share it with the readers."
As soon as I read their recipe, I knew I wanted to make a gluten-free—and slightly different— version, so I copied the recipe down and tucked it away for later. I came across it again recently when moving furniture around and decluttering before friends arrived from out of state. But as I was quite busy, of course, I set it aside with the thought that I'd make it soon.
Then we visited one of our local historical attractions, Kenmore, with these same friends soon after they arrived. Kenmore was the home of George Washington's sister, Betty Washington Lewis, and her husband, Fielding Lewis.
I've toured Kenmore many times. It's always been a favorite destination of mine. Built in the 1770s, it's an absolutely gorgeous home with an interesting history. The restoration of the home to the period when the Lewises lived there is incredible. Every visit yields a slightly different view of the home as well as the Lewis and Washington families themselves as Kenmore's historians are always uncovering more information and restoring (or re-creating) another part—or furnishing—of the home.
When I first started visiting Kenmore many years ago, gingerbread was served in the kitchen. The gingerbread served was made using the recipe of George Washington's mother, Mary Washington Ball. It emphasized molasses and also included orange juice and orange zest. While Mary Washington's gingerbread has not been served at Kenmore in a very long time, there is a display in the museum that discusses her well-loved recipe. You can even buy gingerbread mix to make her recipe.
Mount Vernon is another beautiful and fascinating home that figures prominently in the Washington family history. It is the home that George's father built in 1735. George first leased Mount Vernon from an older brother and then later inherited it, slowly transforming it from a simple farmhouse to a mansion over the course of his lifetime. Mount Vernon is about an hour north of Fredericksburg, near Alexandria, Virginia.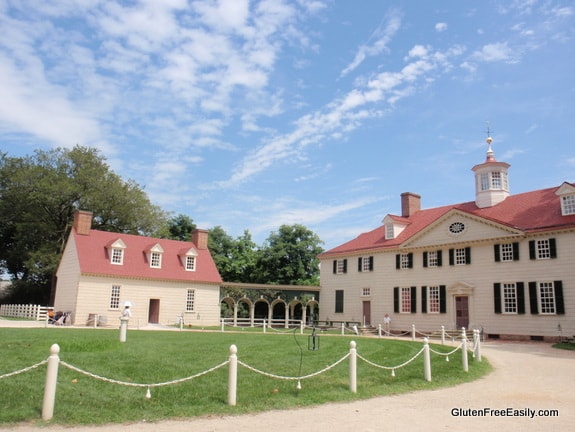 It's Mount Vernon's website that actually shares George's mother's gingerbread recipe. Mary is said to have served her recipe to the Marquis de Lafayette when he visited her home in Fredericksburg toward the end of her life. From that point on, it is said that it was called Lafayette Gingerbread in honor of the beloved French general. I'm certain you could easily convert Mary's original recipe to be gluten free simply by substituting gluten-free flour mix for the all-purpose flour.
Of course, as soon as I saw the mention of Mary's gingerbread at Kenmore, I knew it was time to make my own version of the Molasses Cake shared in The Kitchen House. My version, Molasses Pudding Cake, is gluten free, grain free, and dairy free, and full of that rich molasses taste with a bit of "gingerbread" flavoring. While there are no steps or ingredients that you would expect to create a "pudding factor," it's there!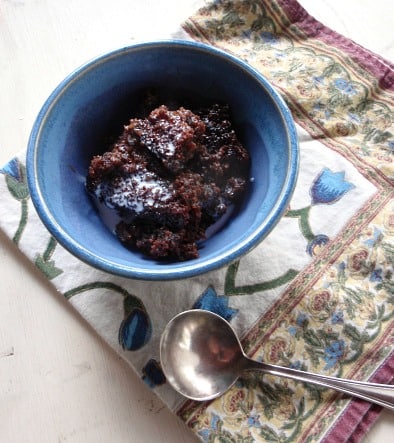 The very outer edges of this cake offer a bit of delightful chewiness, but the rest of this cake melts in your mouth. The coconut oil plays a large part in that, creating the pudding effect (when combined with the molasses) and, hence, the simple lusciousness of this dessert. Trust me … it's wonderful! I like mine with a little milk on top, but I wouldn't turn down a dollop of Honey Whipped Cream either.
You'll find the recipe at the bottom of this post, but here are:
Some More Gluten-Free Molasses Recipes
~ Big and Soft Paleo Molasses Ginger Cookies from Allergy Free Alaska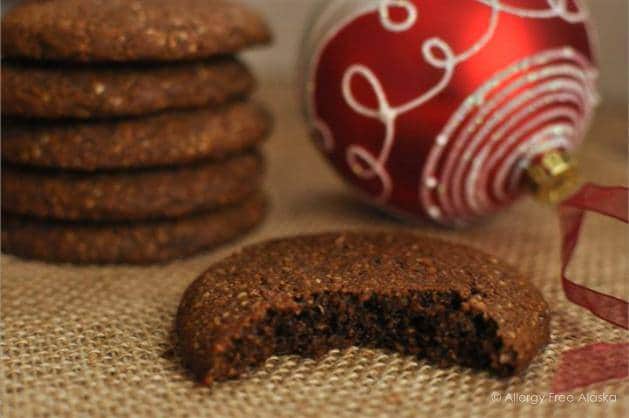 ~ Molasses Banana Bread from Gluten Free Easily (me)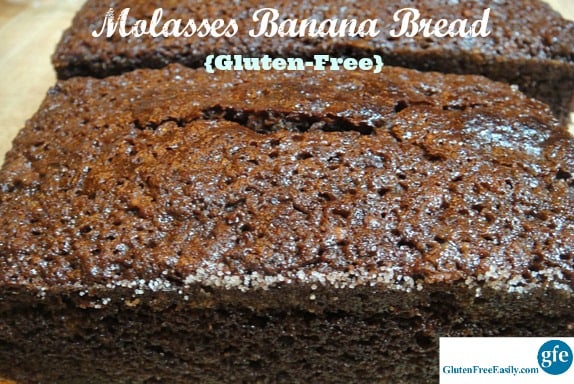 ~ Molasses Bread from Gluten Free Gobsmacked
~ Molasses Spice Cookies from Elana's Pantry
~ Soft Molasses Cookies from Nourishing Meals
Looking for even more molasses, ginger, and gingerbread recipes? Here are 120 Gluten-Free Ginger and Gingerbread Dessert Recipes.
Yield: 9 servings
Gluten-Free Molasses Pudding Cake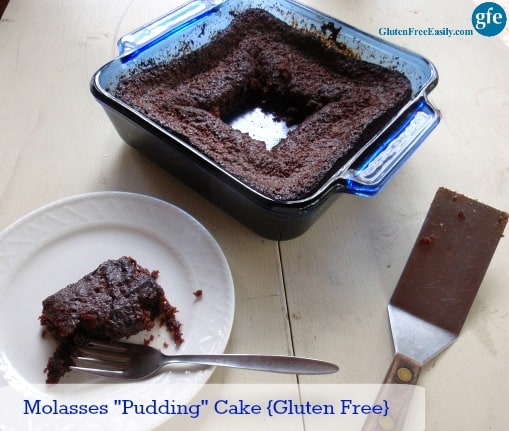 A gluten-free Molasses Pudding Cake that melts in your mouth. Top with milk or whipped cream if you wish.

Prep Time 10 minutes

Cook Time 40 minutes

Inactive Time 10 minutes

Total Time 1 hour
Instructions
Preheat the oven to 350F degrees. Grease an 8 x 8 baking dish.
In a large bowl, cream the coconut oil and coconut sugar.
Beat in the egg. Add milk and molasses, stirring well.
Add the almond flour, coconut flour, baking soda, ginger, cinnamon, cloves, and sea salt, beating well.
Pour batter into the greased baking dish.
Bake for about 40 to 45 minutes. Test for doneness with a toothpick.
Let cool a bit before spooning into a bowl.
Top with milk or whipped cream if desired.
Notes
Inspired by Simple Molasses Cake recipe in Kathleen Grissom's The Kitchen House

My coconut oil was semi-soft when I measured it. Either solidified (but spoonable) or liquefied coconut oil should work fine. You might find that you can cut back on the amount of coconut oil per your own personal preferences. This Molasses Pudding Cake does not taste of coconut at all, but the coconut flavor may be stronger if you use coconut milk as your milk of choice. I don't think that would be a bad thing though!

Softened butter could be substituted for the coconut oil, but it will likely change the flavor and the texture of this cake some.

I *think* that an egg substitute (such as commercial egg replacer, a flax gel egg, or a chia gel egg) would work in this recipe, but I haven't yet made it using one.

Originally published April 25, 2015; updated December 11, 2022.