For affiliate links and as an Amazon Associate I earn from qualifying purchases.
With Sunday being the 4th of July (yippee–always a fun time of year!), I decided to come up with a dessert recipe that naturally met the red, white, and blue color requirements. But, ideally, I didn't want to re-invent the wheel or test recipe after recipe. Serendipitously, our monthly beekeeping newsletter arrived and there was a recipe for Blueberry Honey Pie. No-Bake Blueberry Pie made with honey as the sweetener. Perfect! Except I needed No-Bake Gluten-Free Blueberry Pie, of course.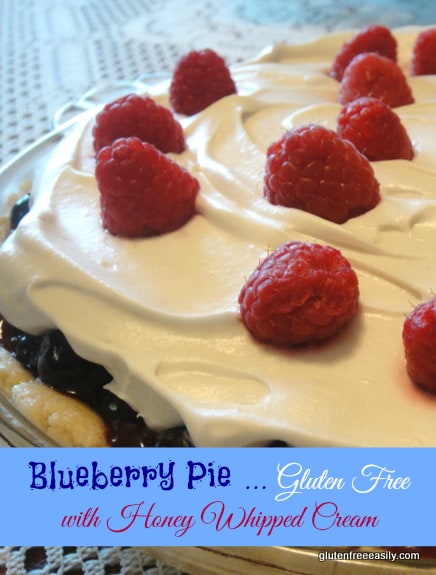 Thankfully, the pie filling was naturally gluten free, and a gluten-free pie crust could easily be used, so, gfe! The pie recipe mentioned whipped cream … honey whipped cream, of course—because as I said this recipe was in our beekeeping newsletter.
With the "blue" and the "white" requirements satisfied, I just needed my "red." Because I had just made my Raspberry-Banana-Pineapple-Coconut Smoothie, raspberries were the obvious choice. I knew they would look lovely scattered on the whipped cream topping.
I also knew this pie would make Mr. GFE very happy as he's weak for blueberries and absolutely loves pies. (He'll pass up cakes all day long, but put a pie in front of him and he's a goner.) And, of course, we both love to use the honey from our bees as much as possible.
The final recipe is actually an adaptation of two recipes—one from the beekeeping newsletter, and the other from The National Honey Board. In addition to being gluten free, the recipe I created is also grain free, dairy free, refined sugar free, egg free, and more—as well as vegan if you use a liquid sweetener other than honey—but, as always, it's still delicious.
And did I mention that this pie is a no-bake recipe? There's no need to heat up the house to make this wonderful dessert!
Be sure to read through the No-Bake Blueberry Pie with Honey Whipped Cream recipe below as there's preparation that needs to be done a day ahead if you plan to top this pie with the dairy-free, honey whipped cream. Diane (The W.H.O.L.E. Gang) showed us all how to make dairy-free whipped cream using coconut milk back at Oscar time with our progressive dinner party. This whipped cream is just a simple variation on her method.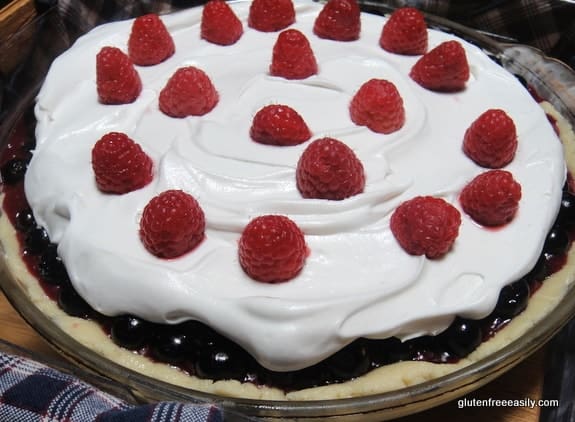 Recipe for No-Bake Gluten-Free Blueberry Pie with Honey Whipped Cream
Yield:
No-Bake Gluten-Free Blueberry Pie with Honey Whipped Cream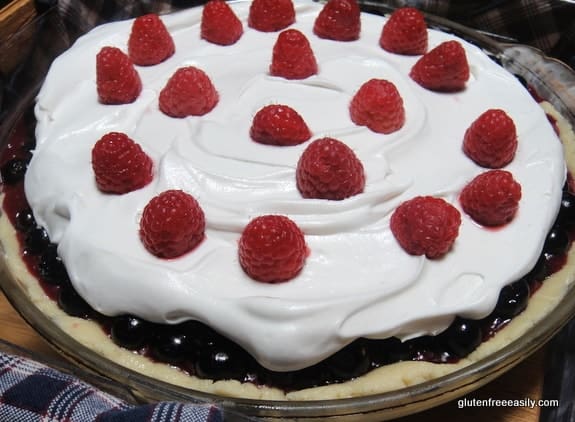 This No-Bake Gluten-Free Blueberry Pie with Honey Whipped Cream is the perfect way to kick off blueberry season or celebrate patriotic holidays! The fact that it is "no-bake" is a huge bonus during the hot summer months.
Ingredients
6 cups blueberries
3/4 cup honey
¼ tsp salt
2 tbsp plus 1 tsp arrowroot powder (or 4 tbsp cornstarch)
¼ cup water
2 tsp lemon juice
2 tsp coconut oil (or butter, or dairy-free butter)
½ cup raspberries for topping
Instructions
In a large saucepan, mix blueberries, honey, and salt.
Add water to arrowroot powder (or cornstarch) in a small bowl and blend. Add to blueberry mixture; blend.
Stirring often, cook over medium-high heat until mixture is bubbly and arrowroot-water mixture turns blueberry color, about 2 to 5 minutes.
Stir in lemon juice and coconut oil.
Cool slightly and pour into your already prepared pie crust (see notes below).
Chill at least an hour.
Spoon whipped cream onto chilled pie, leaving a perimeter of blueberries exposed. Top whipped cream with raspberries. (See recipe for homemade Honey Whipped Cream below.)
Notes
Pie recipe adapted from recipe in beekeeping newsletter; whipped cream recipe adapted from The National Honey Board.
My pie crust is a little bit overfilled because I forget to reserve blueberries to add right before filling the crust, so I added about 1/2 cup more than the recipe originally required. I don't think adding uncooked blueberries at this point is necessary though, so I modified the recipe as shared with my gfe readers.
I used the raw pie crust that I used in My First Raw Pie. It's a simple mixture of almond flour and honey. In this case, I used 3 cups of almond flour and ½ cup honey. You can adjust honey amounts to your taste. You just need enough honey so that almond flour and honey form a "dough." You simply mix together well and press into a greased pie plate.
Using this crust does make for a rich pie overall because of honey being in the crust, filling, and topping. Next time, I'd like to use a traditional pie crust or no-bake nut pie crust (just chopped nuts and coconut oil).
Of course, you can use any pie crust recipe that you wish. Remember that a traditional pie crust will need to be pre-baked, but using a traditional pie crust made from gluten-free flour will ensure that this recipe is also nut free.
I popped my pie into the freezer while I was making the whipped cream and then chilled some more afterwards. Refrigerating for a few hours before serving would be ideal as I was able to cut perfect pieces after a few hours of chilling.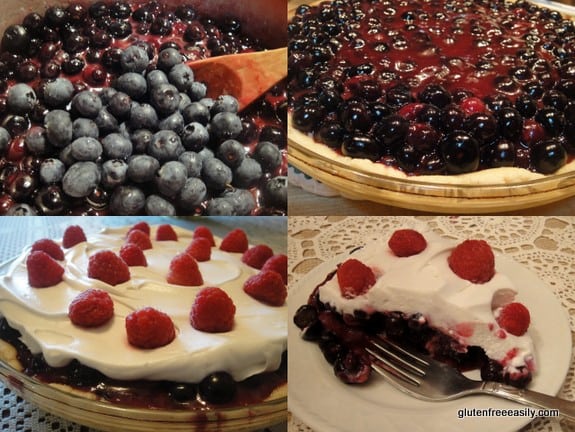 Yield:
Honey Whipped Cream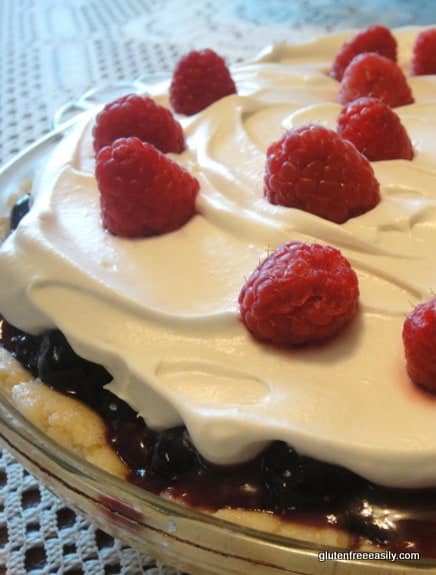 Ingredients
1 cup coconut "cream," from a chilled can of full-fat coconut milk (read more below)
¼ cup honey
Instructions
The day before, chill one can of coconut milk, your mixing bowl, and beaters in refrigerator. (I try to keep 2 cans of full-fat coconut milk in the refrigerator at all times for making ice cream and whipped cream.)
Skim about one cup of the "cream" off the top ... that's what I'm calling the thick, non-liquid substance that forms when you refrigerate full-fat coconut milk for at least 24 hours in the coldest part of your refrigerator.
Add the coconut cream to a chilled bowl. Whip coconut cream with chilled beaters until it reaches its whipped cream state.
Gradually add honey. Whip again until it turns to whipped cream with at least soft peaks remaining when you stop whipping.
Chill whipped cream if you will not be using it immediately.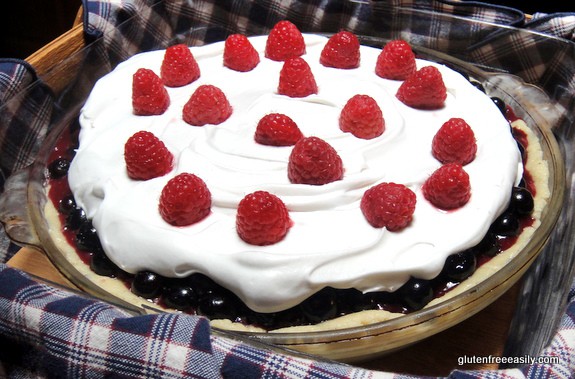 Happy 4th of July all! If you don't observe Independence Day, you can certainly celebrate independence from something. Maybe turn off the television and the computer, step away from your social media accounts, etc. and enjoy the holiday free from it all in the company of family and friends.
Of course, we're headed to our mountain property without those usual temptations (although I admit I have fired up my laptop twice in the past using my wireless card). Happily, some friends of many years will be joining us.
I'm making simple barbecued chicken, and we'll be baking potatoes in the coals and steaming artichokes. I guess I'd better make some cookies, too, because I'm not sure how well this No-Bake Gluten-Free Blueberry Pie would fare in the cooler with all the other contents. Only half is left after lunch with my mom, dad, sister, and niece (they enjoyed it!) but still, it might just have to stay behind. But, no matter, it will be waiting for our return. Life is good!
Originally published July 2, 2010; updated July 3, 2018.