For affiliate links and as an Amazon Associate I earn from qualifying purchases.
It's been hot here, really hot. It's clearly time for Crab Claws. Specifically, the Crab Claws Summer Cocktail.
No, not the crab claws of the delightful crustaceans that I love so much (although they are quite tasty, and we enjoyed some just this evening, in fact). I'm talking about the drink, Crab Claws … the punch, the cocktail … the Crab Claws Summer Cocktail. Oone of the pleasures that actually makes hot summer days a bit more bearable.
I first mentioned my good friend, Tavie's, Crab Claws, back at Christmas time in my post on Reindeer Antlers. At that time, I had tweaked her recipe to come up with that festive punch using POM Wonderful juice as my natural and fabulous holiday red coloring.
The original Crab Claws are now desperately needed in this summer heat. We have "crab houses" in our area, the restaurants overlooking the water where they cover the tables with brown paper and dump dozens of the beautiful crustaceans out for all to enjoy.
Crab-themed cocktails are the norm at these establishments, with each restaurant having its own specialty … Backfin … Peeler … Crab Claws.
The bartender at the restaurant that served Crab Claws disclosed the ingredients in the Crab Claws to my friend, but wouldn't give her the actual recipe. So, she played mixologist at home until she got the right taste and color.
She's served a lot of happy friends and family members since, and, of course, passed on the recipe to friends like me to ensure even more contented Crab Claw drinkers.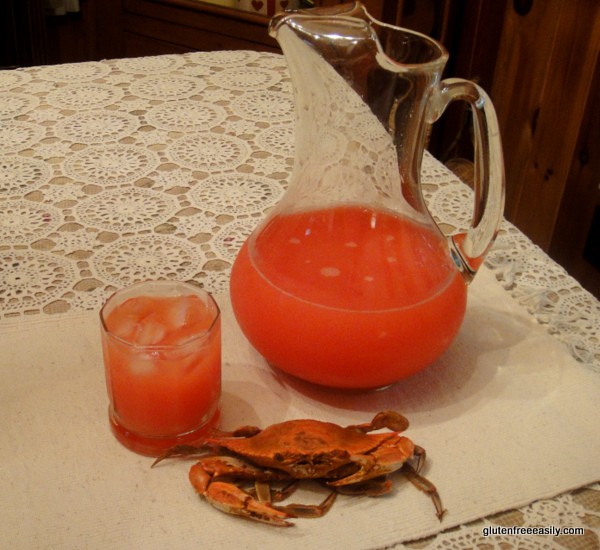 You don't need a batch of steamed crabs on hand to have a reason to serve these Crab Claws. Just make them any time a delightful cocktail is desired. I assure you that Crab Claws will please all of your adult guests who imbibe.
Do not be intimidated by the alcohol in these. Crab Claws do not taste like alcohol; they just taste great!
They are the perfect color and the perfect sweetness. Is it the alcohol that balances the sweetness, or sweetness that balances the alcohol? Well, no matter … once you try one, you'll know exactly what I mean. Even my mom, who usually doesn't drink, can't resist Crab Claws.
If you don't drink alcohol, you can still get a tasty drink that's the same color and refreshing taste by omitting the alcohol—only mixing the juices and grenadine. If you want less alcohol, you can increase the juice ingredients by a cup each. Admittedly, the resulting color of your beverage will be less crab like but still very delicious!
A batch can be made in about 5 minutes. You just mix ingredients and serve over ice. Chilling before serving is nice, but not required. So, if you are serving a crowd and run out, you just mix another batch of the lovely Crab Claws.
You'll notice a jalapeno pepper "garnish" in the photo below. It looks a bit obnoxious hanging on the side of the glass, doesn't it? Allow me to explain.
I follow my friend Diva's monthly Thirsty Thursday challenges over at her blog, Beach Eats. Last month the theme was bourbon, so I entered my Bourbon Banana Colada.
This month the theme was jalapeno pepper. That was quite a bit more challenging, especially because Mr. GFE and I are total wimps when it comes to spicy peppers. The words jalapeno and habanero can drive fear into our hearts by their mere mention. Funny story … we had dear friends who adored all things hot. Whenever we camped together, they were always sneaking hot peppers into stews I cooked during our fall camping excursions. Amusing memories!
I thought a jalapeno pepper application might work in this beverage though. I originally thought about a jalapeno infusion (slicing the jalapeno and leaving it in a tea "ball" in my drink for a period of time), but first I sliced the pepper open and placed it on the glass as garnish. It only sat there long enough for me to snap a few photos.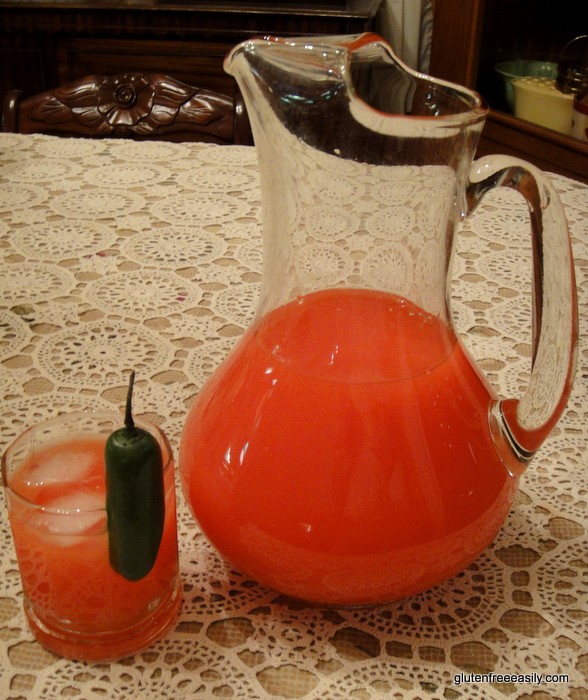 Then, curious, I took a sip of the drink. Almost immediately my lips were on fire and my tongue was as well. I talked Mr. GFE into taking a sip right after I did and he experienced the same.
There would be no jalapeno infusion for my Crab Claws after all. But, if you decide to try either—the Crab Claws with Jalapeno Dip or Jalapeno Infusion—I advise you to be very cautious. (Bodily harm may truly be only a few sips away.)
Back to Diva's challenge … sadly, I got my dates mixed up and missed the deadline for Diva's contest. But, you can see Diva's complete roundup of the jalapeno beverages here. Diva's own jalapeno creation was a Madagascar Margarita; check it out here.
Go ahead, make yourself a Crab Claw, or a whole pitcher full of Crab Claws and invite some friends over. You'll be very popular (not to mention happy!), if you do.
Crab Claws Cocktail Recipe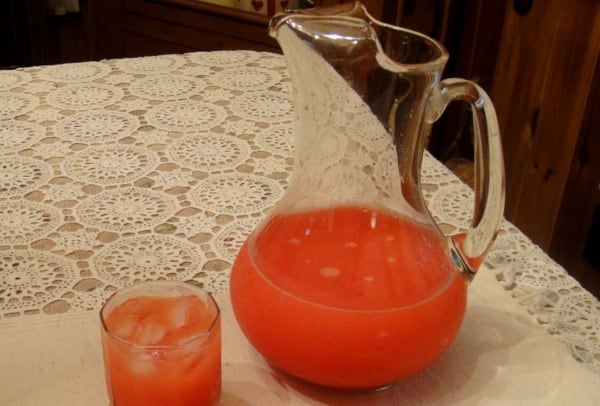 Yield:
Crab Claws Cocktail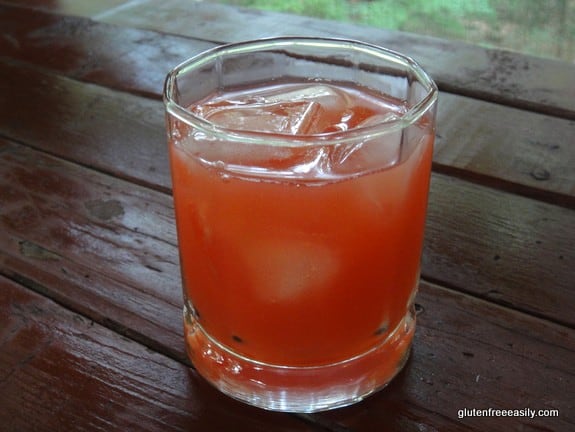 Ingredients
1 cup vodka
1 cup rum
1 cup tequila
1 cup grenadine
3 cups orange juice
3 cups pineapple juice
Instructions
Mix all together. Chill before serving if time allows. Serve over ice.
Notes
As you can see, this recipe is for a large amount, specifically 10 cups, which is over half a gallon, so be sure to have a large container to make it in. If you'd like a smaller amount, just use "parts" versus cups. So, for example, your part could be ½ cup, that would be ½ cup each of vodka, rum, tequila, and grenadine and then 1 ½ cups each of orange juice and pineapple juice. You'd get 5 cups of Crab Claws in that case. If you want to just test the recipe for one or two drinks, you could use ¼ cup as your part and adapt accordingly.
Originally published July 8, 2010; updated August 26, 2021.