For affiliate links and as an Amazon Associate I earn from qualifying purchases.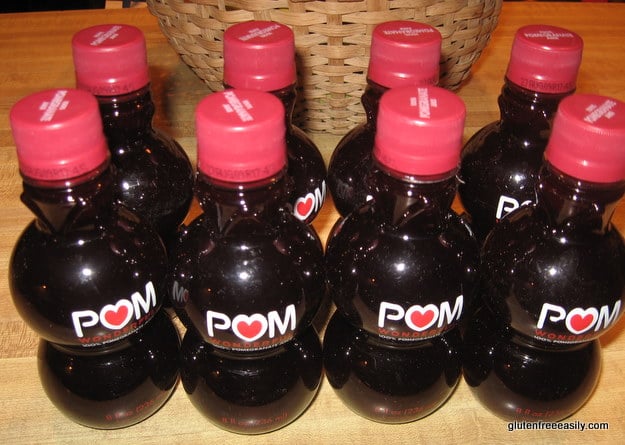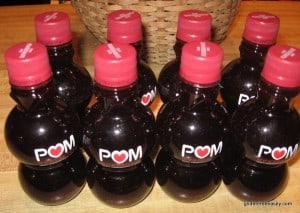 Full disclosure: In October, I attended the POM Wonderful Blogger Harvest Festival in California—all expenses paid. Wow, what an incredible experience that was! I'll be sharing more later. I was not paid to write this post, but the POM Wonderful products used were given to me.
The folks at POM Wonderful (who do indeed live up to their name in so many ways!) have graciously offered a case of POM Wonderful juice to three of my gfe readers. Exciting, huh? Talk about delightful early Christmas presents! POM Wonderful juice is great to drink as is, add to smoothies, use to make incredible savory dishes (I've made a great POM'd pork), or employ in sweet treats like my POMerdoodle Ice Cream. Pomegranate seeds, known as arils, are fantastic for eating as is, adding to salads, including in side dishes (like rice and quinoa dishes), topping desserts like flan and ice cream, and even topping beverages (hint!).
NOTE: The giveaway is now closed. Congratulations to the winners! Chosen by random number generator, they are: Ali, Jennifer R., and PattyBoots. Enjoy your POM Wonderful Juice all! Thanks for being gfe readers and taking the time to enter the giveaway! If you want to read Ali's, Jennifer R.'s, and PattyBoots' ideas for using POM Wonderful products, read their comments (and everyone else's) below. Thanks to all who entered! To enter this giveaway, you must leave a comment on your favorite way to use either POM Wonderful juice or arils. Please say more than "I like to drink the juice" or "I like to eat the seeds." I hear you, and agree, but there are many other great ways to use both as I've mentioned before. To enter the giveaway you have to leave a comment that gives others some great, specific ideas on using POM Wonderful products. If you have a special treat or recipe using POM, please share it here as your entry to the giveaway. (If you are a blogger and have a wonderful POM Wonderful recipe, please share the link in your comment.) Your comment counts as one entry. Tweet, facebook, post about the giveaway and comment again with that info/link and each will count as an additional entry. The winners will be selected randomly on Monday, November 30, at midnight Eastern time, and posted shortly after that. Yes, quick turnaround. Be sure to check back at gfe next week for the announcement on the winners. Now, let me share my latest "winner" POM recipe that uses both POM Wonderful and arils …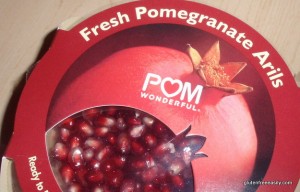 Remember how I've shared several times (e.g., here and here) that we love all things crab in the gfe family? You were probably thinking that always equated to food. Well, no, not always; we have a Southern drink around here called Crab Claws. It's one of those pretty punch drinks that the waterfront crab houses like to serve. You know the house specialities that you can even buy in a souvenir glass sometimes. This drink has other names or variations like Peeler or Backrub, but Crab Claws are actually the best tasting and have the most fun and creative name. I mean who doesn't want to say, "I'll have a Crab Claw, please." The unindoctrinated always look on in surprise when you are handed a lovely tropical summer drink versus the pincher of a steamed crustacean. Crab Claws are an adult drink (i.e., they contain alcohol). They taste particularly fine in the hot summertime. Crab Claws always taste delicious and go down smoothly, very smoothly—some might say too smoothly. A limit of one Crab Claw (imbibed with food and with proper passage of time before driving), a designated driver, or a night in the guest room is a hard and fast rule here at the gfe house when one is drinking Crab Claws. (My dear friend, Tavie, created the original Crab Claws recipe that I have happily used for many years.)
By now you're asking what the heck do Crab Claws and Reindeer Antlers have to do with each other? Bear with me as I seemingly go on another tangent.
I've shared tales of our biennial Valentine's Day parties before. These parties are always a blast. Interestingly enough, while attendees have a grand time each and every year, some years they seem to be particularly frisky and romantic. Mr. GFE always jokes the morning after such parties, "I want to know who put ground-up reindeer antlers in the punch this year!" Those of us who are sitting at the breakfast table always chuckle appreciatively. You see reindeer antlers supposedly contain an aphrodisiac. While reindeer antler powder has never made its way into our drinks (as far as I know anyway), he's right … some Valentine's Day parties have even the conservative, standoffish couples turning into downright "lovebirds."
I've been thinking about Crab Claws a lot lately. Maybe it's the fact that we are about a month away from a vacation in Key West (yippee!). But, I'm not about to make a batch of Crab Claws in November here in Virginia, so I had to come up with a suitable holiday alternative.
I wanted a drink that was deep red in color. It occurred to me that adapting the recipe and adding POM Wonderful juice might do the trick—plus the POM Wonderful juice would provide its naturally sweet and tart flavor, with the added bonus of its many antioxidants. So, I've reinvented the Crab Claws recipe to include pomegranate juice for its deep "holiday red" color and health benefits. November is National Pomegranate month, so the inclusion of pomegranate juice is timely in that regard, too. Even better … POM Wonderful is holding a recipe contest for bloggers, which also ends November 30. (The winner gets their blog featured for a year and receives $4,000; read details here.) I'm entering my new holiday punch, which I've, of course, named Reindeer Antlers!
I already "field tested" this recipe for you. I served it to my family members at Thanksgiving and, without exception, they all (ages 21 through 80) absolutely loved it. Some joked and referred to it as Reindeer Hooves or called it "that antler drink," but everyone agreed that this punch is superb. They also had no idea it contained alcohol from their initial tastes. It simply tastes like a delightful, festive punch. Without further ado, Reindeer Antlers—the holiday punch.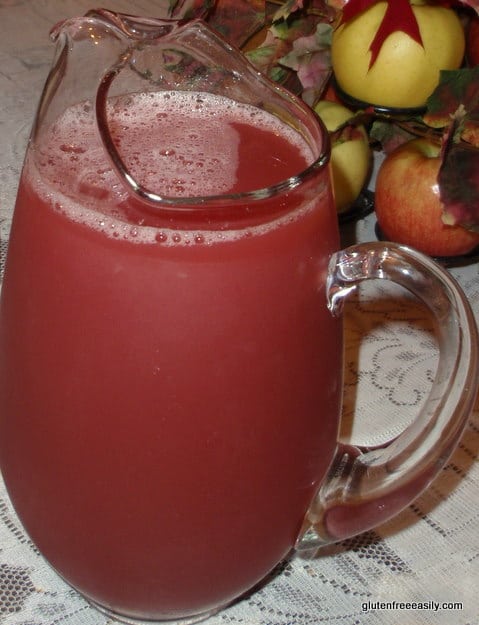 Yield: 12 servings
Reindeer Antlers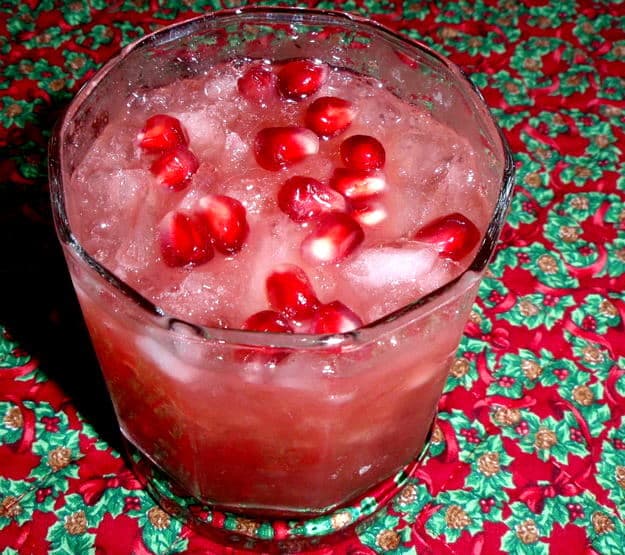 You and your guests will thoroughly enjoy this festive, spirited drink. Be careful though as it packs a punch despite its easy drinkability!
Ingredients
1 cup POM Wonderful pomegranate juice
1 cup grenadine syrup or grenadine liqueur
3 cups orange juice
3 cups pineapple juice
1 cup vodka
1 cup rum
1 cup tequila
Instructions
Stir all together. I added my ingredients to a gallon-sized jar, place the lid on it and just shook the jar to mix. Chill.
Serve over ice and top with pomegranate seeds---also known as arils.
Notes
Pouring the Reindeer Antlers over crushed ice and topping with arils provides a lovely presentation. (Mr. GFE will also tell you that particular application results in sipping versus drinking, which I say just might not be a bad thing.) As an alternative you can sprinkle arils on your Reindeer Antler just before serving; the arils will sink to the bottom of your drink and become more potent. Or, you can add festive ice cubes that contain pomegranate seeds that you've made earlier. (I thought about doing that ... I really did, but time ran out. Soon, I will try that.) Very important---one must eat the arils to achieve the optimum "effects" of the Reindeer Antlers. To date, numerous scientific studies have been conducted on the benefits of pomegranate juice for cardiac health, blood pressure, prostate health, and, yes, even "virility"---all with encouraging results. So Reindeer Antlers taste delicious and are good for your love life. Plus, you know how some folks eat the agave worm at the bottom of a Mescal bottle? Eating the reindeer antler-infused arils is such a nicer alternative, don't you think? Of course, if pomegranates themselves are out of season, please enjoy your Reindeer Antlers sans arils--they will still be splendid!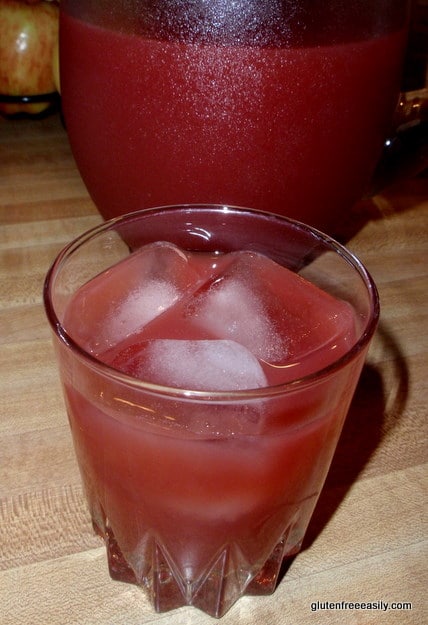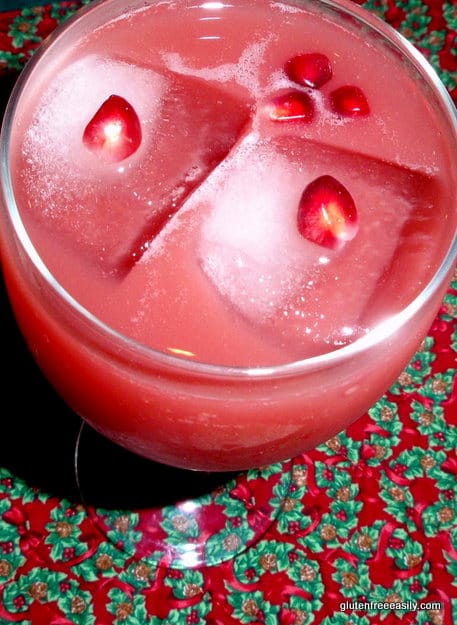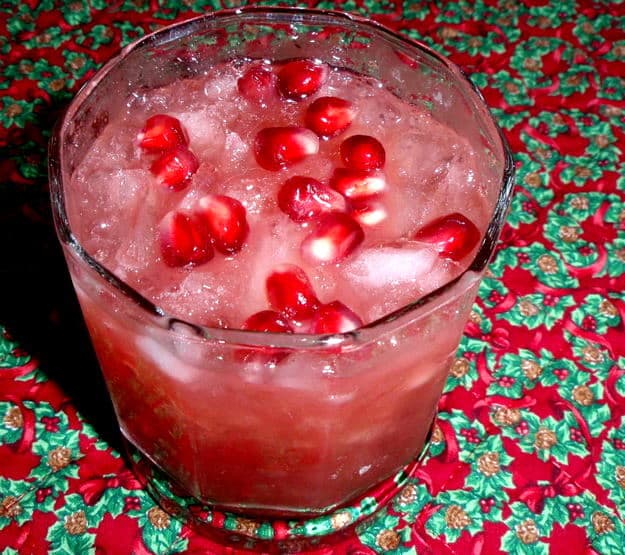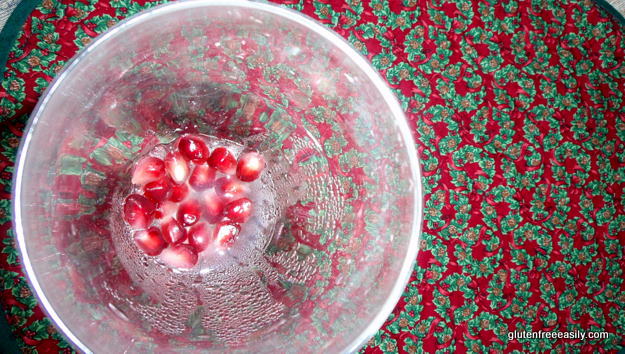 Shirley's Notes: All distilled alchohol is gluten free. That means your basic vodka, rum, tequila, scotch, gin, and the like. Be wary of alcohol that has been flavored after the distillation process. It still may be gluten free, but always check. "Real" grenadine syrup or liqueur is actually made from pomegranates. (I don't know if any of the grenadine products that I've used to date have contained pomegranates.) I've used both the syrup and the liqueur, interchangeably. The liqueur contains alcohol (2.5% per the label of the Jacquin's Grenadine that I used). Usually, these products contain high fructose corn syrup and not always pomegranates. If you want to make your own genuine grenadine syrup, buy some pomegranates and use this recipe. Or, make a "simple syrup" using Pom Wonderful juice from the directions shown with this recipe. If you'd like to make a smaller batch of Reindeer Antlers, just use "parts" when mixing instead of cups. So for example, you can use one part every time 1 cup is called for and three parts when the recipe says 3 cups. Shot glasses or 1/4 cup measures can be great for downsizing this recipe. You'd add one shot every time one cup is required and three shots every time 3 cups is cited. Don't forget your arils as topping though!
I'm linking this recipe to the Holiday Food Fest, which Amy is hosting next week over at her blog, Simply Sugar & Gluten Free. Amy is the hostess of the Holiday Food Fest event, and she's chosen Cocktails, Mocktails, and Appetizers as next week's theme—translation: party food! This recipe will also be linked to Diane's Friday Foodie Fix—Pomegranates (which she did so well a while back, sharing the history and health benefits of pomegranates) and Linda's What can I eat that's gluten free? for her party food on Wednesday, and, frankly, any other terrific blog carnivals that come to mind. Reindeer Antlers is awesome "holiday cheer" (some would say it's addictive, too) and needs to be shared! Please don't forget to leave a comment, etc. per the rules stated above to enter the giveaway.
Enjoy and drink responsibly! As for me, I'm staying home today and this evening. It's cocktail time … hand me a Reindeer Antler, please!