For affiliate links and as an Amazon Associate I earn from qualifying purchases.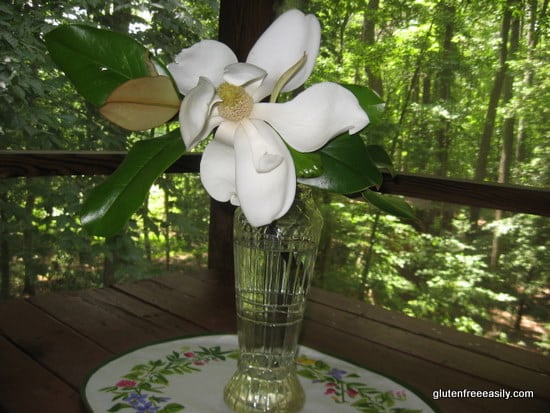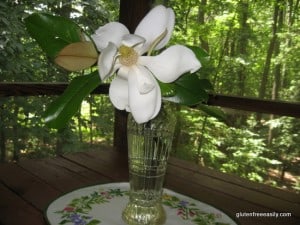 Saturday was our 27th wedding anniversary, but we didn't plan anything elaborate this year. We expected to head to our mountain property and do our usual thing. This time I had picked up a Porterhouse steak per Mr. GFE's request. (One would be enough for both of us.) We'd grill the steak (Mr. GFE's favorite), cook potatoes in the fire, and steam artichokes. Frankly, I wasn't sure how our plans would go as we'd been "squabbling" for a few days. After 27 years of marriage (and 5 ½ years of dating prior to that), we're used to the occasional squabble. It doesn't mean these squabbles don't drive us both a bit crazy (okay, sometimes a lot crazy!) when we aren't on the same page, but it's part of marriage in my opinion. There are days I'm madly in love with my husband, days I'm perfectly "okay" with him, and other times … well, there are other times that let's just say don't fit into the first two categories. And, I know he feels the same way and I'm alright with that. We're human. Marriage is wonderful, but tough stuff. Your marriage partner is your friend and just like you have squabbles with other friends, it's natural to have squabbles with your marriage partner. Mr. GFE and I are both opinionated and passionate people and sometimes we just disagree. Anyway, Friday evening, Mr. GFE tried to start his truck and she did not comply. Her mechanical problem was one he'd experienced before and while he managed to get it running again, he wisely decided that loading it up with camping gear and heading to the mountains was not a good idea. So we had to come up with "Plan B" for celebrating.
Mr. GFE's cousin, Diane, who lives in California, had stayed with us back in April for several days. She'd left us a note the day of her departure telling us that she'd worked out a deal for us to get half a bushel of steamed crabs from Roy, our favorite local seafood dealer. It's the kind of deal that only takes place out in the country where folks have known each other all their lives. We were told to pick up the crabs and let her know. Then she'd call Roy to find out how much the crabs were (prices fluctuate throughout the season) and then she'd mail him a check (no credit cards—cash or check only). We were delighted with her very generous thank you gesture, but had been waiting for the right time to enjoy the crabs. Saturday for our anniversary was suddenly the perfect occasion. About 90 minutes after placing our order, we picked up our hot steamed crabs and two pounds of steamed shrimp. Because it was only a half a bushel of crabs, we called my family, which is much smaller than Mr. GFE's. Both our families can eat a lot of crabs. My sister and her husband were already committed for the evening, but my parents happily helped us eat a good portion of the crabs.

In our area, steamed Maryland blue crabs are often the main course for our warm weather celebrations. (If you are not familiar with this variety of crabs, they become a rich orange when cooked.) Everyone learns to eat crabs from an early age. First, the parents and other older relatives start out picking some of the crabs for the children and giving them pieces of backfin. Then children are shown how to break open the claws. Some adults don't even fool with claws, so they just put them aside in a big pile for the kids. Breaking open the claws involves "smashing" them with a crab knocker or a butter knife, so it's quite a popular activity with children. The best thing is that steamed crabs are naturally gluten free as long as the seasoning used is gluten free and the water they are steamed in is gluten free. While some seafood can be steamed in beer, I've personally never known that method to be used for blue crabs. Steaming bushels of crabs takes a lot of water and most vendors are more interested in selling the beer than using it in the steaming process. While steamed shrimp and Alaskan crab legs occasionally are steamed in beer around here, the steamed shrimp we picked up was steamed with water, an Old Bay-like concoction, and pickling spices. It's delicious and gluten free.
Now what about that beer? Most mainstream beer is not gluten free, but over the last few years more and more gf beers are being added to the market. I'm really not much of a beer drinker myself, so I've only tried a few of the gf beers and am really not the best one to offer an opinion. The beer that is most likely to be available is Anheuser-Busch's Redbridge. It's sold at restaurants with gf menus like Uno Chicago Grill. Some like it fine and say it has your average beer taste, but others prefer a more specialized beer taste like you'd find at a microbrewery. Our son likes Green's, but being a poor college student of 21, he laments the cost. Lovely Melissa of Gluten Free for Good recently did a post, gluten free and twenty-something in Chicago, sharing her hip daughter's recommendations on gluten-free beers and ciders. Pete of No Gluten, No Problem has done several posts on gluten-free beer. Check them all out here. (Note that Pete's first post shown there is on ginger beer. Ginger beer is really not a beer at all, but has been an occasional favorite "mixer" of ours for the Dark and Stormy drink since we first visited Bermuda on our second anniversary.) Our son also likes Woodchuck Draft Cider on occasion. Woodchuck comes in traditional flavors like amber, but also other more interesting ones like Granny Smith and raspberry. Read more here.
We don't like to limit our anniversary celebration to just one day, even when planning a more modest event this year. So Sunday morning we were trying to decide where to venture on the motorcycle. Mr. GFE suggested that we head to the middle peninsula of Virginia on the Chesapeake Bay—Deltaville, to be specific. He had just been asked to crew in July weekend sailboat races there and wanted to get reacquainted with the area. I went online and quickly got directions and found out a great place to eat on the water. Remember the Beach Boys tune, Kokomo? Although we have been to the Tiki-bar of the Holiday Isle resort in the Florida Keys that is said to be the inspiration for the song, we certainly didn't make it there this weekend. But, the restaurant we went to for lunch is called CoCoMo's. Perhaps the owners came up with a different spelling to avoid any potential litigation, because this waterfront dining spot definitely had some laid-back Key West styling going on—a Deltaville version, but fun nonetheless.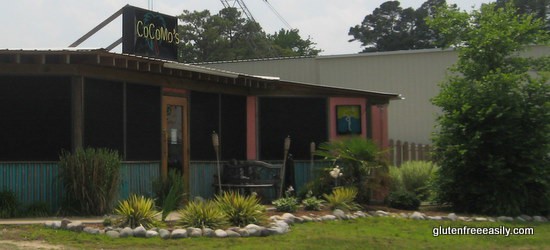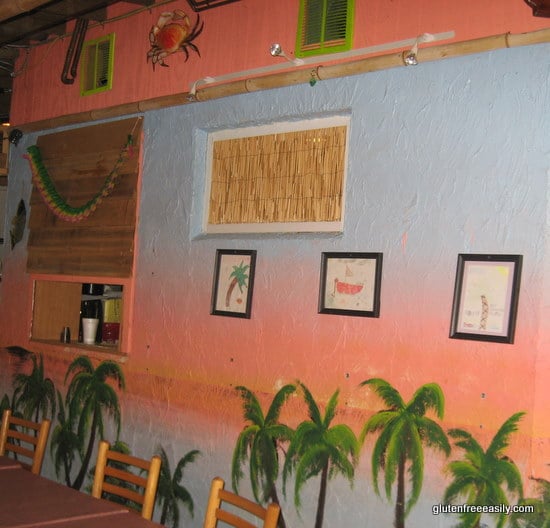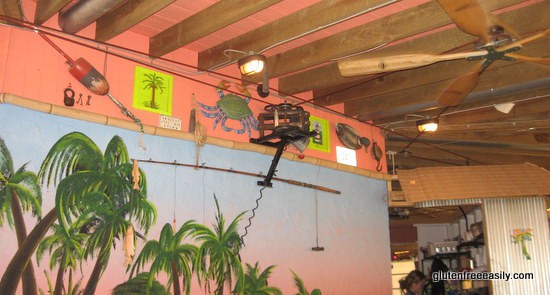 Mr. GFE and I didn't even need to look at the menus … we saw what we wanted to eat on the daily specials board:  shrimp and lobster salad pour moi and a CoCoMo burger for him. A CoCoMo burger is a burger topped with Provolone and lump crabmeat. If I hadn't set my sights on the shrimp and lobster salad I would have been inquiring about the safety of getting a bunless CoCoMo burger myself. I think lump crabmeat would definitely make one not give a darn about no bun! The salad came on a bed of mixed greens. It contained nice-sized pieces of the steamed shrimp and steamed lobster (both prepared safely), chopped celery, mayonnaise, and a tiny bit of dill. A wedge of watermelon was served on the side instead of the usual crackers. It was a delicious and enjoyable meal.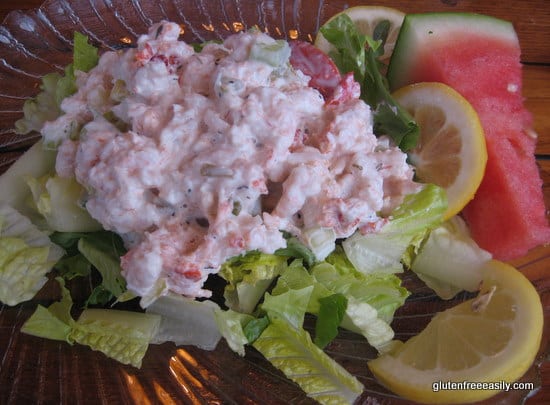 Afterwards, we walked out on some of the docks and were surprised to see several of them lined with houseboats. Houseboats by the Chesapeake Bay—who knew? Coincidentally, we took a different route home, which took us through the towns we visited when we spent our honeymoon on the Bay. All told we had a lovely anniversary, even exchanging cards later … with mushy, but heartfelt messages. Mr. GFE confessed he almost purchased a funny card, but he was afraid that I wouldn't receive it well. Really?  We ate crabs for dinner last night and tonight on the screened porch by candlelight—no kidding. Mr. GFE "waxed poetic" about a perfect Monday evening eating crabs with his true love. LOL It was pretty great though. 🙂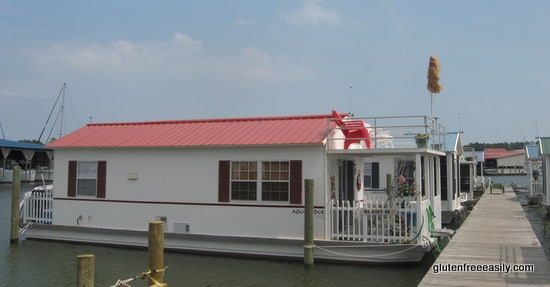 There are many gluten-free seafood options. I probably eat steamed shrimp most often as my naturally gf choice. Seafood salads like the one I enjoyed at CoCoMo's are a frequent favorite. However, beware of those made with the artificial crabmeat, officially known as surimi and sometimes called Krabmeat. The artificial crabmeat contains gluten. Subway, among others, makes its seafood salad with this artificial, unsafe crabmeat. Crab sushi can often be surimi. Next on my favorite gf seafood list would be different varieties of fish, like salmon and mahi mahi. Steamed crabs are always a favorite as already shown, but more for a special treat on occasion. We saw some folks eating steamed clams at Cocomo's and Mr. GFE is a huge fan of oysters, which I put in the same category. Oysters can be naturally gf in a milk-based stew or roasted in the shell. I've even made hubby some terrific gf fried ones using a mix of cornmeal and my gf flour mix. (I plan to test this same recipe to make fried calamari soon.) Steamed lobster is a safe and fabulous choice and even an economical one if you live in some coastal areas of Maine. Seafood ceviches can be a flavorful way to start a meal in the tropics. Legal Sea Foods is one national seafood restaurant chain here in the U.S. that is known for its gluten-free menu and fine meals.  If you are a seafood lover, what's your favorite naturally gluten free seafood to eat out or in? And, if you enjoy gluten-free beer or cider with your seafood, which brands do you prefer?
Shirley
Not just gf, but gfe!