For affiliate links and as an Amazon Associate I earn from qualifying purchases.
Often the most elegant and memorable appetizers are the ones with the fewest, but finest, ingredients—like today's Crab-Stuffed Avocado. After I flew in to visit my beloved friend, Therese, recently, we stopped at a nearby restaurant to have a drink and catch up a bit as we waited for another friend to arrive for our girlfriends' get together.
The restaurant looked fairly average, actually more like a banquet hall. But while the facade was unimpressive, the bar, menu, and service were not.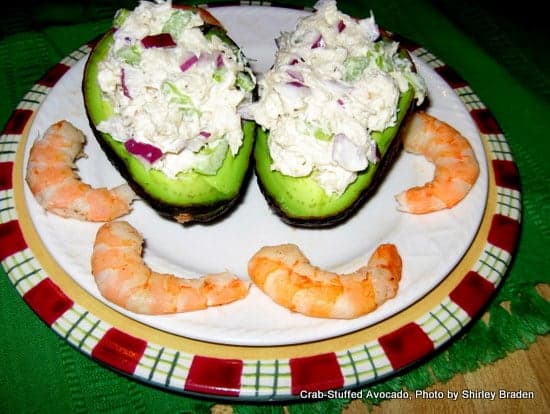 We started to just order drinks and then decided that when drinking it's wise to eat a bit as well, even when one is not terribly hungry. A lump crab-stuffed avocado appetizer caught our eye.
Neither of us can remember the exact ingredients of the appetizer other than the lump crabmeat and avocado, and perhaps some mayonnaise on the side and a seafood-type sauce, but both of us remember it as a stellar appetizer.
We also share it as a favorite food memory from our visit—no doubt enhanced by the fact we were so happy to be in each other's company again.
When Diane, of the The Whole Gang, mentioned that avocado would be the secret ingredient for this week's Friday Foodie Fix, that appetizer is what immediately came to mind. But, tonight after a busy week with our support group meeting this evening and being away overnight, I focused on preparing a simple dish that I could enjoy for lunch … using the ingredients I had on hand.
The ingredients were obvious and this appetizer/lunch came together in about 2 minutes. Literally. It's fresh and fabulous, and even though it's not quite the same as the appetizer that Therese and I enjoyed, it takes me back to our time together and makes me smile.
I didn't measure anything, but here's an approximation. Recipes for certain dishes can be very helpful, but an avocado stuffed with a crab salad concoction doesn't really require one.
A little bit of this, a little bit of that. Add what you love, and leave out what you don't.
Just make it easy, visually appealing, and delicious, of course. I had purchased the avocado for the Friday Foodie Fix event, but the lump crab meat, shrimp, celery, red onion, mayo, and Dijon mustard, were already in my refrigerator.
Crab-Stuffed Avocado
Yield: 1 to 2 servings
Crab-Stuffed Avocado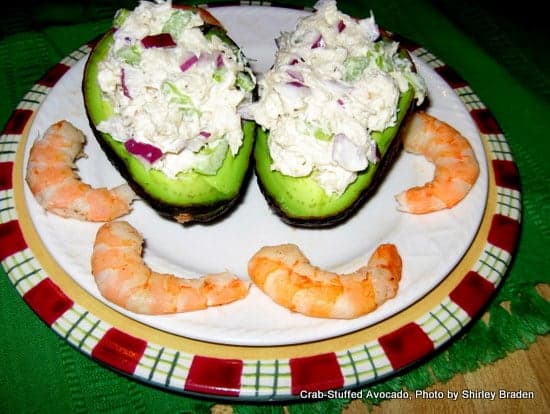 An avocado is wonderful fare on its own but stuffed with crab meat, it's ultra fine dining!
Ingredients
1 ripe avocado
2 - 4 ounces of fresh lump crab meat
1 1/2 tablespoons of mayonnaise
1/2 tsp Dijon mustard
1/2 tsp Old Bay seasoning
1 1/2 tsp celery, sliced very thin and chopped chunky
1/2 tsp red onion, sliced thin and chopped chunky
Instructions
Cut avocado in half, removing pit.
In small bowl, mix mayonnaise, Dijon mustard, Old Bay, celery, and red onion. Gently fold in lump crab meat, not breaking up all lumps. (You'll want to come across nice chunks of crab only when enjoying this recipe.)
Spoon crab meat mixture into avocados.
Garnish, as desired.
Notes
A few peeled shrimp make a lovely garnish and accompaniment.
I'd suggest eating this appetizer with a spoon, so after you eat the majority of the crab salad that's "on top," you can start scooping out a little avocado with each bite of crab salad.
Originally published April 17, 2009; updated June 13, 2019.