For affiliate links and as an Amazon Associate I earn from qualifying purchases.
I've been making a super easy, totally delicious oven-steamed shrimp (naturally gluten free!) recipe for several years now. Usually, I buy the extra jumbo frozen shrimp when it's featured on a "Buy One, Get One Free" (BOGO) sale at our grocery store. Sometimes I buy the sale limit, throwing them in the freezer until the mood hits.
"Frozen shrimp?" Food heresy, you say. Not so much. Really.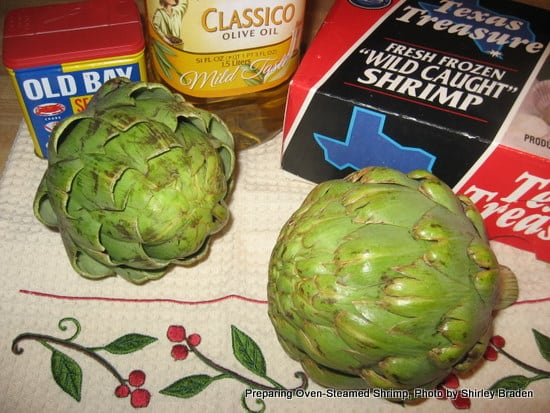 If you use good quality frozen shrimp for the right recipe (one that ensures they do not overcook), it can taste every bit as wonderful as the shrimp that comes right off the boat. The shrimp is also deveined, legs removed, and the shells come off so easily.
However, before I discovered this recipe, frankly, I had no idea how good frozen shrimp could turn out either. All the frozen shrimp I'd had previously had been slightly mushy at best, or totally mushy AND flavorless at worst.
That's always a painful situation for me. It's hard to see one of my favorite foods rendered inedible that way. But, I digress …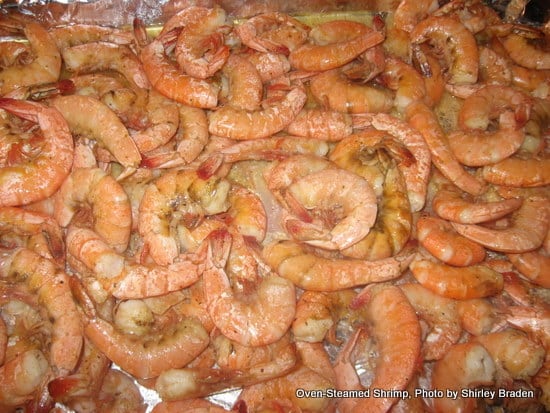 The basis for this recipe was Black Pepper Shrimp. I found it in our local newspaper's Food section one day and was immediately intrigued.
First, it was a shrimp recipe. I love shrimp. Second, it called for fresh ground black pepper, which I really enjoy. Third, it was quick and easy—only four ingredients. So far, no negatives!
In the article accompanying the recipe, the author stated that he and his wife usually had this shrimp dish with nothing more than a bottle of Riesling. OKAY, that was it. That was the hook I could not resist.
I love a good Riesling and I was being told this shrimp and Riesling alone would be the makings of a good meal—yeah, baby! When frozen shrimp was on a BOGO sale again, I stocked up, and I picked up a favorite Riesling.
First go-round, I made the recipe exactly as stated, which is my usual MO (if I have all the ingredients and can safely eat them). Immediately upon serving, the shrimp was quite good and we really enjoyed it.
As promised, the Riesling complemented the heat of the black pepper well. But, the second night, with some leftover shrimp, the black pepper taste was overpowering—even if somewhat "offset" by the fruitiness of the Riesling.
Yet the presentation was gorgeous and the shrimp themselves were delicious … cooked to perfection—nice and juicy. Cooking and cleanup were so easy, too. It was clear that a slight recipe modification would be necessary and the solution was obvious: replace the black pepper with Old Bay seasoning.
I live in Virginia very close to the Potomac River and not far from the Chesapeake Bay. Old Bay seasoning to us is akin to green chiles to someone from New Mexico—i.e., an absolute "staple" for flavoring, particularly for seafood.
Since then I've been making the shrimp using Old Bay instead of the black pepper and adjusting the amounts for butter and seasoning as the mood strikes. Without a doubt, the Old Bay version is excellent. But, in trying to eat dairy free, I really wanted to make this recipe using olive oil versus butter.
Last night I decided to give the recipe a try using olive oil over butter. I confess I was skeptical. But, first, a little background …
Mr. GFE had purchased 5 pounds of frozen shrimp from a local seafood dealer at the last minute for a Super Bowl party. He brought them home and I looked at them and I looked back at him with raised eyebrows.
He had left to buy cooked spiced shrimp. I needed food that was ready to go to take to this party. What on earth happened?
It turned out the weather was so cold at the time that the seafood establishment's outdoor cooker was not operational because their gas lines kept freezing. Sad story, huh? (As a seafood lover, I thought so!)
But, I had a lot going on at the time and cooking 5 pounds of shrimp was not on my agenda. Mr. GFE said he'd cook them.
Uh huh, right … I know how that works. Oh, he is a really good guy and he makes a mean omelet (more of a frittata actually) and flips the meat on the grill from time to time, but he does not really cook.
So, after a brief "discussion," the shrimp that he bought was placed in the freezer. I called another seafood establishment whose spiced shrimp is my favorite.
In addition, to their special seasoning mix (red pepper, etc.), the other establishment uses pickling spices, which add a very distinct and special flavor. Their price is even comparable to the cost when I buy and cook the shrimp myself. So we picked up the five pounds of spiced shrimp on the way to the party and all was good.
But, since February, the box of shrimp has waited in the freezer. Last night, I really wanted shrimp. I did not really want five pounds of shrimp, but I didn't plan on buying more shrimp until we'd cooked that.
I also had two beautiful artichokes on hand. We are artichoke addicts, but addicts of real, fresh artichokes, not the marinated, vinegary kind you find in a jar.
We love to steam artichokes. Steamed artichokes and spiced shrimp are one of our perfect meals. Absolutely nothing else is required. (Well, okay, that Riesling accompaniment is still a pretty good bet!)
But, in fact, in regard to other food, if you add a salad, a potato, and/or bread, you'll be taking away from the flavors of the shrimp and artichokes, not to mention providing way too much to eat. If artichokes aren't in season, the great salad and the shrimp make for another great combo.
While the artichokes steamed, the box of frozen shrimp sat on the counter. I had this naive notion that they might thaw just enough so that I could chip off half of them and put the other half back in the freezer.
Wrong. By the time, the artichokes were done—about an hour later—no thawing had occurred. So I cooked one batch of about 3 pounds and a second batch of about 2 pounds.
One batch I made using butter, garlic, and Old Bay. For the other batch, I simple replaced the butter with olive oil, still adding garlic and Old Bay.
At the last minute, I opted for extra virgin olive oil for the richer taste rather than the milder basic olive oil. My dear, dear friend, Jennifer, had brought this "personal size" olive oil (this brand) to our last meeting and about half the carton was left.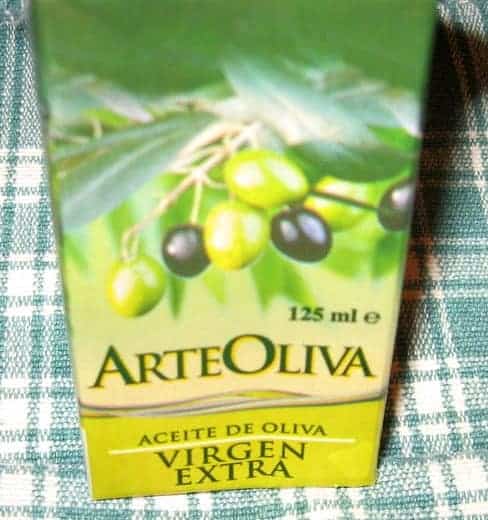 When I tasted the version made with olive oil, I was so pleased. Thrilled actually.
This version of the Oven-Steamed Shrimp totally exceeded my expectations. They were just absolutely fabulous.
By that time, Mr. GFE had eaten several of his "butter" shrimp and was raving over them in conjunction with the artichoke—per usual. Did I mention we love artichokes?!
I asked him to taste the olive oil version. He did and said they tasted wonderful and pretty much the same to him, except he added that "my" version tasted a little spicier.
I chuckled to myself because I had actually used less Old Bay, proportionally, in my version. The olive oil had actually enhanced the Old Bay flavor.
The olive oil had also given some of the shrimp a beautiful burnished appearance, but yet they were not overcooked. The olive oil version will definitely be the one we make most often in the future.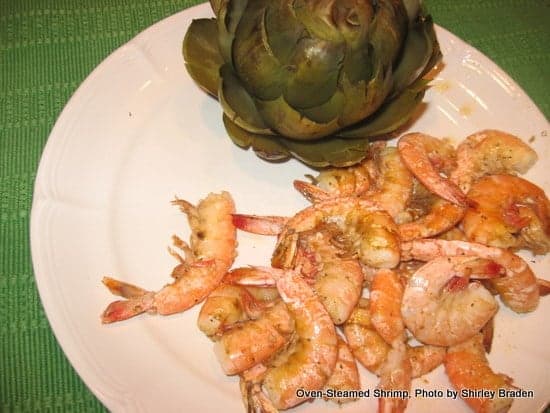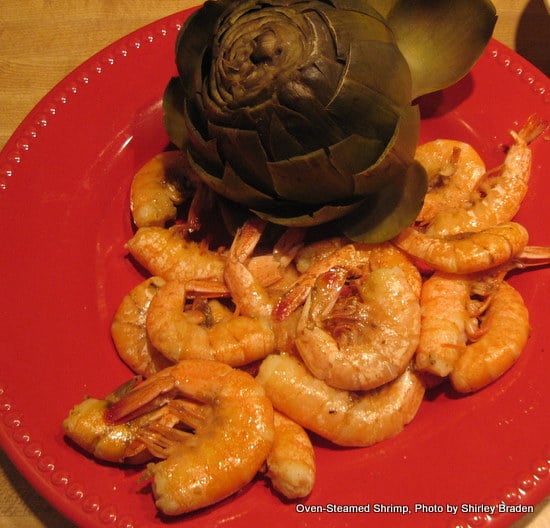 In hindsight, I could have cooked that 5 pounds of shrimp for the February party just like I did last night—easily in the oven in two batches.
But I'm glad I didn't because we thoroughly enjoyed them last night. Plus, we will enjoy them again tomorrow night and I will be peeling the remaining pound to add to Slow Cooker Jambalaya for our support group meeting later this week.
Yum. These shrimp make for a very simple, yet impressive meal—equally perfect for hanging out at home with family or sharing with guests.
Okay, here's your quiz … can you identify each version? Is the shrimp on the baking sheet the butter version or the olive oil version?
What about the shrimp on the plates? Which one is which?
Yield: 3 lbs
Oven-Steamed Shrimp (Naturally Gluten Free)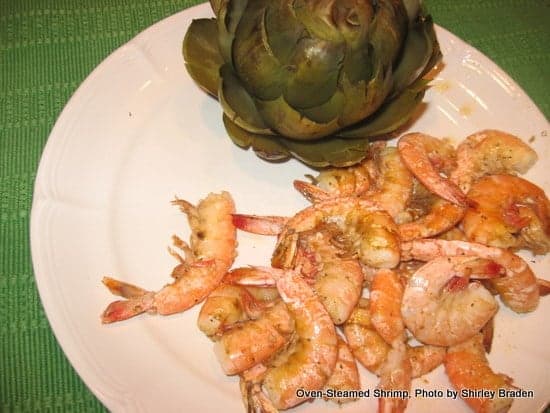 Such few ingredients and so little time and effort required to make these totally delicious, naturally gluten-free Oven-Steamed Shrimp!

Prep Time 10 minutes

Cook Time 8 minutes

Total Time 18 minutes
Ingredients
3 pounds shrimp, with shells on
8 tbsp butter (or 6 tbsp olive oil) (adjust amounts to taste)
3 tbsp chopped garlic (I use minced in the bottle; I am lazy)
4 tbsp Old Bay seasoning (adjust amounts to taste, or optional: if you like "plain," just skip)
Instructions
Preheat oven to 450 degrees.
Rinse and drain shrimp. Arrange in a single layer on a large, rimmed baking sheet. (Note: You don't have to be a fanatic about this. I did not have a single layer last night. I just made sure to coat shrimp well and turn so both sides were cooked properly.)
Melt butter (or warm the olive oil) in saucepan, adding garlic to sauté a few minutes. (I just used the microwave for about a minute.)
Pour butter (or olive oil) over the shrimp and stir to coat well. Sprinkle about half the Old Bay over the shrimp.
Bake until shrimp are pink, about 5 minutes. Use a spatula or tongs to turn the shrimp. Sprinkle with the remaining Old Bay, and bake another 2 to 3 minutes. Serve immediately.
Notes
These only take about 15 minutes of prep/cook time before eating. Adjust recipe to amount of shrimp you want to eat. (We usually make two pounds, and it still lasts for several meals.)

If you use frozen shrimp, just run cold water over them until they separate. Larger shrimp and slightly frozen shrimp, like the extra jumbo ones I use, will take a minute or two longer to cook on each side. Just look for that nice pink look and the fabulous smell that says they are ready to eat. Of course, test one if necessary.

Adapted from recipe by Paula Deen

Originally published August 15, 2009; updated December 12, 2019.