For affiliate links and as an Amazon Associate I earn from qualifying purchases.
My new friend, Anali, at Anali's First Amendment, did a post the other day called A Weekend Mix. I was reading along enjoying her write-up on her odd dreams involving celebrities (don't we all have those?), advice regarding African Violets, and some pictures of her charming place, and then I got to the photo of her banana-coconut cake. Banana and coconut! What a wonderful combination, I thought. Next thing you know I had created today's gluten-free Banana Kahlua Coconut Cake recipe.
Update: My friend Michelle of Michelle's Gluten-Free Kitchen bakes this recipe in a springform pan. The results are a gorgeous presentation as you can see below.
Allow me to explain. The picture of Anali's slice of cake made my mouth water. It had that lovely rich, golden brown color that banana always adds to baked goods. Anali included the recipe, which she'd adapted from a banana cake recipe in Dorie Greenspan's Baking From My Home to Yours. Anali's version was dairy free, but not gluten free. I immediately commented that I planned to make a gluten-free version of her recipe soon. So I did—and I'm so glad.
With living more dairy free, I am taking the same approach that I've taken with gluten-free living. That means that I am dairy free easily (dfe 😉 , if you will), using ingredients that are naturally dairy free. Anali's recipe called for Smart Balance; instead, I substituted olive oil. (See substitution chart here.) Her recipe also called for rice milk and banana schnapps. I don't really plan to keep rice milk on hand, and while I have peppermint schnapps and peach schnapps in the liquor cabinet for certain friends, I don't stock banana schnapps.
However, thinking of liqueurs gave me the idea to substitute Kahlua for both the rice milk and the banana schnapps. I usually have Kahlua on hand and the thought of Kahlua with banana and coconut seemed luscious. (It sure is in liquid form!) Because I wasn't sure if the Kahlua would be thick enough to be a proper substitute, I decided to add an additional egg to provide the right consistency. The results were very, very good.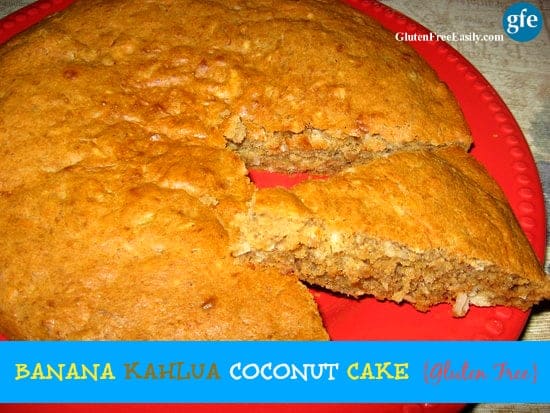 How good? Well, tomorrow I will be making this cake for the third time in less than a week. I first made it for a committee meeting last Thursday. My cake was placed on the table right in front of one of my friends. Every few minutes throughout the meeting, he would lop off a small piece with the cake server.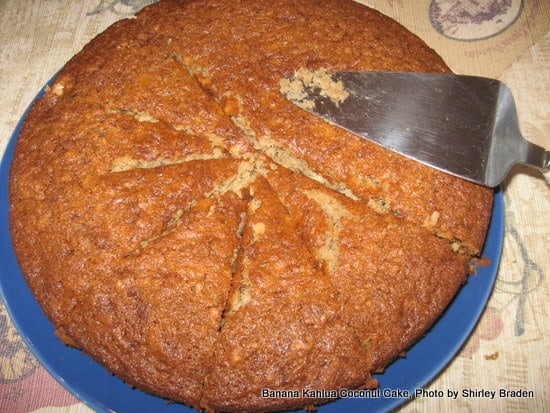 I love to feed people so I was getting a lot of pleasure (and amusement) from his obvious inability to resist the cake. Others enjoyed it as well, so by the end of the evening, most of the cake was gone. (That was saying a lot since there was plenty of fabulous food served, including pepperoni crostini.)
The next day I made another one for our monthly support group meeting. I served it to our members that evening and they all raved over it. Everyone was amazed that it was both gluten free and dairy free and could taste so good. Again, despite the table being full of great food, almost all of the cake disappeared.
Tomorrow I am making it in preparation for the arrival of my husband's cousin on Thursday. We'll be able to use it as a dessert or for a coffee cake-type breakfast. It's really quite a treat and another way to use up those "baking bananas"! (See more ideas here.)
Another friend, Carrie of Carrie Wood, Writing Coach, makes her version in a square baking dish and adds cream cheese frosting. She told me that she makes the cream cheese frosting made with a splash of Kahlua and vanilla extract and tops it with scant sprinkles of nutmeg on top. Can you say, "YUM!"?
Gluten-Free Banana Kahlua Coconut Cake Recipe
Yield: 8 slices
Banana Kahlua Coconut Cake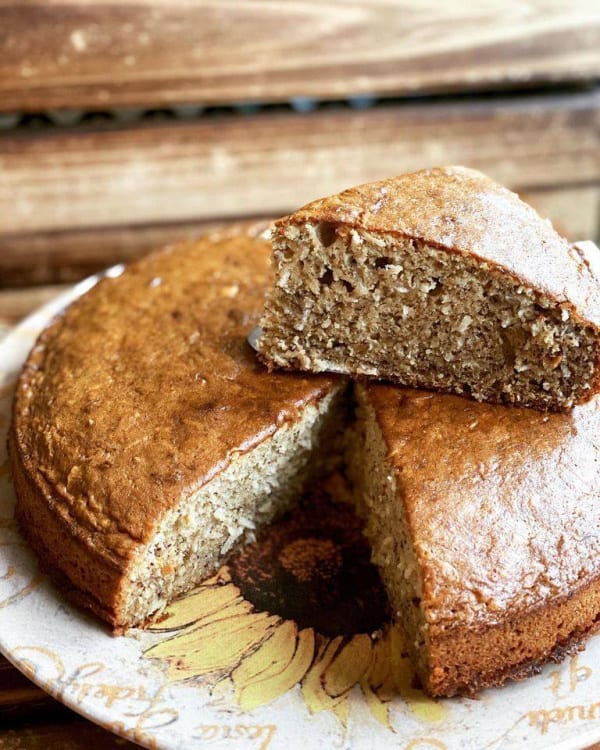 This Banana Kahlua Coconut Cake is one of those recipes for which words can't do it justice. You simply have to sample it!

Prep Time 10 minutes

Cook Time 30 minutes

Inactive Time 10 minutes

Total Time 50 minutes
Ingredients
2 ripe bananas, mashed (about 2/3 cup)
3/4 tsp vanilla extract
1/4 cup olive oil
1/3 cup granulated sugar
1/2 cup brown sugar
2 large eggs
1/4 cup plus 1 tbsp Kahlua (see notes for substitution options)
1/4 tsp salt
3/4 tsp baking soda
1/4 tsp nutmeg
1 1/3 cups gluten-free flour mix (I use my Two-Ingredient Flour Mix
3/4 tsp xanthan gum (skip if flour mix already contains xanthan gum)
1/2 cup shredded coconut (I used sweetened because that's what was available at my grocery store)
Instructions
In a large bowl, add bananas and stir in vanilla extract. Add olive oil, granulated sugar, brown sugar, eggs, and Kahlua; mix well. Stir in salt, baking soda, and nutmeg. Gradually stir in flour, then coconut, until well mixed.
Grease a 9-inch round cake pan well. (Makes a one-layer cake.) Pour batter in pan and bake at 350 degrees for 30 - 40 minutes. (Test with toothpick to determine if done.) Remove from pan immediately and cool. I've served this cake "plain" each time with no complaints, but Anali also suggests that it can be served with whipped cream.
Notes
This recipe makes a single-layer cake.

My version of this cake has evolved, and not necessarily by design. The first time I made the recipe I used an extra large egg and didn't have quite enough coconut, plus I am pretty sure I left out the brown sugar. It turned out lighter in color than the photo of Anali's cake, but was still quite good. (Six committee members can't be wrong!) The second time I made it, I decided to use two large eggs. I had the right amount of coconut, and added it, but I misread the brown sugar amount and added too much. Gasp … such an awful mistake. LOL OMG, the resulting cake was fantastic. When I make this cake tomorrow, I will use two large eggs and an amount of brown sugar between the original amount and my erroneous measurement. (These amounts are reflected in the recipe shown.) The point is … don't be afraid to make this cake if you don't have exactly the right amounts of ingredients on hand, want to emphasize one flavor over another, etc. Next time, I think I might add some mini-chocolate chips. Just about any good baking recipe can be improved by the addition of chocolate, right?Update: When I made the cake this evening with two smaller bananas, it seemed too sweet so I've added measurement guidance for the bananas and reduced the brown sugar amount to the original amount that Anali used. Of course, if your mashed bananas equal much more and you want to use the entire amount, you may want to adjust the amount upward slightly.

Reader Input: One reader substitutes crushed pineapple with juice for the Kahlua. She says the results are divine! Another reader substitutes rum for Kahlua and she loves the Banana Rum Coconut Cake. Last, my friend Michelle of Michelle's Gluten-Free Kitchen bakes this cake in a springform pan, which makes it not only taste bakery worthy but also look as impressive as a bakery cake.

Originally published April 21, 2009; updated December 9, 2022.