For affiliate links and as an Amazon Associate I earn from qualifying purchases.
Limes … Salmon for me is a perfect food. Especially today's recipe for Cayenne Lime Salmon. It's another naturally gluten-free recipe. Naturally gluten-free recipes are always my favorite recipes. No special ingredients required and this salmon is amazingly good! Really good salmon tastes like … hmmm, what's the highest accolade I can give it? nirvana? heaven? I'd rather eat salmon than chocolate. Seriously. I don't get it when people say they don't really care for it. (I know, I know … there are foods on your list I don't get either. LOL) Not withstanding the outstanding taste, everyone knows that salmon is full of health benefits.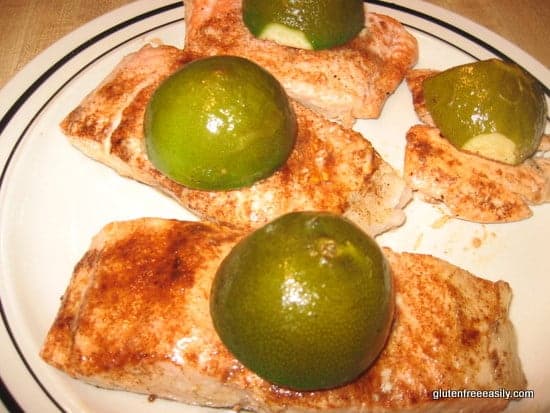 Of course, wild salmon is the best choice. Robin Sue just did a post on the Copper River salmon.  Boy, would I love some of that! (As far as the benefits of wild salmon versus farmed salmon, I'll refer you to Mark's Daily Apple for his discussion  on that topic.) I crave salmon and whenever I have some on hand leftover from my own cooking or a restaurant meal (salmon is something most restaurants easily prepare gluten free), I will eat it for every meal until it's gone. And, I eat every tiny morsel on my plate—it's way too good to waste. We are told salmon is a brain food because of the Omega-3's it contains (read more here) and I believe it! I actually feel like my brain has been fed after I eat it. I feel more awake, more alert, and just in a very happy state. 🙂
When Elana of Elana's Pantry posted her Chipotle Lime Salmon recipe, I knew I had to try it. So, I was very pleased to see salmon on sale when I went grocery shopping the following week. Salmon like most fish/seafood can be expensive. It definitely has a higher per pound cost than other main ingredients for entrees that we might eat more frequently (say chicken, for example). However, I've found salmon still to be a reasonable value for us because we are well satisfied with small portions. I guess that's because of the nutritional punch and flavor in each bite.
Elana's recipe called for very few ingredients besides the salmon itself: olive oil, sea salt, limes, and chipotle powder. Elana's motto is Simplify. Satisfy. and that she does! The recipe I used is essentially hers—the only changes I made were to replace the chipotle powder with cayenne pepper and to grill the salmon versus baking it. The results were absolutely fabulous! You have the basic goodness of the salmon itself and then the flavors of lime and cayenne.
By the way, if you've resisted cooking with limes and lime juice (as I had until a few years ago), just give it up. Now. I mean it! You are missing out on flavor that you didn't know was possible. We're not talking about an artificial tart lime taste that overpowers all the other flavors. Lime juice from fresh limes is not at all overpowering when used in fish and meat recipes. It adds incredible moisture and depth of flavor to the recipe. (If you've ever been in the Caribbean and marveled over the wonderful flavors of the seafood, meat, and vegetables, chances are lime played a main role in the dishes you enjoyed.)
The cayenne pepper I used in this recipe, balanced by the fresh lime juice, added just the right amount of flavor and "fire" to the lips and tongue. Cooking it on the grill resulted in a delightful smokiness, which also worked great with the cayenne taste. Even Mr. GFE (one who is usually in the "no-salmon-for-me, thank you" camp) approved. I especially loved this salmon cold for breakfast. (Okay, admittedly, I have a history with dishes eaten cold for breakfast.) I have since purchased some chipotle powder and will make the recipe using that next time. Try this recipe out, either with cayenne pepper or chipotle powder per Elana's original recipe. It's an outstanding entrée and the presentation is lovely and fun at the same time! (Note: I called this an "adapted" recipe when I originally wrote the post. I was very new to blogging at this time. "Adapting" a recipe is more than subbing in one ingredient or even changing two or three ingredients, or even slightly changing amounts. Adapting means changing the recipe quite a bit. Elana, now my friend, was very gracious about me sharing my "adaptation" so her recipe with my changes will stay here. However, please know that I no longer make one or two changes and call that my adaptation. Or if I do, I simply mention my changes and send you back to the original recipe. That is the proper thing to do when it comes to blogging.)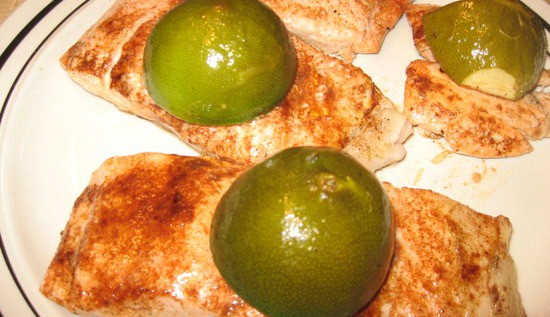 Cayenne Lime Salmon Recipe
Yield: 4 servings
Cayenne Lime Salmon (Naturally Gluten Free)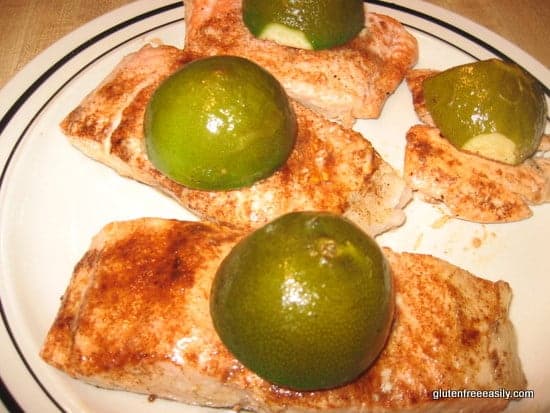 I can never get enough salmon! Here's a super easy, flavorful salmon recipe. Because it's a naturally gluten-free recipe, no special ingredients are required.
Ingredients
1 pound salmon, cut into smaller filets
2 tbsp olive oil
2 limes, sliced in half
1 tsp sea salt
1 tsp cayenne pepper
Instructions
Preheat grill to medium high.
Rinse salmon, dry, and place on plate.
Rub each fillet with olive oil.
Squeeze the juice from one half-lime onto each filet. (You may use less if your filets are substantially smaller.)
Sprinkle filets with sea salt and cayenne. Place lime pieces on top of each filet.
Grill thicker salmon for about 10 minutes, flipping once. (Per this site, "Salmon fillets and steaks need 4 to 6 minutes grilling time per 1/2 inch of thickness…2 to 3 minutes per side. If the fillets are over one inch thick, give them five minutes per side over direct heat, then move them to a cool part of the grill to finish cooking. When the salmon flesh flakes with a fork, it's done.")
Notes
Adapted from Elana's Pantry
Lemons … My friend, Steve of Gluten Free Steve (update:  that blog is no longer active; Steve now blogs at The Grateful Celiac), posted a recipe for lemon sponge cake that he made for Passover. You can read all about that here.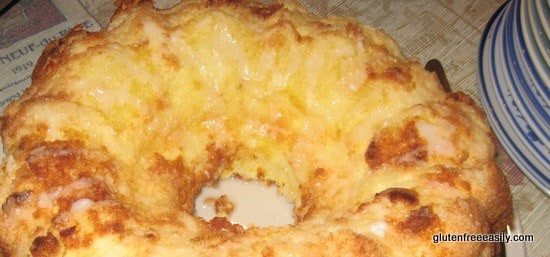 Lemonade … I've mentioned the Lemonade Stand award, the award for great attitude and gratitude, that sweet "Z" of Gluten Free from A to Z (two-for-one reviews of gf products, recipes, and more) and From This Point. Forward. (Z's other compelling blog about dealing with RA, other chronic illnesses, and life in general) bestowed upon me a while back. Then, dynamo Diane of The Whole Gang also gave me this same award (simply called the Attitude and Gratitude award at her site)  recently. I feel much gratitude indeed to these wonderful bloggers for this honor and their extremely kind words. In fact, the kindness and generosity of my fellow bloggers and my readers has me constantly at a loss for appropriate words of thanks, so I'll offer another simple one to you all now—thank you.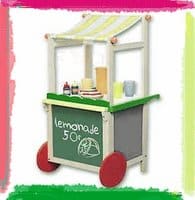 With summer here (unofficially) and our youngest support group members talking about setting up a real lemonade stand at our farmers market, now is finally the time to pass that award on to others. The rules say that the award should be passed on to five blogs that demonstrate "great attitude and gratitude." Here are my latest five (in no particular order), and these awards are also guilt free easily. That's another gfe and a phrase my friend, Nance, coined … no need to display the award or anything else—just thanks for your great blog! Note: Not all of these blogs listed below are gluten free, but they are all terrific and provide great value in some form. And, FYI, I highlighted 15 other worthy blogs earlier. You can check those out here.
Gluten-Free Girl—I haven't given Shauna an award before, because I feel a bit silly doing so. She already gets a lot of awards and press from bigger fish in the sea than me—all of which she totally deserves. For many of us, hers was the first gluten-free blog we discovered and we've since been loyal readers. Her current book (which has the same name as her blog) conveys the very message of great attitude and gratitude. Shauna is an excellent writer who shares stories that speak to us all.
The Celiac Husband—H.Peter started his blog to publicize his wife's, Victoria's, gluten-free bakery in Calgary, Alberta—GF Patisserie. Their daughter, Lauren, also creates and bakes there with Victoria. H. Peter posts frequently, often briefly (a skill I sometimes envy!), and one never knows exactly what he'll be writing about. Of course, he writes about the GF Patisserie, but he also writes about restaurants, markets, travel, gluten-free news, and items of particular interest to him—like chocolate (one of his passions!) and antiques. I entered the Frommer's sweepstakes each day in May trying to win a free trip to Calgary, but since it's now early June and I haven't heard I guess I didn't win—rats!!! I'll just have to wait a little bit longer to eat one of those decadent GF Patisserie cream puffs. If you visit Calgary, stop by and enjoy some of GF Patisserie's wonderful gluten-free baked goods. (BTW, Calgary is an area I highly recommend for a visit—I even know the perfect tour guide there—Paul Armstrong of Lone Wolf Tours.) In the interim though, you can visit H.Peter's blog.
IrrEATable (this blog is no longer active)—Like many of us, Matt is on his own quest to find good health. His blog's name is a take-off on the digestive issues he's experienced and his knowledge and passion for quality food. He found my blog online and we've stayed in touch ever since. Ironically, we discovered after chatting via email that Matt used to live about 15 miles away from me when he attended my alma mater. However, Matt lives in New England now. His blog highlights various concerns related to our food as well as the positives of growing one's own. I always learn something when I visit his site and, similarly, his posts make me think about things.
Anali's First Amendment (now Anali's Next Amendment)—Anali gave me my first award, the Premio Dardos award. I had found her blog via my friend, Nance (at one of her blogs—my fave is The Brian Williams Tie Report). Anali and her blog are a lot of fun. She is both an attorney and a freelance writer. Her sweet, outgoing personality comes through in her great recipes, photos, restaurant reviews, a love of her Quincy community (outside Boston), info on national and local events, etc. Her blog is a very enjoyable and informative read and often that's just what I am looking for!
Big Red Kitchen—Robin Sue is just a delight! She's a great cook and clearly, per her blog's name, great food is usually what she's focused on. There's always more neat stuff that's worth checking out on her blog, too. But, I've particularly enjoyed a couple of her food-related series, like Car Picnics and Eating a Rainbow. The Car Picnics series was initiated by a plea from a mother whose family was being run ragged by after school sports and academic activities. (Can anyone relate?) This mom wanted some real help with preparing healthy meals under those circumstances. That request inspired Robin Sue to do a six-part series on the topic. While the series was not focused on gluten-free options, there was still a lot of information that would be work or could easily be adapted for everyone. Check out the initial Car Picnics post here with additional links to the other posts in the series below.
Finally, in an unrelated, but still delicious, note, Ali at Nourishing Meals just posted a recipe for a fabulous gluten-free chocolate cake made using pumpkin seed flour. How cool is that? Hmmm, I wonder what pumpkin bread made with pumpkin seed flour would taste like …
If you are wondering, this is the longest, most "linked" post I will ever write … I promise! Okay, not really. I love sharing the good stuff!