For affiliate links and as an Amazon Associate I earn from qualifying purchases.
First things first … Mr. GFE says that it's really not accurate to call this a pizza. I will continue to call it popover pizza, specifically gluten-free Popover Pizza with Baby Bellas and more. But I'll add the disclaimer that some folks call it a pizza "casserole" and others call it "upside-down pizza."
I've been making this recipe for years, so I think Mr. GFE's comments "stemmed" from this particular version of this pizza—a vegetarian one—not the popover pizza in general. And, the fact that I added caramelized onions might have put it over the top for hubby.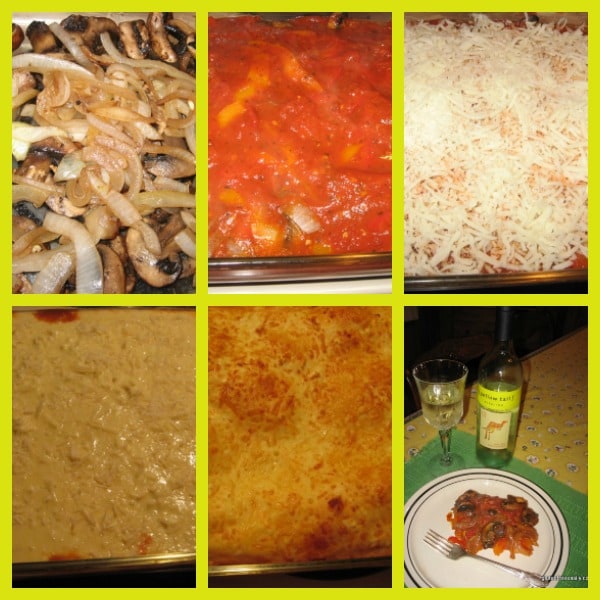 Another factor might have been that the cheese does not stand out in this recipe. It plays an important role in holding the ingredients together, but you don't get that super "ooey gooey" texture that's sometimes present in pizza dishes. The vegetables and sauce are definitely front and center, supported by the very nice popover crust.
About the popover factor … loyal readers already know that I am a self-confessed popover lover. 🙂 Early on in gfe's history, I shared my recipe for popovers as my favorite gluten-free "bread." Then, I posted the recipe for the fabulous volcano pancake, which is the equivalent of a popover in pancake form. Now, I'm sharing popover pizza. (Look at the photo below of it right out of the oven to see the popover effect! Ignore the slight "leakage" of the sauce.)
This is a recipe that's all over the web. I just adapted it to be gluten free. Usually, I make it with ground beef (or ground venison) as the "topping." But, this time I wanted to use mushrooms for Diane's Friday Foodie Fix at The Whole Gang.
I could have just added mushrooms to the meat sauce mixture I generally use. However, because I was going for a real veggie taste, I skipped the meat and along with the mushrooms added caramelized Vidalia onions and yellow and red sweet peppers. The results are a sweeter version punctuated with the meat-like flavor of the baby bellas.
It's important to note that the dough of this popover pizza will taste significantly better and allow for an easier, "prettier" flip if it is allowed to cool/set up for several minutes. A 10 – 15 minute wait works well. However, at our house, we can't always wait that long. Sometimes we don't get to appreciate that fact until we cut our second piece of popover pizza!
I gave this version the ultimate test by eating a piece cold for breakfast. It passed with flying colors! I will make my traditional version for Mr. GFE one day in the future and will share it with you all then. Plus, I'll be sharing my flourless pizza recipe soon (you won't believe that this pizza contains no flour). (Update: Here is my Flourless Pizza recipe.)
For now, I hope you'll enjoy this popover pizza with baby bellas, caramelized onions, and sweet peppers. Here are some step-by-step photos that show you how easy it to make this recipe. As always, feel free to modify the ingredients to what you have on hand and to your liking … that's really what being gfe and being happy in the kitchen are all about!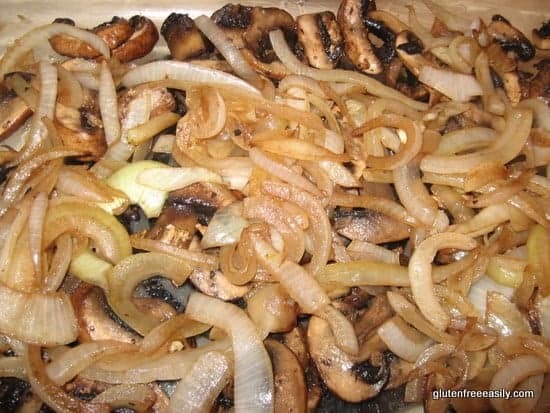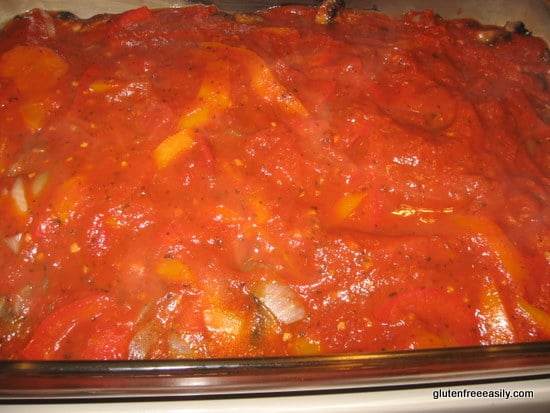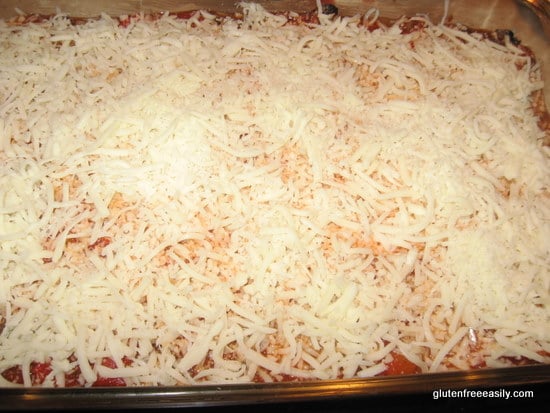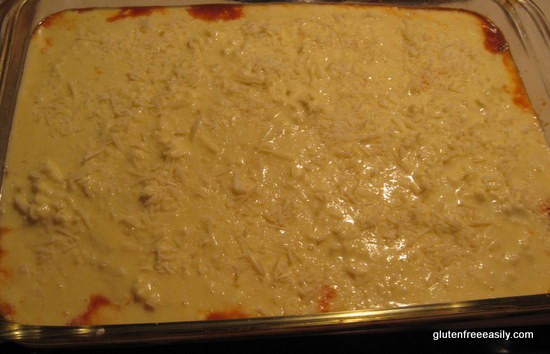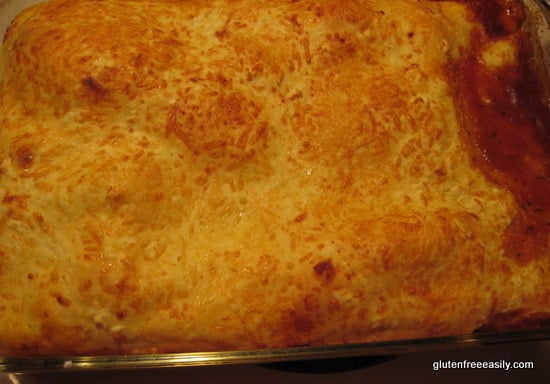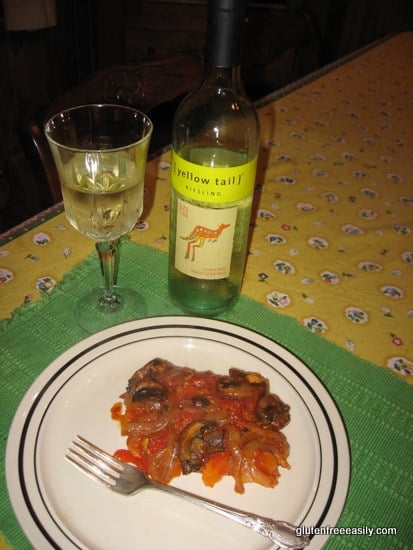 Yield: 6 to 8 servings
Gluten-Free Popover Pizza with Bellas, Onions, and Peppers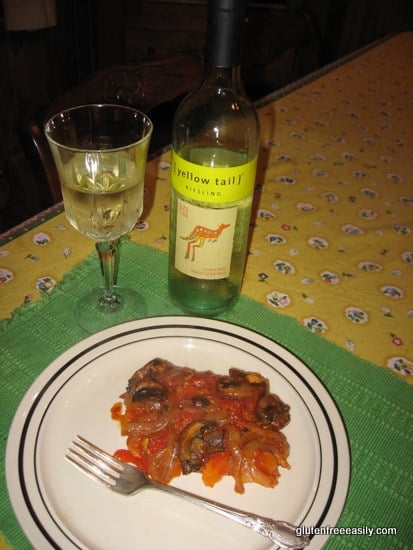 Ingredients
6 ounces of Baby Bella (portabello) mushrooms---cleaned, sliced and cooked
2 Vidalia onions---thinly sliced and slightly caramelized
sweet pepper slices---sauteed a few minutes
small amount of oil (for sauteeing and caramelizing onions)
pinch of granulated sugar (for caramelizing onions)
1 tsp balsamic vinegar (for caramelizing onions; use slightly more if needed)
1 jar spaghetti/pasta sauce (I used a 24-ounce jar of Bertolli organic this time---olive oil, basil, and garlic—but I've tried many different mainstream gf sauces, all with great success)
2 cups (8 oz) shredded mozzarella
2 eggs
1 cup milk
1 tbsp vegetable oil (I used olive oil)
1 cup gluten-free flour mix (I use my Two-Ingredient Gluten-Free Flour Mix)
½ tsp xanthan gum (omit if using a gf flour mix that contains xanthan gum)
¼ tsp salt
½ cup grated Parmesan cheese
Instructions
Grease a 9 x 13 inch Pyrex baking dish.
Saute mushrooms in a small amount of vegetable oil until they release their liquid. Drain and place in single layer in baking dish.
Saute peppers in remaining liquid for about two minutes; add a little vegetable oil if needed. Remove peppers with spatula or slotted spoon and add in a layer to baking dish over mushrooms.
Slightly caramelize onions by sauteing on medium heat until translucent, then adding a pinch of sugar and one teaspoon of balsamic vinegar and cook until browned and fragrant (a few more minutes). Remove onions with spatula or slotted spoon (so all liquid is left in pan) and layer onions on top of peppers and mushrooms.
Heat sauce in skillet bringing to a simmer, then pour over veggies. Sprinkle with mozzarella cheese.
Beat eggs, milk, and oil until foamy. Add flour mix and salt, and beat until smooth. Pour batter over sauce/veggie mixture, spreading evenly. Sprinkle with Parmesan.
Bake at 400 degrees for 30 minutes or until the top is puffed and golden brown. Cool a few minutes and then cut into squares, flipping as you place on plate.
Notes
Because these particular veggies produce a lot of liquid when cooked, I decided to cook them beforehand to ensure that I wouldn't have too much liquid in the recipe. I added the leftover liquid from my skillet to my freezer container for future use in Everything Soup. I had a little too much liquid initially as you can see from the next to the last photo, but once the pizza cooled, the little bit of extra liquid was absorbed and it was not a big deal. However, I had cooked the peppers with the sauce, and I think they provided the liquid, so I modified the instructions to show sauteeing the peppers separately to prevent any extra liquid.
Originally published June 6, 2009; updated April 2, 2021.