For affiliate links and as an Amazon Associate I earn from qualifying purchases.
Last weekend, we headed to our mountain property as planned. Saturday arrived bright and beautiful. There's a point along our route, about a third of the way there, where you can see the mountains if it's a clear day. When we reached that spot, you could see them in the distance. We exclaimed in unison, "Look!"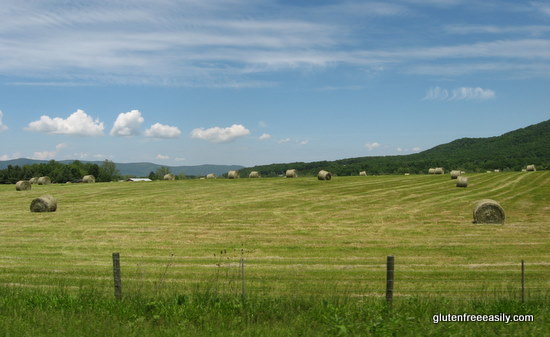 The views along the way were absolutely fabulous that day and I'm sharing a few here. These are some of the scenes we see repeatedly whenever we head to our property—always comfortingly familiar, yet ever changing.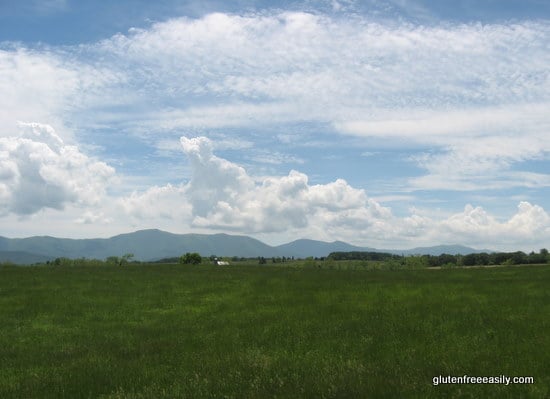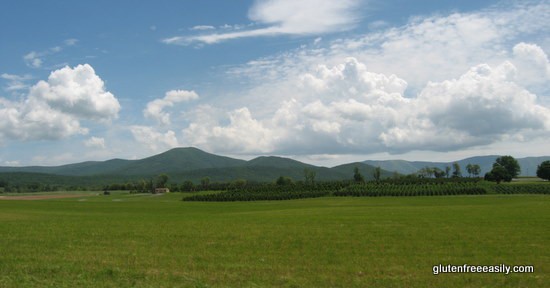 We weren't quite sure what to expect when we actually got to our place. How tall would the grass be? Would our dock still be there? Would there be any other surprises? (With property 2 hours away, there are often surprises.) We had been up for the day about a month earlier (as I shared before). On that visit, we'd discovered our small dock had broken free of its "secure" line. High waters had floated it upstream before it settled slightly askew near the neighbor's shore. We weren't prepared to retrieve it that day, so we'd left it as it was and kept our fingers crossed that despite more spring rain it would still be there when we returned.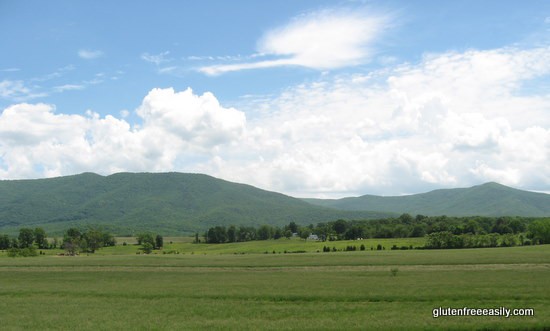 My weekly checks of the website showing daily river levels indicated that the water level had risen to 8-foot levels the week before Memorial Day. (Normal summer levels are only about 2 feet.) So, we wondered about our dock. I didn't see it immediately upon our arrival, but my husband spotted it several lots down (or more correctly up, as the Shenandoah flows north). It was lodged against some trees and debris. While I was thrilled to see it, trapped and waiting for us, inwardly, I groaned because I couldn't see us tackling its rescue very easily.
I had already run through the possible scenario in my head on the way there … pulling the dock to shore and laboriously carrying it back through brush over uneven ground for several lots before we could return it to its proper place. But, hubby had another plan.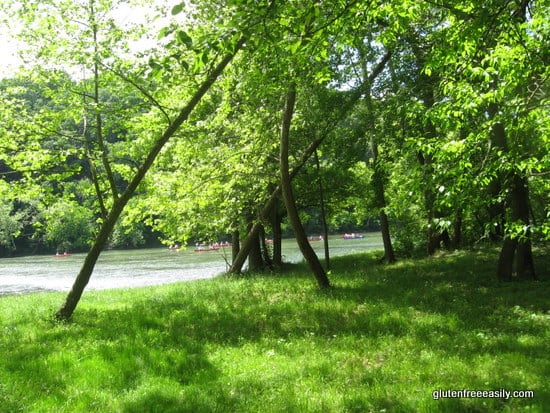 About halfway through mowing the grass (which wasn't too high, thankfully), he donned his swimming trunks and waded into the cold water. When he reached the dock, he "manhandled" it enough to flip it over to allow it to float like a raft. Then he walked back, steering it, until he was able to flip it again and return it to its proper spot.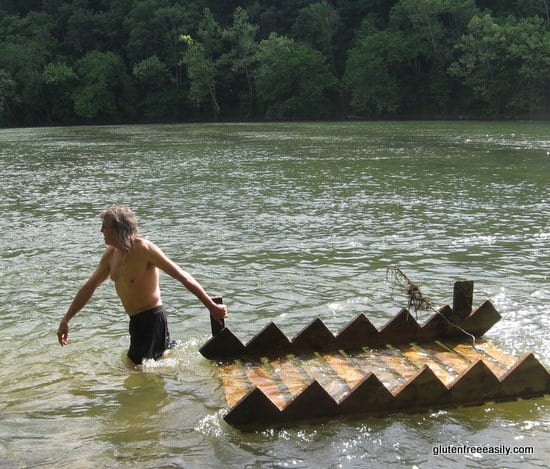 His was a simple plan really and it worked beautifully. I was proud of his ingenuity, which is really to say I was proud of his common sense skills. He really just used what the "tools" at hand—the water, the flat surface of the dock, and his muscles. He worked with what he had. He didn't need another person (or a crew), he didn't need some special tool, like a "come along" winch system to haul it to shore … he just needed to consider what was already available to see if he could achieve the result he wanted and needed, and then go from there.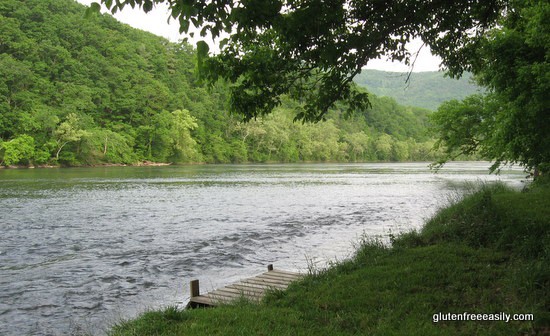 Incidentally, we did get another great surprise! Right above our clothesline, downy woodpeckers had drilled a nice-sized hole in a fragile tree to raise a new family. Mama and Daddy worked non-stop during the day to keep them fed. The only time the babies stopped their squeaky chorus was when they were being fed or sleeping.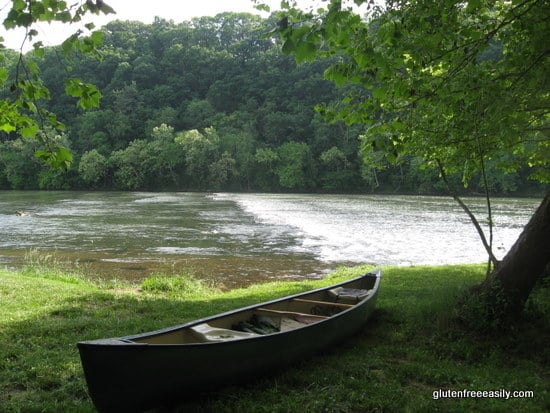 It was quite entertaining. When I had free time, I positioned myself in my chair with my camera. I got a few good shots, and while this is not the best one, it's the only one that shows the mama and the babies.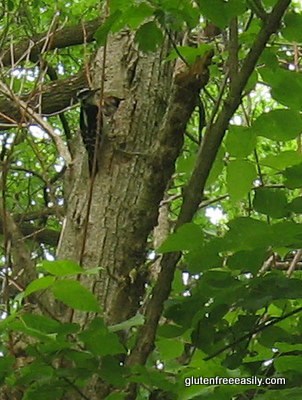 We'd actually hit another bit of a snag right before leaving the house … my all-important camping list was nowhere to be found. So, we both worked from memory quietly packing up the items that we've come to learn we should have on hand.
My main focus is the cooler and the food box. Other than a stop for ice, I didn't want to have to pick up any groceries along the way. I threw in some russet potatoes for baking, several apples, a few pears, two different kinds of almonds, and some cashews in the food box. Then I turned my attention to the cooler. I'd gotten two artichokes the week before—a requirement for our camping trips—so in they went. A frequent lunch while camping is all-beef hot dogs, so I added a half package of those (more than what we needed, but I'd save the "leftovers"). I had some boneless chicken breasts (a package of 3) in the freezer, so I pulled those out for our dinner.
An old favorite of mine is called marinated chicken breasts. It came from a magazine like Family Circle or Woman's Day many years ago—not sure which, because I wrote it on a recipe card at some point and tossed the clipping. The recipe is so simple. It calls for one cup of barbecue sauce and ½ cup of Italian dressing. You just combine the two into a marinade and pour over chicken breasts, marinating for an hour or more. (Of course, ensure any pre-made products are gluten free.) Then broil or grill. I don't buy Italian dressing any more because it's just as easy, less expensive, and healthier to come up with one's own concoction. This time I had leftover "dipping oil" from our support group meeting last week.
One of our younger members, Tara, had shown up beaming with some terrific gluten-free bread sticks that she'd made. Her mom suggested we make a dipping oil when they arrived. Mild olive oil mixed with pizza seasoning (oregano, basil, garlic, marjoram, red pepper, thyme, and savory) had worked just fine.
There was just enough of the oil leftover to substitute for the Italian dressing in the chicken marinade, so I added it to a glass jar with Kraft's original barbecue sauce. (While Kraft is not terribly impressive for a sauce by itself, it can be a good sauce to keep on hand and enhance via a recipe like this one. However, I did just realize it contains high fructose corn syrup—ugh. Still gluten free, but next time, I'll probably just make my own barbecue sauce.) Once we got to our property, I cut the chicken breasts in half with my kitchen shears, placed them in a Ziploc bag, and poured most of the marinade over them (reserving some in the jar for later in the barbecuing process).
By the time we were ready to cook dinner, the breasts had marinated (and thawed at the same time) for several hours. Then I just grilled them, adding a small amount more of the sauce about the last 10 minutes of cooking. These are really some very moist and flavorful chicken breasts. In general, boneless chicken breasts can be much drier than bone-in breasts, but not when marinated this way. I've actually documented this easy process in my Zesty Italian Barbecue Chicken recipe.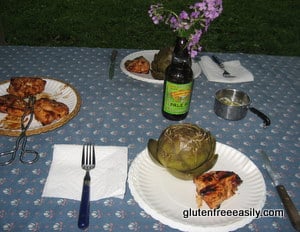 As for my baked potatoes, apparently I didn't stab the potatoes enough prior to wrapping them in foil and/or we didn't have sufficiently hot coals in our fire pit. When the chicken and artichokes were ready, they were not. However, this was no biggie to me as I had other plans for them. We left them in the fire while we enjoyed our chicken and artichokes. That meal was plenty, really.
After eating, we pulled the potatoes out of the fire, let them cool, and then placed them in a container in the cooler. I had already decided they'd be part of our breakfast the next morning. I'd actually cooked three potatoes. If we'd eaten two of them for dinner, I would have still had one for breakfast. My original plan was to use them to make either hash browns or chicken hash. I was playing it by ear, depending on how much we had leftover of each.
We ended up with one and a half chicken breasts left and the three potatoes. There was also some butter I'd reserved from the mini-sauce pan that we'd used for dipping the artichoke leaves and the hearts. So the next morning, I chopped the potatoes into reasonable-sized chunks, added the "recycled" butter, a little olive oil, sea salt, and some cayenne pepper and grilled until the potatoes were getting a crispy golden brown. Then I added the leftover chicken, which I'd coarsely chopped. This chicken hash made a wonderful, hearty breakfast. It would have been even better if I'd remembered to bring an onion! (Onions were on the missing list!) The leftover chicken hash even became dinner once we returned home. Hash is a very easy, versatile dish. It can also be made with leftover bits of hamburger, steak, roast, or ham. You can add in green onions, peppers, or whatever appeals to you. Check out my Heavenly Hash Browns recipe.
Both the grilled chicken dish and the hash are examples of meals that are naturally gluten free or can be made gluten free easily—gfe! They are the food equivalent to "some assembly, but no special tools required." Looking for similar ideas? Click here for a PDF file of 50+ meals that are gfe. (This listing will also always be located under the tabs under my heading, in this case, you should click on gfe printables.)
The grilled chicken dish would come under item #21 (or #2, for just barbecued chicken). That's one of the areas highlighted to indicate there are just so many possibilities in that category. Hash is item #23. As shown, you don't even have to necessarily use your own potatoes (Ore-Ida has many gluten-free options), but I promise you making hash browns or hash is very easy and economical. Anyway, I bet you'll find some favorites on this listing.
As you'll see noted, some of these meals will require slight adaptations to be gluten free. For example, if frying something like chicken or liver, you'll obviously need a gluten-free breading. If making meat loaf, your ingredient that provides the filling or binding will have to be gluten-free. If you like using bread to make your meat loaf, use gluten-free bread, or try an alternative (e.g., Parmesan cheese, certified gluten-free purity protocol oats, almond flour).
Or, simply skip the filler. I've made my meat loaf with no "filler" many times and it's been just fine. (I do like to make a pretty tasty topping for it though.) Some of the meal ideas on this listing have been featured here on gfe already (e.g., crustless quiche, oven-steamed shrimp, jambalaya, soups—everything soup, baked potato soup, vegetarian chili). Do a search or look by category here at gfe, and, of course, you can anticipate many more of these recipes in the future. 🙂
This printable/tip sheet, 50+ meals that are gfe, and most of the other tip sheets come back to the basic premise of using what's available to you for food to make simple gluten-free meals and live gfe. Just as my husband demonstrated with his dock rescue effort, no special tools are really required. Simply use common sense and don't make it harder than it is.
I ramble on a bit in my posts to show some of you folks who are new to eating gluten free (and some of you new to cooking as well) the thought process I go through. I want to show you that you can make a great meal with few ingredients at any time. You won't see extensive planning, lists of exotic and/or expensive ingredients, and recipes that merit the label "difficult," here at gfe. It's just not necessary.
Last, remember my apple pie for mom on Mother's Day? Well, you can find the whole Go Ahead Honey It's Gluten Free roundup of fruit recipes for this month over at Emilia's Gluten Free Day blog (unfortunately, this site is no longer active).
I'm actually hosting for July … something to look forward to, but I'll wait until the appointed time to announce my theme. Thanks to the clever and generous Naomi of Straight Into Bed Cakefree and Dried (unfortunately, this site is now private) for this wonderful blog carnival that she's had going for quite some time now!
Shirley
Not just gf, but gfe!
Originally published May 31, 2009; updated May 21, 2021.