For affiliate links and as an Amazon Associate I earn from qualifying purchases.
With Labor Day weekend here—and perhaps many of you getting in another cookout or barbecue event—I thought it was time to finally share this recipe for gluten-free Zesty Italian Barbecue Chicken with you all. I've mentioned this three-ingredient recipe in passing before but I've never devoted a post to it.
Until today! The timing seems right as we're now officially celebrating what we usually consider to be the last official weekend of summer.
While fall doesn't start until September 22, Labor Day weekend is considered the end of summer because by Tuesday all the children will be back in school. Our local county schools started 2 weeks ago and so did a few other area school systems but all will be "back in business" next week.
We had hoped to be camping once again at our mountain property this weekend but the weather forecast nixed that so we will grill and cook at home instead!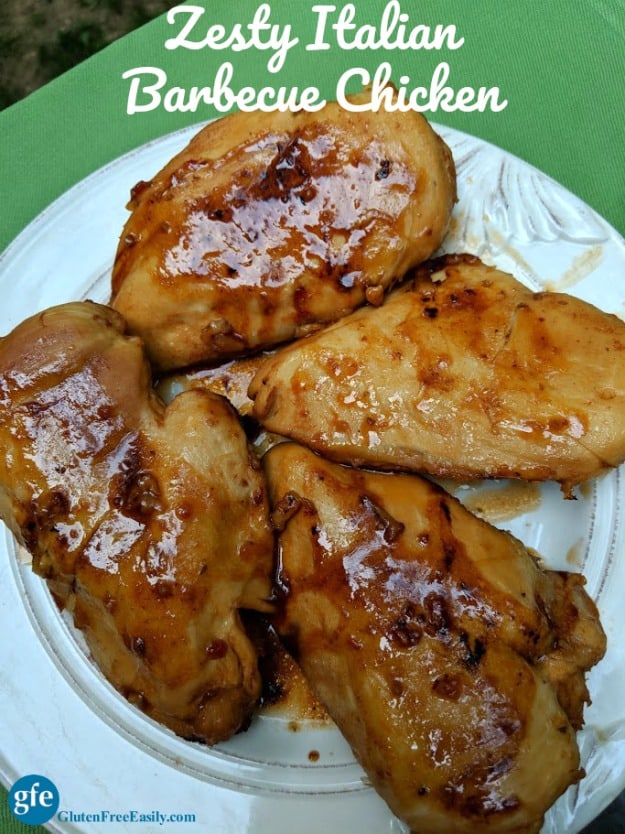 I've literally been making this three-ingredient recipe for gluten-free Zesty Italian Barbecue Chicken for decades. The ingredients I've used have actually always been gluten free.
Remember that focusing on foods that are naturally gluten free—and recipes made from those foods—is the main focus of the gfe approach. It's the simpler, easier, less expensive, and healthier way to live gluten free.
Plus, these are the recipes that the whole family will love because there's no need to adjust to new ingredients (which often also means new textures). They're simply eating what they've always eaten while you and other gluten-free members are as well—all while eating safely.
This recipe is simply chicken, barbecue sauce, and Italian dressing. You mix the barbecue sauce and Italian dressing and then marinate the chicken in the mixture before grilling or baking.
Because this gluten-free Zesty Italian Barbecue Chicken is full of flavor and the chicken stays moist and tender, one might think it is a complicated and difficult-to-make recipe but it isn't. Not at all.
As most of us know, all too often barbecue chicken ends up being overcooked, dried out, and chewy versus moist and tender. The latter means you end up with attractive and delicious chicken; the former does not.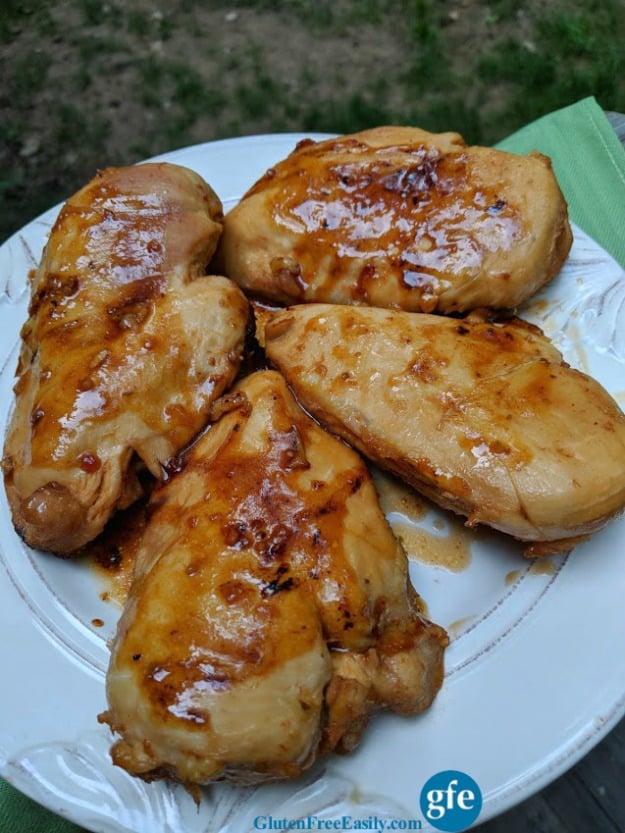 I don't remember where I got this recipe. Perhaps it was on the back on a bottle of barbecue sauce. Perhaps it was on the back of a bottle of Italian dressing. Perhaps it was in one of the many spiral-bound cookbooks from past churches or local organizations that I own and love so much.
Now you can find this recipe and variations everywhere online. Sometimes the amount of barbecue sauce and Italian dressing are the same. Sometimes more Italian dressing than barbecue sauce is used.
I prefer equal amounts of barbecue sauce and Italian dressing. Specifically, a cup of each.
The two cups of marinade can actually marinate a fairly large amount of chicken. As you can see by the photos, I marinated four very large chicken breasts.
Note that you can use "ready-made," store-bought versions of barbecue sauce and Italian dressing or you can make your own. I've made this recipe with ready-made sauce and dressing and homemade versions of each and the results are always just as tasty either way. (I tend to use homemade versions when I don't have ready-made versions on hand.)
At home, I make this gluten-free Zesty Italian Barbecue Chicken in the oven. When we're camping, I cook the chicken on the grill. Again, it's terrific either way. I hope you'll think so, too!
Yield: 4 servings
Zesty Italian Barbecue Chicken (Gluten Free)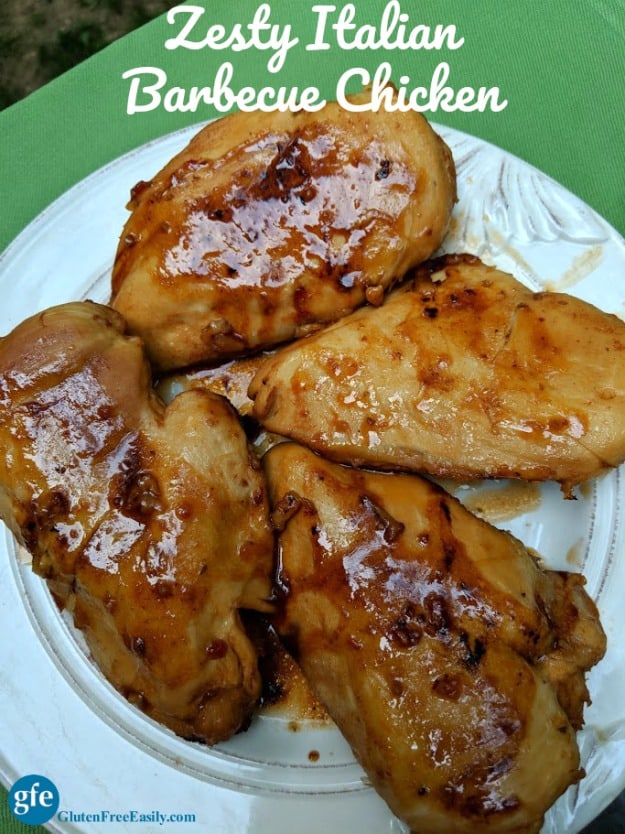 This Zesty Italian Barbecue Chicken is made from only three ingredients and one of them is the chicken. Very easy and naturally gluten-free recipe with delicious results!

Prep Time 5 minutes

Cook Time 30 minutes

Inactive Time 1 hour

Total Time 1 hour 35 minutes
Ingredients
1 cup gluten-free barbecue sauce (ready-made or homemade)
1 cup gluten-free Italian dressing (ready-made or homemade)
4 chicken breasts or other chicken pieces (boneless or bone-in)
Instructions
Combine barbecue sauce and Italian dressing in a large Ziploc bag or 9 x 13 baking dish.
Add chicken. Turn bag or pieces of chicken in baking dish until pieces are covered with marinade. Marinate for a minimum of an hour or as long as overnight.
When ready to cook chicken, if grilling, preheat grill to Medium-High or if baking, preheat oven to 400F degrees.
Discard most of the marinade. Just leave enough on chicken breasts (or other pieces) to coat them.
Grill or bake chicken until done, turning halfway through. If using large breasts, cooking may take about 15 minutes (or more) on each side. Smaller boneless breasts (or halved large breasts, which is what I often use) and other smallish pieces of chicken may only take about 10 minutes on each side.
After cooking, spoon some of the remaining sauce/drippings over chicken before serving (or storing in refrigerator if there are leftovers).
Notes
Some like to poke holes in the chicken pieces before marinating. I don't usually do that but you may decide to do that if you aren't able to marinate your chicken for a very long time before cooking as it will help "infuse" the chicken with the marinade.

Because I like my chicken a little more grilled/more cooked on the outside, if I'm baking the chicken, I drain off some of the combined sauce and drippings before the last 10 minutes of baking time.

When I know I'm going to make this recipe while camping, I place the chicken in the marinade in a Ziploc bag or a large Tupperware container and then place that in our cooler until shortly before grilling time.

Originally published September 1, 2018; updated November 28, 2021.