For affiliate links and as an Amazon Associate I earn from qualifying purchases.
Today I'm sharing gluten-free Baked Potato Soup but first I want to talk about snowdrops and snow. We have a flower bed beside our patio. Only three types of flowers grow there throughout the year.
From April to October, the bed is filled with impatiens. They are the "standard issue" impatiens and the colors vary by what's available each year. We plant impatiens not because they are our absolute favorite flower, but because of their easygoing nature. Our house is in the woods and we need flowers that are tolerant of both full shade and low maintenance. 😉 Impatiens fit the bill, and by the end of the growing season, their showy display is impressive.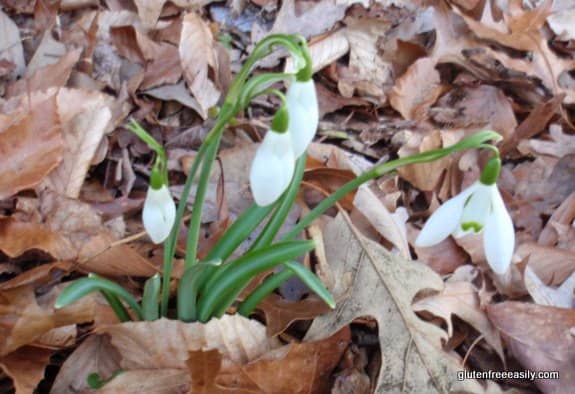 However, during the late fall and winter months, this particular flower bed looks pretty sad and lonely. The fact that this bed is right beside my immediate "at the ready" firewood supply for the woodstove does not help at all … as the errant log and large sheaths of bark often find their way into the bed. The upper floor of our house is T-shaped and the patio is actually the space under the base of that T. It's also right outside our den where our woodstove is located. (I designed our house with the openness we wanted and the ease of heating with wood foremost in my mind.)
Mr. GFE keeps me well supplied with wood, which often means the wood is stacked a good 3- or 4- feet high between the columns that frame the patio. For months, I don't usually even see the flower bed unless I go wandering into that part of our yard and woods, perhaps checking out something that the cats are up to.
Right before Valentine's Day, I walked into our woods down the hill from the patio to empty our chinchilla's cage of its shredded pine bedding. Admittedly, it's a task I often relegate to Mr. GFE when he's out in the yard refilling the bird feeders, but this time I was working on my "to do" list for our Valentine's Day party and the timing was off to make it one of his collateral duties.
Coming back up the hill, I was rewarded by the lovely sight of more than a dozen snowdrops in the flower bed. I stopped and smiled and thought, yep, it's that time again. Every single year, without fail, I am joyfully surprised by the appearance of snowdrops. 🙂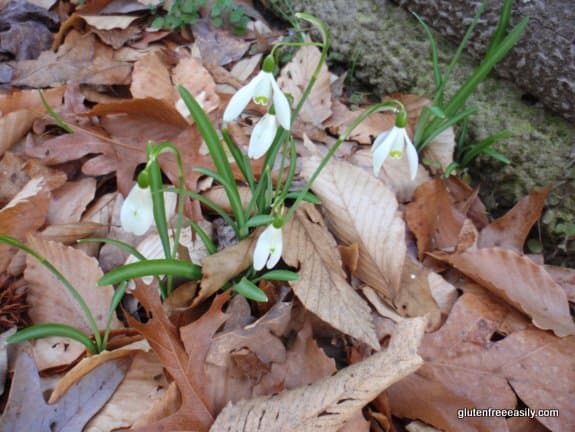 Snowdrops are aptly named because they show up at the time of year when snow is still in the forecast and they are often seen peeking through snow. When you are dreaming of seeds and bedding plants in a few months and your only expectations of fresh flowers are from the florist, suddenly, there they are for you. Their appearance always seems kind of magical.
Today's forecast is for several inches of snow. So, this morning out of curiosity, I purposely stepped around our firewood "fortress" to see how many snowdrops remained. I saw three and they looked as pretty as ever, no worse for the wear from the rain and sleet of the last 24 hours. One was actually outside the confines of the flower bed—on its way down the hill—but still standing proud and pretty. (Its errant location was a nicer reminder than the stack of landscape timbers off to the side of the patio that we need to re-do the flower bed as the timbers have fallen away due to gravity and time.)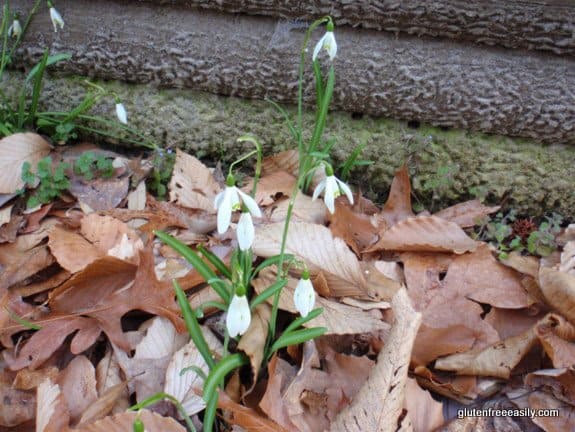 The funny thing about snowdrops is they look so delicate and fragile to me, much like lilies of the valley in their fragility and whiteness fringed with green. I wonder how they can survive the cold and snow and remain so intact and beautiful. Yet they do, year after year. Best of all, they are another sign that spring is coming. When my prolific blue star flowers (sometimes called Star of David flowers), the third type of flower that graces this bed, follow in a few weeks, I will know for certain winter is behind us.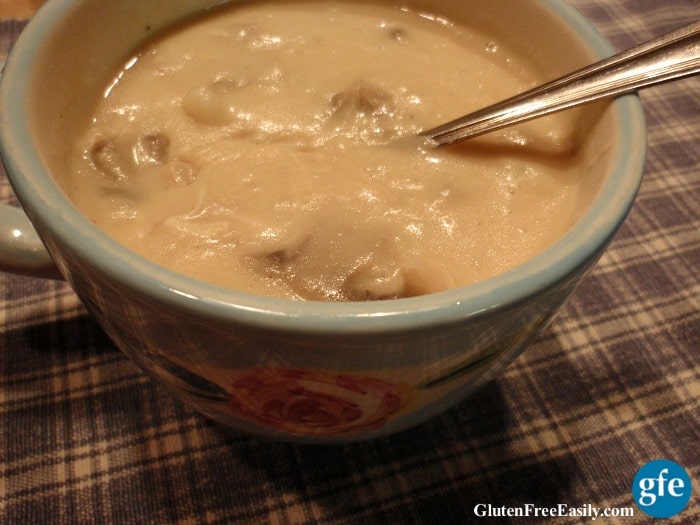 However, today winter remains and with the snow soon to make its appearance here, a suitable dinner is needed. You guys already know I'm a soup kind of girl! Suited to a snow day as the snowdrop is, is a hearty, flavorful soup. What kind of soup recipe do I turn to when I am otherwise occupied (e.g., doing taxes today) and don't plan to be in the kitchen enjoying the soup "process," as I do with my Everything Soup? Well, I have a couple of quick soup recipes I rely on … like this hearty Baked Potato Soup recipe.
It was shared on the personal finance blog, Get Rich Slowly. (I am nothing, if not a girl of many interests.) The site originator's now ex-wife, Kris, is the mastermind behind this very simple and easy, yet wonderfully tasty soup. It's pretty frugal (always important, but especially appreciated these days) and it's made from ingredients that almost everyone has on hand.
That latter fact makes any recipe a winner for me, but especially on a snowy day. (The snow just started coming down!) After all, you don't want to go to the grocery store and face the "snow is coming and, oh, no, I might run out of TP, milk, bread, or junk food" crowds, do you? I didn't think soooo! (Of course, that might only be in Virginia where that particular phenomenon occurs. Do tell.) Finally, this recipe is naturally gluten free, so it's GFE! Love that, and love this soup!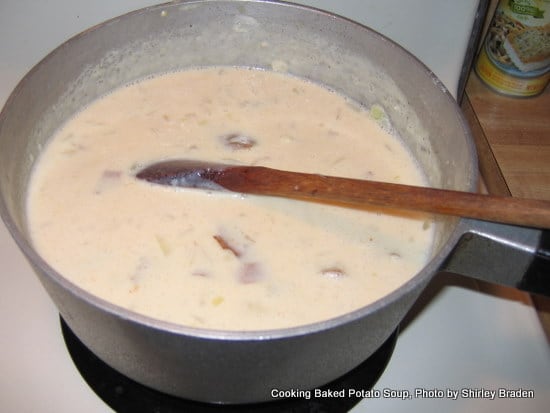 Do you have a food or recipe that you call on when snow is imminent or already falling? One that warms your body and your soul perhaps. Tell us about it. Perhaps you have your own "must have" gluten-free baked potato soup recipe … we'd like to hear about that, too!
More Chowder and Soup Recipes You Will Love
~ Bacon Chicken (or Turkey) Corn Chowder
~ Egg Flower Soup (aka Egg Drop Soup) for One
~ Pennsylvania Dutch Rivel Soup (be sure to use the gluten-free option)
~ Slow Cooker Potato Zucchini Soup
Gluten-Free Baked Potato Soup Recipe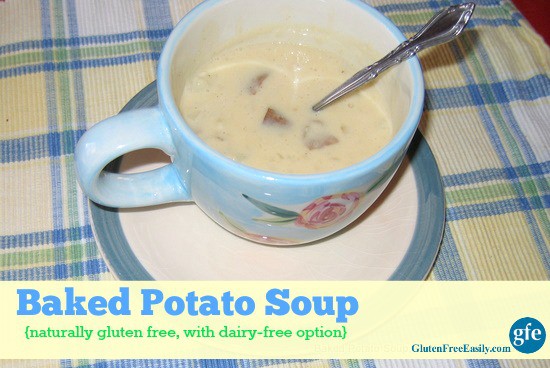 Yield: 4 servings
Gluten-Free Baked Potato Soup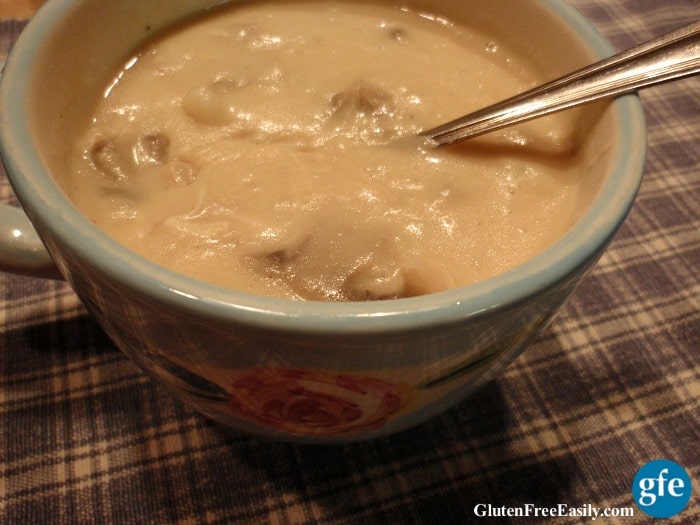 A total comfort food soup recipe that comes together very quickly. Even guest worthy. I often make this soup for friends who are in need of special meal delivery.

Prep Time 2 minutes

Cook Time 25 minutes

Total Time 27 minutes
Ingredients
3 large russet potatoes, cleaned (but not peeled), skins pierced 3-4 times with a fork (you can use about 6 smaller potatoes, and I've used white potatoes before also; with a large crowd you can use a large stockpot and double the recipe)
1/4 cup butter (dairy or non-dairy)
1 small yellow onion, chopped
2 cloves garlic, minced
1/4 cup gluten-free all-purpose flour (I used my Two-Ingredient Gluten-Free All-Purpose Flour Mix)
2 cups gluten-free chicken broth (or vegetable broth for vegetarian/vegan)
12 ounces evaporated milk (or dairy-free milk; full-fat canned coconut milk is my favorite but almond milk also works well)
2 tsp seasoned salt
Optional toppings: shredded cheese (dairy or non-dairy), diced ham or crumbled bacon, chives or scallions, Tabasco sauce, Sriracha sauce, gluten-free croutons
Instructions
Microwave the potatoes 8-9 minutes until baked through. Set aside to cool slightly.
Melt the butter in a soup pot over medium-high heat and add onion.
Cook 6-7 minutes until softened.
Add minced garlic and cook 30 seconds, until fragrant.
Add flour and stir constantly a few minutes to make a thickened roux.
Gradually stir in evaporated milk and broth.
Scoop the pulp from one potato, mash it slightly and add to soup.
Cook soup on medium and bring to a boil.
Add seasoning salt (to taste).
Dice the remaining two potatoes and empty skin of the third potato.
Add to soup, stir, and heat through.
Notes
Makes about 4 servings. It will stretch further if it's not the main course.

Serve alone, with GFE popovers or my cornbread, or other favorite bread or crackers. (Check out A Bountiful Bread Basket series for more wonderful gluten-free bread recipes from my blogger friends.)

This recipe is also great to turn to when you have a couple of potatoes in your pantry that will soon be sprouting offspring (if enough dirt gets thrown their way!). It's very well received when shared with others, too---it looks very appealing in a canning jar. If you've always shied away from potato skins in recipes, don't this time. The skins give a nice heartiness to the soup and add more nutrients as well.

As noted, this soup can be made dairy free using a dairy-free equivalent for butter/margarine and a dairy-free milk, like almond milk or coconut milk in place of the evaporated milk. I especially love this recipe made with coconut milk (there is no coconut flavor). I've also added additional ingredients like mushrooms (when the onions are added) and diced chicken (when the last potatoes are added) for an extra hearty and tasty version of this soup.

Adapted from Kris Roth.

Originally published March 1, 2009; updated June 23, 2022.