For affiliate links and as an Amazon Associate I earn from qualifying purchases.
Before I explain my statement, Don't Limit Yourself to Recipes Labeled Gluten Free, let's talk about Pioneer Woman. Do you know Ree, the Pioneer Woman? I bet you do. She's also affectionately known as PW or PDub. Sound familiar? Ree's a whole lot of fun and very popular. She's been blogging since 2006 and is prolific in the number of posts, her photos with each post, and much, much more. I've met her twice before, albeit briefly, and she's truly terrific.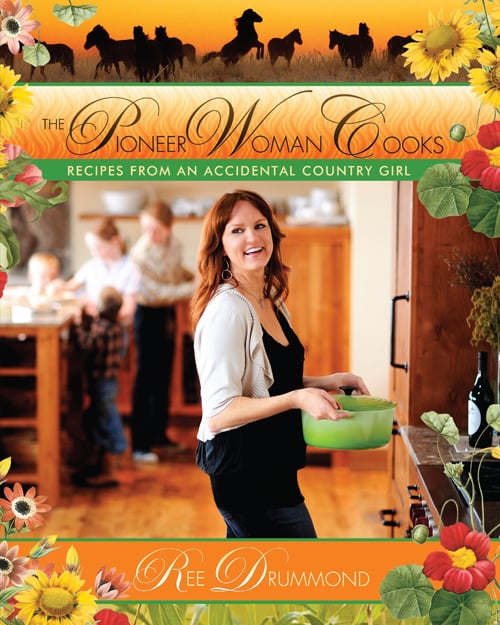 UPDATE: This giveaway has ended. Thanks to all who entered! I really appreciated all of your comments on how you've had success thinking outside the "gluten-free" label, eating naturally gluten-free food, and converting recipes to gluten free when needed. 🙂
Ree's beautiful and has a delightful sense of humor. Well, as we Southern girls like to say, Ree's a hoot! Well, today is Give Your Stuff Away Day and I have a copy of Ree's first book and first cookbook, The Pioneer Woman Cooks: Recipes from an Accidental Country Girl, that I need to give away. (I say her "first book" because she's since come out with The Pioneer Woman: Black Heels to Tractor Wheels, an autobiographical love story, and a children's book, Charlie the Ranch Dog.)
Her cookbook is a complimentary copy that was included in my swag from the first BlogHer Food conference in 2009. I was talking with my fabulous friend, Therese, recently about her admiration and love of Pioneer Woman, too. When it comes to recipes, Therese especially loves PW's Crash Potatoes … and at least 1,261 folks who left comments on the post agree with Therese that these potatoes are phenomenal. (Plus they're naturally gluten free and dairy free! Must. Make. Soon.)
Then as I've been decluttering this week for spring, feng shui (inspired by my dear friend, Stephanie), and Give Your Stuff Away Day, I realized I had this extra copy of Ree's cookbook to offer to one lucky reader!
Some of you may be saying, hey, wait, Ree's not gluten free, is she? No, she is not, but Ree, like so many other good cooks, has many naturally gluten-free recipes. In this book, there are almost 30 recipes that fit that category. For example, there's Spicy Pulled Pork, Perfect Pot Roast, and Katie's Roasted Corn Salad. Those are all real food recipes—my favorites.
Plus, there are quite a few others that can easily be adapted to be gluten free. Her Egg in the Hole recipe becomes gluten free when gluten-free bread is used. The same holds true for Ree's meatloaf. How about Comfort Meatballs? Sound good? All you need to do is use certified gluten-free purity protocol oats and gluten-free Worcestershire sauce to make this recipe gluten free.
In her Beans and Cornbread recipe, the beans part of the recipe is naturally gluten free and the cornbread would be easily made gluten free with the simple substitution of gluten-free flour for the small amount of flour used and the use of gluten-free cornmeal. The remaining recipes that are not gluten free or easily adapted can be used as inspiration. How about topping your favorite gluten-free pizza crust with her Potato-Leek topping? Oh my goodness … that pizza topping looks simply amazing. But, of course, Pioneer Woman is well-known for her amazing recipes. She even beat Bobby Flay in a Thanksgiving Throwdown on the Food Network for heaven's sake.
There's another reason I'm doing this post and giveaway, too. I was questioned a while back about sharing a link to a gluten-full recipe on my gfe Facebook page, even though I stated in my status what simple substitution needed to be made to convert the recipe to gluten free. If I recall correctly, the link was to truffles that contained beer. The simple substitution was to use gluten-free beer.
As I stated in my reply to the query on linking to a non-gluten-free recipe, I firmly believe that we should not limit ourselves to only those "things" that are labeled gluten free. We need to look at everything available and consider if we can make it work for us. Sometimes, there's not even any work involved. All the real, whole food in your garden, grocery store, farmers' market, etc., none of it comes with a gluten-free label.
The gluten-free labels come on those heavily processed items in a designated gluten-free section of the store. There is so MUCH more food available that we should be eating instead of the food labeled gluten free. (In fact, here are 20 terrific Gluten-Free Food Rules from Melissa of Gluten Free for Good.)
You guys know that I love to share gluten-free cookbooks with you all. There are so many wonderful ones available at the moment, now more than ever. Many have been written by personal friends of mine and I promote them as often as I can (with more reviews and giveaways coming soon!), but that doesn't mean you should give up all other cookbooks or recipes. Usually, it's the recipes that call for gluten-free specialty ingredients, like special flours, xanthan gum, etc. that are labeled as gluten free.
Yet, there are plenty more wonderful recipes in your local newspapers, magazines, and online that are naturally gluten free, or again easily "converted" to gluten free. Those naturally gluten-free recipes are the ones that you can teach family members and friends to make for you safely. They'll also be the ones that will please your family and friends the most when you make them because there are no differences in taste and texture.
Here are some gfe examples of such recipes:
~ Flourless Peanut Butter Cookies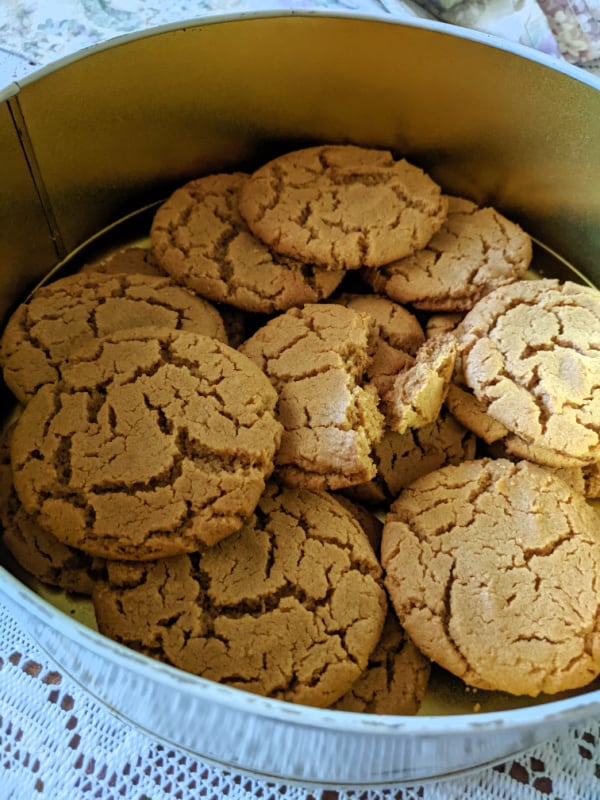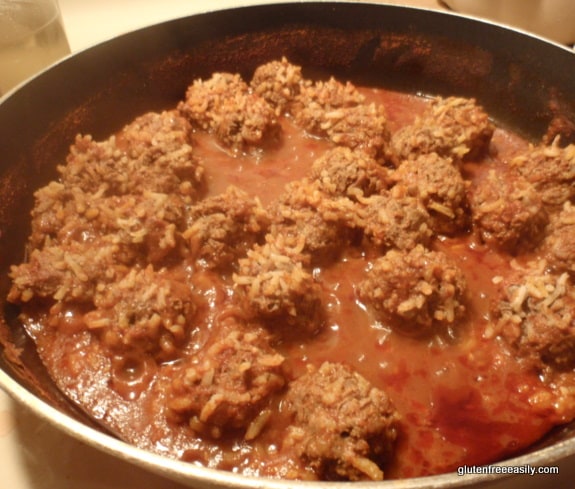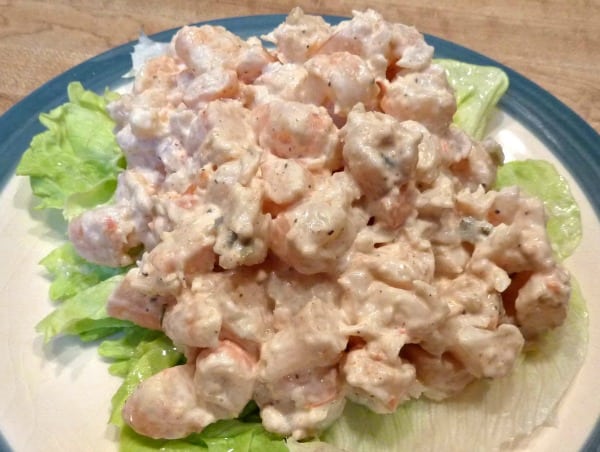 The ingredients are just the real food that you've always enjoyed. So many recipes are easy to adapt to gluten free, too. If you find a macaroni and cheese recipe that looks good, substitute your favorite gluten-free macaroni noodles. (By the way, if you're gluten free and and dairy free, you'll want to try this recipe from Johnna of In Johnna's Kitchen.)
I'm always on the lookout for naturally gluten-free or easily adapted recipes. If I'm looking for a recipe online, I almost never add gluten-free to the search, because I want to see everything that is offered and then I want to tweak the recipe as I please. Do your research to ensure that all the ingredients you use in your recipes are gluten free but please don't limit yourself to recipes labeled gluten free.
Along those lines, another recipe that's in Ree's cookbook that is naturally gluten free is her Burgundy Mushroom Sauce. It's very similar to a Mushroom Red Wine sauce recipe I made about a month ago. I had some dry Spanish red wine left over from a support group meeting as well as some mushrooms, so I Googled mushroom wine sauce and found a recipe—yet another recipe that was not labeled gluten free—which I adapted to create a rich gluten-free and dairy-free sauce.
Like Ree's recipe, it was almost purple in color and absolutely full of flavor. Again, it's not Ree's recipe (you'll have to get her cookbook for that), but it looks almost identical to hers and is awfully good! I'll probably get around to sharing my adaptation one day but just wanted to show you a "facsimile" of one of the many delicious recipes in this cookbook by the Pioneer Woman.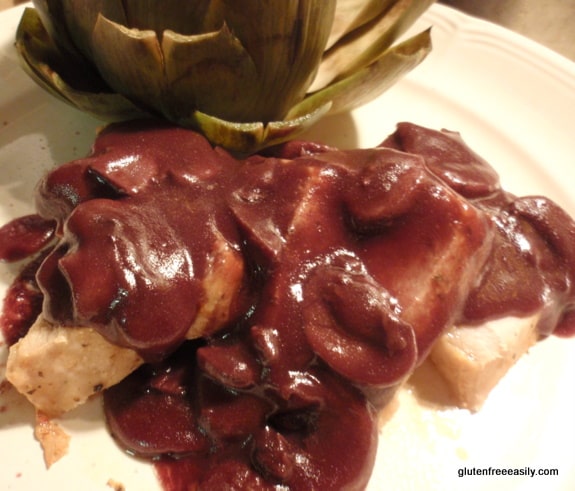 Whether you are gluten free or not (I have a lot of gluten-full readers, too!), if you also follow the Pioneer Woman, you're saying, "Yippeeee! I love me some Ree!" This cookbook can be enjoyed by all for sure. And it's more than a cookbook, it's also a lovely pictorial of Ree's family's life on their ranch in Oklahoma—with many life lessons interjected. There are breathtaking scenes, kids and critters of all shapes and sizes, plus Ree's great recipes.
The photography in the book is outstanding and it was all done by Ree herself, with the exception of the photos of her, which were all taken by her husband, aka Marlboro Man. That includes the cover shot … I bet that's why she looks so radiant there.
Best of luck to all. Don't forget to kick some clutter to the curb today for Give Your Stuff Away Day. That old dresser might be cluttering your life, but it may be the perfect thing (and much needed) for someone else. If you're reading this after the Give Your Stuff Away Day, you can just donate to your local charity. After all, you'll need room for your new cookbook!
Originally published May 14, 2011; updated June 26, 2021.