For affiliate links and as an Amazon Associate I earn from qualifying purchases.
Did you just moan a little bit when you read Roasted Potato Slices with Smoky Aioli Dip in the title, or when you saw the photo above? Oh, that was me? Sorry … where on Earth are my manners?
I have a good excuse though. The name of this recipe sounds like pure comfort food and it is. Elegant comfort food at that, but still comfort food and I have a hard time suppressing my feelings when it comes to comfort food. And having made this dish now, I know exactly how comforting and wonderful it truly is.
How about the other recipe mention in the title—Balsamic Fudge Drops? I bet your eyebrows shot up at the mention of those cookies. I'm going to make you wait on my report for them. These were the two recipes that I chose to make for my adoption of Ellen of Gluten-Free Diva for this month's Adopt a Gluten-Free Blogger event. (Unfortunately, this site is no longer active.)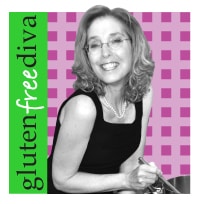 Yes, Ellen Allard is the Gluten-Free Diva. You may remember that when she first started blogging she declared I Am Gluten Free in her blog name. Then a few months back, she transformed her blog and herself into the Gluten-Free Diva.
That's a natural progression if you ask me. When I used to read Ellen's former blog title, I always thought of Helen Reddy's "I Am Woman" song—another bold affirmation of sorts. Borrowing Reddy's lyrics, I love the associated "roar" that comes with such affirmations. Once one has declared themselves as woman or gluten free—and that person is extremely proud of it I might add—well, it just makes sense to move on to being a diva.
After all, Gluten-Free Diva has a certain je ne sais quoi don't you think? Especially when it comes to Ellen, who is certainly more warm, fun, and giving, in her gluten-free ways than she is diva-ish.
Just look at her blog photo … doesn't she look like a lot of fun? Maybe gluten-free divas are made from a different mold. Well, hmmm, no, I don't actually think that's it.
I think that it's just Ellen herself who is special. She's the full-of-life diva with none of the 'tude (if you know what I mean). And Ellen's motto and tag line on her blog is "it's so easy to be gluten free." Of course, you know I embrace that philosophy, too. Yet another reason to love Ellen, the Gluten-Free Diva.
Just so you know, I'm not going off of my impressions of Ellen from her blog alone. I first met Ellen in person last year at BlogHer Food. Since that time we've become great friends and have gotten to see each other a couple more times in person. In fact, I just got to catch up with her at the Gluten-Free and Allergen-Free Expo! She was working beside her friend, Anna (Breads from Anna), at the vendor fair each day. (Side note: Anna has great bread mixes for folks who need to eat free of more than just gluten.)
Ellen's a joyful person who is very active in the gluten-free community. She not only blogs gluten free to share and help others, but also teaches gluten-free cooking classes. And you might not know this, but Ellen is also an acclaimed children's musician. My buddy, Tia (Glugle Gluten Free–this site is no longer active), says that her son chooses Ellen's musical CDs over all the others he has—that's way cool!
Back to Ellen's recipes …
Ellen shared her Roasted Potato Slices with Smoky Aioli Dip when several of us participated in the Gluten-Free Progressive Oscars Dinner Party last year. I salivated over them then. Hey, it was roasted potatoes!
Like I said earlier … that's some serious comfort food. Plus the aioli dip involved some of my very favorite seasonings—garlic, cumin, onion, and paprika. But time slipped away as it often does and I forgot about Ellen's ever so appealing potatoes and aioli dip. However, I knew if I adopted Ellen, I'd have a great reason to make her potato dish. That is one of the many benefits of adopting someone through the Adopt a Gluten-Free Blogger event. You can finally make some of those recipes that quickly slipped off your radar screen after you initially thought they looked so good and you must make them immediately. Life just seems to happen that way.
Another benefit of the Adopt a Gluten-Free Blogger event is exploring different baking and cooking methods. For example, I'm often drawn to vegan or at least eggless baking recipes because that's not normally how I bake. I'm fascinated by the chemistry that takes place, allowing one to bake successfully without eggs.
Let's start with my experience with Ellen's Roasted Potatoes and Smokey Aioli Dip. I made the Roasted Potato Slices as she directed. Well, except for the second part where I turned the oven up to 500 degrees for a few minutes and then turned it off while I took an hour-long walk with my friend.
A multi-tasking girl must take such shortcuts, you know? I was following the "intent" of Ellen's directions and by the way, this method worked grea. The potatoes were cooked perfectly when I returned. However, I left them in the oven a bit longer to keep them warm while I made the Smoky Aioli Dip.
I did modify Ellen's Aioli dip slightly, but again just enough to use ingredients I had on hand. So instead of yogurt, I used slightly less sour cream. (Next time I plan to make Ellen's dip dairy free by using coconut cream and adding a bit of fresh lemon juice to equate the taste of yogurt.) I also used smoked paprika, which Ellen suggested as an alternative to sweet paprika.
The potato slices were that fabulous combination of crunch on the outside and that ideal mouth "give" once you bit into them. By themselves—coated and cooked in olive oil and seasonings—the potato slices were delicious, of course. But dipping them into the Smoky Aioli Dip took them to an entirely different level. That "OMG, these are so good, they could be an appetizer on a very upscale restaurant menu level" and yes, they'd make me so happy that I'd buy that high-priced bottle of wine that the cute waiter offered me to go with them.
Anyone else ever had the food-induced, spend more money on spirits phase? Okay, I digress, but I did grab a nice Australian chardonnay off our wine "rack" to go with them and life seemed supremely good while we enjoyed them. The truth is that I wanted to bathe in Ellen's Smoky Aioli Dip. And that's saying a lot considering it wasn't chocolate. It is a very simple, but fantastic aioli dip.
While this recipe is fancy enough to be an appetizer for a dinner party, it would also make a great side dish for any meal and might even lift your basic cookout to new heights. And if there are any leftovers, you can eat them for breakfast the next day like I did. I did not enjoy a Mimosa with them at the time (work frowns on that type of thing), but they would have certainly been worthy of such an accompaniment!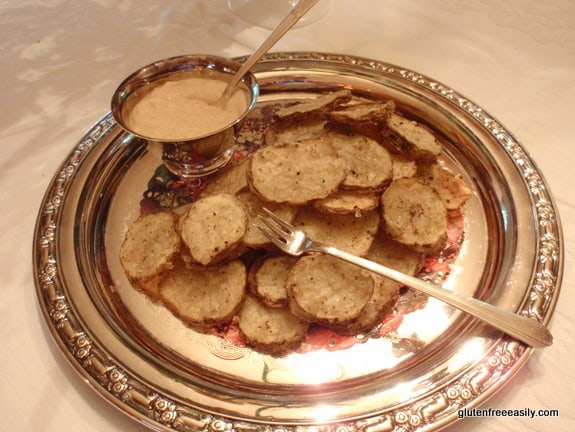 On to dessert … which was chocolate! Ellen has many eggless and vegan recipes, even ones you might not expect to so easily be made that way. In the Balsamic Fudge Drops recipe, she uses yogurt and balsamic vinegar to offer the action and texture that the eggs would normally provide. I had no idea how balsamic vinegar would taste in a cookie recipe, but I've used apple cider vinegar in baking recipes and it's always worked just fine. And balsamic is milder than apple cider vinegar, plus I trusted Ellen to not steer me wrong. My good friend, Ali (Nourishing Meals), also often uses vinegar in eggless baking.
I made Ellen's Balsamic Fudge Drop cookies twice. The first time I used coconut cream versus yogurt and it wasn't "coconut creamy" enough if you know what I mean. (Do not buy Goya coconut milk if you want dense coconut cream! Unfortunately, that's all my local store carries right now.) The resulting cookies were a cross between cookie brittle and lace cookies. They were totally delicious and even a mistake worth repeating, but they were not the cookies Ellen intended. Important note: That is no reflection on Ellen or her recipe at all. That is just what often happens when one doesn't follow a recipe.
The next time I used a better alternative to yogurt, the sour cream which I had left from the potatoes. This time the cookies came out just as Ellen described and showed. There is no sour taste at all from either the balsamic vinegar or sour cream. These cookies are just rich and chocolate-y. You should note that these cookies are a softer cookie. As Ellen warns, the cookies do look "terrifyingly soft" when you take them out of the oven, but they continue cooking to provide lovely cookies in the end. (Note: I left mine on the parchment paper on the baking sheet to finish cooking.)
Ellen has so many recipes that folks rave over that I still want to make: Multi-Grain Bagels (gluten free, dairy free, and egg free), gRAWnola, Oatmeal Almond Waffles, Peanut Butter Lace Cookies (gluten free, vegan), and her Birthday Cake Pops. Okay, I might hold out for her to make those cake pops for me! (I'll email you my birthday info, Ellen!)
Oh, wait, I almost forgot to mention Ellen's Almost Raw Chocolate Balls of Deliciousness. Those are so easy to make; you can make them in two minutes in your food processor. But, warning, you cannot make them in your mini-chopper. Don't ask me how I know this info. I'll just say that chopped dates are magical for binding and making naturally sweetened treats, but they do stick to the blades of one's mini chopper and make everything go off balance. Sort of like the mini-chopper version of a washing machine getting out of balance. Sigh. (It seemed so doable; I've even made cashew butter in my mini chopper before. Sadly, it's not the omnipotent, shortcut kitchen appliance I thought it was.)
While I have little patience for typical divas, Ellen is a Gluten-Free Diva that you must check out!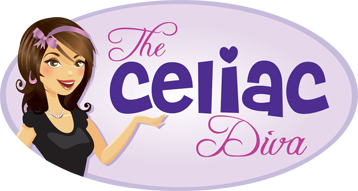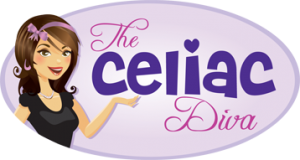 Incidentally, Lauren-Lucille, The Celiac Diva, is another delightful gluten-free diva. I had the extreme pleasure of meeting her at the Gluten-Free and Allergen-Free Expo this past weekend. And by "extreme pleasure," I mean screams and hugs from both of us upon greeting each other! Maybe the truth is that she who calls herself a diva can't really be one … at least not in the usual meaning of the word—thank goodness!
Be sure to check out all the other adoptions in this month's event when Sea (Book of Yum) gets the roundup posted. You can check out all my previous adoption posts here on gfe, especially my adoption post from from last month. There are milkshakes and cookies involved … just sayin'.
Originally published May 10, 2011; updated September 24, 2019.